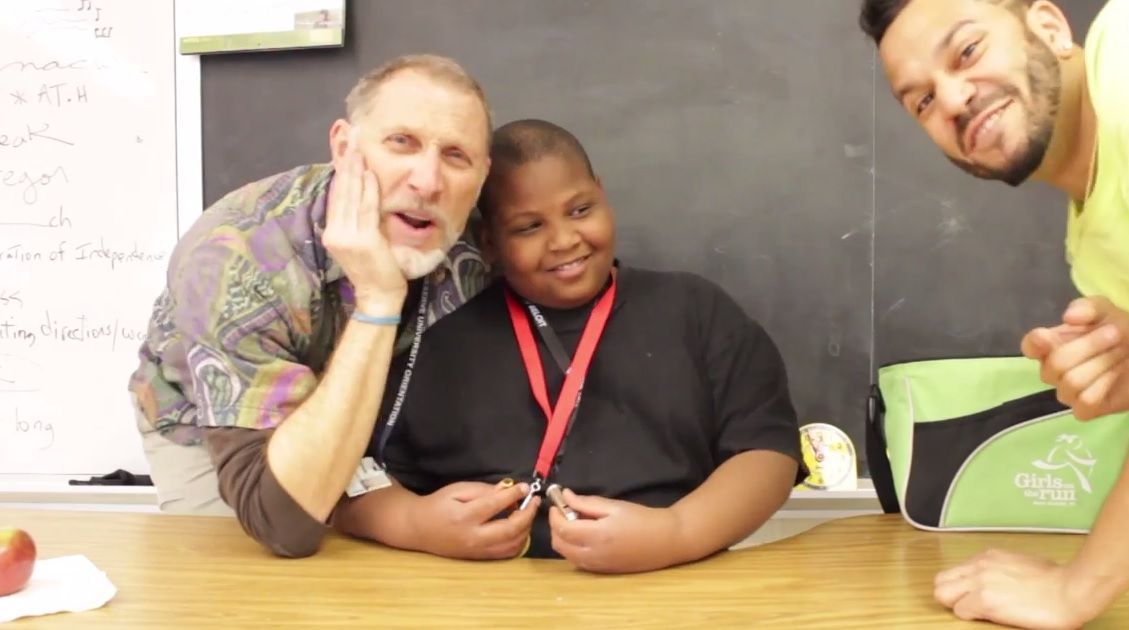 You can feel the affection in the banter between Marc Kornblatt and Anthony Smith. You can sense it, too, in the videos the pair of Madison Lincoln Elementary School teachers are making about school life.
But the real stars of the "Sit Down with Smith and Kornblatt" series are the students, who offer their takes on everything from classroom (mis)behavior to standardized testing and the right way to sniff a science experiment. The videos convey the authentic voices of kids who attend one of Madison's most diverse schools.
In "Behavior," 5th-grader Jeremiah Evans tells the teachers that kids will listen to Smith in his physical education class because they don't want to be tossed from the game. Classroom teacher Kornblatt, Jeremiah says simply, "is boring and stuff and when he sends (kids out of the classroom) they think it's a break."
The boy's delight in talking to the two teachers over lunch is evident. His heartfelt admission that a minor classroom tantrum earlier in the day was "to get... attention" is a real moment. When Smith and Kornblatt break into their own attention-getting routine, they're so annoying that Jeremiah blows a whistle to get them to stop.
Fifth grade teacher Kornblatt, 60, plans to retire from the classroom this year after a 16-year second career as a teacher and will devote more time to his new career, filmmaking. Smith, 28, is a few years into his teaching career.
Kornblatt is a Jewish guy originally from New Jersey; Smith, who is biracial, grew up in Madison. But the two are kindred spirits, a mentoring team where the learning and teaching goes both ways, they say.
"He's young enough to be my son, and he's almost as loopy as me," Kornblatt says.
"Of all the teachers in the building, he's the craziest," Smith says. "I'm pretty crazy, but he's the craziest."
Their willingness to drop the façade of propriety now and then as teachers helps them connect their students, they say. The messages from adults at school are often so scripted the kids can mimic them back, says Smith.
"Why not add a little hee-hee, ha-ha?" he said.
As men, the two are rare among elementary school teachers. As a man of color, Smith is rarer still. And he is conscious of the influence he carries, Smith said.
"A lot students look up to me; I'm extremely influential around here. I'm male, I'm half black and half white, I have crazy hairstyles. With that is going to come a lot of people looking and a lot of people judging. As long as you do your job and you know it's all about the kids, it's something to embrace," he said. Just showing his face in Kornblatt's classroom gets the boys' noses in their books, he said. "That's how I like to shed my influence."
Boys, especially boys of color, gravitate to Smith, Kornblatt said.
You have free articles remaining.
"The fact that he wants to be here makes them want to be here," he said. "And just knowing him ups my cool ratio."
Smith acknowledged in retrospect that he let friends distract him from school work too much when he was a student the Madison public schools. Even a high school summer spent working grueling hours alongside his carpenter father did not effectively set his sights on getting an education. His dad's $500 challenge to get a 4.0 grade point average the next year did.
"After that, I knew grades were going to get me something," he said.
Smith said black children may find such a disconnect between their home life and the people and expectations at school that it alienates them.
"They think 'I don't want to learn what that white person says — that doesn't matter. The people in my neighborhood do this and it works for them,'" Smith said. "Then they struggle on the Badger Exam and it's easier to continue the learned helplessness."
"When teachers can relate to the larger population of the school, you can start to shatter that a bit," Smith said.
Kornblatt said he talks frankly with his students in the classroom about things that influence their lives, including race.
"I tell them straight, it's not a level playing field," he said. "You can speak plainly to kids with passion and joy in a way that captures them."
Kids don't need to be treated like babies in school, Kornblatt said. They can have a conversation with teachers that is peppered with teasing and jokes like talk outside school typically is, he said.
"Sitting down and having a conversation," he said, "that's a life skill."
Kornblatt has produced a number of full-length documentaries since he began making films six years ago. "Dostoevsky Behind Bars" was an award-winner at the Wisconsin Film Festival last year and he is working now on a "horror film" that uses some Lincoln students.
He has made a dozen school films that feature kids singing, dancing, lip-synching and mugging for the camera. They're popular with students who now lobby to get into them, and a recent showing at school drew better attendance than parent-teacher conferences, Kornblatt said.
The "Sit Down" series is intimate, for all the teachers' carrying on. Kornblatt, an inveterate marketer of his film work, posts them on YouTube where kids will want to access them, but also seeks feedback through selective posting elsewhere online.
The videos have an educational component — for kids and teachers — and show students that they are valued, said Kornblatt, who added he's open to continue making them with Smith next year after he leaves teaching.
"We're finding a way to tap into different personalities," he said. "We're looking to elevate the school and have fun at the same time."
Share your opinion on this topic by sending a letter to the editor to tctvoice@madison.com. Include your full name, hometown and phone number. Your name and town will be published. The phone number is for verification purposes only. Please keep your letter to 250 words or less.