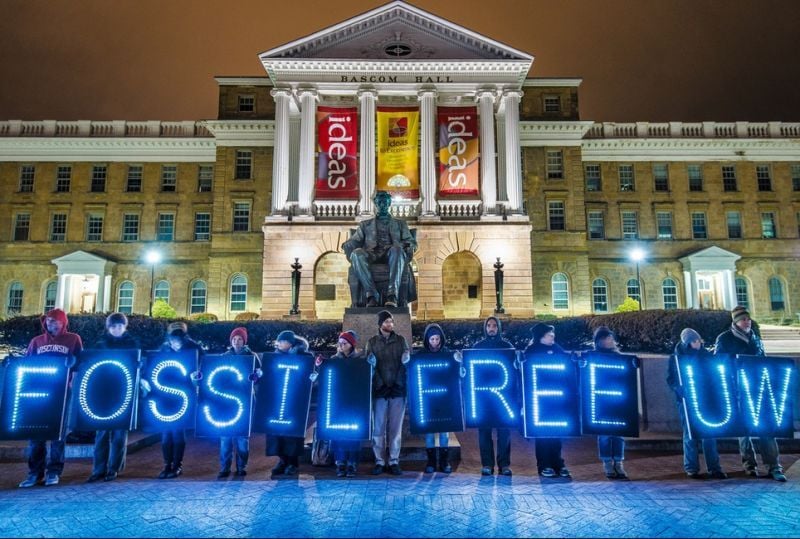 Fossil fuel divestment is one way to empower ordinary people to respond to the issue of climate change, says Julia Isaacs, a member of 350 Madison.
"I see divestment as an opportunity to engage with people about climate change in a real way," says Isaacs. "Is it important enough to withhold money from my alma mater? Is it important enough that I want to put my retirement savings into a different place?"
Members of 350 Madison will join University of Wisconsin-Madison students, faculty and others supporting the university's divestment from corporations that profit from fossil fuels in a march and rally Tuesday to mark Earth Day.
The march will start at 5:30 p.m. from Monona Terrace, where the Nelson Earth Day Conference at UW-Madison's Nelson Institute for Environmental Studies will be taking place, and head to a 6:15 p.m. Mother Earth! Rally at the Library Mall.
Issacs says fossil fuel divestment will be just one environmental issue raised at the rally, which in turn is part of a slate of Global Climate Convergence Wisconsin activities planned in Madison from Earth Day through May Day.
Members of the Fossil Free UW Coalition also will be joining Climate Convergence activities, including a banner drop at undisclosed locations at noon on Thursday, April 24, says member and student Brian Elvert.
Elvert pointed to a resolution by Associated Students of Madison, the campus student government organization, urging the UW Foundation to divest from fossil fuels as evidence of the growing awareness of the issue.
"It's one step in the right direction," Elvert said.
While faculty at Harvard and Cornell are pressing their institutions to divest from fossil fuels, faculty at UW-Madison is split on the issue. UW Foundation officials say, meanwhile, they are obligated to invest in a way that brings the best return on gifts from donors. But the foundation is exploring the possibility of offering donors an investment package free of fossil fuels, as requested in a UW Faculty Senate report on climate change.
350 Madison, a local branch of an international organization, 350.org, founded by activist and author Bill McKibben, is also working to encourage individuals to divest from fossil fuels, Isaacs says.
A campaign begun late last year has already inspired at least a dozen UW alumni to make their donations to the university contingent on divestment, and discussion of the issue is prompting people to reconsider where they have their own money invested, she says.
"Change takes time," Isaacs says. Many people opposed the 1980s divestment in South Africa over its apartheid policies. "Now they look back and say of course we did that, but this divestment would be wrong. So I'm not surprised some people may be scoffing now."
Be the first to know
Get local news delivered to your inbox!