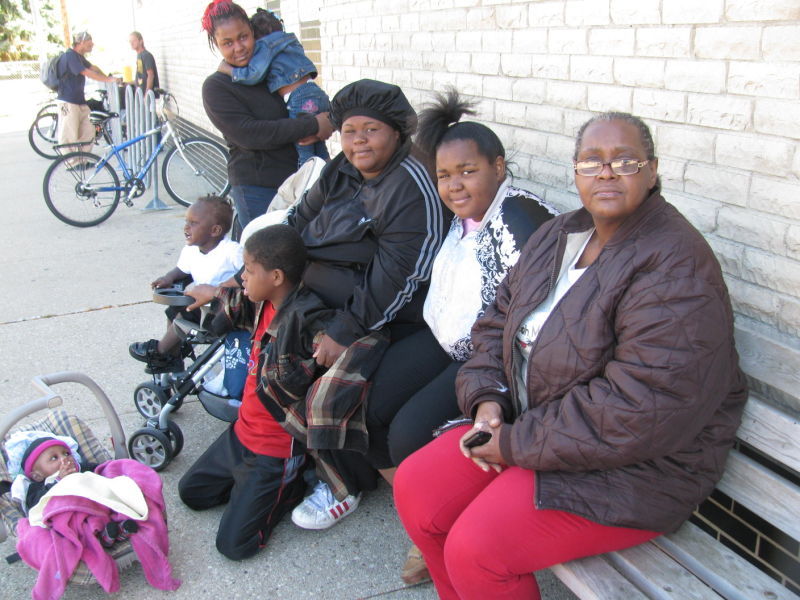 An anonymous private donor is offering $10,000 or more to cover months of rent for a homeless family of 10 from Chicago whose hardships have captured the attention and hearts of many in Madison.
Leigha Weber, social services director for Salvation Army of Dane County, says she is helping the family look for housing after the extremely unusual and generous offer.
"The windfall that this family fell into — it's incredible how many people have rallied around. I'm so happy for them. But we also are mindful of the 78 families on our waiting list," Weber said.
The family, with five adults and five children ranging in age from four months to 13 years, was sleeping on the street under tarps on State Street after an overflowing Salvation Army shelter turned them away.
In the past couple of weeks, a Madison Metro bus driver, Mayor Paul Soglin, two police officers and several other individuals have reached out to help Lisa Bullock and her family after encountering them.
The family has captured media attention as well, including a spot on local television, and a mention on a Chicago TV station and other interview requests, Bullock says. The Capital Times first reported on the family's plight on Sept. 13.
Family members say they left the south side of Chicago to find jobs and escape gang violence. Since they arrived in Madison on Sept. 7, they have spent some nights on the street and others in motel rooms paid for by strangers who couldn't bear the sight of toddlers and an infant living on the street.
Nathaniel Hanson was about to serve lunch to homeless people at the top of State Street Wednesday, as he often does, when he noticed the infant carrier.
"I thought, that can't be right," Hanson says Friday from the east-side motel where he had stopped to check on the family. Hanson and his own family took Bullock's family under their wing, even putting some of them up in their homes for one night.
"It's the right thing to do," says Hanson, a Madison small business owner. "If I don't help somebody out, who's going to help me if I need it?"
He compared the Bullock family's plight to migrants who cross the border from Mexico in search of better opportunities.
"They want to come here where we do something right, but there is no social safety network," Hanson says. "There were two kids under age two living on the street."
Hanson says he has followed the debate over whether Madison can afford to offer services to homeless people from other communities, and appreciates funding limitations. "But there are a lot of other drains on tax dollars," he says.
You have free articles remaining.
Soglin was compelled to seek out the family and find out their circumstances after seeing them on the street Sept. 13. He tried to help, driving several family members across town and asking city staff members to connect them with the social service agencies. Despite his efforts to help, Soglin has since repeated his conviction that the city does not have the capacity to help homeless people steered to Madison from other communities, or even literally dropped off here.
Soglin Friday pointed to the breadth of assistance the family needs – housing, transportation, childcare, health care and job training and placement assistance. Many agencies receiving city and county funding have been involved, including the Salvation Army and Porchlight Inc. Dane County paid for two motel rooms for two nights for the family.
The spotlight on this family, one of many requiring a range of services, illustrates the magnitude of the problem, Soglin said. "And it reinforces the notion that we need others to help pay the cost."
Madison Police Officers Sue Krause and Cynthia Thiesenhusen couldn't pass by members of the family Sunday without enlisting assistance from local agencies and churches.
First United Methodist, Second Baptist and Community of Hope Churches offered money for motel stays and church members are bringing food to the family, says Bullock.
She has begun work in housekeeping at a Madison hotel and is hoping to pick up additional shifts. One of her adult daughters also found work and is looking for a second job. The two school-age children are attending Madison schools and get picked up by bus from the motel each morning, she says.
Bullock says she is surprised and grateful for the outpouring of support for her family. The experience of being homeless in relatively safe Madison is very different from what she imagines it would have been in Chicago. Still, Bullock finds she doesn't sleep when the family's out on the street at night.
"Ever since we got here, I'm the one who stays awake," she says. That's one reason she was so relieved to get a cell phone call the other day while riding the bus home from work telling her that the police officers and church members had gotten the family into a motel.
"I was so happy because I was dead tired," she says. "It has been a blessing."
The Salvation Army for several years has not been able to meet the demand for shelter from homeless women and families. Through its shelter space on East Washington Avenue, motel vouchers and partnership with YWCA Madison, 35 families can be served nightly, says Weber. Makeshift emergency shelter using mattresses on the floor accommodates another 20 people. On the busiest night this week, the emergency shelter turned away 55 people, Weber says.
Offers of help don't pour in for homeless families, perhaps because most of them are not visible, she says. They double up with family or friends in their apartments, or sleep in their cars.
"To see a family huddled on the Square, that's disturbing," says Weber.
She hopes the media attention and community outpouring around Bullock and her family reenergizes a public conversation on how to respond to homelessness.
"What do we value?" she asks. "Where do we put our money?"
The trend in homeless funding and services in recent years has been toward affordable housing and away from shelters. But as the family from Chicago under the tarps on State Street powerfully demonstrates, "we're never going to eliminate the need for shelter," Weber said.