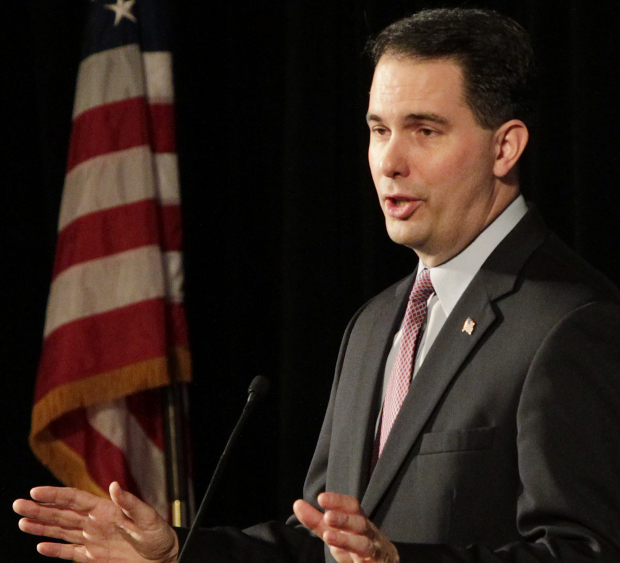 The two-year, $70 billion state budget signed in July authorizes an additional $2.05 billion in borrowing, with $1.64 billion of it paid for with general fund revenues. That continues a borrowing trend that has tripled since 1999 under both Republican and Democratic administrations.
Under Walker's 2013-15 budget, debt service will climb even higher, claiming 5.26% of general fund dollars in 2014 and 4.88% in 2015, according to WISTAX. The state's historical debt level target has been 4%.
The main reason for the borrowing increase is Medicaid, the federal-state health insurance program for low-income and disabled residents. Spending there will increase an average of 8.7% annually over the next two years compared to a 2.2% increase for schools and 0.5% for county and municipal shared revenues.
"These numbers illustrate what has been a decade-long shift in state priorities from local assistance to Medicaid," says the report.
Walker has only added to the problem, some have argued, by rejecting $4.4 billion in federal Medicaid assistance, linked to Obamacare, over the next decade.
Due to the increases, Medicaid expenditures now account for 15.1 percent of total state general fund spending. That's a record high and up from an average of about 10 percent during 1985-2003.
Conversely, K-12 school aids will comprise just one-third of general fund spending, the lowest percentage since 1996, a year before then Gov. Tommy Thompson committed to funding two-thirds of school costs in an effort to control local property taxes.
In 1996, shared revenues to municipalities and counties accounted for 12.4 percent of spending but will be less than 6 percent by 2015, WISTAX found.
While Medicaid accounts for the largest increase in spending, WISTAX notes that general fund dollars are also funding transportation, a relatively new phenomenon.
The Walker budget shifts $213.7 million from the general fund and $44.5 million from the petroleum inspection fund to pay for transportation needs. It also pays for the debt service on another $200 million in transportation borrowing with general fund dollars.
"These are dollars that, in the past, would have funded schools and local aid, among other programs," WISTAX says.
WISTAX is not the only observer to note that Walker has continued a trend of increased borrowing.
Milwaukee columnist Bruce Murphy recently took the governor to task for posturing as a budget-balancer while actually increasing the amount of state borrowing and long-term debt.