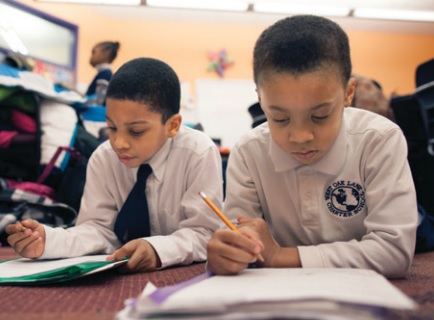 For African-American children seeking a better future, no state looks worse than Wisconsin.
A new national report shows that children of color face enormous barriers to educational and financial achievement — with Wisconsin ranking last in the disparity between white children and their non-white peers.
White children growing up in Wisconsin ranked 10th among the states in an index measuring 12 key indicators at various stages of life, including home situation, educational skills and income.
Ken Taylor, executive director of WCCF, says Wisconsin is a state that has long claimed to value opportunity and fairness for all its citizens. But in a statement pegged to the Casey report, he says scoring worst in the nation for the well-being of black children is unacceptable.
"Surely Wisconsin can do better than this," he says.
The Casey report found that 70 percent of Wisconsin's white children live in households with incomes above 200 percent of the poverty level, about $47,700 annually for a family of four. At the same time, only 20 percent of black children have that level of economic security.
For Latino and Native American kids in Wisconsin, about a third come from households above the 200 percent of the poverty level.
On higher education, white adults ages 25 to 29 in Wisconsin are three times as likely to have an associate's degree or higher than their African-American or Latino peers.
And among middle school students, white kids are six times more likely to be proficient in 8th grade math than black students.
The Casey study emphasizes the need to address the issue now since minorities will represent a majority of the nation's children by 2018. The report notes that children raised in economically challenged households and communities face tremendous challenges from day one.
"Research has shown that growing up in chronic poverty contributes directly to stress at a level that can affect children's health, brain development and social and emotional well-being — a response known as 'toxic stress,' " says the Casey report.
Unfortunately, African-American children in Wisconsin have been living in economically stressed situations for decades. A study from the 1980s by the WCCF showed that 60 percent of black children under age 5 in Wisconsin were living in households under the poverty line, the highest percentage in the U.S.
"It's not a new issue … but that doesn't make it any less important," says Bob Jacobson, communications director for the Madison-based nonprofit.
Jacobson says that reports like Casey's and the WCCF's report on Dane County all make the case that the roots of the racial divide run deep, but he says there are proven strategies that can make a difference. They include early, high-quality education, access to health care and meaningful employment opportunities.
"We now have the data and we know what works, but we need to have more of a dialog to foster greater collaboration among the various groups," he says.
"All of us, from elected officials to scholars to neighborhood activists to parents, must act now to promote a better future for every one of our children. This is not only the right thing morally, it is also the smart thing economically. We cannot afford to miss out on the contributions communities of color make to our neighborhoods, our state, and our nation," Taylor said in a statement.
The Annie E. Casey Foundation worked with WCCF in putting together its report, the foundation's first comprehensive look at the racial divide and the impact on children. 
The Annie E. Casey Foundation is a private charitable organization, dedicated to helping build better futures for disadvantaged children in the United States. The foundation was established in 1948 by Jim Casey, one of the founders of UPS, and his siblings, who named the foundation in honor of their mother.