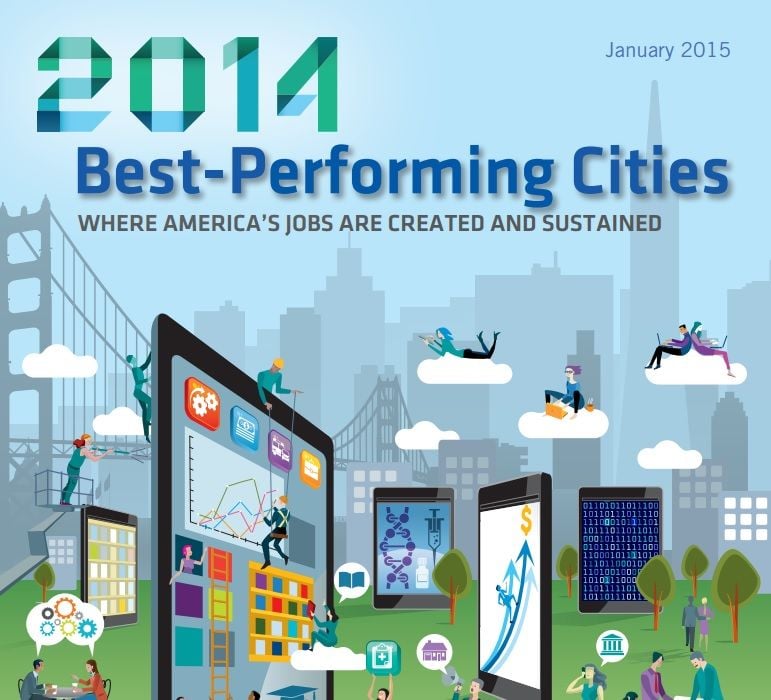 Boosted by the continued growth of medical records giant Epic Systems, Madison has jumped 19 places to No. 30 in the 2014 "Best-Performing Cities" index from the Milken Institute, the only Wisconsin city to crack the top 100.
The annual report scores the 200 largest U.S. metro areas on their economic vitality, with an emphasis on both job growth and the quality of the new jobs being created. Wages are also a key component of the index.
The San Francisco metro area was ranked No. 1 followed by Austin, Texas; Provo, Utah; San Jose, California and Raleigh, N.C.
Among Wisconsin cities, Milwaukee moved up three places to No. 137 while Green Bay fell 40 places to No. 130, one of the largest drops in the index.
One bright spot for the region was the Lake County (IL) and Kenosha County (WI) metro area, which jumped 66 places to No. 52 — the 7th largest improvement among large cities.
Launched in 1999 and released each January, the Milken index is considered one of the most objective looks at the economic health of the nation's largest metro areas, although it is weighted toward the technology sector which hurts rust belt states like Wisconsin. 
Technology and energy development were key factors in economic growth over the past year and figured heavily into the 2014 rankings, according to report co-author Minoli Ratnatunga. She says many Midwest cities, which didn't take a major hit to housing and construction with the economic downturn, are now getting passed up by metro areas that are enjoying a bigger rebound.
"Places that lost a lot of growth during the recession and are now regaining all those jobs tended to do better than more stable metros in the Midwest,"she said.
You have free articles remaining.
Ratnatunga added that cities like San Francisco and San Jose have managed to overcome an unfavorable tax system and high costs of living by clustering talent amid an entrepreneurial climate — the same prescription that economic development officials have long prescribed.
"Madison benefits from a highly skilled workforce, plus it's just a lovely place," says Ratnatunga.
Based in Santa Monica, California, the Milken Institute is a nonprofit think tank that bills itself as "determined to increase global prosperity by advancing collaborative solutions that widen access to capital, create jobs and improve health." It says the goal of the Best-Performing Cities ranking is to "help businesses, investors, industry associations, development agencies, government officials, academics and public-policy groups monitor and evaluate the performance of metros where they work and do business relative to the rest of the country."
The report uses the most recent data available for MSAs or metropolitan statistical areas. The Madison MSA includes Dane, Iowa and Columbia counties.
The Madison MSA ranked as high as No. 21 in the 2003 Milken index but has slipped at times in part because of slower wage and job growth compared to other areas of the country.
In the latest report, Madison ranks 19th in technology GDP growth since 2000. That growth can be clearly traced to the success of Epic Systems, which saw sales go from $50 million in 2000 to $1.7 billion in 2013.
Madison also ranks 46th in overall wage growth since 2007 but only 75th in recent wage growth, according to the 2014 Milken index.
Overall, Madison ranked 71st in 2012 and has seen its ranking bounce around quite a bit over the years. It was 23rd in 2011, 31st in 2010, 63rd in 2009 and 90th in 2008.
Among small metro areas, Fond du Lac was ranked No. 25, up 40 places. La Crosse was 65th, down 12 slots.
Fargo, N.D. was ranked No. 1 among small cities largely because of its energy jobs related to oil shale.