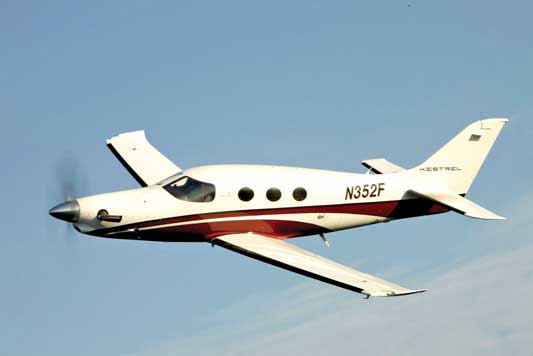 Superior-based Kestrel Aircraft Company — a firm touted by Gov. Scott Walker as an example of his business recruitment efforts — hasn't made any payment on its $4 million in loans since October. It is supposed to pay $6,600 monthly and is now over $26,000 in arrears.
In January 2012, Walker traveled to Superior to announce that Kestrel intended to invest $120 million in a production facility that would eventually employ 600 workers, the most new jobs in Superior since World War II.
The company is looking to produce a high-performance, single-engine plane made from carbon fiber. It is headed by Alan Klapmeier, a legend in Midwest aviation circles who was recently named to the board of the Experimental Aircraft Association.
Kestrel has received two loans that are being administered by WEDC: a $2 million state loan and a $2 million state small business credit initiative loan, which is a federal loan. Kestrel also has a $2.4 million loan from the city of Superior with payments on that debt coming due in October.
In addition, Kestrel is certified to receive up to $18 million in enterprise zone tax credits from WEDC, and $30 million in federal new market tax credits from the Wisconsin Housing and Economic Development Authority (WHEDA). Kestrel had collected $402,408 so far on those credits.
WEDC is the public-private corporation formed by Walker to take over the economic assistance duties from the defunct Department of Commerce.
Despite Kestrel's cash flow issues, WEDC secretary and CEO Reed Hall said his agency remains committed to the company as it tries to find its footing in the competitive aircraft manufacturing business.
On Jan. 31, representatives of WEDC, WHEDA and the city of Superior met with Kestrel executives and its banks to discuss the company's financial situation.
"We had a productive meeting in Superior with Kestrel, its bank and the city as we were briefed on the company's current financial status," Hall said in a statement. "We all want Kestrel to be successful, and we're going to continue to work with company officials as we look at alternate options for repaying these loans."
Kestrel first ran into financial problems last fall when it missed payments on its loans and failed to make payroll for some 100 current employees, split between operations in Brunswick, Maine, and Duluth-Superior.
The company has not said how many employees it currently has and WEDC was not able to provide that information. Calls to Kestrel requesting comment on the situation were not returned.
The last payment made by Kestrel was a wire transfer of $26,536 made in October the day after The Capital Times reported it was delinquent on its loans.
Meanwhile, Kestrel remains embroiled in a legal fight with officials in Brunswick over its tax exempt status and has been late with rent and payroll payments, according to published reports.
The firm was one of the first to locate in a former Naval Air Station there that was converted into a business park, but owes $114,000 in taxes to the township.