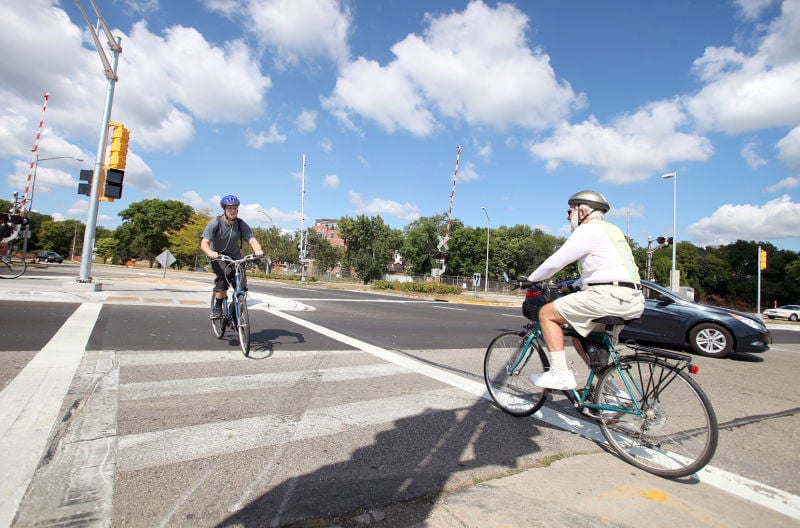 Kicking off Bike to Work Week, Mayor Paul Soglin on Monday announced a renewed effort to have Madison officially recognized as the best city in the U.S. for bicycling.
The push involves trying to raise Madison's status from the "Gold" to "Platinum" level with the League of American Bicyclists, the nation's largest bicycling advocacy group.
Only four U.S. communities have achieved Platinum status: Fort Collins and Boulder, Colorado; Davis, California and Portland, Oregon. Madison has held gold status since 2006.
Platinum status recognizes cities with a vibrant biking culture, along with infrastructure for all ages and skill levels, an area where League officials said Madison still needs to improve.
You have free articles remaining.
In 2008, then-Mayor Dave Cieslewicz formed a committee to pursue platinum status and Soglin is continuing that effort with a new committee that will coordinate with the business group Downtown Madison Inc.
The committee will collaborate with the Madison Metropolitan School District to increase bicycle education. Industry representatives from Trek, Pacific Cycle and Planet Bike are also involved.
"I am looking forward to working with them to extend our efforts on biking beyond avid cyclists to additional families and children," Soglin said in a statement.
Committee members include Brandon Buth of Trek Bicycle and Peter Gray of QTI, who both appeared with the mayor on Monday.
"We have great partners and dedicated team members and we know what we need to do. We plan to apply for the status in the summer of 2015," Buth said.
Also, the city has developed an online feedback tool for public comment and invites everyone to participate. The city says it hopes to work with neighborhood centers and local libraries to increase participation in the online tool.