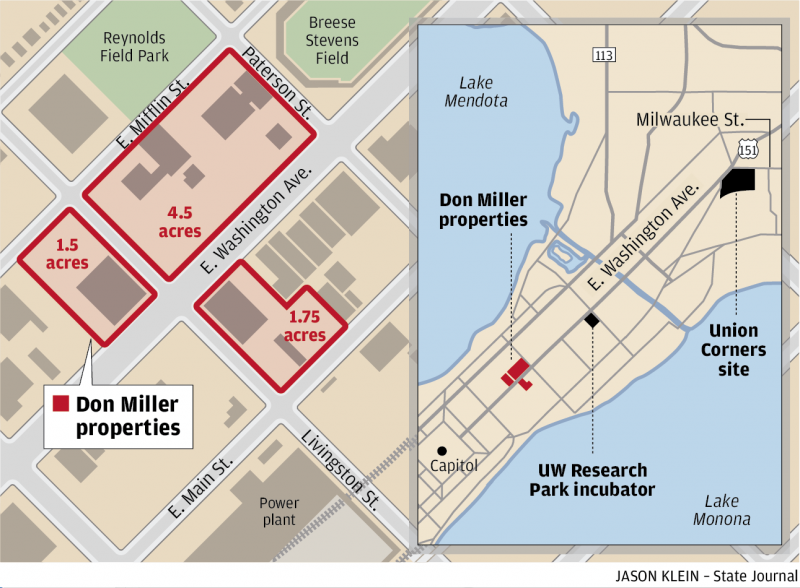 in the latest major project floated for the East Washington Avenue corridor, Gebhardt Development is proposing new space for the StartingBlock Madison work hub along with a 1,500 seat concert venue.
The project is eyed for a two-acre parcel of city-owned land on the 800 block of East Washington, across from the new "Galaxie" apartment tower and grocery store now under construction.
The land is part of the former Don Miller properties purchased by the city in 2010 for future redevelopment.
The city has been accepting proposals for projects on the site with a Monday deadline.
"We believe the best solution for this site and for the district is an urban, integrated, active and sustainable project which continues to corridor progress and fully activates the street during the day and evening," said Otto Gebhardt in a statement Monday.
You have free articles remaining.
Gebhardt is teaming with Terry Sivesind, president of Starting Block, on the project. It would combine high-tech office space with the activity of Sector 67, another start-up company incubator.
Plans call for financing and project approvals by June 2015 with an opening in the winter of 2016.
A group called "T Presents Madison" headed by New York based music promoter Toffer Christensen is pursuing the concert piece at the new site. 
Gebhardt architect Chris Gosch says the 800 block on the south side of East Wash is better suited to a music hall since it located farther from single family homes and the Lapham Elementary School.
The Changing Face of Madison
High-profile developments in Madison are not just changing the look of the city, but the way the city operates, feels and lives. The Capital Times is tracking the various major developments around town with the interactive map below. Click around, and you'll find story links, photo galleries, renderings, and more information on the cost and scale of projects. Check changingfaceofmadison.com for regular updates. Have more information to share with us about a particular project? Email city editor Katie Dean at kdean@madison.com.
| Media | Location | Type | Completion Date | Square Ft. | Estimated Cost |
| --- | --- | --- | --- | --- | --- |
| | 17, 19, 25 N. Webster and 201 E. Mifflin | Apartment | 07/31/2015 | 46,115 | |
| | 100 Block of State Street | Mixed Use | 04/30/2014 | 51,514 | $11,600,000 |
| | 121, 123 and 127 W. Gilman St. | Apartment | | 63,975 | $15,000,000 |
| | 149 E. Wilson | Mixed Use | 07/01/2015 | 12,286 | $20,000,000 |
| | 210 N. Bassett | Mixed Use | 08/01/2014 | 73,480 | |
| | 305-325 W. Johnson | Mixed Use | | 450,000 | $60,000,000 |
| | 306 W. Main St. | Apartment | 09/30/2014 | 206,000 | $30,000,000 |
| | 313-315 N. Frances | Mixed Use | 08/01/2014 | 46,985 | |
| | 640 West Apartments | Apartment | 07/01/2013 | 87,812 | $6,800,000 |
| | 722 Williamson St. | Mixed Use | 01/31/2015 | 43,006 | $35,000,000 |
| | 900 Nolen Residences | Mixed Use | 04/01/2015 | 108,375 | $16,300,000 |
| | 1419 Monroe St. | Mixed Use | 08/01/2014 | 108,795 | |
| | 2620 Monroe St. | Mixed Use | 07/31/2014 | 27,532 | |
| | Brownlofts | Apartment | 07/01/2013 | 106,922 | $8,500,000 |
| | The Constellation | Mixed Use | 08/01/2013 | 223,724 | $39,000,000 |
| | The Edgewater hotel | Commercial | 08/01/2014 | 403,000 | $98,000,000 |
| | 800 E. Washington Ave. | Mixed Use | | 655,000 | |
| | Garver Feed Mill Site | Commercial | | 49,751 | $5,930,183 |
| | Hampton Inn | Commercial | 10/30/2013 | 197,930 | |
| | Hilldale Shopping Center | Commercial | 01/01/2015 | 60,000 | $15,000,000 |
| | Holiday Inn Express & Suites | Commercial | 11/15/2014 | 64,023 | $5,500,000 |
| | The Hub | Mixed Use | 08/01/2015 | 489,124 | |
| | The Ideal | Mixed Use | 12/31/2013 | 65,400 | $9,500,000 |
| | Johnson Dayton Apartments | Apartment | 08/01/2014 | 434,536 | |
| | Judge Doyle Square | Mixed Use | | | $160,000,000 |
| | Lane's Bakery | Mixed Use | 07/31/2014 | 40,915 | $6,000,000 |
| | Longfellow School | Apartment | 10/15/2015 | 178,846 | $17,000,000 |
| | Madison Central Library | Commercial | 09/21/2013 | 119,262 | $30,000,000 |
| | Royster Corners | Mixed Use | | | $18,000,000 |
| | Seven27 | Apartment | 09/01/2013 | 179,390 | |
| | Union Corners | Mixed Use | 10/01/2018 | 374,070 | $84,000,000 |
| | University Crossing/UW Health | Commercial | 04/08/2013 | 67,000 | $21,000,000 |
| | Vantage Point Apartments | Apartment | 08/01/2013 | 76,803 | |
| | Vicinato Apartments | Apartment | 08/01/2014 | 64,000 | $8,100,000 |
| | Washington Plaza | Mixed Use | 07/01/2014 | 77,071 | |
| | The Waterfront | Apartment | 09/30/2014 | 134,157 | |
| | Wingra Clinic | Commercial | 07/15/2013 | 76,800 | $25,200,000 |
| | Wingra Point Residences | Apartment | 07/01/2014 | 62,427 | |
| | Xo1 Apartments | Apartment | 08/01/2014 | 102,704 | $12,500,000 |