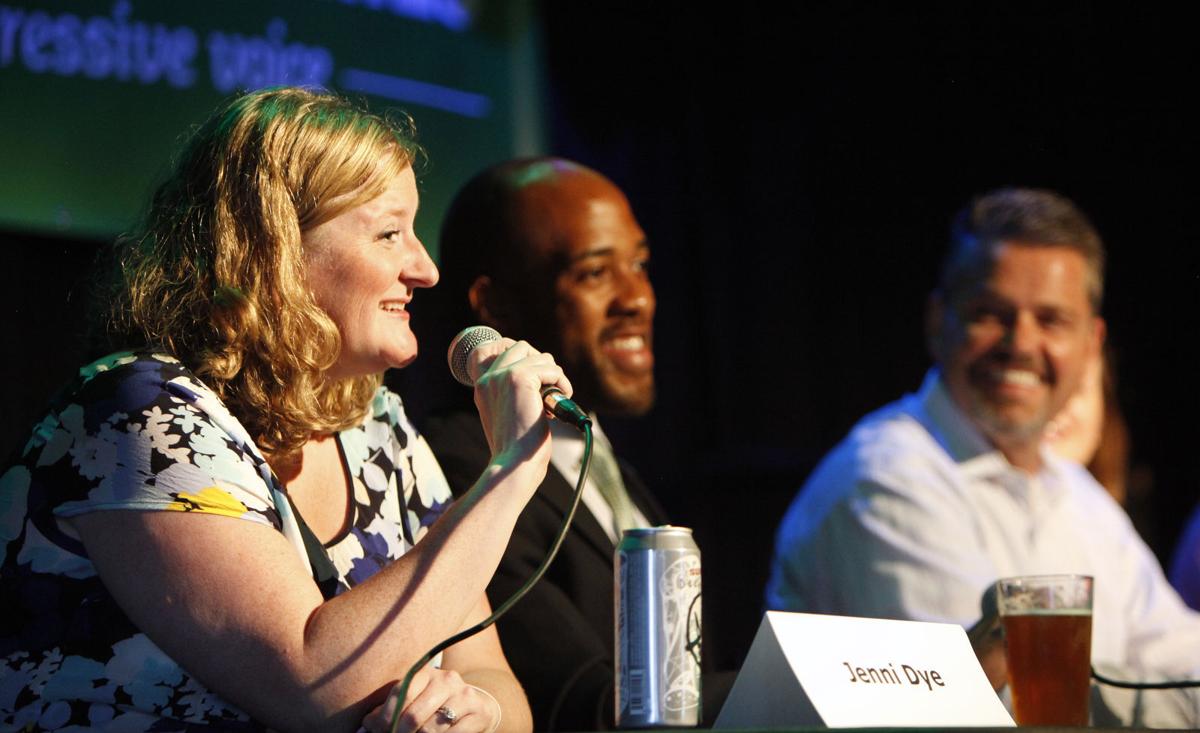 The specter of Gov. Scott Walker's presidential campaign is looming large over the state of Wisconsin — that was the consensus of Tuesday night's Cap Times Talks panel at Madison's High Noon Saloon.
"We've had an extraordinarily bad (legislative) session for workers, women, natural resources, transportation, education — you name it — and it's because the governor is running for president … we are paying a heavy price," said Rep. Katrina Shankland, D-Stevens Point, one member of the six-person panel moderated by Cap Times political reporter Jessie Opoien.
One panelist pointed all the way back to the governor's 2011 budget as a manifestation of his presidential ambitions.
"It goes all the way back to his very first budget," said Jenni Dye, research director at One Wisconsin Now, a liberal advocacy group. "Because one of his favorite things to talk about now is that he defunded Planned Parenthood."
"I think we've seen a little different governance here in Wisconsin while (Walker's) been on the campaign trail," said Christian Schneider, conservative columnist at the Milwaukee Journal Sentinel. "We're kind of left with, in his absence, two governors. You've got Governor (Assembly Speaker Robin) Vos and Governor (Senate Majority Leader Scott) Fitzgerald. I think they think, 'Well, now if he's gone, it's our time.'"
Panelists also spoke about the role of Act 10 protests and the 2012 recall in the Governor's political narrative.
"It may be Democrats' greatest regret ever, running that recall against him," said Bill McCoshen, former state Commerce secretary and managing partner at Capitol Consultants, a consulting firm and lobbying group. "He wouldn't be a serious candidate this time around but for the recall."
"Without the recall, (Walker) would be (failed 2012 presidential candidate) Tim Pawlenty," said Schneider.
Dye countered that, despite the recall serving as a name-recognition and fundraising boon for the governor, she wouldn't take it back.
You have free articles remaining.
"I don't regret the recall for one moment," she said. "There was a fight that was about real people in Wisconsin. It was a fight worth fighting."
Speaking about what weaknesses Walker's opponents in the Republican primary might exploit, panelists agreed his "flip flopping" on issues is one of his key vulnerabilities.
"We've seen national media pick up on his inability to weave consistent themes and messaging," said Shankland.
When asked what would happen if the governor's presidential bid is unsuccessful, all panelists agreed Walker doesn't have a future in Wisconsin past his current campaign.
"I don't see him running for a third term (as governor)," McCoshen said.
"I'm sure someone would like (Walker) as Secretary of Labor, right?" he added, scoring a laugh from the decidedly liberal Madison audience.
"I think if Governor Walker loses … other Republicans in Wisconsin are going to see the window open for them, (they) might like to be governor and might start to come after that office when the next election comes in a way that they might not have if (Walker) hadn't run for president," said Mike Wagner, UW-Madison journalism professor.
"There's no way (Walker's) going to the national spotlight then retreating back to Wisconsin," said Rep. Mandela Barnes, D-Milwaukee. "That's the thing to remember – it's never been about us, it's not about Wisconsin, it's about him. He's on his way out."
Share your opinion on this topic by sending a letter to the editor to tctvoice@madison.com. Include your full name, hometown and phone number. Your name and town will be published. The phone number is for verification purposes only. Please keep your letter to 250 words or less.