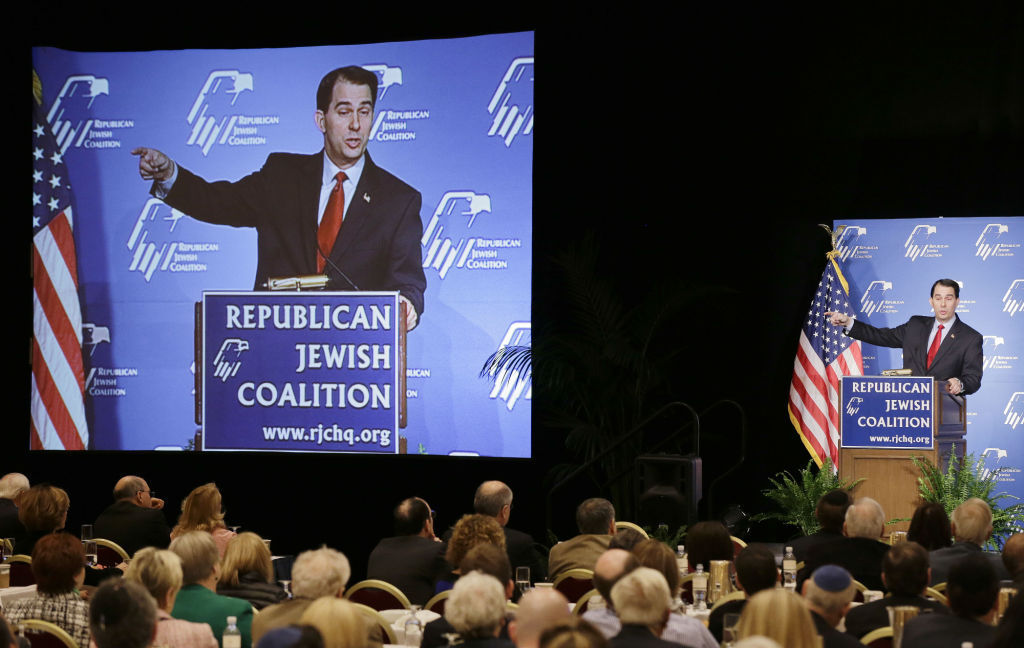 Navigating a religion or culture you weren't brought up in can be challenging, to say the least.
It's something most politicians find themselves doing at one point or another, though, whether it's in relating to constituents or appealing to donors. 
As Gov. Scott Walker courts Republican mega-donor and casino magnate Sheldon Adelson's support for a likely 2016 presidential run, he's found himself dining with top GOP donors — but also addressing a crowd at the Republican Jewish Coalition spring meeting.
Walker, the son of a Baptist preacher and a practicing Christian himself, has made note of his common ground with the Jewish faith at such meetings.
He also mentioned that the name of his oldest son, Matthew, comes from the Hebrew word for "gift from god," and that the governor's mansion is decorated during the holidays with Christmas lights and a "menorah candle."
These overtures represent a marked improvement from a letter Walker sent — also about a menorah — during his time as Milwaukee County executive.
In an undated letter unearthed by the liberal group One Wisconsin Now during the August release of documents from the first of two John Doe investigations related to the governor, Walker responded to a letter from Milwaukee attorney and chairman of the Wisconsin Center District Franklyn Gimbel.
Walker told Gimbel his office would be happy to display a menorah celebrating "The Eight Days of Chanukah" at the Milwaukee County Courthouse, and asked Gimbel to have a representative from Lubavitch of Wisconsin contact Walker's secretary, Dorothy Moore, to set it up.
The letter is signed, "Thank you again and Molotov."
Presumably, Walker meant to write "mazel tov" and didn't intend to wish good tidings of incendiary weapons. Perhaps it was a case of AutoCorrect or that pesky Microsoft Word paperclip causing shenanigans. 
But before you bring up President John F. Kennedy's 1963 "jelly doughnut" speech, hold tight. "Ich bin ein Berliner" is the cultural crossover gaffe that wasn't.
Anatol Stefanowitsch, a Berlin professor of linguistics, told Agence France Presse in 2013, "the construction with the article 'ein' is used when a speaker wants to say that he doesn't literally belong to the group, Berliners in this case, but rather wants to express that he has something in common with them."
"That is exactly what Kennedy wanted to do — he did not want to claim to actually be a resident of the city of Berlin but rather to say that he shared something with the Berliners, namely their love of freedom," Stefanowitsch told the publication.