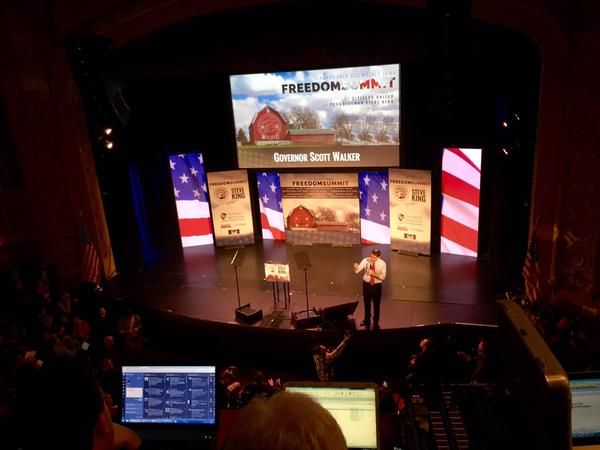 DES MOINES, IOWA — For Wisconsinites who have heard him speak, Gov. Scott Walker's speech on Saturday was nothing new. But for many of the Iowa conservatives gathered at the historic Hoyt Sherman Place theater, it was an introduction to someone they'll be seeing a lot more of.
Walker's message of government reform and bold ideas was well received at the Iowa Freedom Summit, a forum organized by U.S. Rep. Steve King, R-Iowa, and the conservative group Citizens United.
The room thundered when he touted Wisconsin's Voter ID law and his 2011 battle with unions. 
"We weren't afraid to go big and go bold," he said. "Maybe that's why I won the race for governor three times in the last four years. Three times, mind you, in a state that hasn't gone Republican for president since I was in high school more than 30 years ago … If you're not afraid to go big and go bold, you can get results … and if you get the job done, the voters will actually stand up with you."
Walker appeared at ease, addressing some 1,200 people. He strolled casually across the stage, sleeves rolled up, not once pausing behind the podium that bore a "Steve King/Citizens United" sign.
Critics might argue that was a calculated move. On a call with reporters the day before the forum, American Bridge and Americans United for Change president Brad Woodhouse said he was "flabbergasted" that potential presidential contenders would let themselves be seen "bow(ing) down" to the congressman, who frequently makes news for his controversial statements on immigration and gay marriage.
"Scott Walker and other GOP presidential hopefuls should be speaking out against King instead of coming to Iowa to promote outdated, ideological extremism that voters have rejected time and again," said Democratic National Committee spokesman Jason Pitt. "Instead of Walker rolling up his sleeves on a stage in Iowa, maybe he should roll up his sleeves in Wisconsin and create some of the jobs he promised and balance his state's budget."
Walker was met with hearty applause when he touted his record in Wisconsin. In addition to Act 10 — which significantly curbed collective bargaining rights for public employees — and Voter ID, Walker boasted of implementing tight restrictions on abortion, passing concealed carry legislation and cutting taxes.
One GOP insider said of the "serious contenders" speaking Saturday, Walker's was "the speech of the morning." Those attending the forum will be comparing Walker to the likes of former House Speaker Newt Gingrich, New Jersey Gov. Chris Christie, Arkansas Gov. Mike Huckabee, Texas Gov. Rick Perry and U.S. Sen. Joni Ernst, R-Iowa, who last week delivered the Republican response to the State of the Union address.
Naomi Leinen, executive member of the Pottawattamie County (Iowa) GOP, said she was glad to hear Walker mention Voter ID, a policy she supports but Iowa Republicans have failed to pass.
"I've followed Gov. Walker since 2010," said Tyler De Haan, chairman of the Dallas County (Iowa) Republican Party. "I think that, obviously today he hit on a lot of the key notes that a lot of the Iowa caucus-goers were looking for. We are excited to hear a little bit more about his vision for America … It'll be interesting to hear him talk a little bit more about foreign policy and also immigration."
Walker did briefly address foreign policy in his speech Saturday, criticizing President Barack Obama for remaining in Washington, D.C. when other world leaders attended a rally in France in the days after a series of terrorist attacks. 
"We need a leader who will stand with our allies against radical Islamic terrorists," Walker said.
You have free articles remaining.
De Haan noted that Saturday's event was just the beginning of the presidential nomination process — "it's a marathon, not a sprint" — but said Walker was off to a good start.
Mary Whisenand, a member of the Polk County (Iowa) Republicans Executive Committee, agreed that it's early to assess Walker as a presidential contender, but said he showed more passion on Saturday than she's seen him exhibit before. 
"I think he knows that everyone's auditioning today," Whisenand said.
For a governor to run successfully for president, she said, the candidate should keep his or her state first so citizens will be supportive going forward.
Leinen and De Haan said to be successful in Iowa in particular, candidates should make themselves available to Iowans in all parts of the state — rural, urban and suburban areas. 
"It's a recipe for success in this state: retail politics," De Haan said.
Walker recently hired David Polyansky as his chief Iowa strategist, the Des Moines Register reported Friday. That news came not long after Walker hired former Republican National Committee political director Rick Wiley as a senior adviser.
The governor has stops in Washington, D.C., New Hampshire and California on his agenda as he continues to appeal to GOP donors and activists at the national level.
"After more than four years in office it's nice to finally see Scott Walker paying attention to jobs, but it would be better if he was more concerned with adding jobs in Iowa County, Wisconsin than in Iowa state politics," Democratic Party of Wisconsin Chair Mike Tate said in an email. "Wisconsin is getting short-changed when our governor cares more about workers in New Hampshire and Iowa than in New Glarus and Ixonia."
Walker mentioned neither point in his speech.
Ross said Walker is "politics incarnate," noting that he has been in office for more than 75 percent of his adult life. He dubbed the governor the "badger in waiting."
"For him, it's always about the next election," Ross said. "He's proven time and time again he'll do or say anything he can to win."
Walker closed his speech with a favorite theme: he measures the success of government not by how many people depend on government, but by how many are no longer dependent.
"I'm pleased to be here in Iowa today," he said. "I'm going to come back many more times in the future. I'm hoping to work together with you to help us provide that kind of leadership that is new and fresh and bold and aggressive. It's been proven that common sense conservative reform from outside of Washington, D.C., can work. With your help, I have no doubt, we can move this country forward. We can have our own American revival."