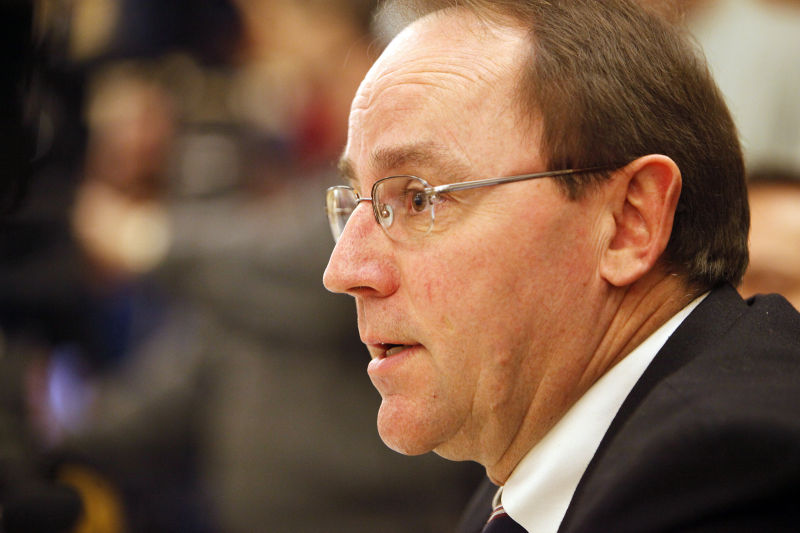 In the ongoing, often emotional debate over iron mining in northern Wisconsin, proponents have continued to insist that a bill to streamline permitting for such mines will not harm the environment.
Gov. Scott Walker's comments Thursday to The Business Journal in Milwaukee are typical: "We are going to go forward with a permitting process that still protects our natural resources. It's incredibly important to tourism, it's important to agriculture and timber in (northern Wisconsin). We're not going to do something that jeopardizes that."
But the main author of the controversial mining bill that's moving quickly through the Republican-led state Legislature admitted otherwise on Thursday.
And, with numerous groups already vowing to challenge the bill in court, Sen. Tom Tiffany also acknowledged that changes were made to the legislation to put the state on stronger legal ground to withstand such a challenge.
"The bill reflects the reality of mining. There are going to be some impacts to the environment above the iron ore body," said Tiffany, R-Hazelhurst. "If the law is challenged and ends up in court, the judge needs to know it was the Legislature's intent to allow adverse (environmental) impacts. That way, a judge can't find fault if the environment is impacted."
Tiffany made the admission after being asked Thursday in an interview with the Cap Times how Republicans could continue to claim the mining bill doesn't risk environmental harm when:
It specifically changes the wording of existing state permitting law from "significant adverse affects (to wetlands) are presumed to be unnecessary" to "significant adverse affects are presumed to be necessary."
Bill Williams, president of Gogebic Taconite, which is proposing a massive iron ore mine in Ashland and Iron counties, said in a recent Wisconsin State Journal article that as much as 30 to 40 percent of the 3,300 acres it is leasing could be covered by waste piles if it builds a $1.2 billion open-pit iron ore mine.
The land above the rich vein of iron ore contains hundreds of acres of wetlands, numerous pristine trout streams and several small tributaries that feed into the Bad River. The Bad River wends its way to Lake Superior through the Bad River Indian Reservation, which includes culturally and economically significant rice beds.
"We are simply being honest," Tiffany says. "There will be some impacts but they will be limited. Changing the word 'unnecessary' to 'necessary' lets the judge know it was the Legislature's intent that there will be some adverse impacts."
In a legal context, the wording change proves lawmakers knowingly passed a bill that they accepted would cause some harm to the environment, Tiffany adds, making it more difficult for a lawsuit to be successful on the grounds that a mining permit caused harm to the environment.
"My jaw is dropping right now," responded Erin O'Brien, the wetland policy director with the Wisconsin Wetlands Association, when asked to comment on Tiffany's statement. "If that's not an environmental rollback, I don't know what is."
The admission by Tiffany is the first time a Republican has said the bill was written with the aim of warding off potential legal challenges.
His comments also raise questions about the sincerity of his GOP colleagues whose main talking points around the mining bill have been that it will create jobs while not rolling back state environmental regulations.
Consider these statements released Wednesday night after the 17-16 Senate vote approving the bill.
"It's clear that people voting against this bill are more interested in hurting our economy than protecting the environment," read a portion of a statement from Sen. Alberta Darling, R-River Hills.
Senate Majority Leader Scott Fitzgerald said: "Today, after nearly two years of public debate, Senate Republicans passed a bill that opens the door for thousands of jobs while protecting our natural resources."
And Sen. Robert Cowles, R-Green Bay, a lawmaker known for environmental stewardship, said: "I continue to believe we can make regulatory improvements to encourage job growth while still preserving our precious environmental resources."
"We have been told again and again and again that this bill does not harm the environment," O'Brien says. "Here, we finally have an admission from this Legislature that it is not only their intent to pass legislation that allows significant adverse affects to wetlands but for those adverse impacts to hold up in court. It proves a contradiction in their talking points."
Senate Minority Leader Chris Larson of Milwaukee said Republicans must believe that saying the bill doesn't harm the environment enough times will make it true.
"I think they're also just hoping people aren't paying attention," Larson says.
Indeed, despite his acknowledgements Thursday, even Tiffany continued to argue that the bill provides environmental protections.
He says a mining permit applicant will have to pass a four-part test to prove to the state Department of Natural Resources that a project would not harm shoreline properties, degrade water quality, impede flood flow capacity or impair the public's right to use waterways.
But O'Brien says what Tiffany failed to note is that if that four-part test isn't met, the mining bill allows the applicant to mitigate the damages it creates elsewhere, something currently not allowed under state law.
Sen. Tim Cullen, D-Janesville, who spent the better part of last year holding public hearings across the state on the topic of mining and authoring his own mining bill, agreed.
"Today, there is a presumption you cannot dump waste into the wetlands but tomorrow the law will say you can," Cullen says. "I don't know how anyone can read that and say this bill doesn't lower environmental standards."
Amber Meyer Smith, director of government relations for Clean Wisconsin, says the change also drastically impairs the state Department of Natural Resources' decision-making process and makes it all but certain the agency will have to approve dumping mining waste into wetlands.
"And this is just for one industry. It completely opens the door for other industries to ask for similar treatment," Smith says.
Tiffany, however, went on to say the bill doesn't "really" change state law because construction firms and local units of government are already filling in waterways and wetlands during projects.
He noted that Monona Terrace, Madison's signature convention center on John Nolen Drive, was built by filling in more than an acre and a half of wetlands on Lake Monona.
"Changing stream courses and filling in wetlands … we do these types of things all the time in Wisconsin," Tiffany says. "We were just recognizing the reality of what has really been law in Wisconsin for decades."
Be the first to know
Get local news delivered to your inbox!