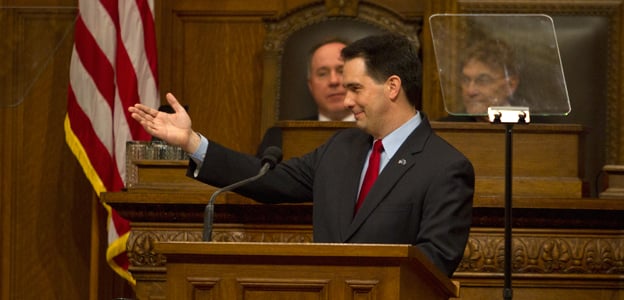 Gov. Scott Walker's proposal to share the state's unexpected revenue by putting money back into taxpayers' pockets is being met with mixed reviews, as he aims to spend nearly half of an estimated $1 billion surplus on property and income tax cuts.
Roughly a week before Walker's State of the State address Wednesday night, the nonpartisan Legislative Fiscal Bureau released new revenue estimates. The projections are roughly $912 million more than what was anticipated, bringing the total amount of revenue to nearly $977 million.
Walker's plan to spend the money, detailed in the larger "Blueprint for Prosperity" fiscal plan, calls for cutting property taxes by about $406 million and providing about $98.1 million in income tax relief. The average taxpayer is expected to save $150.
The problem is the $977 million is not guaranteed; whether or not the figure proves to be an accurate number won't be known until the end of the fiscal year on June 30.
This fact and a bit of state fiscal history are reasons Todd Berry, president of the nonpartisan Wisconsin Taxpayers Alliance, speculates some lawmakers are leery about jumping on board with Walker's "Blueprint for Prosperity" plan.
Berry said the state budget had real problems from 2001 to 2012, with revenue projections coming in lower than expected, prompting "big spending cuts and tax increases."
"Walker's last budget was very tight. It had some spending reductions. The budget before that was Gov. Jim Doyle's. It had spending reductions and some tax increases," Berry said. "That's what lawmakers are remembering. Those decisions are not fun. Nobody has a high pain threshold and the pain (of past budgets) is very fresh in their memories."
While Assembly Speaker Robin Vos, R-Burlington, voiced support in the Assembly for Walker's plan following the State of the State address, Senate Majority Leader Scott Fitzgerald, R-Juneau, wasn't as quick to say the Senate's 17 Republicans were all on board.
Senate Minority Leader Chris Larson, D-Milwaukee, agreed.
"Support for Walker's plan is up in the air for sure," Larson said. "People don't like what they heard yesterday. Borrowing and spending is not a good recipe for success."
Larson and others also are looking down the road to future budgets. If revenue estimates fail to meet the mark in upcoming years it would be possible to start the next two-year fiscal cycle with a roughly $725 million shortfall. Larson said that shortfall could grow to $800 million, depending on what lawmakers decide to do with the $977 million surplus.
"This is a budget gimmick that adds to the deficit in order to give folks money that they will end up paying back, eventually," Larson said.
Berry also cautioned that other revenue sources will dry up in upcoming years as the state income tax on agriculture and manufacturing, for example, is phased out.
Lawmakers are expected to begin officially debating Walker's plan Feb. 11 during a special legislative session.