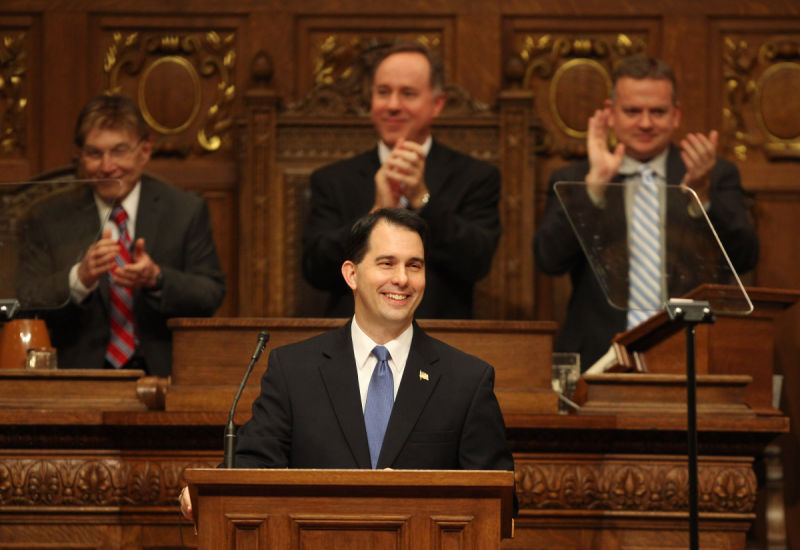 Everywhere he goes, Wisconsin Gov. Scott Walker boasts that he turned a state budget deficit into a surplus. Meanwhile critics, including Democrats and budget watchdogs at the Wisconsin Taxpayer Alliance, say he has set the state up for future deficits.
Actually, both sides are. While Republicans have maintained a small surplus in the most recent budget, the state's long-term spending commitments have created what economists call a "structural deficit."
It's a term that's thrown around a lot but rarely explained.
"A lot of people use the term structural deficit and they define it in different ways," says Andrew Reschovsky, an economist at UW-Madison's La Follette School of Public Affairs.
The basic idea is that a state's taxing and spending laws will result in a future deficit.
When the state Legislative Fiscal Bureau recently projected a $500 million shortfall for the next biennium (2015-2017), it was reporting that revenue coming in at current levels will fall $500 million short of covering all of the spending commitments that the state has made.
What the fiscal bureau does not do, however, is make any assumptions about how certain changes in the economy or population may affect the budget.
"It's just taking the things that are sort of known under the law and how will that change revenues and expenses in the next biennium," says Fred Ammerman, a fiscal bureau supervisor.
You have free articles remaining.
A different approach to calculating a structural deficit would involve projecting how the state's economy will perform in the next two years. If the economy improves, how much additional tax revenue will it create for state government?
Similarly, a more comprehensive estimate would project whether state expenses will increase or decrease to reflect changes in the cost of certain programs. Will an aging population result in higher spending on Medicaid? Will there be more or fewer school-age children? Will there be more or fewer people claiming unemployment benefits?
"The economist would build upon the very good work the fiscal bureau does but say, how much is revenue going to grow?" says Reschovsky. "Or how much more money is the state going to need in order to (cover increased costs)?"
If costs of state programs don't rise in the next two years, Reschovsky and Ammerman say the moderate economic growth projected by the Wisconsin Department of Revenue would likely result in an increase in tax revenue that would eliminate the $500 million shortfall. But costs will most likely increase and result in a shortfall, says Reschovsky.
From Reschovsky's perspective, the taxes in place simply won't cover the spending to which the legislature has committed.
But what about the view many Republicans espouse, that policy changes put in place by Walker — from lower taxes to regulatory changes — will spur the economy and create more revenue?
Reschovsky is skeptical of the theory that lowering taxes increases revenue, particularly at the state level where he says extra money for consumers often is "leaked" out of the state economy into the greater national or global economy. He is particularly dismissive, however, of claims that a tax cut as small as the one recently approved by state Republicans will do much. It's just one miniscule change to a great number of factors that influence consumers and businesses, he says.
"The state's own forecasts show relatively slow growth," he says. "So in part, the argument that people in the administration make is sort of faith-based budgeting."
Some of the confidence Republicans project in creating more revenue is likely tied to Wisconsin's experience in the 1990s, when a booming economy frequently brought in more revenue every year, masking the persistent structural deficit that Gov. Tommy Thompson had created by increasing spending commitments and cutting taxes.
However, much of the revenue flowing into the Wisconsin treasury at the time was just the Badger State's share of a surging national economy, which resulted in a surplus for the federal government as well. Along with the rest of the country, Wisconsin is currently experiencing a slow recovery, with little evidence of great prosperity in sight.
"Certainly Wisconsin is not an outlier in any measure," says Reschovsky.