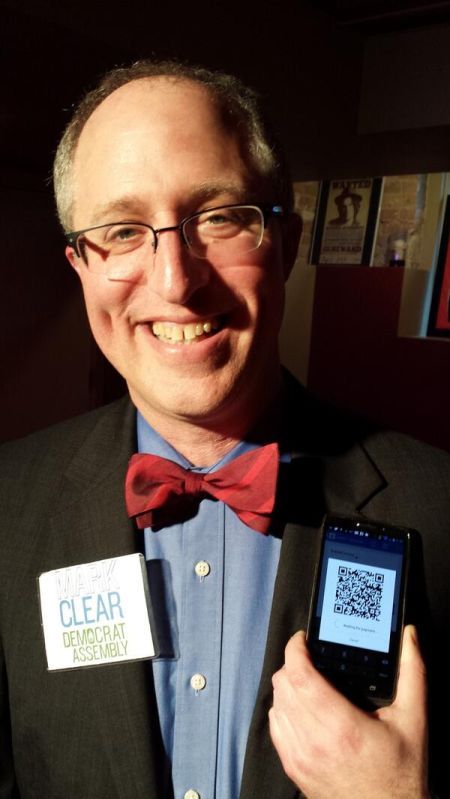 At his day job as executive director of Accelerate Madison, Ald. Mark Clear dedicates himself to promoting technology and innovation in business. Now he's found a controversial way to do that in the political realm as a candidate for state Assembly.
Clear, one of two Democratic candidates vying for an open seat on Madison's west side, proudly announced on Wednesday that he was (in all likelihood) the first candidate in state history to accept a campaign contribution in Bitcoins, a peer-to-peer virtual currency that has become an increasingly popular form of payment in the tech world.
Bitcoins can be exchanged for U.S. dollars at various online exchanges. Like any other currency, its value compared to other currencies fluctuates.
Clear received the contribution of 0.2213 bitcoins, valued at roughly $100, from Monty Schmidt, a Madison software entrepreneur who now runs Wuntusk, a firm on a mission to "promote and further the cause of crypto-currency technologies."
Clear said he doesn't see any reason why the contribution would run afoul of the law.
"The method of transaction is not really material," he told the Cap Times (via Facebook, appropriately) Thursday.
You have free articles remaining.
"I suppose if one wanted to be overly precise, the donation of Bitcoin could be considered an in-kind, which then the campaign 'sold' for cash, but that seems like an unimportant nuance," he added. "The key part of campaign finance disclosure is knowing who gave how much to whom, not the details of how."
The Government Accountability Board, the nonpartisan agency charged with enforcing Wisconsin election law, does not believe the issue is that clear-cut.
At an April 17 meeting of the GAB board, Jonathan Becker, head of the agency's ethics division, said that he would instruct staff to tell candidates that Bitcoin contributions are not allowed unless the board enacts a policy to specifically allow the transactions.
Earlier in the meeting, according to the minutes, Becker, a former Dane County Board chairman, had suggested that Bitcoin contributions are similar to in-kind donations of gift cards. But retired Judge Elsa Lamelas drew what she said is a key distinction: The dollar value of Bitcoin changes, unlike that of a gift card.
"The board did not believe it needed to set a policy because Bitcoin is not one of the forms of negotiable financial instruments authorized by state law for campaign contributions," explained GAB spokesman Reid Magney.
Clear said he found the agency's reasoning puzzling.
"It sounds like they didn't really want to deal with it," he said. "In my opinion it's just another transaction method, but it's their opinion that matters, so I'll talk with Monty about returning the contribution."
Clear will face off in the August primary against fellow Madison Ald. Lisa Subeck. Both are competing for the seat that Rep. Brett Hulsey, D-Madison, is vacating to run for governor. Whoever wins the Democratic nomination will then be a heavy favorite over Republican candidate Rick Cruz in the general election.