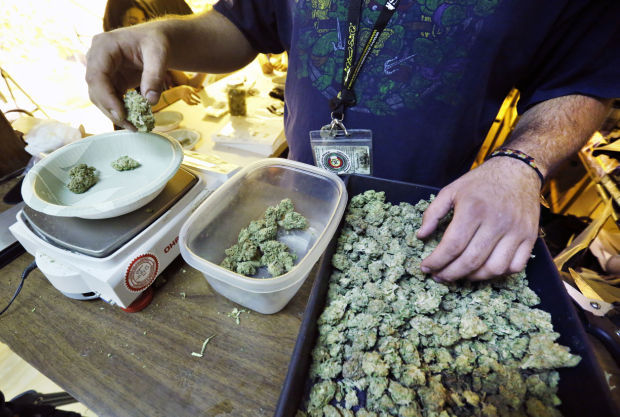 Dane County voters strongly backed a referendum advising the state to legalize marijuana on Tuesday, sending a message that drug reform is a cause that liberal voters expect their elected officials to champion.
The measure was backed by 64.5 percent of voters.
The referendum is only a symbolic gesture and has no binding effect.
While the referendum's passage was surprising to nobody familiar with area politics, its strong performance in some of the county's more conservative precincts reaffirms what polls have shown: legalization may be coming soon to Wisconsin.
You have free articles remaining.
The referendum failed in the towns of Dane, Christiana, Vienna, Medina, Roxbury, Springfield and York. With the exception of Christiana, all of those municipalities backed Gov. Scott Walker in the 2012 recall election.
But the referendum passed in at least three municipalities that Walker carried: The village of Dane, the town of Bristol and the town of Black Earth.
That the results of the ballot measure so closely mirror the county's partisan divisions suggest that Democratic candidates can embrace marijuana legalization without alienating Democratic voters. Currently, only a handful of Democratic lawmakers in the state have endorsed full legalization of recreational pot, with others suggesting they are open to the idea but not yet willing to commit to it.
Similarly, Republican lawmakers will likely be reluctant to support legalization.
Granted, because the referendum took place in the spring, when the turnout is low and the electorate is much older, the results may not display the full potential of legalization in a statewide election. In a presidential election year, for instance, the thousands of students and other young voters coming to the polls could tilt the results even further in favor of legalization.