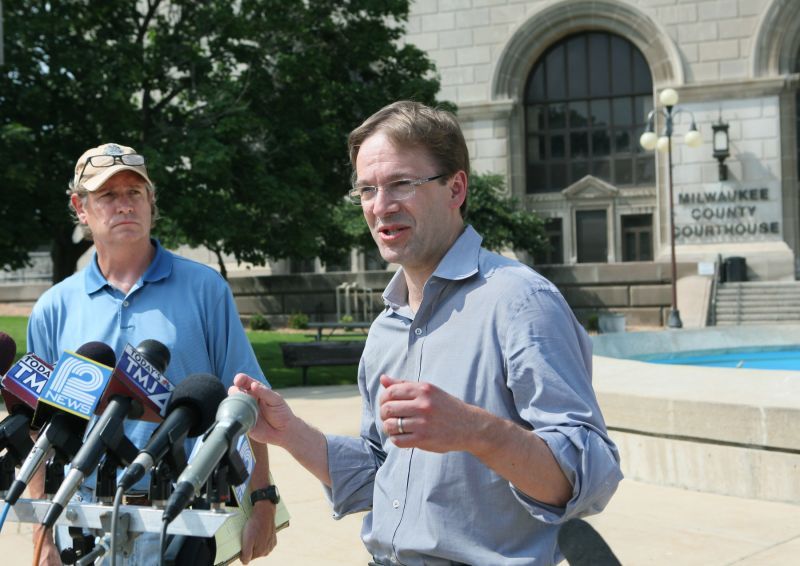 While progressives anxiously ponder who will challenge Gov. Scott Walker next year, the only potential candidate that has emerged from the state Democratic Party in recent months is Mary Burke, the wealthy philanthropist who served as Gov. Jim Doyle's commerce secretary and currently sits on the Madison School Board.
Meanwhile, Democrats have remained mum about other talked-about contenders, including Madison businessman Kevin Conroy, who has long been rumored to have political aspirations. 
So what's the case for Burke? She has business experience, she has government experience, she understands a broad range of policy issues, including education and economic development, and last but not least, she may be rich enough to contribute heavily to her own campaign.
It's the same case that once upon a time could have been made for Milwaukee County Executive Chris Abele. Like Burke, Abele, whose wealth is similarly derived from a company his father founded (Burke's father founded Trek Bicycle), has used his fortune to advance various civic and political causes. He's donated tens of thousands of dollars, for instance, to Democratic candidates for state office.
Just as it was for Walker, Abele could have used his position as head of the state's most populous county to catapult him to statewide prominence.
Alas, after two-and-a-half years in county government, any chance of Abele running for statewide office — at least as a Democrat — appears long gone. While some progressives already worried that Abele, who was friendly to privatizing public services and ran on a campaign not to raise taxes, was acting too much like his predecessor to be a Democrat, Abele's support of a GOP law to reduce the size and scope of the Milwaukee County Board was the last straw for many in the party. In denouncing the law in a recent debate, one liberal member of the board accused Abele of engaging in "political genocide." 
The conflict has put area party activists in an awkward situation. Some, even those who are well to the left of Abele, don't enjoy speaking ill of fellow party members.
For instance, Cory Liebmann, a Democratic operative who published thousands of documents on his blog linking the push for the reforms to pressure from monied interests, recently wrote a blog post begging fellow Democrats for reconciliation on the issue. 
"I know exactly how divisive this highly controversial Milwaukee County legislation was but none of us are helped by making permanent mortal enemies out of longtime partners and friends," he wrote. "I just don't see who wins in that scenario besides Republicans...and perhaps that was part of the plan in the first place."
But to many Democrats, toning down the criticism of Abele would be tantamount to betraying the party. The contempt many activists hold for Abele oozed in responses to a question I asked about Abele's political future on Facebook.
"Chris Abele might be the biggest phony in the history of Democratic politics," responded Joe Wineke, former chairman of the Democratic Party of Wisconsin, who is similarly unimpressed with the County Board's behavior. 
Brennan Balestrieri, a Milwaukee progressive activist who managed Democratic Senate Minority Leader Chris Larson's first campaign for office in 2010, not only called Abele's Democratic credentials a joke, but said Abele is doing everything in his power to prevent other Democrats from making an impact on the state.
"Democrats use the Milwaukee County Board as a farm league to get passionate public servants like Sen. Nikiya Harris and Sen. Chris Larson experience and poised for higher office," he explained. "Abele answered the prayer of ALEC, Wisconsin Manufacturers & Commerce, the Metropolitan Milwaukee Association of Commerce and the GOP by removing one of the few, scant pulpits progressives enjoy." 
By supporting the GOP on the County Board downsizing bill, Abele likely knew he was kissing certain political alliances goodbye. That's presumably why the Wisconsin Democracy Campaign campaign finance database shows that after giving gobs of money to Democratic candidates over the past decade, Abele finally wrote his first checks to two GOP candidates last year — $500 to state Reps. Joe Sanfelippo of West Allis and Dale Kooyenga of Brookfield. 
But Abele hasn't lost all of his progressive support. Louis Weisberg, editor of the Wisconsin Gazette, a progressive Milwaukee-based weekly that targets the state's LGBT community, is a big fan of the county executive and said it's disappointing to see him take such a beating from progressives. In a recent article, Weisberg took particular aim at the Shepherd Express, another Milwaukee weekly, which he believes has pursued a vendetta against Abele.
"I hate the way we've become so divided along partisan lines that we as liberals are willing to denigrate the reputation of one of our own because he dares to do things on behalf of his constituents" by working with Republicans, he said in a phone interview.
But even if Abele weren't being ripped to shreds by Milwaukee liberals, Weisberg doesn't think Abele would make a good candidate for governor.
"He's more honest than he is polished. I don't know if the people of Wisconsin could take that."