When Hector Portillo's son was diagnosed with autism spectrum disorder in 2002, he drove through 48 states to find the community with the best care options.
Portillo, who was working as a truck driver at the time, intentionally chose routes that would take him across the country, far from his home in El Paso, Texas, which he said had "no service options at the time."
After inquiring about disability resources in every state he encountered, Portillo and his family landed in Madison, where he found there was much more support. Understanding the health and education services available still proved difficult — especially as English is Portillo's second language.
The rocky road Portillo experienced with his son led to the creation of Padres E Hijos En Acción, which translates to Parents and Kids in Action.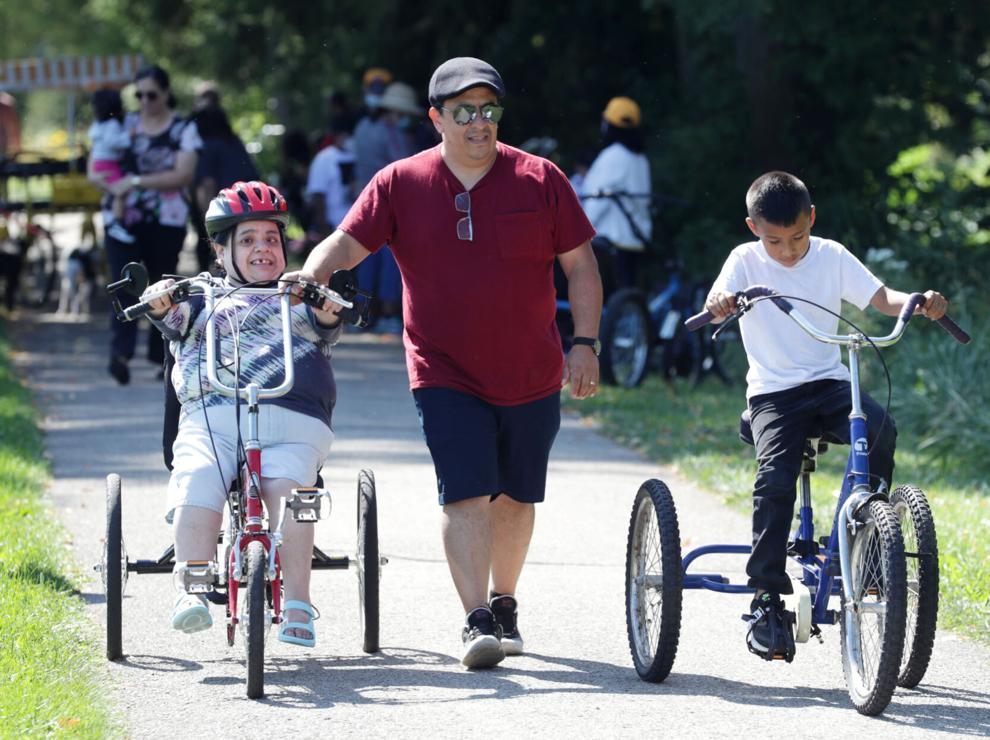 "We had a lot of misinformation," Portillo said, adding, "the goal is to educate and share resources with families so that they can avoid the mistakes we made with our son."
Portillo and his wife, Aracely, started Padres E Hijos En Acción in 2017 with just three families. The name was born out of a desire to get Latinos with developmental disabilities out of the house and moving, in activities that involve the entire family.
The nonprofit has since grown to more than 140 members, the youngest age 3 and the oldest 54. Members socialize and develop their motor skills through art classes, gardening lessons, swimming and bowling trips and by using the organization's fleet of adapted bikes.
Padres E Hijos En Acción also works with the families of those with developmental disabilities, as language barriers can make the already-complex medical system even more difficult to navigate, Portillo said.
An ally in UW
The nonprofit recently partnered with UW-Madison's Waisman Center on a $330,000 grant aimed at removing some of the barriers Latino families face when seeking care. As part of the three-year grant, Padres E Hijos En Acción has hosted three informational workshops designed to hear the needs of Latino families. The project hopes to create teams of about 20 families that can advocate for themselves and create change in the health care system.
Aracely Portillo, who works as a nutrition specialist for UW-Extension, started noticing children who displayed signs of autism spectrum disorder, or ASD, while conducting nutrition education home visits within the Latino community. She said she would "gently" encourage families to see a specialist, as diagnoses can help individuals get important resources such as Individualized Education Plans (IEPs) for elementary and secondary school students.
Padres E Hijos En Acción also helps members with the transition to adulthood. Hector Portillo said when people with developmental disabilities turn 18, much of the available care "just stops."
Facing hurdles
"They are afraid," Aracely Portillo said. "They think, 'If (their child) has special needs and I don't have documents, they are going to take him from me.'"
Aracely Portillo has also been hosting healthy cooking classes over Zoom. She said nutritional education is especially important as obesity is more common among children with disabilities. According to the Centers for Disease Control and Prevention, obesity rates for children with disabilities are approximately 38% higher than for those without disabilities.
Padres E Hijos En Acción sends participants free measuring cups, thermometers, cutting boards and workout DVDs. Aracely Portillo said encouraging physical activity and hosting outdoor events helps with motor skills and creativity.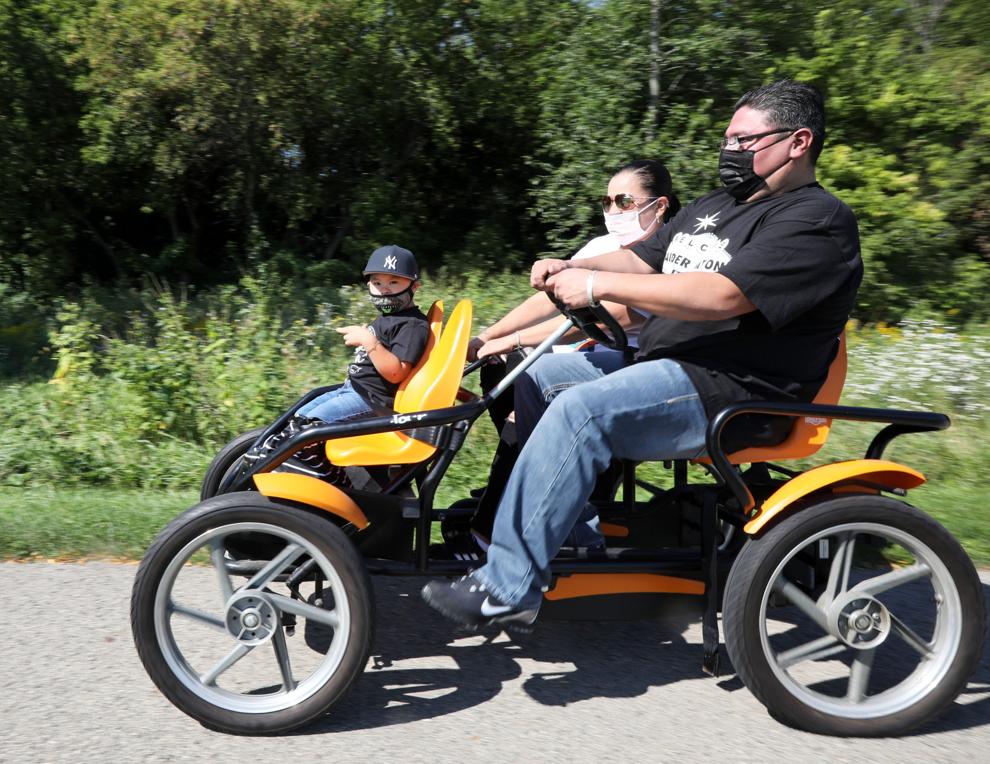 "That's another way to develop their imaginations — when they walk they see the trees, and the more you walk and are active, the more you are conscious about eating healthier," she said.
Bike ride
Encouraging physical activity is what inspired Padres E Hijos En Acción to host an adaptive bike ride Saturday at Quann Park as a part of Madison Bike Week.
Portillo pulled up to Quann Community garden towing a long black trailer filled with 20 adaptive bikes. Some were large tricycles, some had two seats so parents and children could ride together, and one even had four wheels and a covered top.
About 20 families gathered for the event. Children blew bubbles, created chalk masterpieces and pitched in to make a fruit salad — under Aracely Portillo's watchful eye.
Social element
Ignacio Castro has been nannying Lydia Conti off and on since she was just 3 months old. Conti, now 10, has ASD and sometimes gets frustrated about not having any friends with whom to socialize. Castro saw a post about Padres E Hijos En Acción and volunteered to take Conti to the bike ride. As soon as she arrived, Hector Portillo gave Conti a brand-new helmet, and she sped off on a bright red tricycle. Castro trailed behind, beaming.
The social element of Padres E Hijos En Acción is what sets the nonprofit apart, Aracely Portillo said. Most organizations focus solely on the child who is developmentally disabled and their parents, she said.
The Portillos were involved with one program that hosted a "sibling day" once a year. Aracely Portillo said her daughter would come back from the annual event and say, "When I'm there with all the girls that have a sibling with disabilities, I don't feel that I'm different. I feel that I'm not alone in this situation."
Padres E Hijos En Acción involves the whole family in every event, working to both create their own community and integrate its members into the Madison community.
"Especially now with the pandemic, they need to get outside, get fresh air, socialize," Hector Portillo said. "They need to know there are a lot of people like them."
The group has grown from three families to more than 140 members, ages 3 to 54.