Debra Pyka began to notice something was off with her son after his 19th birthday.
Joseph Chernach had been a rambunctious teenager, a high-achieving student with an active social life who loved hunting, fishing and wrestling.
That changed during his sophomore year at Central Michigan University. He became depressed and reclusive. His behavior became erratic. He got upset frequently, drank a lot, and got into car accidents caused by reckless driving.
He dropped out of school and moved back in with Pyka on the family's farmstead in Hixton, about two hours northwest of Madison.
"I remember standing in his room one day. And I pointed my finger at him and I said, 'You are not going to die before me.' And at that moment I realized he was going to die," Pyka said. "He just looked at me with this blank stare. He never answered me…he just stared at me, like he was looking through me."
Pyka didn't realize that Chernach had chronic traumatic encephalopathy, a brain disease caused by repeated hits to the head. Chernach had sustained many such hits playing eight years of tackle football, starting with Wisconsin Pop Warner youth leagues at age 11.
Research on the long-term neurological consequences of playing football is relatively new, and the unknowns are considerable. Still, the body of research that does exist, along with a heightened national focus on the dangers of concussions, is sparking conversations about the future of football — not only for adults, but for the millions of children playing around the United States.
In the greater Dane County area, youth tackle leagues are making changes to the game as participation declines. New tackling strategies and protocols for handling concussions have been implemented, and aspects of the game, like special teams plays or the traditional three-point lineman stance, may be on the way out. At the same time, advocates of the sport defend the game's safety. They say that the risks are relatively small, and that the community and life skill-building aspects of the game outweigh concerns.
Pyka's story represents the worst-case scenario. On June 7, 2012, Chernach killed himself. A brain autopsy later revealed Chernach's neurological condition.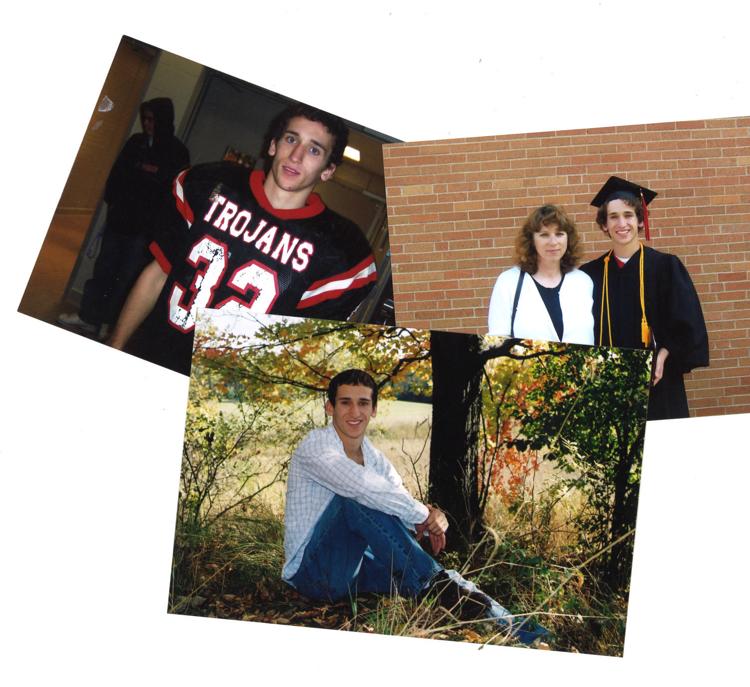 Today, her mission in life is to end youth tackle football in America.
"The regret that I have is that I let all three of my sons play tackle football. I should never have let them play. And look what happened. My son is dead because of tackle football," Pyka said.
Lately, it's not just the one-time consequence of a catastrophic hit that's being focused on, but the injuries from multiple hits, over time.
Dominating the narrative are concussions and CTE. Concussions — brain injuries caused by severe jolts to the head or body — have been known dangers for decades, although a newfound appreciation for their severity has emerged in the past 15 years.
States around the U.S., including Wisconsin, have passed laws on concussion protocols for youth and high school athletes in part to minimize risk of "second-impact syndrome," the devastating and often disabling injury that occurs when a person gets a second concussion on top of an existing one.
CTE is not necessarily caused by concussions. CTE is caused by repeated hits to the head, regardless of whether or not they are concussive.
"There are people who are diagnosed with CTE who had never had a diagnosed concussion," said Julie Stamm, a University of Wisconsin-Madison anatomist who has studied CTE and brain trauma in athletes.
Much remains unknown about football and the risk of long-term neurological consequences. Even less is known about the risk for young players.
CTE has been diagnosed in a number of athletes who only played football through high school, although according to Stamm, it's not clear if there's a link between age and CTE. That disease is a matter of exposure — the more you play at any level, the more hits you sustain, the likelier it is that CTE manifests.
Stamm is involved in new research indicating that playing while young could impact cognitive health.
"It appears that hitting your head at an early age is disrupting normal development," said Stamm.
Stamm, along with colleagues at Boston University, conducted cognitive tests on 214 former football players. Those who played football before age 12 were more than twice as likely to have trouble with attention, memory and decision-making.
Stamm stressed that there are limitations to her study. Participants were self-selected volunteers, and the findings still need to be replicated.
"Really the gold standard here would be to follow kids from elementary school on, follow those who go into sports like football, those who don't, those who quit earlier or keep going," she said.
But Stamm said it's reasonable to be wary of youth tackle football.
"You wouldn't tell your kid to go hit their head against a wall 270 times over 14 weeks," she said. "It kind of makes sense that maybe this isn't a good idea."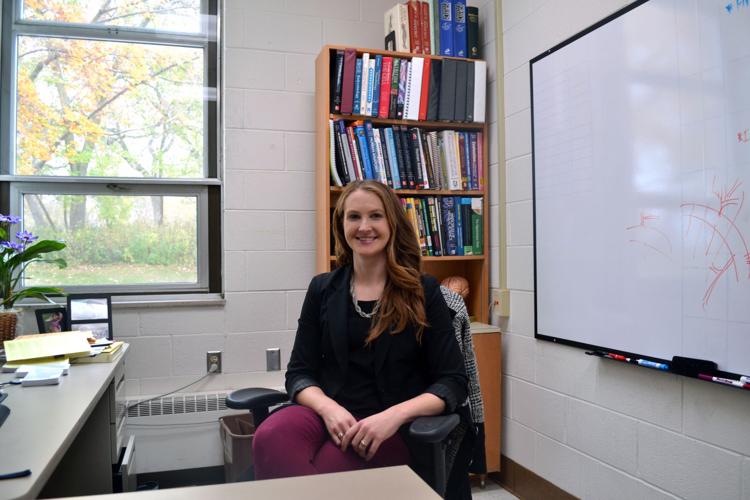 Bart O'Shea is not so sure. He is the president of the Dane County Area Youth Football League, which has served as the Madison area's primary youth football league since it was founded in 1976. He's not convinced that youth tackle football is relatively unsafe for cognitive health.
He pointed to research that found no differences between high school football players and non-players during the 1950s through the 1970s in terms of cognitive health. (That research, said Stamm, also has its limitations; it didn't control for a number of variables, plus style of play has changed drastically since then.)
"I look around. I played 11 years. I had one concussion. Not only am I not having any problems, but I don't know anyone else who does," said O'Shea.
Regardless, headlines about head trauma may have hurt participation in the youth tackle football leagues in the south-central Wisconsin region. O'Shea estimated that over the past four years participation has dropped 10-15 percent.
The Badger Central Youth Football Alliance is another major league operating in the south-central Wisconsin area. League leadership declined to comment while the season was ongoing, but coaches in the league said that some programs have seen major declines in enrollment.
Erik Oldenburg, a program director for the Monona Grove football program, said that participation in his 7th and 8th grade teams had dropped from 100 children two years ago to 50 children this year. In 5th through 6th grade teams, the drop was from 125 to 50 kids.
"I think youth football will be history in five years," he said.
O'Shea said in his opinion, there's no better time to play the game. Especially in the wake of a series of rule changes and new protocols, he said, youth tackle football has never been safer.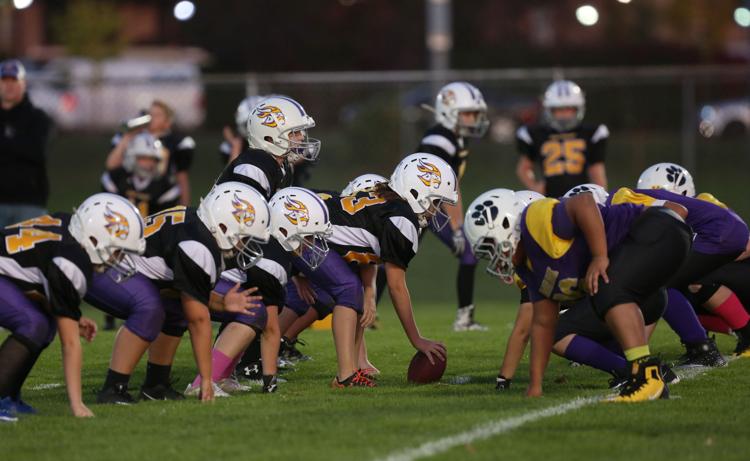 Those changes were on display on a crisp mid-October evening on Madison's north side, as crowds of parents, coaches, teachers and children converged on Warner Park for a youth tackle football double-header. Sixth grade and eighth grade squads for Warner Park squared off against DeForest and Janesville teams to wind down the 2017 Dane County Area Youth Football League season. Cheers and bellows from the stands and sidelines mixed with sounds of referee whistles and collisions on the gridiron.
Travis Dobson, a lineman coach for the 7th grade Warner Park squad, was among the spectators. For him, youth football is a multi-generational tradition. He grew up playing as a lineman at Warner Park, which has had youth tackle football since 1972. Now, his two sons play as linemen there.
"We've evolved and changed," said Dobson. "It's a whole different culture now."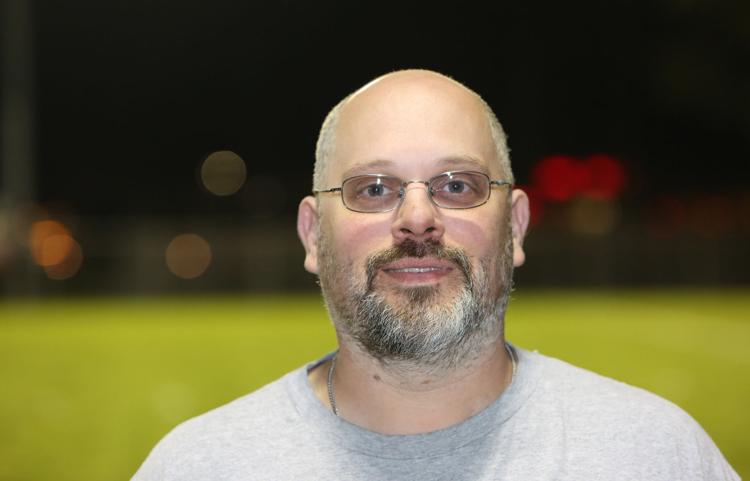 Gone are helmet-to-helmet collisions and headfirst tackling. The league has embraced the Heads Up Football program, a style of tackling promoted by the NFL-endowed youth football group USA Football, where players tackle low and lead with the shoulder.
The league has rules for handling concussions, in compliance with a state law passed in 2011. Whenever a player exhibits symptoms, they get pulled from the game, no questions asked. Those players must be cleared by a physician before they're allowed to play again.
On younger teams, players no longer return punts or kickoffs, reducing open-field tackling. Teams have also reduced the hours they spend practicing, minimizing the number of hits that players take.
O'Shea said the league has also improved equipment-fitting practices — although he stressed that research shows there is little to nothing helmets can do to stop a concussion.
O'Shea said more changes are likely. He's considering eliminating special teams plays altogether, shrinking the size of the field to reduce big hits, and changing the stances of linemen so that collisions in the trenches are less intense.
Another area league, the Badger Central league, has implemented similar changes. Some teams have introduced "Hawk Tackling" — a style of tackling developed by the Seattle Seahawks NFL team that, like Heads Up, is purported to reduce the risk of concussion.
For many parents at the Warner Park game, the changes mattered. Becky Thiede, whose son was on Janesville's 8th grade team, said she was averse to him playing at first. The new safety protocols have helped.
"I think they're more concerned than they used to be," she said. "I think there's less dustin' them off and throwing them back in."
Coaches like Vernon Hill, with Warner Park's 6th grade team, said the new measures have changed the game.
"It's more cautious, more aware of what's going on," he said.
Dobson's child, the 13-year-old lineman Kurt Polo, said that he's heard a lot about head injuries in football.
"I'm hearing it everywhere," he said. "I walk around, there's newspapers talking about it, TV. Mothers and fathers are talking about it, they're worried about concussions."
However, he's not too worried.
"I'll take the risk in getting a concussion or two," he said. "But I'll do my best to not get into those situations."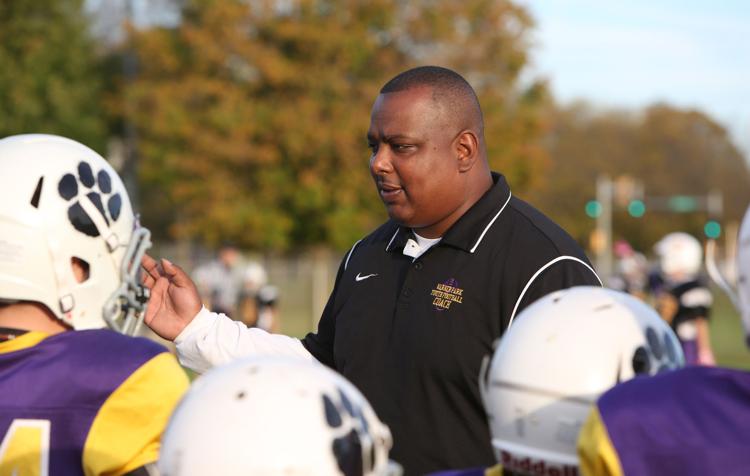 According to Stamm, programs that introduce safety measures to reduce hits do make the game safer, although she noted that there's no conclusive evidence that programs like Heads Up tackling reduce concussions. But, she said, only so much can be done to account for the jolts that hurt the brain in football.
"We can definitely take steps to make it safer. But it's probably not a good idea to hit the brain repeatedly like that," she said.
Many proponents of youth tackle football are skeptical of whether youth football, relatively speaking, is dangerous.
"You could get a concussion jumping on a damn bed," said one father watching the Warner Park game, Duwayne Hills. "I'm not worried about it."
Proponents also say that football is getting a bad rap — concussion rates are also high in sports like soccer and volleyball, yet those sports don't get nearly as much attention as football.
According to the child safety nonprofit Safe Kids USA, sports and recreation account for about 21 percent of traumatic brain injuries. Football is the leading cause of concussions among youth sports, but sports like soccer, rugby and hockey are high-risk too. Recently, researchers have confirmed the existence of CTE in former hockey and soccer players.
Stamm agreed that other sports also deserve scrutiny. Still, she noted that football is a game where repetitive hits and head trauma are a core component of the sport.
While youth tackle numbers have declined, participation in Madison's "Big 10 league," a local network of NFL-sponsored community flag football programs, has been on the rise, according to the league organizer Casey Dudley.
"I think the big driver is, parents aren't ready to have their kids play tackle," he said.
He's inclined to agree with those parents: "I don't think they need to play tackle," he said. "I just don't think they need to bang their heads together at fourth grade."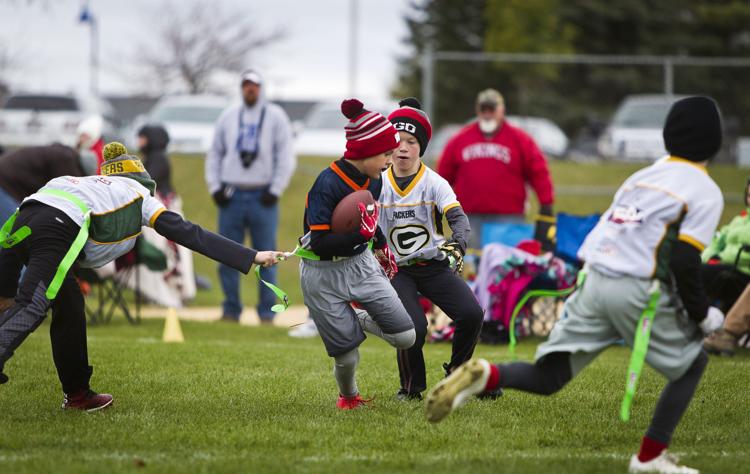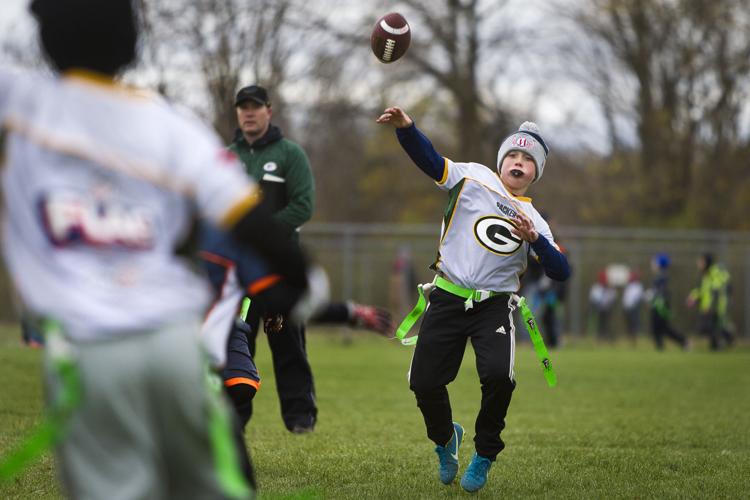 O'Shea said some of his programs have introduced flag football in addition to tackle, in response to the demand.
In Monona Grove, Oldenburg said it's possible that if participation continues to stagnate, they may switch over to a flag format. That wouldn't sit well with him.
"Flag's great," he said. "But (players) love tackle football. It's men on men, boys on boys. It's tough and rough and that's what boys need. Otherwise they're just sitting around playing video games."
Pyka, the mother of the late Joseph Chernach, is riddled with regret over the death of her son.
"There's things I wish I'd done differently, now that I know," she said. "I wish I'd have gotten him to a neurologist...I think if he would have understood what was going on in his brain. Maybe we could have dealt with it differently."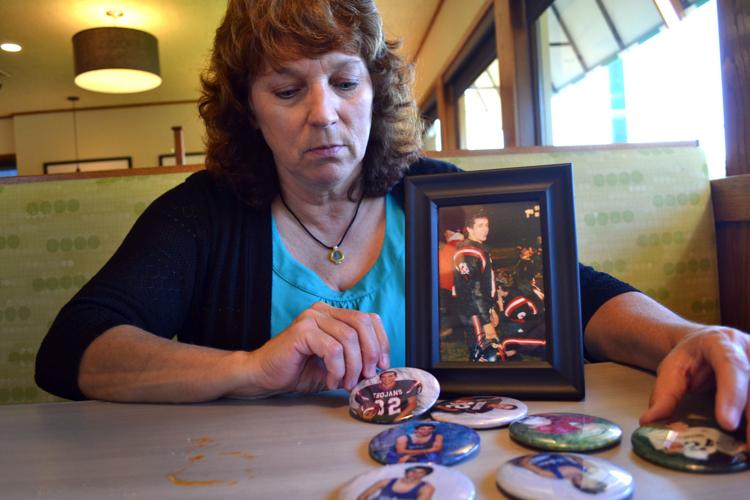 Pyka said she cringes when she sees her friends signing up their kids for youth tackle football. She tries to talk them out of it, but she said they often don't understand what she's trying to tell them.
"This is like a gladiator sport," she said. "One day, I hope they'll go back to my comments and say, 'She was right all along.'"
Pyka has become a full-time head safety advocate. She's founded a number of groups that lobby policymakers to change youth sports regulations, and to spread awareness about the risks of collision sports. She works with a network of other mothers who have lost children to CTE, including the lead plaintiff in an ongoing class-action lawsuit against Pop Warner.
Meanwhile, Stamm said she hopes more people will begin taking the research on football and brains seriously. She said it's common for people to dismiss the risk.
"It's a hard thing to swallow that maybe we've been hurting people for a long time. I understand how it's hard to make that cultural shift," Stamn added. "We have to figure out how many hits, if any, are OK."