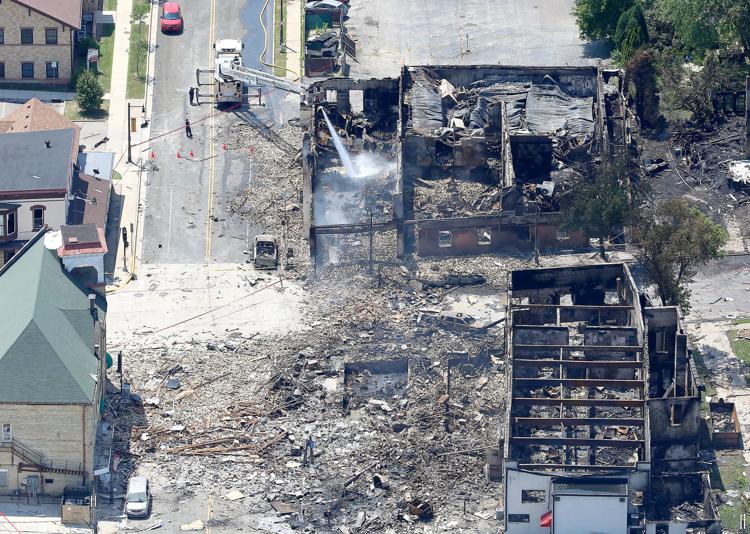 SUN PRAIRIE — Residents were recovering and workers were cleaning up Wednesday after a gas leak led to a massive explosion that killed a firefighter and destroyed or damaged several buildings in downtown Sun Prairie on Tuesday night.
The blast killed Cory Barr, a captain in the Sun Prairie Volunteer Fire Department who owned, along with his wife, Abby, one of the buildings that was destroyed: the Barr House restaurant and bar at 100 W. Main St.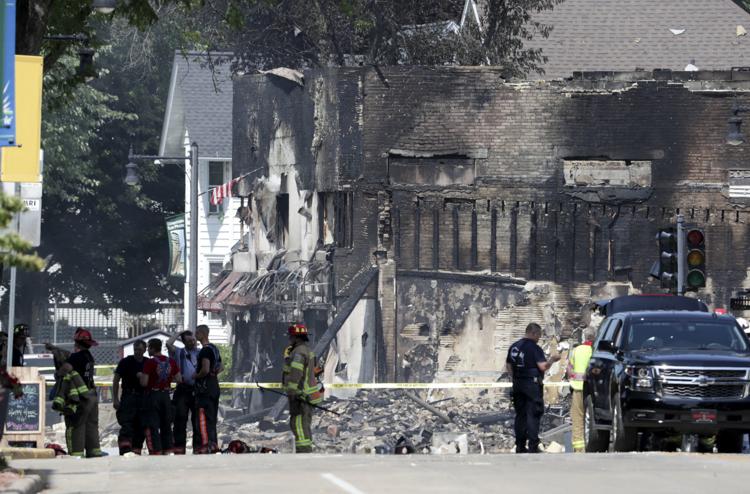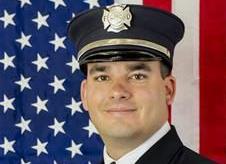 Another firefighter was initially hospitalized in critical condition after the blast occurred around 7:15 p.m., or about 40 minutes after a contractor breached a gas main, but his condition had improved by Wednesday.
"He was up walking around talking today, but he's got a long road to recovery," Sun Prairie Fire Chief Chris Garrison said at a news conference Wednesday.
Four more firefighters, a police officer, and five civilians were injured and taken to hospitals, but all had been released by Wednesday.
Garrison said at a news conference Wednesday that after the leak was reported, first responders established a 300-foot "hot zone," evacuating about 65 people before the explosion.
"The rapid response of firefighters, EMS and police saved a lot of lives. ... This could have been a lot more tragic than it was," he said.
Gov. Scott Walker, who toured the explosion site Wednesday, said at the news conference that the actions of Barr and other first responders were "without a doubt heroic," adding that without their initial evacuation efforts "a tragedy of one would have been far greater."
Garrison estimated about 200 firefighters and 50 law enforcement officers assisted in controlling the flames and securing the area.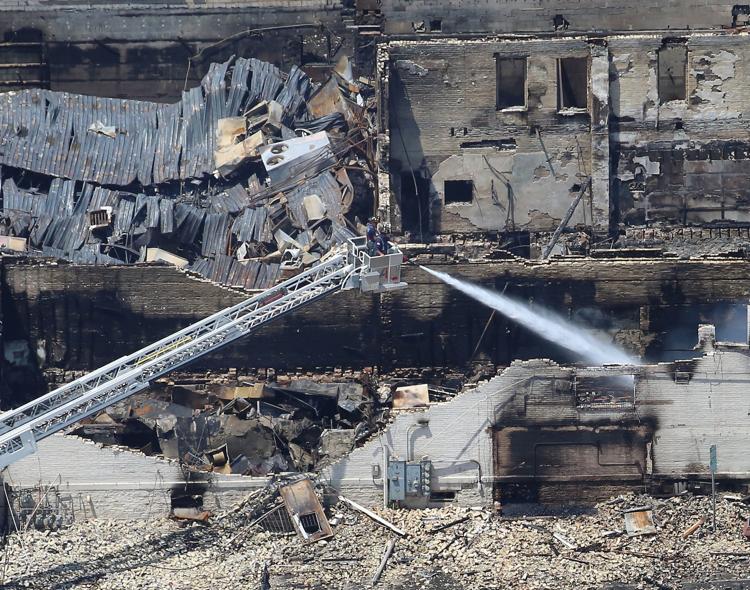 In addition to the Barr House, at least four other buildings were destroyed or suffered significant damage — Glass Nickel Pizza, the Professional Building, Water Tower Chophouse and a residence.
Investigators declined to identify which buildings were damaged or at which structure the explosion happened.
'It shook the whole house'
Witnesses said the explosion shook the city of about 33,000 people and sent a plume of smoke and flames into the air.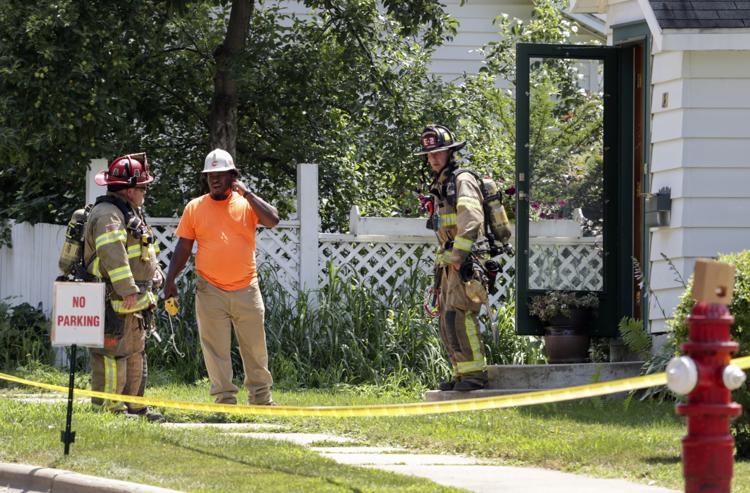 Standing at the police barrier on Main Street just west of the blast area Wednesday morning, Jennifer McCartney, 35, said she was at her home on Jones Street getting ready to mow the lawn when the blast occurred.
"It was like a bomb in the backyard — loud and it shook the whole house," she said.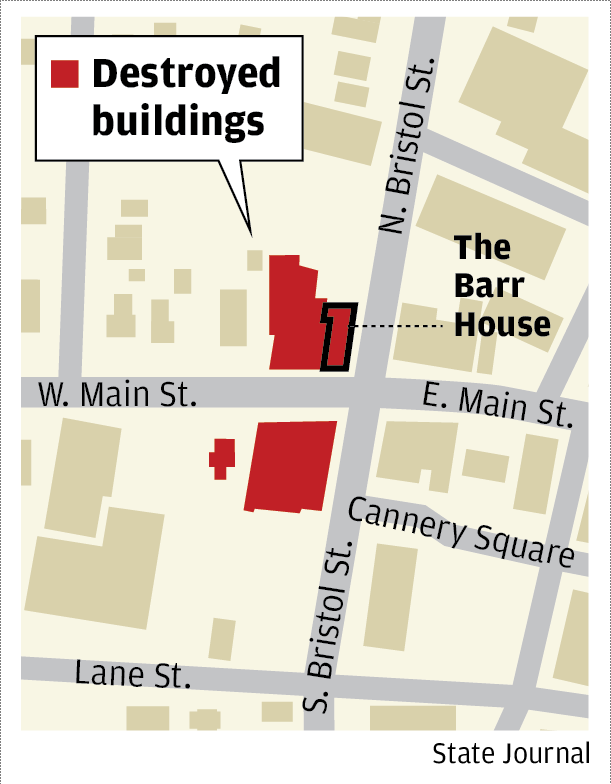 Danielle Rowland, 30, who since 1996 has lived on Church Street, just a block from downtown, said she was on her back porch Tuesday night after dinner when the blast "rocked our house" and she saw the "biggest plume of black smoke and debris flying."
She went to retrieve her 8-year-old daughter and 7-year-old son from where they were playing down the street, grabbed their three dogs and two guinea pigs and fled.
"I actually jumped up in the middle of it shaking," she said, "because my kids were not there with me."
Jeff Fedler, who also lives on Church Street, said he was home at the time of the explosion. Although the explosion shook his whole building, he said he originally thought it was a firework or gas grill that had exploded but soon realized it was much bigger.
"Once we saw a plume of smoke and debris, we knew it was something big," he said. "The next question was if everyone was safe."
After the explosion, he said he checked to make sure his building wasn't damaged and started to head to the area of the explosion to see if anybody needed help. He was turned away by a police officer who said he should leave the area.
"You could feel the heat of the fire," he said.
'Sudden and tragic event'
Like other nearby residents, Richard Berg, 83, was ordered by authorities to evacuate from an area within about a half-mile radius around the epicenter of the blast. Berg spent the night with a handful of other evacuees at Our Savior's Lutheran Church, 550 Lincoln Drive.
Matt Weber, the church's youth and family director, said the moments following the blast were confusing. He and many of his neighbors were told to evacuate, but they weren't allowed to drive away from the area – starting the engines of their cars could cause more damage with the gas leak.
As Weber was walking from his home, just a few blocks from the church, he said he told others that he would open the church doors for anyone looking for shelter. A few people stopped in to use the space until they were able to find other places to stay.
"It was such a sudden and tragic event," Weber said. "Our prayers go out to the Barr family, and the first responders and the community as a whole."
The Salvation Army and American Red Cross provided evacuation centers at Sun Prairie High School and Patrick Marsh Middle School, and all summer school activities for Wednesday were canceled.
Tom Mooney, chief operating officer of the American Red Cross in Wisconsin, said about 85 people were assisted or stayed the night at the organization's post set up in the high school's gymnasium. Many of those people were from senior assisted-living facilities, including about 50 from TallGrass at Sun Prairie Senior Living. All were able to return to their homes Wednesday morning.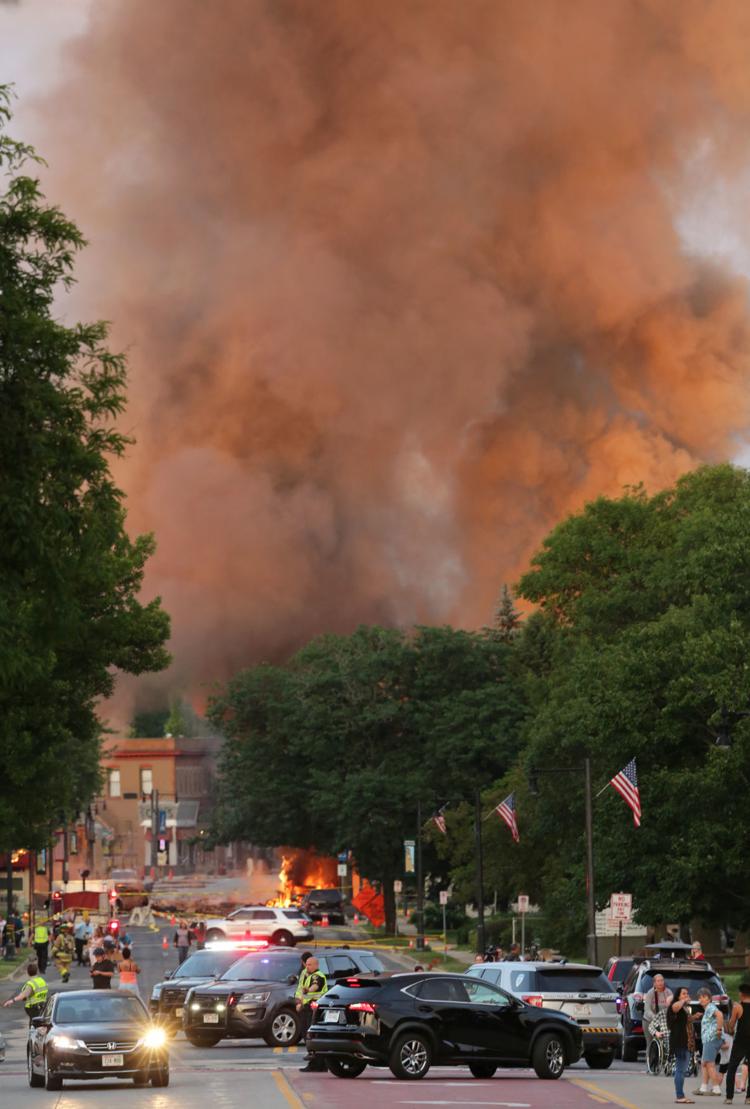 He said the Red Cross had its shelter set up about 90 minutes after the blast for residents to seek emergency medical services, mental health professionals, sleeping cots, food and water.
Mooney said he was impressed how Red Cross volunteers and other communities had "rallied around Sun Prairie."
"Everybody was figuring out how to help ... my hat goes off to so many people," he said. "I couldn't be more proud of our volunteers and staff."
By late Wednesday afternoon, few remained at the center. Mooney said they would likely close it Wednesday night unless the situation changed and more residents needed help.
For those interested in helping those affected recover after the gas leak explosion in Downtown Sun Prairie, there are a number of ways to support.
Sun Prairie United Methodist church also opened its doors Tuesday night, with about 50 people and six dogs initially evacuating to the church. Fifteen people and three dogs spent the night.
"Our members and non-members alike just came out of the woodwork to offer help and support, and for our staff as well," said church administrative secretary Laura Meixner.
Residents were allowed to return to their homes Wednesday morning, but a large area of downtown Sun Prairie remained off limits to most or all traffic and residents Wednesday.
Main was shut down between Church and Jones streets. Lane and Angell streets north and south of Main were closed, as were Bristol and South streets at Linnerud Drive and Columbus Street at Cliff Street.
Sun Prairie Police Chief Pat Anhalt said investigators, which along with the police and fire departments include the State Fire Marshal and the federal Occupational Safety and Health Administration, expect to be on the scene for "several days."
Contractor punctured natural gas main
WE Energies spokeswoman Amy Jahns said workers for a contractor apparently punctured a 4-inch natural gas main, sending gas leaking into a building ahead of the explosion.
WE was called to the site just after 6:30, but there wasn't time before the explosion to shut down the gas at the source of the breech, according to another WE spokeswoman, Cathy Schulze. That meant workers had to find and shut off all the service lines and valves — about a dozen in total — that controlled gas going to the main, she said, and that took until about 9:30 p.m.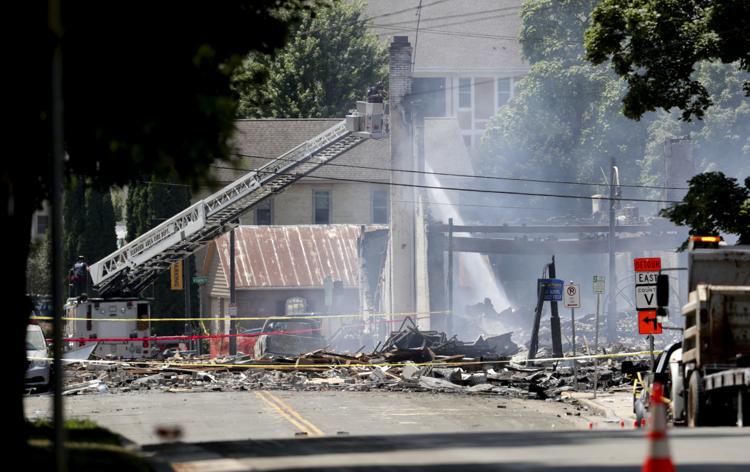 Schulze said the break in the main was not caused by anyone working for or on behalf of WE Energies. Sun Prairie Mayor Paul Esser said a contractor was doing "directional boring" under the street when it hit the gas main.
Investigators declined to name the contractor, the nature of the work it was doing or where the work was being done.
Schulze said that by about 1 p.m. Wednesday, more than 275 of the 500 customers who lost gas service due to the explosion had their service restored.
Help, encouragement
Sun Prairie Police Lt. Kevin Konopacki said many residents in the area came flocking to the scene Tuesday night to ask how they could help or offer words of encouragement.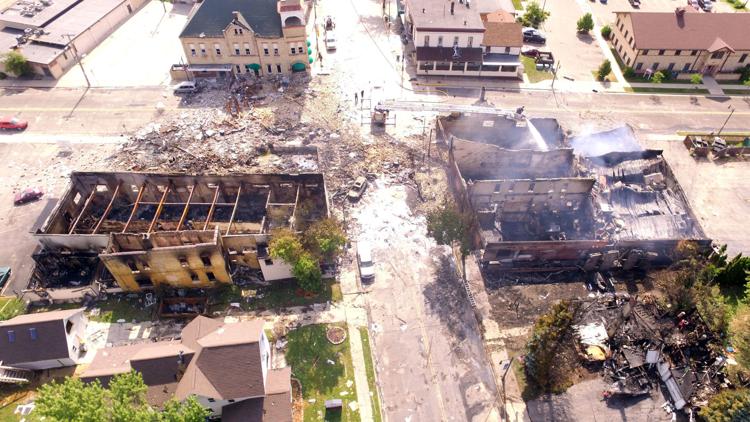 But Rowland, the Church Street resident, said she heard nothing about the gas leak before the explosion and the only contact she had from city or emergency officials was from the worker who came by her house after the explosion to tell her to leave.
"We have heard nothing from nobody," she said. "That's a little disconcerting to me."
Esser said the city does have a system to alert residents to emergencies and that it was activated at some point on Tuesday, but he didn't know when. He said first responders were busy just after the gas line was breached telling people in the Downtown area to leave.
Patrick DePula, owner of Salvatore's Tomato Pies at 121 E. Main St. in Sun Prairie, tried to put the tragedy in perspective Wednesday morning.
"Buildings are just buildings. Property is just property. Life is what matters. Life is what's irreplaceable," he said.
"It's just too bad somebody had to get hurt," said Berg, who has lived in his Jones Street home for 54 years. "You don't expect something like that in a small town."
---
State Journal reporters Bill Novak, Shelley K. Mesch, Chris Aadland, Barry Adams and Logan Wroge contributed to this report.
Photos: View the scene of fatal gas explosion and fire in Sun Prairie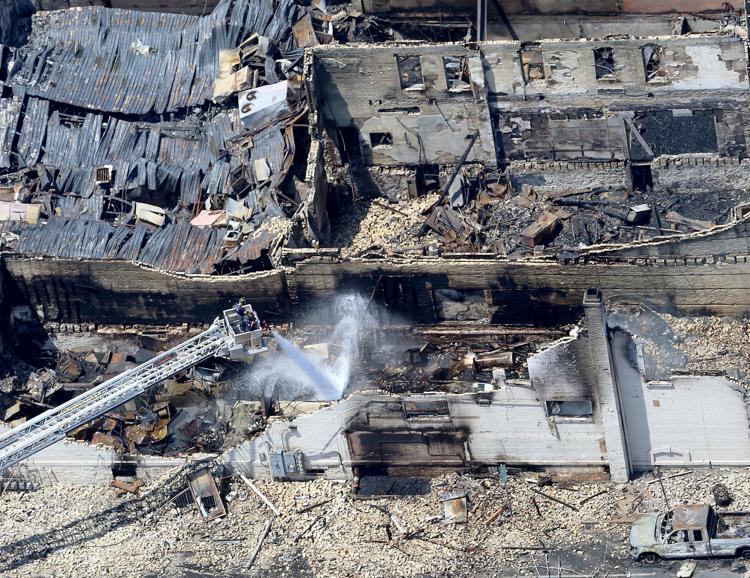 View looking northwest from above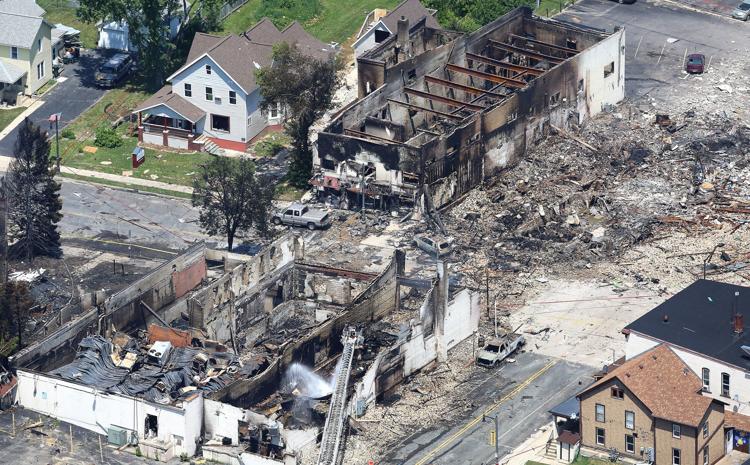 View looking southeast, from above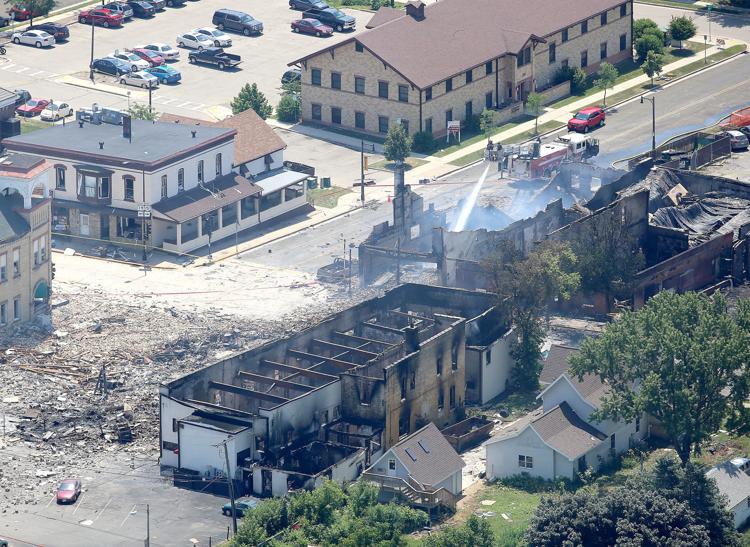 Firefighters working, viewed from above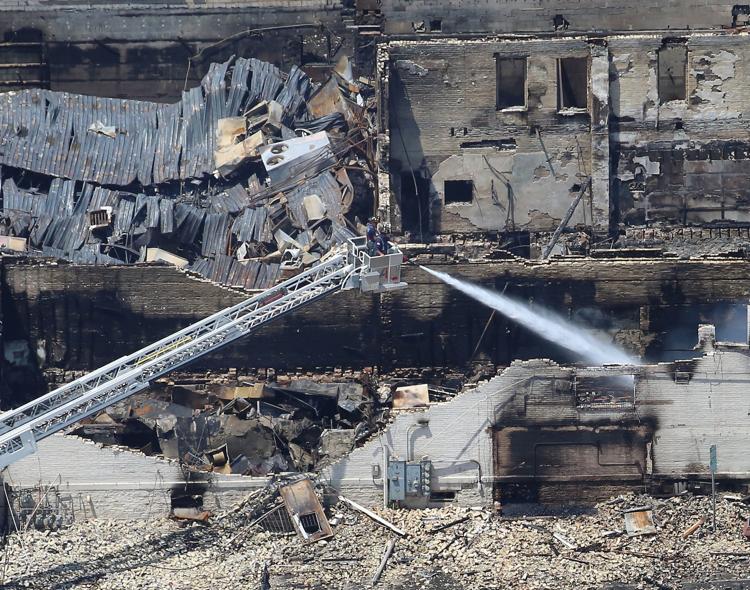 View looking northwest from above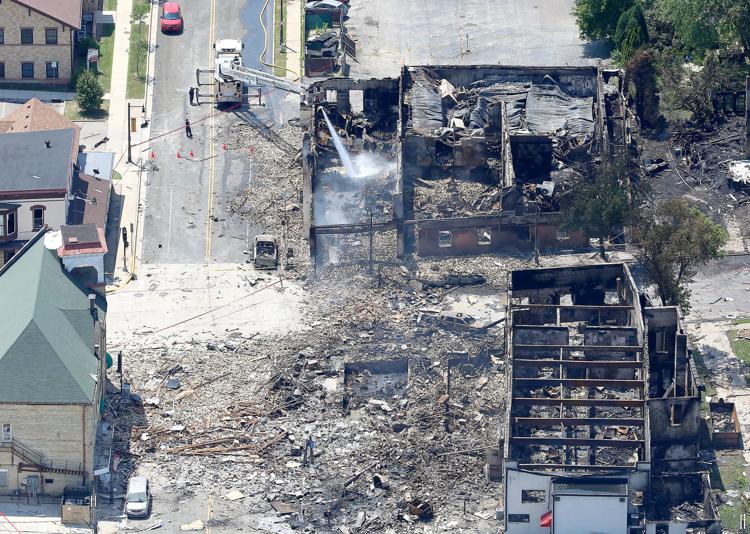 Aftermath of Sun Prairie gas explosion and fire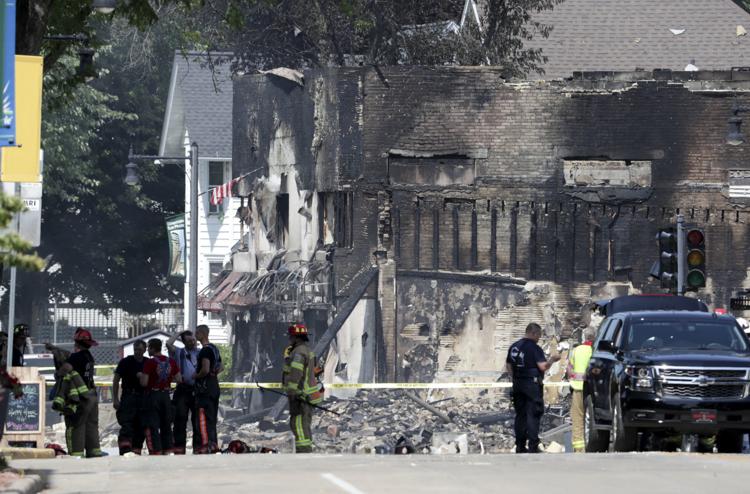 Firefighters remained on the scene Wednesday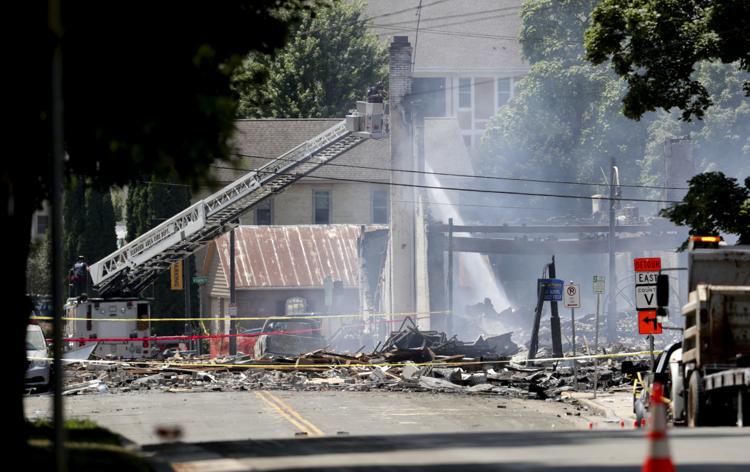 Firefighters, utility workers check homes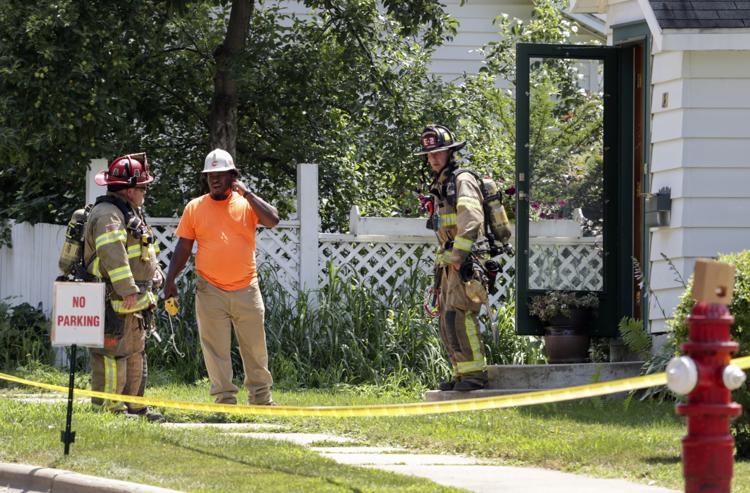 Cory Barr, firefighter killed, Sun Prairie Volunteer Fire Department photo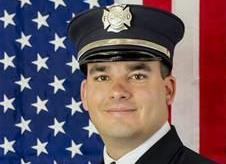 View of explosion site from a drone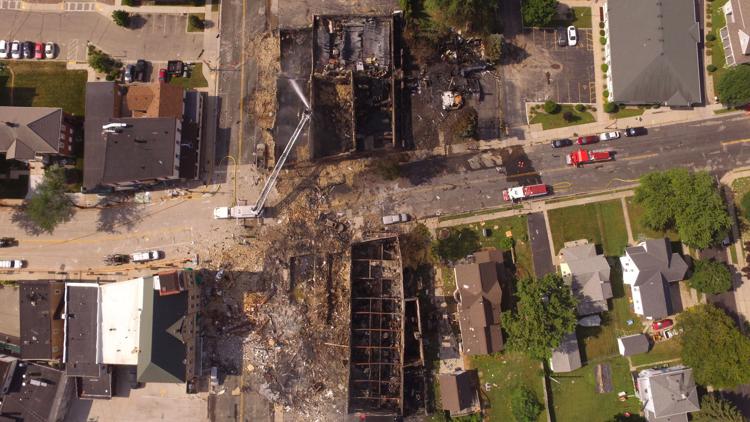 View of explosion site from a drone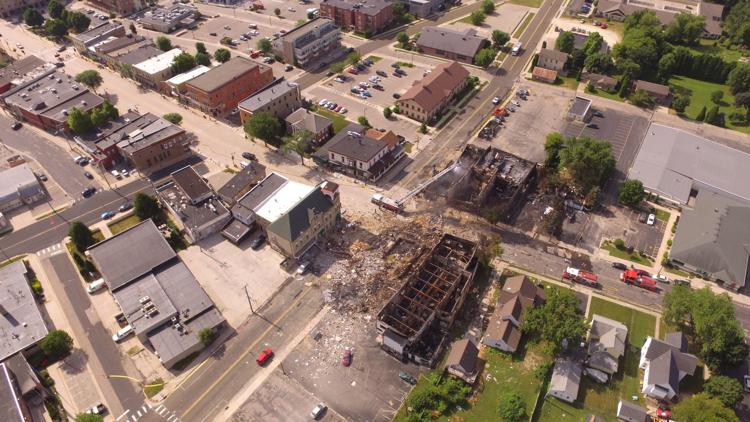 View of explosion site from a drone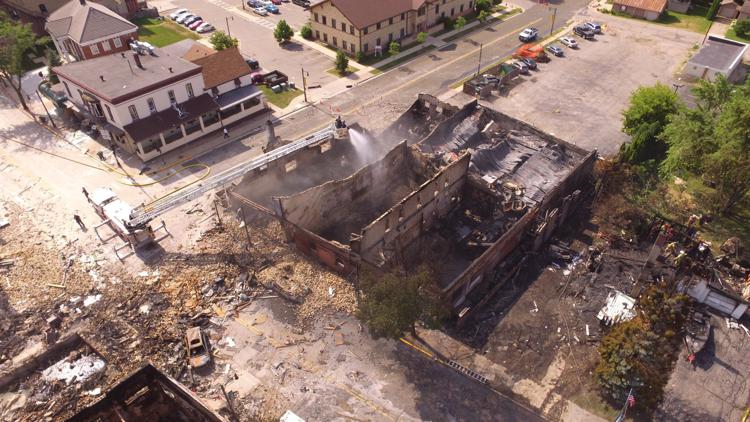 View of explosion site from a drone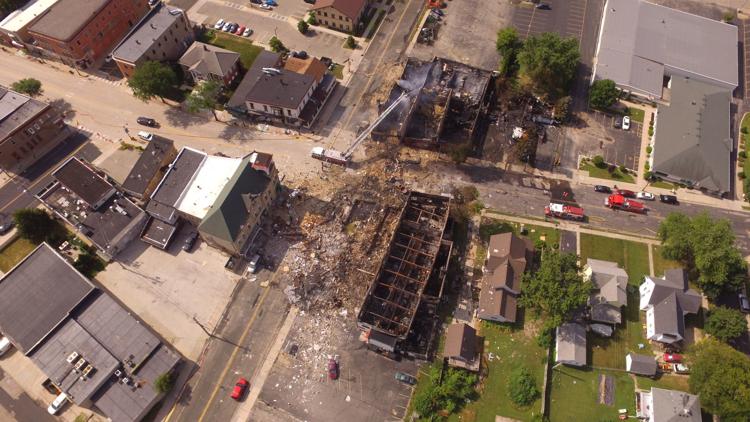 View of explosion site from a drone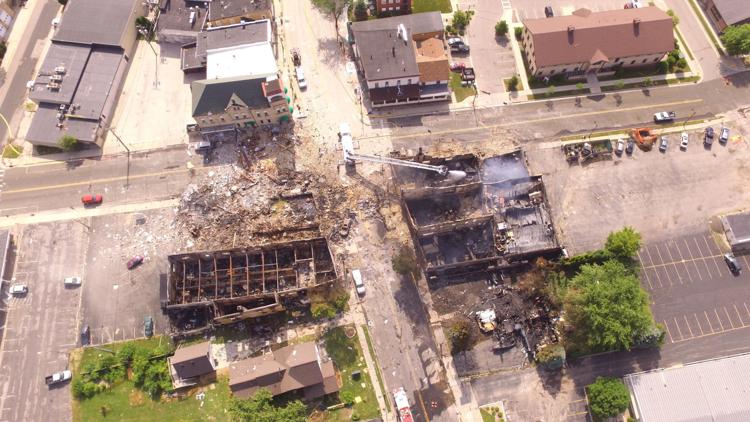 View of explosion site from a drone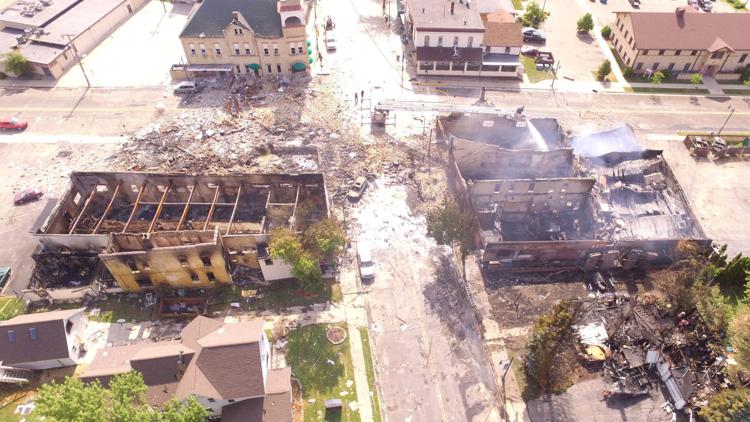 View of explosion site from a drone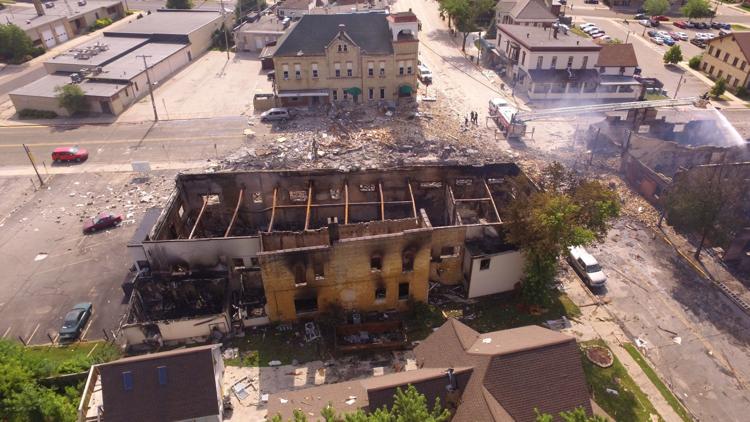 View of explosion site from a drone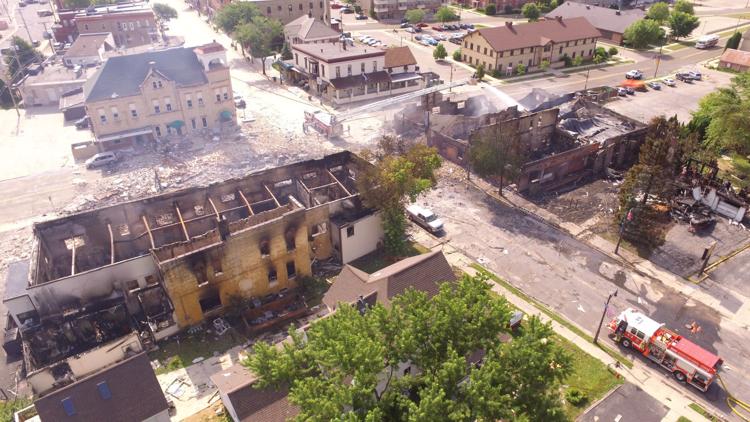 Fire burns in downtown Sun Prairie after a gas leak explosion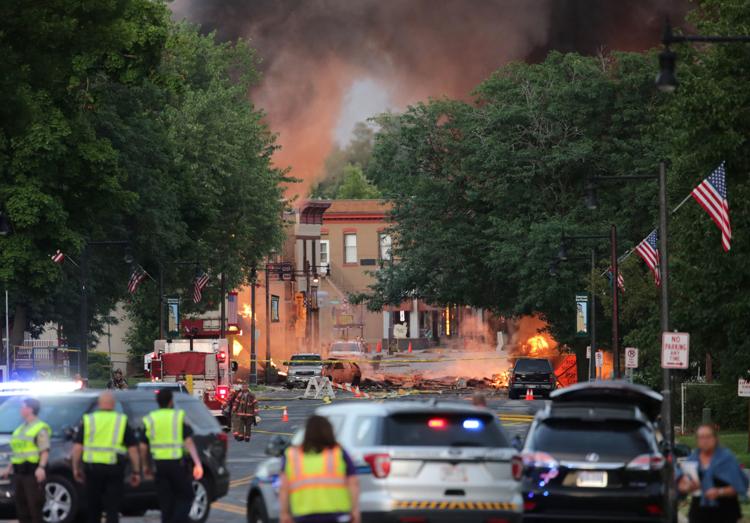 Residents in five-block radius of explosion were asked to evacuate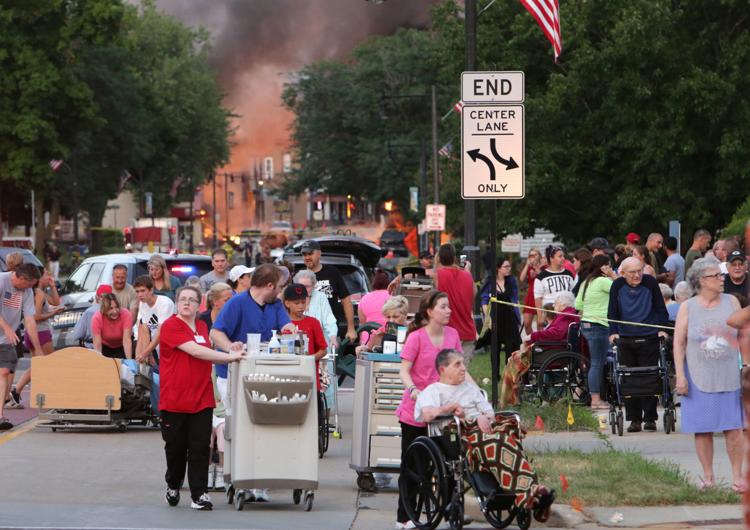 Smoke rises as a fire burns after an explosion in Sun Prairie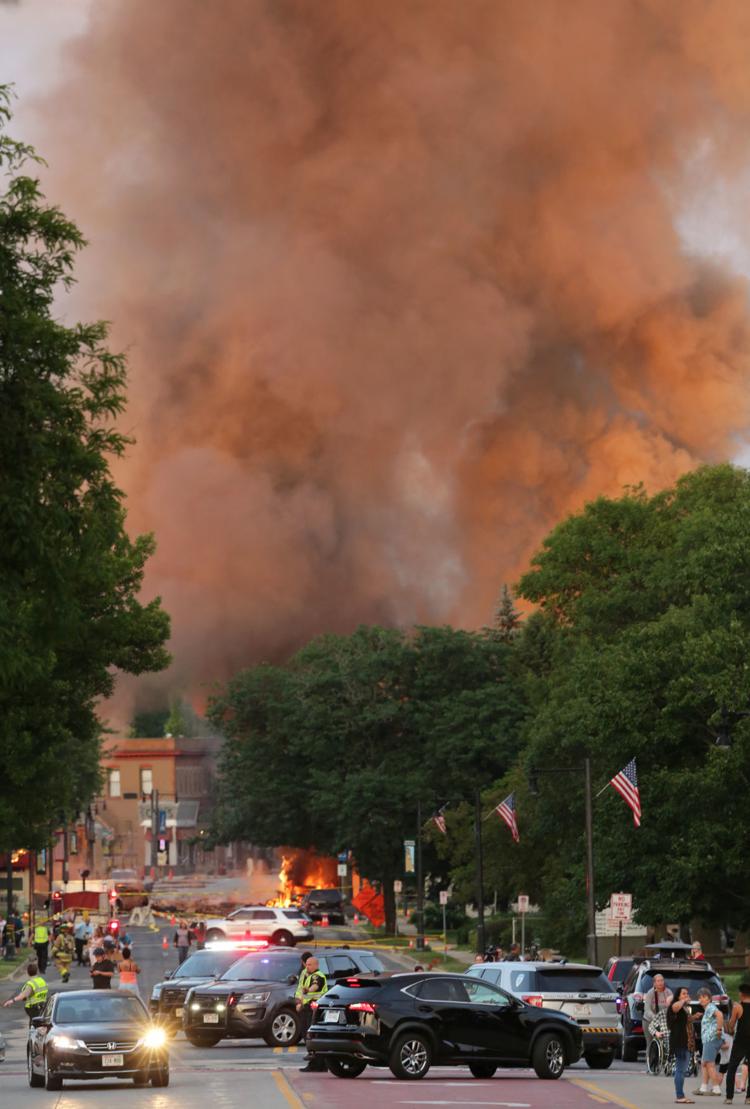 Firefighters battle blaze from Sun Prairie gas leak explosion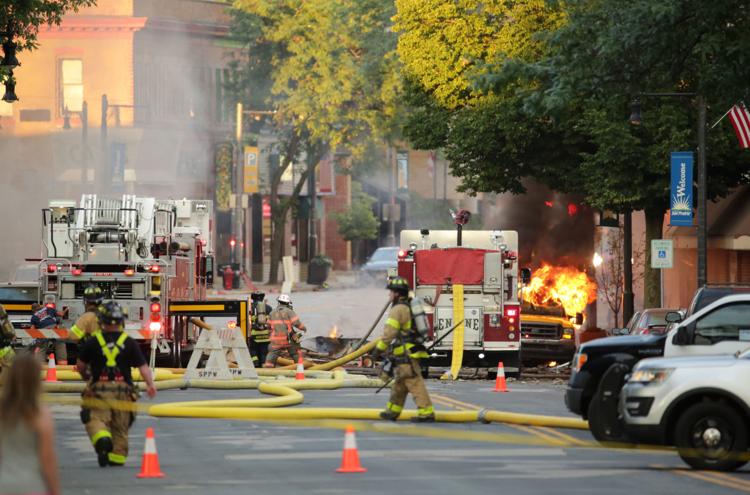 Residents of an assisted living facility evacuated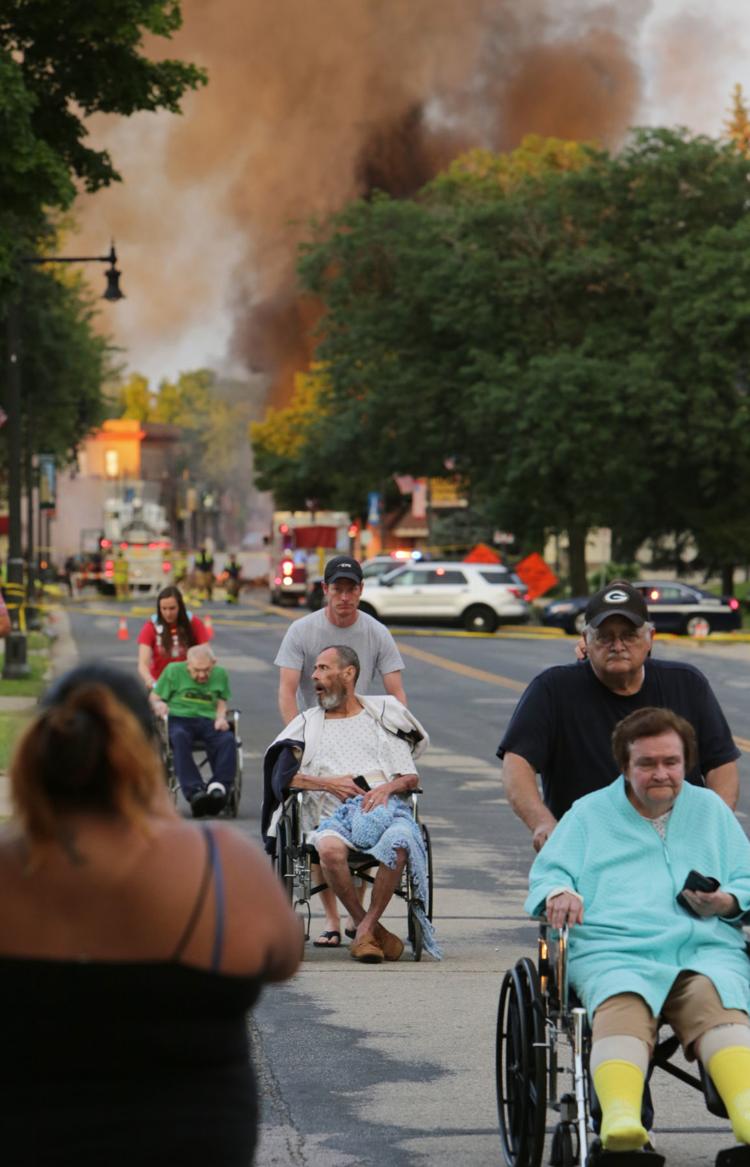 A gas main leak in downtown Sun Prairie led to an explosion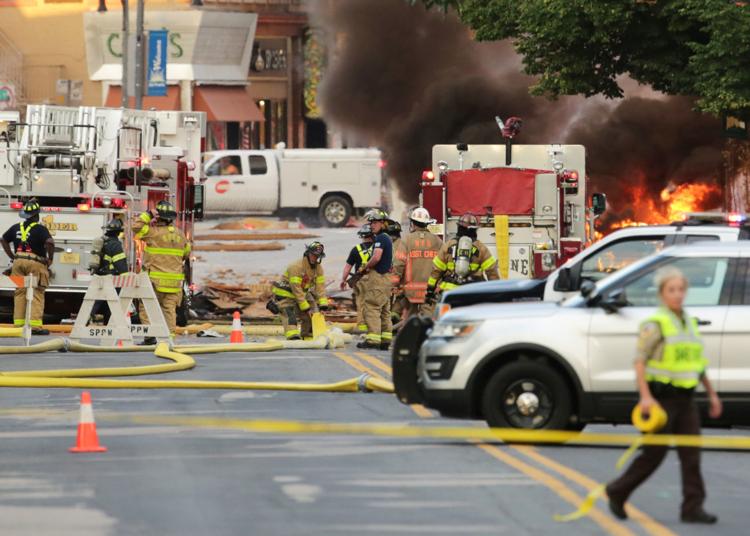 A contractor struck a gas main leading to an explosion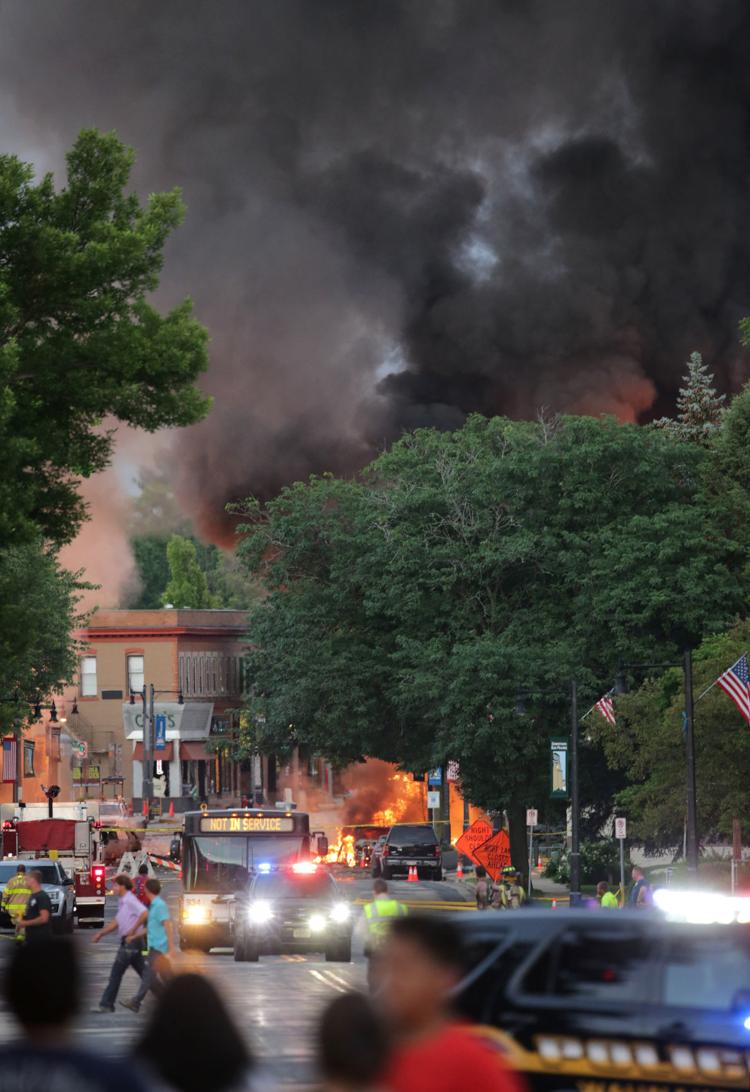 Get local news delivered to your inbox!
Subscribe to our Daily Headlines newsletter.