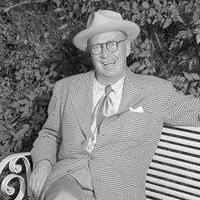 It's the Twitter feed you never knew you wanted, but may not be able to live without: @RoundySays.
Joseph "Roundy" Coughlin was a legendary Madison sports and city columnist for 50 years, both at The Capital Times and Wisconsin State Journal. He wrote like few before him did, and few after him have. Roundy knew everyone; everyone knew Roundy. 
You have free articles remaining.
Without a doubt, had they existed in the same time and space, Roundy — with his stream-of-consciousness style —- would have been a Twitter hero.
Our new Twitter account will pull some Roundy gems from his half-decade of chronicling life in Madison. Follow at @RoundySays.