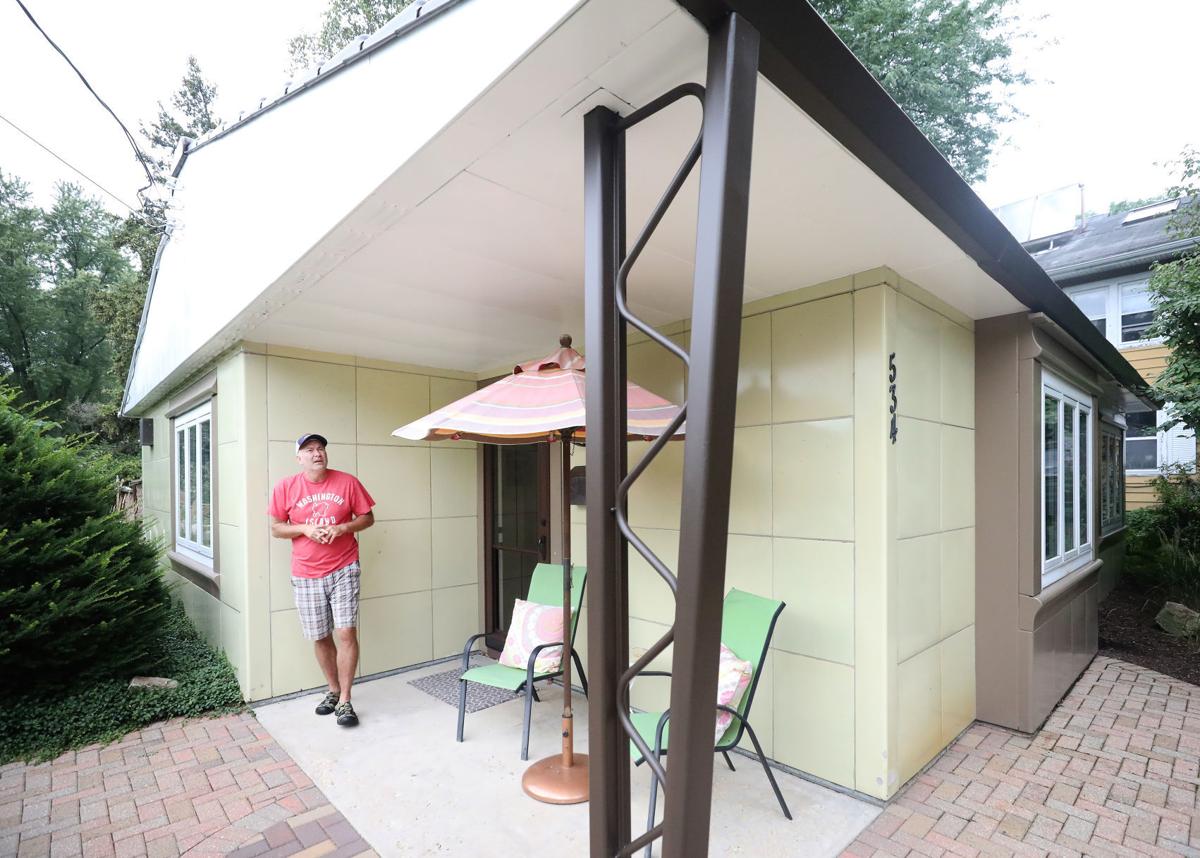 If Madison city officials approve, America will soon lose another Lustron — which, depending on your view of the prefabricated, mass-produced, and yet decidedly distinct post-World War II homes, could be a gift to good taste or a blow to the nation's architectural history.
The city's Plan Commission on Monday is being asked to approve a demolition permit for one of the only about 2,680 Lustron homes ever built during the company's four-year existence in the late 1940s. It's also one of approximately 80 left in Wisconsin, and one of 16 listed as still standing in Madison, almost all of them on the Near West Side.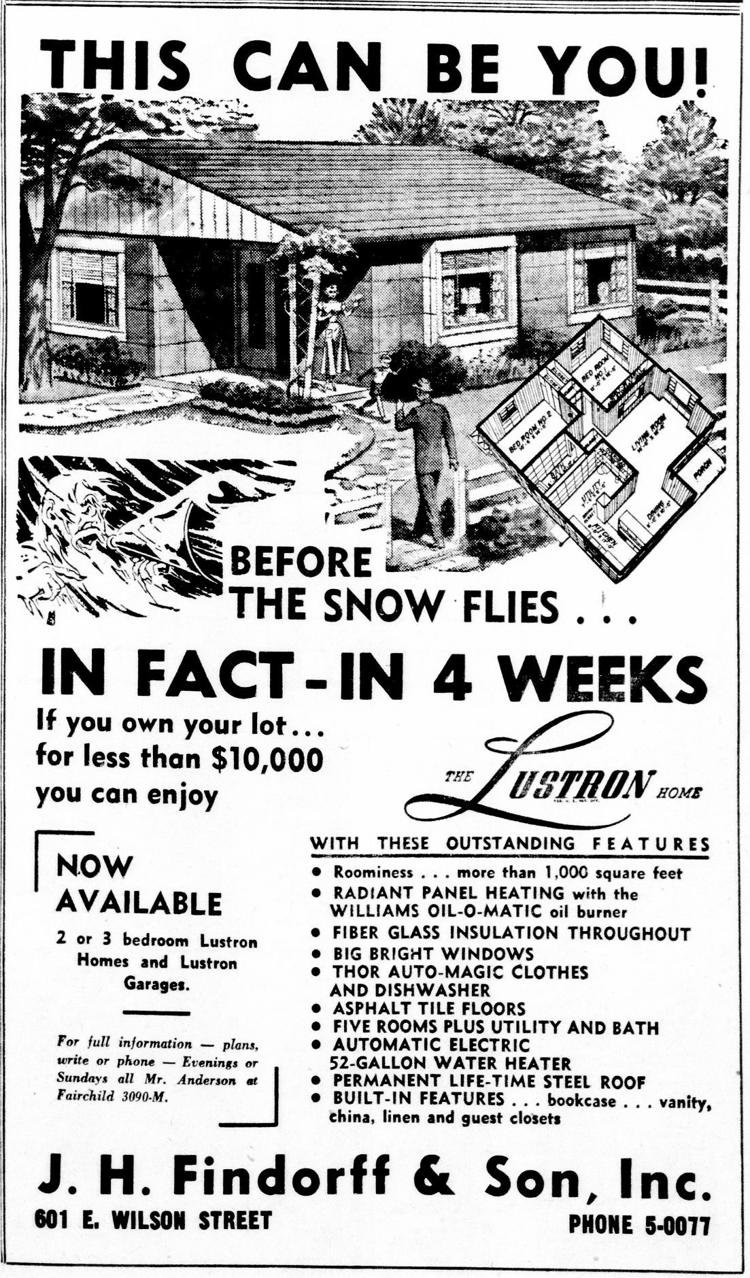 The company made four models — the Esquire, Westchester, Newport and Meadowbrook — in a Columbus, Ohio, factory with the help of millions in federal loans. But mismanagement and the inability to perfect the manufacturing process meant the company fell far short of the 400 it aimed to produce a day, and in June 1950, the factory shut down and went into foreclosure.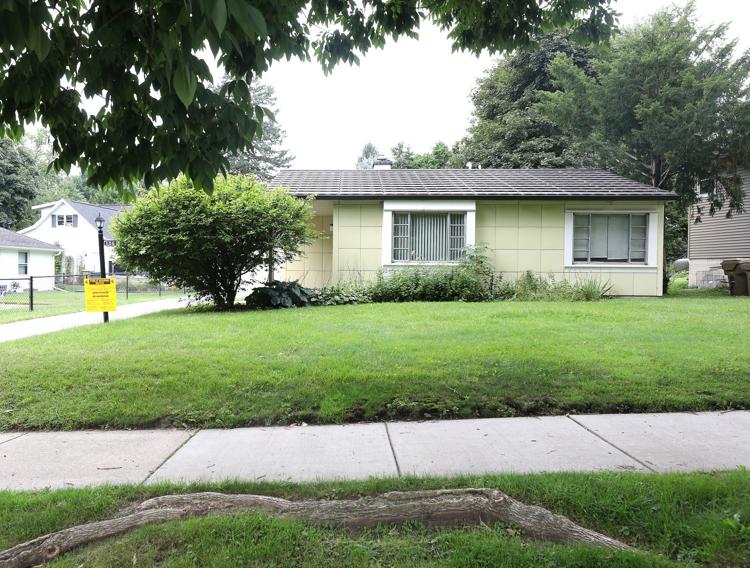 Instead of sending the home to the landfill, though, the city's Planning Division is recommending that as a condition of getting the demolition permit, Haefer first be required to try to sell it whole, for relocation, or in parts to be used by other Lustron owners, for 60 days.
"Marketing of the house should include sharing its availability for relocation with local preservation organizations," said city planner Sydney Prusak.
Haefer noted that with the company long out of business, the only way to get replacement parts for existing homes is to have them specially constructed. He said he's reaching out to nine Lustron owners in the area to see if they might be interested, and did not express opposition to the city's condition.
"I'm a huge recycling guy," he said.
Magnets, not nails
Among those thinking of taking Haefer up on the offer is Mark Nesslar. He and his wife bought their Lustron on Gately Terrace nearly four years ago after a back injury made it impossible for Nesslar to walk up the stairs in his old house.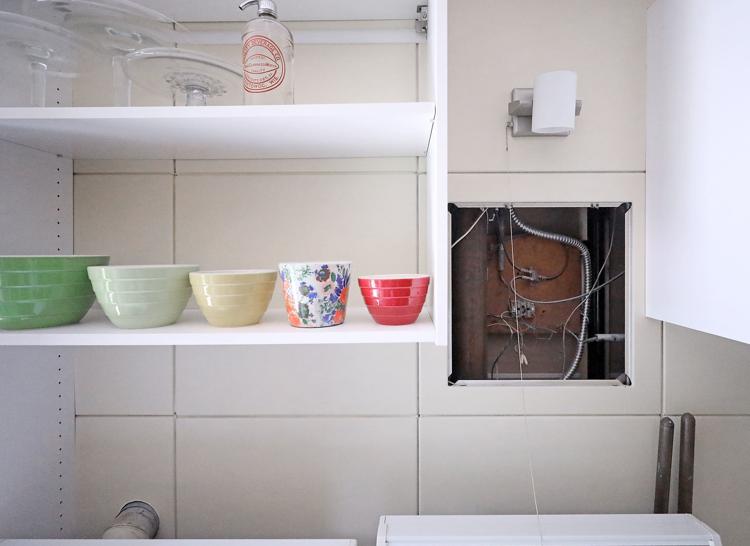 In addition to the difficulty of finding replacement parts, Lustron maintenance "can be quite pricey — simple things like getting your house painted," Nesslar said. Lustron's metal walls don't take standard home paint, requiring instead a powder-coating system similar to what's used on vehicles.
Another problem was the home's original ceiling-based heating system that left you feeling "warm from the waist up," Nesslar said.
He's since had floor heating installed and said he remains happy with his decision to buy the house.
"For us, it was perfect," he said, "and doing the in-floor heating made a big difference."
John Hanson, who's lived with his wife in a Lustron on Glenway Street since 2001, had a kinder view of the Lustron's ability to withstand time.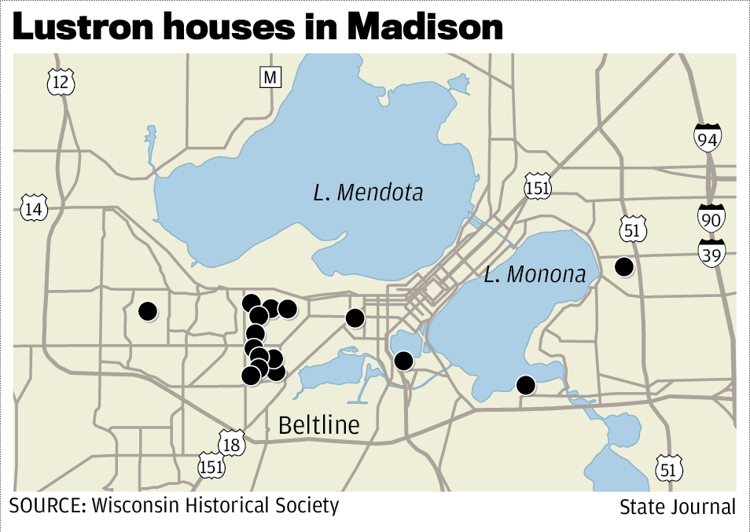 Sometimes if it gets really cold in the winter, they'll have to blow-dry the water pipes that run behind the walls or leave a tap at a trickle to keep the pipes from freezing. The homes were built with insulation, but it's poor by today's standards and can't always keep a Wisconsin winter at bay. He's also lucky to have a father-in-law from the heating and air conditioning field who can make small metal parts to replace worn-out Lustron components.
The Hansons had the inside of their Lustron painted a bright yellow and put in a wood floor, and the living room windows were replaced before they moved in. But otherwise the original design is no barrier to a bright, well-maintained and, as Hanson points out, affordable home. A collection of framed album covers and other wall hangings are held up by magnets, a side benefit of the all-metal construction.
"There was never to be a nail put into one of these," Hanson said while giving the Wisconsin State Journal a tour of the house Tuesday.
The metal shelving built into the home's walls remains functional, as do the sliding pocket doors that save space, although they sometimes need a little WD-40, Hanson said.
"I don't think the upkeep is terrible," he said. "We've never had to do much to the roof other than take a little caulk if there was a leak."
Like the rest of the home, a Lustron's roof is also made of porcelain-enameled steel panels. No shingling required.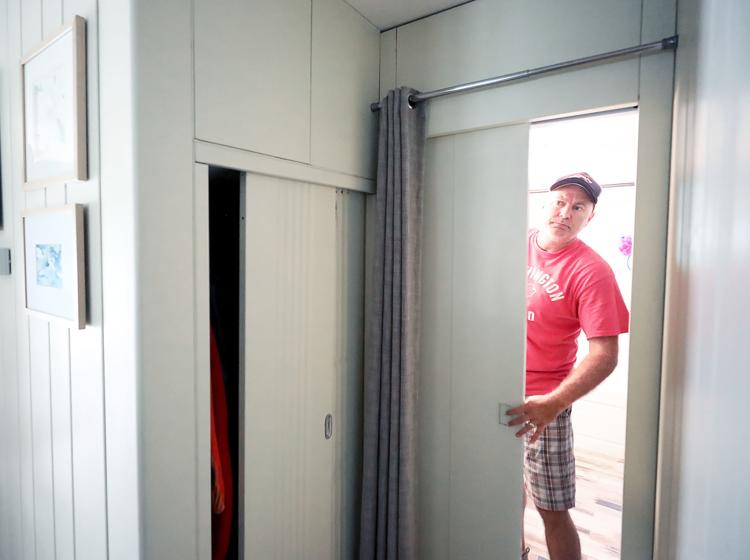 'Famous and infamous'
Last year, the city's Landmarks Commission voted in favor of a motion recognizing the architectural, cultural and historic significance of Haefer's Lustron, calling it "an intact or rare example of a certain architectural style or method of construction."
While the home is considered a contributing structure to a National Register Historic District, that's an honorary designation that doesn't come with any protections, according to Madison preservation planner Heather Bailey. The Landmarks Commission vote is not binding on the Plan Commission decision.
Bailey said it would be "ideal" if someone were to live in Heafer's Lustron, but "owners of other Lustrons are frequently in need of parts for repairs, so there is a market for disassembled Lustrons."
"If that keeps fewer building materials from being sent to the dump while also facilitating ongoing enjoyment of other historic buildings, all the better," she said.
Landmarks chairwoman Anna Andrzejewski said the Lustrons are "worth saving" but noted that they were also mass produced and all essentially the same, and that they have a reputation for being both "famous and infamous." She said there's not much of a push in Madison to save them.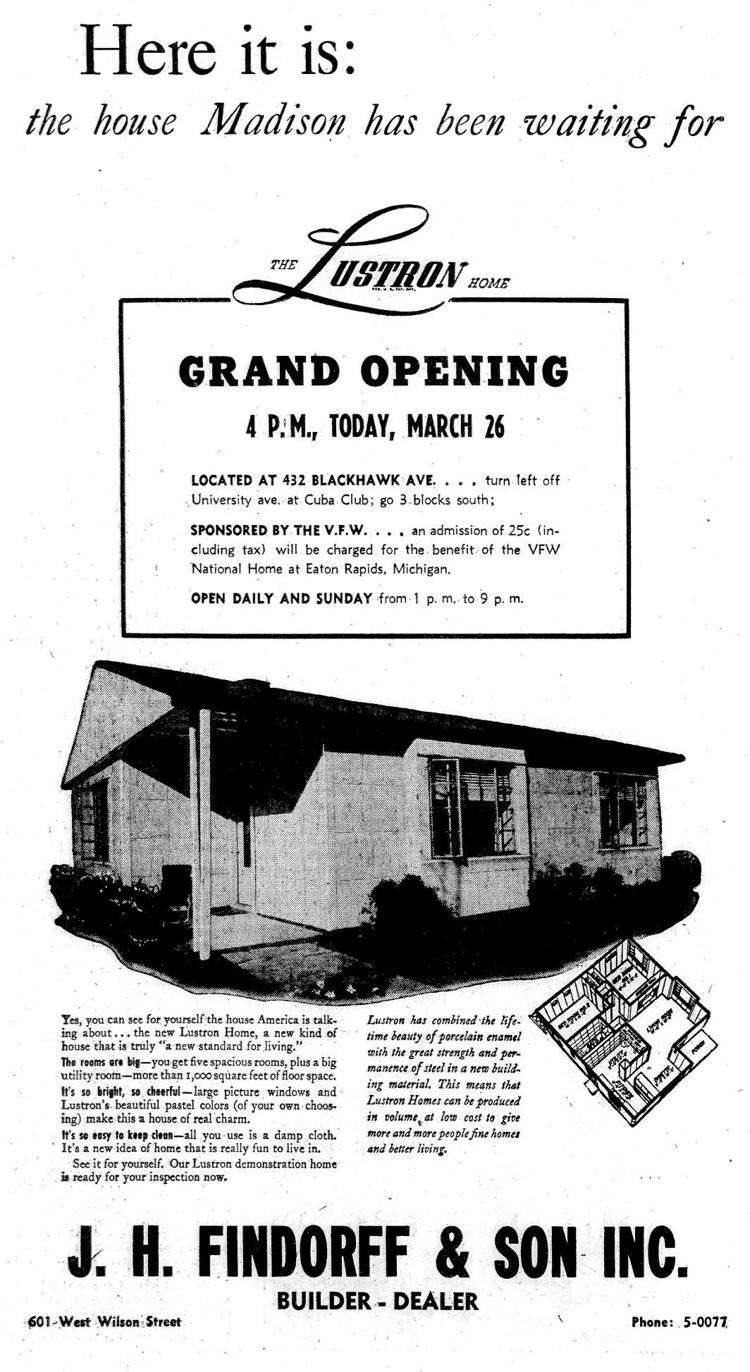 "Where do you draw the line?" she asked, in saving a "vital, historical artifact."
"If we lose all of them, it's really going to be a shame," Andrzejewski said.
While Nesslar and Hanson are happy with their Lustrons and recognize their historic value, they had mixed feelings about whether that means government should step in with restrictions meant to protect them in their original, or near-original, state.
Lustrons are worthy of historic protection, Nesslar said, but actually giving it to them would be a "bad idea."
"I like my house, but I understand" the desire to take them down, he said. Hanson quoted something he once heard a real estate agent say about Lustrons: "These houses are valuable, but they don't accrue value."
"They're valuable to the people who like them," Hanson said, "but not to the next person who wants them gone and wants to build their house here."
A prominent visitor
For whatever it's worth, the Lustron was reportedly of enough interest to a world-renowned architect that he decided to pop in at the Hansons' home back in 2004.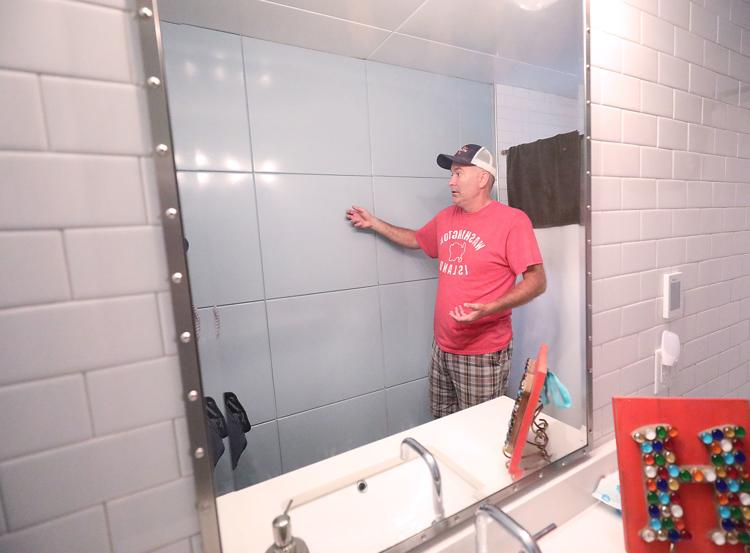 Hanson said that shortly after the Overture Center was opened in Downtown Madison, his wife was at home cleaning when a group of college students and an elderly foreigner showed up at her door.
And the group says "César would like to see the house," Hanson recalled.
The students had apparently been taking Overture Center designer César Pelli, who died last month, around the city to show him different local architecture, and he had noticed the Hansons' Lustron and asked to stop.
"César Pelli came in, checked out the house ... and just said thank you and walked away," Hanson said. At the time, his wife didn't know who he was.
"If you want to maximize a profit, I don't know if this is the place for that kind of family or person," Hanson said of the Lustron. "If you just like to live in a simple house and have a nice, clean and simple house, I think it's perfect."
Get local news delivered to your inbox!
Subscribe to our Daily Headlines newsletter.