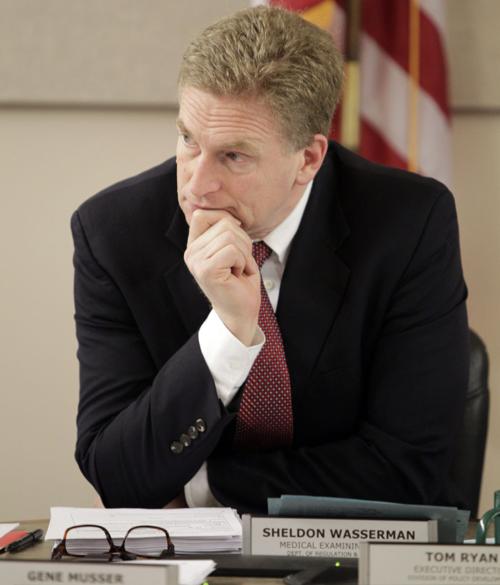 Nearly one in 11 — or 8.3 percent — licensed Wisconsin physicians randomly selected in an audit by state regulators was not in compliance with continuing education requirements, according to Safety and Professional Services Department records.
That means an overwhelming majority of doctors completed their continuing education, but former Medical Examining Board chairman Sheldon Wasserman, an audit advocate, was underwhelmed because, he said, the requirements are not that strict to begin with. Physicians must log 30 hours of continuing medical education every two years, the lowest requirement in the country.
"It is shocking to know that 8 percent can't even meet the minimum standard for the nation," said Wasserman.
The state Medical Examining Board last summer began an audit of continuing education compliance for the 2011-13 licensing period for the 25,043 active physicians in the state.
The results of that audit, conducted by selecting doctors randomly and then examining continuing education credit submissions, are rippling through the department's disciplinary system now.
A new rule that went into effect June 1 requires biennial audits of the continuing education status for physicians.
Of 1,135 medical doctors audited, 94 — 8.3 percent — could not prove they had completed the required continuing education, according to Hannah Zillmer, department spokeswoman. The licenses of 81 osteopathic doctors were audited, with seven not in compliance.
The compliance report noted 29 of the 94 non-compliant medical doctors did not respond to the auditors, and another 21 licensees submitted evidence of continuing education credits, but for the wrong time period.
While only one licensee claimed retirement, records from subsequent discipline actions, some of which have not been resolved yet, show several physicians well past age 65 surrendered their licenses when faced with the audit.
Retired professionals often want to keep their licenses as a matter of pride, Zillmer said, "and eventually you let your continuing education (credits) lapse, because it can be very costly to keep it if you don't have an employer."
"It's very rare that we see any professional trying to cheat the system," she said. "We typically see that the medical professions have this high rate because they have to have it for their employers. The audits are very effective in making sure that any licensee stays up to date," she said.
According to meeting minutes, the Medical Examining Board requested the audit in early 2014. Then they decided to make it a rule.
The department's analysis of the rule when it was proposed concluded audits would "act as a deterrent to non-compliance and ensure licensees are maintaining their skills in keeping with the highest standards within the profession."
The board also discovered its standards were the lowest in the country. Doctors in Illinois and Michigan must take 150 hours of continuing education every three years, more than three times Wisconsin's requirement. Minnesota requires 75 hours/credits in a three-year cycle.
Medical Examining Board Chairman Dr. Kenneth Simons could not be reached for comment.
But Wasserman, who left the board as chairman last year, said oversight of physicians' continuing education compliance became an issue when the board dealt with a physician, licensed in Ohio and Wisconsin, who was reprimanded in Ohio for not meeting that state's continuing education requirement. Wisconsin considered Ohio's action as grounds for discipline here, but found that while the doctor did not meet Ohio's requirements, he easily surpassed Wisconsin's and was not reprimanded.
Then, said Wasserman, "we found our minimum standards are the lowest in the nation," and that the state was not confirming the standards had been met.
"If you can't get 30 (continuing medical education credits) in two years, something is wrong with you," he said. "The reason we wanted the audit was to see how we were doing in the first place, and then to address what might be wrong.
"Wisconsin's public expects our doctors to be well-informed and kept updated, ready to deal with modern medicine and aware of the latest advances and knowledge out there, and (continuing education) is the way they can obtain that," he said.
Zillmer said the department relies on its 70 boards and councils to regulate continuing education requirement details, and the department conducts its own audits on a regular basis. There are 230 types of licenses issued by the department, and continuing education requirements are left to those boards to oversee.
There are 93,000 registered nurses licensed in Wisconsin, for example, and an audit is "an intensive process, just in the sheer amount of manual work involved," Zillmer said. "Every board is interested in making sure their profession is seen as safe and up to date, their licensees are keeping up on the hottest things."
Nancy Nankivil, chief strategy and operations officer of the Wisconsin Medical Society, which offers scores of continuing education opportunities and keeps track of them for the state's doctors, said most physicians "go beyond the requirements, but it is probably prudent for the state to do random audits just to make sure we have a certain level of compliance."