ASHWAUBENON — The 4-foot alligator wrapped in bacon and slowly roasted in a charcoal-fueled convection oven on Friday was only the warm-up act.
Just a few hours after the 2 a.m. bar time here early Saturday, the Cajun microwave, as it is called, was back in action at the corner of Blue Ridge Drive and True Lane and in a big way.
The oven, with a grill on the top, played host to a 60-pound pig starting at 4:40 a.m. As the small swine roasted, lamb chops, jalapeno poppers and 14-inch boudin sausages filled with pork and rice seared above. Nearby, two deep fryers helped make Parmesan French fries, chicken wings and baby back ribs. Yes, deep-fried ribs.
There were pots of dirty rice, pans of baked beans, a 25-gallon kettle filled with jambalaya, a full bar and coolers filled with Miller Lite, Milwaukee's Best and Coors Light.
Louisiana State University football fans brought not only their enthusiasm but a monstrous appetite that cordially mingled with Badger fans in the shadow of Lambeau Field as cheese curds and crawfish clashed in Titletown Saturday where the Green and Gold was replaced with Cardinal and White and a pretty good dose of Purple and Gold.
Former Green Bay Packers quarterback and Mississippi native Brett Favre would have felt right at home.
"We'd rather have too much than not enough," said Stephen Coffee, a Baton Rouge, Louisiana, native who lives in Nashville. "The people here have been just fantastic. Just super friendly. It's really like a southern destination but in the north."
Clear skies, temperatures in the 70s, the Goodyear blimp, ESPN College Gameday and a sellout crowd turned this Packers-centric region into the focal point of college football as Lambeau hosted its first major college football game, which the Badgers won, 16-14, in a big upset.
Kroll's West still served up brats, hamburgers and deep-fried cheese curds, Lombardi Avenue became gridlocked and football fans posed for photos under the statue of Vince Lombardi, pretty standard fare for a Packers game. But Saturday's crush of fans from throughout the country brought a different look, feel and energy not found on a typical fall Sunday or even a Packers home playoff game.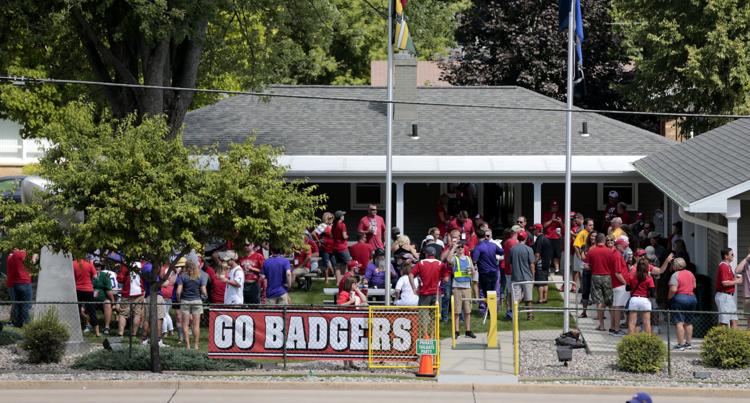 Unlike a Packers game, where the majority of fans are from the area, Saturday's game brought in, by some estimates, 30,000 LSU fans and throngs of Badger fans from throughout the state. They filled up hotels and rental properties throughout northeast Wisconsin, crammed bars and restaurants, and took in iconic Wisconsin destinations like Wisconsin Dells and Door County.
Kevin Marcantel, 42, grew up in Lake Charles, Louisiana, but now lives in Des Moines, Iowa, where he is a member of the Des Moines Area Tigers in Exile, an alumni group that follows LSU football.
"This is like a dream because who thinks their college team would ever play in historic Lambeau Field," said Marcantel, who was making his first trip to the NFL stadium. "This is the cream of the crop. I get goose bumps just thinking about it."
Vehicles sporting LSU colors included those with license plates from Illinois, Louisiana, New York, Texas and even Wisconsin. At least one was from Green Bay.
Colton Armijo, 17, a senior at Green Bay Preble High School, came dressed in a (Packers wide receiver) Randall Cobb jersey but wore an LSU hat and an Oregon Ducks T-shirt under his jersey. His classmate, Carley Whately, 17, moved with her family 12 years ago from Louisiana.
"It's pretty exciting," said Carley's mother, Tanya Whatley, 38. "It's weird to see all of the purple. I feel like I'm home a little bit."
But Badger fans were equally excited, with some coming considerable distances and, like the LSU fans, spending big bucks to do so.
Roger Mansukhani, 48, graduated from UW-Madison in 1989 and is now an attorney in San Diego. He and seven friends rented a house across the street from Lambeau Field for $9,000 for the weekend. They made the reservation more than two years ago. The cost did not include game tickets, airfare or admission to a private tailgate party before the game.
"We follow the Badgers and this was just the ultimate destination," said Mansukhani, a Chicago native. "It's a pretty special place."
Mansukhani and his group were at a tailgate party organized by Kevin Beams, 51, of Green Bay.
Beams parked his 33-seat school bus, which he and friends converted into an RV tailgate machine, near the south side of the stadium. The green, gold and white vehicle is equipped with a bathroom and futons with three 50-inch televisions mounted on the outside. The menu included 90 hamburgers, 48 brats, nine racks of ribs, a keg of Spotted Cow and, for Saturday's game only, alligator, frog legs and snapping turtle, all of which was scheduled to be grilled.
"It's a great group of people," Beams said. "We get together and just have a really good time. Some go into the game, others stay here and watch the game but we're all fans."
The excitement level extended to vendors and those selling parking spots in their driveways and on their lawns. Spots that normally sell for $15 to $20 were being offered for $30 to $40. Roger Badora, of Oconto, had a tent selling beads, foam cheese hats and other memorabilia at Kroll's West. Badora, who has had the spot for over 10 years, expected his sales to be up 50 percent compared to a Packers game.
"I thought it would be even to a Packers/Bears game or Vikings game but it's beyond that," Badora said. "It's really something. I hope it's one of those deals they do every year."