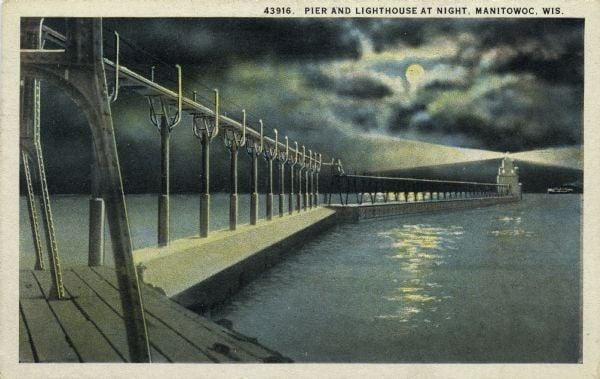 Our modern name Manitowoc came from the Ojibwe or Potawatomi phrase "manidoo-waak(oog)."
Its root "manitou," meaning god or spirit, was combined with a suffix signifying a tree or woods. Indian agent Henry Schoolcraft, who lived with the Ojibwe from 1822 to 1841, translated it as, "a standing or hollow tree that is under a mysterious influence" — a sacred tree.
Its origin may be traced to a Jesuit missionary stranded there 300 years ago.
During the fall of 1698, Father Pierre-Gabriel Marest was en route to a mission in Illinois when his party was overtaken by winter on the lake shore between the Door Peninsula and Milwaukee. They erected a large wooden cross by a river's mouth at which to say mass, and hunkered down until spring.
Jesuits erected crosses throughout northeast Wisconsin between 1670 and 1700. Some were more than 30 feet tall so they could be seen from a distance. Most of them soon crumbled or were dismantled after the missionaries left.
The next fall another priest passing on Lake Michigan noted that "on the 4th of October, we came upon another small village of Poux (Potawatomi), on a small river, where Reverend Father Marais (Marest) had spent the winter with some Frenchmen and had planted a cross."
By 1796, when fur trader Jacques Vieau built a trading post at Manitowoc, the giant cross was gone.