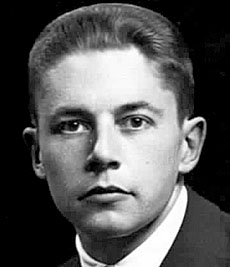 MADISON - Domenico Sella passed away peacefully on Thursday, March 8, 2012, at his home with family by his side.
He was born in Milan, Italy, on Nov. 16, 1926, the son of Alfonso and Antoinette Chauvelot. He earned degrees at the University of Milan, Notre Dame University, and the University of Venice, and taught history courses at various Italian universities before moving to Madison in 1960 to join the University of Wisconsin History Department, where he taught courses on the history of early modern Europe for 35 years. He was a member of Blessed Sacrament Parish and served on the parish council. After retirement he volunteered as an English tutor at Centro Guadalupe.
He was preceded in death by his beloved wife of forty-four years, Annamaria Troiano; and by his younger brother, Piero. He is survived by his children, Barbara of Madison, Monica (Lewis) of Spring Green, Antonio (Mary) of Madison, and Roberto (Francine) of Philadelphia; by his brother, Francesco (Silvia) of Lausanne, Switzerland; sister Cristiana Menghi of Milan; sister-in-law, Dicky Evans Sella of Washington, D.C.; brother-in-law, Sergio (Beatrice) Troiano of Rome; by ten grandchildren and numerous cousins, nieces, and nephews.
A Mass of Christian Burial will be held at 11 a.m. (visitation at 10:15 a.m.) on Saturday, March 17, 2012, at BLESSED SACRAMENT, 2115 Rowley Ave., Madison, with Father Pat Norris, O.P. officiating. Burial will follow in Resurrection Cemetery. In lieu of flowers, memorials may be made to the Scholarship Fund at Blessed Sacrament School, 2116 Hollister Ave., 53726, the Society of St. Vincent de Paul, 2033 Fish Hatchery Road, Madison 53713, or to a charity of the donor's choice.
The family wishes to acknowledge with profound gratitude the excellent home care and companionship provided over the past six years by his many caregivers. In particular we thank the wonderful team that cared for him this past year: Lillian Farley, Sue Schmidt, Linda Busse, Ryan Josephson Epp, Jamie Barth, and Kristen Peterson. Finally, we are deeply thankful for our friend and neighbor, Dr. Deane Mosher, Dr. William Rock, and the doctors and nurses of Agrace HospiceCare who cared for him in the last two weeks of his life.
Cress Funeral & Cremation Services