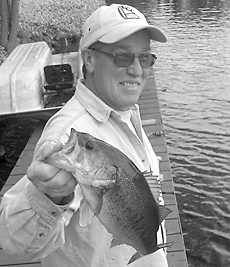 LODI - Sean D. Mullarkey, age 55, passed away unexpectedly on Thursday, Sept. 27, 2012, of an apparent heart attack.
He was born on Dec. 6, 1956, in Madison, the son of Robert and Joyce (Sutherland) Mullarkey. After graduating from Lodi High School in 1975, Sean was united in marriage to Rosemary Pernot on May 19, 1990. He owned and operated T & S Siding and was currently working at the Lodi Canning Factory.
Sean was an avid outdoorsmen who enjoyed fishing, hunting, his pontoon boat, camping and teaching his kids to water-ski, but truly treasured most the time spent with his family.
Sean is survived by his wife, Rosemary; a son, Bob; a daughter, Kelsey; his mother, Joyce Mullarkey; his siblings, Mary (Al) Brown, Kathy (Dan) Lomansey, Kevin (Leslie) and Pat Mullarkey; in-laws, Steven (Linda) Pernot and Alice (Bruce) Weffensette; and nieces, nephews, other relatives and many friends.
Sean was preceded in death by his father, Robert Mullarkey; a sister, Margie Marie; and a brother, Michael.
Funeral services will be held at the HAMRE GUNDERSON FUNERAL & CREMATION CARE, 157 S. Main St., Lodi at 7:30 p.m. on Wednesday, Oct. 3, 2012. Visitation will be held on Wednesday from 5 p.m. until 7 p.m. at the funeral home.
Hamre Gunderson Funeral & Cremation Care