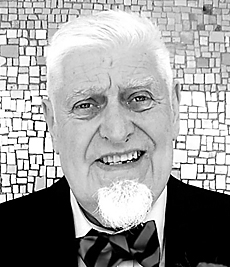 MADISON - Just before 11 a.m. on Monday, Nov. 19, 2012, two companies of angels, escorted by a royal detachment of flaming horses and chariots of fire, transported our beloved brother, Eugene, to the gates of the heavenly kingdom of Almighty God. There, befitting his stature as a king and priest of the Most High, Uncle Eugene, received an abundant entry into the glorious presence of our great God and Savior, the Lord Jesus Christ, whose name is blessed forever!
Eugene Joseph Kuczynski, the son of Vincent and Mary, was born in Belda, Poland on October 15, 1932.
His sister, Jean Carter and her daughters, Pauline, Joanne and Jacqueline mourn his loss. Mitchell Kuczynski and Amanda Druien will greatly miss their beloved Grandpa Gene. Other family members are Rob and Tammy (Kuczynski) Druien and Becca, Katie and Nick Druien; also Mark, Paul and Debbie Winegar.
Todd and Joseph Kuczynski preceded their father in death; his third son is Robert Kuczynski.
The family is very grateful to all of the exceptional people who cared for Eugene at St. Mary's Hospital and Dean Clinic, St. Mary's Care Center and Agrace HospiceCare.
On Friday, Dec. 14, 2012, the funeral service for Uncle Eugene will be held at CALVARY GOSPEL CHURCH, 5301 Commercial Ave., Madison. Visitation will begin at 10 a.m. Pastor George O'Neal will lead the 11 a.m. service.
Memorial contributions may be made to Kuczynski House at any Associated Bank. This fund will aid those in need of the necessary comfort of home.
The thoughtful, professional assistance of Pete Gunderson and his associates at Gunderson Funeral Home is greatly appreciated.
Gunderson West Funeral & Cremation Care