During his more than 30 years of living in Madison, David Sprengler has enjoyed watching the wildlife that came through his Far West Side neighborhood from a small ravine about a block from his home.
"As recently as a couple of months ago I've had deer walk through my backyard, and turkey, and fox," said Sprengler, 86. "I loved it."
So he was shocked when he woke up one recent morning to see about 200 of the trees in the gully missing. "They're butchering all those trees," he said.
But the city said the cutting earlier this month is intended to restore the greenway to prevent flooding and erosion.
The green space, about the size of two and a half football fields, has a small channel for water drainage, with trees and bushes along the banks. It's between Tree Lane and South High Point Road, near Mineral Point Road.
The small ravine originally had about 300 trees, two-thirds of which were cut. The city kept about 80 silver maples and 20 oaks.
Jojo O'Brien, the city Engineering Division staff member who is overseeing the project, said the space had become overrun with aggressive trees that shade the area, killing grasses and shrubs that hold soil and prevent erosion.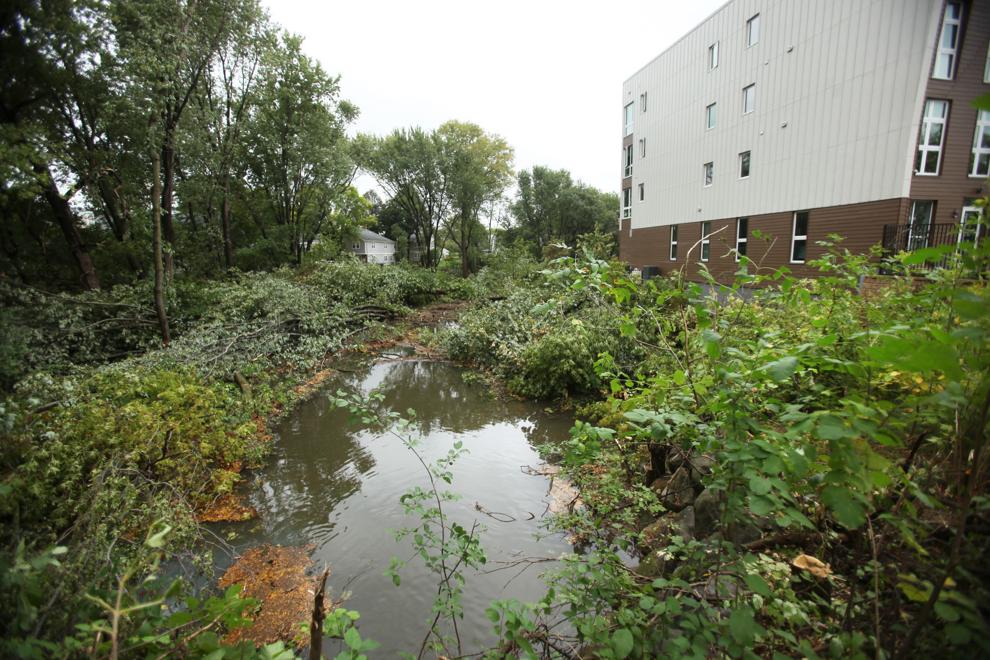 Storm drains also became clogged with branches from fallen trees, causing the channel to overflow and flood South High Point Road, O'Brien said. And the area was so heavily wooded that city crews could not get at it to remove fallen trees.
The small ravine was originally a farm ditch, but now a lot of storm water flows through it, O'Brien said.
"Because this was never actually engineered to take on developed stormwater, we haven't been able to maintain it very well," O'Brien said.
The city says the restoration will stabilize slopes, provide access for maintenance crews via a 10-foot-wide path, prevent trees and branches from falling on private property, improve water quality, prevent flooding and improve aesthetics.
New trees will also be planted, but it will take "a number of years for the greenway to completely establish itself," according to the city. The final restoration will have about 40% tree cover, O'Brien said.
Hannah Mohelnitzky, spokeswoman for the Engineering Division, said that with this project, as in other similar projects, the city analyzes each tree and tries to "save as many trees as we possibly can."
"We do not go in and just cut trees down for no reason," Mohelnitzky said.
Sprengler said he worried many of the animals he enjoys seeing won't have a place to live now, but O'Brien said the tree removal will actually help wildlife.
About half of the trees that were removed were buckthorn trees, which have berries that cause digestive distress for animals, she said.
Boxelder trees were removed because the female trees drop a lot of seeds that sprout smaller trees and shade out other ground plants. Buckthorns also provide a lot of shade. Both types of trees are considered aggressive.
More sunlight will be able to reach the native wetland vegetation, allowing it to better flourish and providing a better habitat for insects, O'Brien said.
O'Brien said engineering staff made several efforts to protect animals and preserve habitats. For example, the city waited to start the work until after the northern long-eared bat was done raising its pups, so baby bats weren't in the trees when they were cut down.
Crews also made sure to preserve several "snags," dead trees that provide habitats for animals, O'Brien said.
The restoration work should be completed in December, and an ecological restoration specialist will analyze the area in the spring to see what trees and bushes should be planted to best serve the wildlife in the area, O'Brien said.