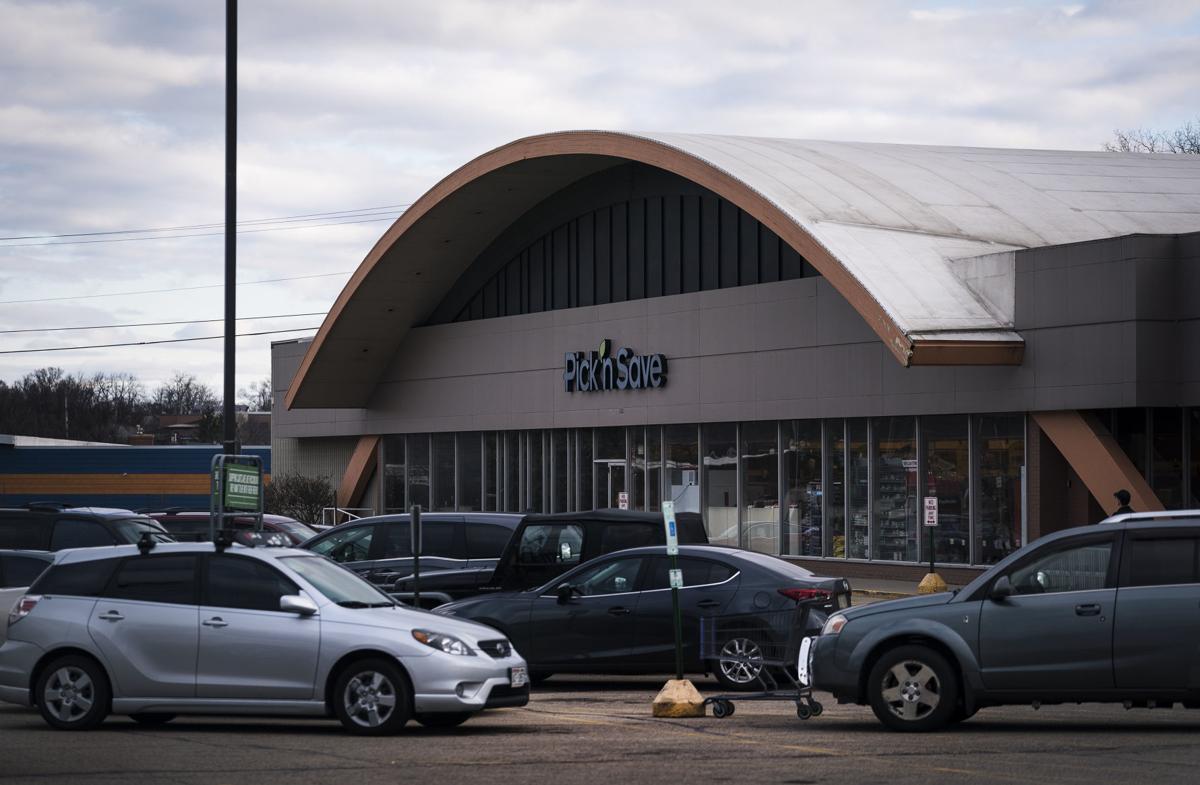 At a neighborhood meeting Thursday night, Madison Ald. Tag Evers, District 13, told assembled south side residents to "take a deep breath."
The meeting was held a day after SSM Health announced it is no longer pursuing plans to demolish a Pick 'n Save, the only full-service grocery store in the area, to build a clinic on the site.
"We don't have the specter of the grocery store, the only grocery store serving south Madison, being torn down by the end of the year. That's not imminent. We have been making progress," Evers said.
But, he added, "We're not out of the woods."
SSM isn't going to demolish the Pick 'n Save, and the city is fast-tracking a request for proposals to build a new grocery store on the neighboring property. It seems like a major win for a neighborhood that has lobbied hard to prevent any gap in grocery access.
The meeting attendees, numbering more than 100, applauded SSM's news on Thursday, but some neighbors note that the issue isn't completely resolved. The city still needs to find a grocer, and Kroger, the Pick 'n Save's parent company, has not publicly committed to keeping it on the site open for a specific length of time.
SSM Health originally planned to demolish a Pick 'n Save at 1312 S. Park St. by the end of this year, and the city's efforts to find a developer to build a grocery store on a neighboring property stalled. Neighbors consistently raised concerns that this could create a gap of time in the neighborhood without a full-service grocery store.
On Wednesday, SSM Health announced they would instead build a clinic on their existing property on South Fish Hatchery Road.
Brandon King, director of facilities management for SSM Health Dean Medical Group, said Thursday that the relocated plans for the SSM clinic will be "roughly the same size and hold roughly the same things," but will be on property currently owned by the company. SSM Health owns about 14 acres in the area, he said, including a clinic on Fish Hatchery Road, two parking lots and 14 houses north of the clinic.
"We will continue to listen and work with you. These projects, these buildings, these areas are complicated, and they take many voices from architects to engineers to — most important — you to work though these things together," King said.
Meanwhile, the city owns the 3.5-acre property next door at 1402 S. Park St., formerly the Truman Olson United States Army Reserve Center. The city recently released a new request for proposals on the site, which focuses on bringing a grocery store to the area.
The city has sent its RFP to more than two dozen specific development entities and grocers that have experience or interest in similar projects, said Dan Rolfs, the city's community development project manager.
Kurt Welton, president of Welton Enterprises, said his firm would be meeting with an architect Friday morning to consider the Pick 'n Save site, which Welton owns, and the Truman Olson RFP to "throw our hat back in the ring" and create a plan that "minimizes if not eliminates a lack of groceries." Welton answered the city's first RFP for the Truman Olson site, but the city had several issues with the firm's proposal and did not select it.
Construction on the Truman Olson site could start in late 2020, but that construction start date could be delayed depending upon any number of delays or issues with the negotiation of the terms of the sale, the sale or other challenges that can arise when doing redevelopment, Rolfs said. Construction time could vary widely depending on the type of project, from four to six months to over a year.
You have free articles remaining.
SSM's announcement has taken some pressure off the situation, said George Reistad, the city's food policy director.
"It looks like a short-term grocery gap situation has most likely been avoided," Reistad said. "So that gives us more time to keep strategizing."
The city was working on strategies for interim food access should a grocery gap occur, like working with existing food retailers in the neighborhood, transportation and delivery options, Reistad said.
During a time for audience questions, Maia Chen, a south side resident and member of local grassroots group South Madison Unite, emphasized that the city should not slow down efforts to battle any potential gap.
"Kroger might pull out, and there might be a gap, and then we're not ready," she said.
Reistad said he completely agreed.
"We're not just dropping the ball on this just because a decision was made that gives us a little more time to have that conversation," Reistad said. "We want to continue to come up with proactive solutions."
Chen said Friday that she talked with other community members after the meeting who expressed a similar concern.
"It's like one small victory, but it's not the full solution," she said. "Does Kroger stay throughout their lease? And if they do, will a new grocery store actually be built in that time period?"
Kroger's lease for the Pick 'n Save store ends in 2022, and both Kroger and Welton Enterprises, the owner of the property, can terminate the lease with six months notice. Pick 'n Save is one of four grocery store brands of Roundy's Supermarkets, Inc., a wholly-owned subsidiary of The Kroger Co.
On Thursday, city staff and Welton expressed optimism that Kroger would maintain a presence on the site.
"I believe in our discussions with them, that they want to be good corporate citizens and they will not pull the plug," Welton said. "They will stay there as long as possible so that something can happen to keep groceries in the neighborhood."
When asked whether Kroger had committed to stay on the site until 2022, Roundy's spokesman James Hyland wrote in an email that "there has not been any confirmation of intent to operate the Pick 'n Save on Park Street through January 2022."
As the meeting ended, Evers emphasized the progress made so far, but agreed that there was still work to be done.
"We don't get complacent and think hey, problem solved. It's by no means solved," Evers said.
Share your opinion on this topic by sending a letter to the editor to tctvoice@madison.com. Include your full name, hometown and phone number. Your name and town will be published. The phone number is for verification purposes only. Please keep your letter to 250 words or less.