Andi Janeway splits their time between theater and activism. As a Black albino, Janeway prefers to let those who can't pass for white be center stage at protests, but you can find them behind the scenes, blocking traffic, administering first aid or handing out an extra water or cigarette to anyone who asks. 
Tell me about the role you've been playing at the recent protests.
Aside from this past week where I had a cold, I've been attending every protest in Madison, and a lot of the protests in the surrounding area. A big part of the reason why I went (on May 30 to the first Madison protest) was to support people in need, as well as, because I'm white-passing, to be a person who, if something did happen, had a little bit credibility in the eyes of the public. Like, if someone's telling you this happened, know that I was there and that's not true.
There have also been marches and intersection takeovers, and usually in a situation like that, I try to fill the role of being a person of safety. I'll stand in front of the car to make sure that that car doesn't run through this entire group. I will put myself between you and whatever danger there is so that you can focus on doing this work without having to worry about something dangerous sneaking up on you.
And in situations where there's less of a direct safety concern, a lot of what I do is just trying to support the organizers and other protesters. So a lot of times I have first aid supplies on me, extra water, snacks, cigarettes. I've found out that the two things that people ask for the most at protests is a bottle of water and a smoke. So I carry extra smokes on me because I want everyone to be at their best in these situations.
I can't drive because I'm legally blind, so there have been times where I've teamed up with people who can drive to help get people in dangerous situations out.
What have you been seeing when it comes to violence toward protesters or threats to protesters?
The most consistent threat that we have is people who will drive their cars directly into the crowd. A couple of weeks ago, there was a group of protesters who were marching sort of all around within the first five blocks of East Washington, and I lost count of the number of times that cars drove directly into the group of protesters. I think my last count was something like eight or nine, and not just not driving directly into the group like, "Oh, I'm just gonna slowly roll through here. You can't stop me." If it wasn't for the fact that they had been in a full stop before they hit the gas, they would have been coming at us at upwards of 30 miles an hour with no remorse whatsoever. 
At one particular protest there was someone who we believe to be a white supremacist — I have no confirmation of that — but someone who was intentionally pepper spraying protesters to instigate violence, in my opinion. I was not physically present for the people being pepper sprayed, but I was helping the people who had been pepper sprayed, and their specific description was, "It was a white guy yelling racial slurs at us and then he pepper sprayed us." Also, on the night that the protesters tore the statues down, someone shot a gun at the group of protesters. I was there for that. The person who shot the gun was not successful in harming anyone in the group. I don't know whether their intention was simply to intimidate us or if they missed, but that was a very real threat that happened.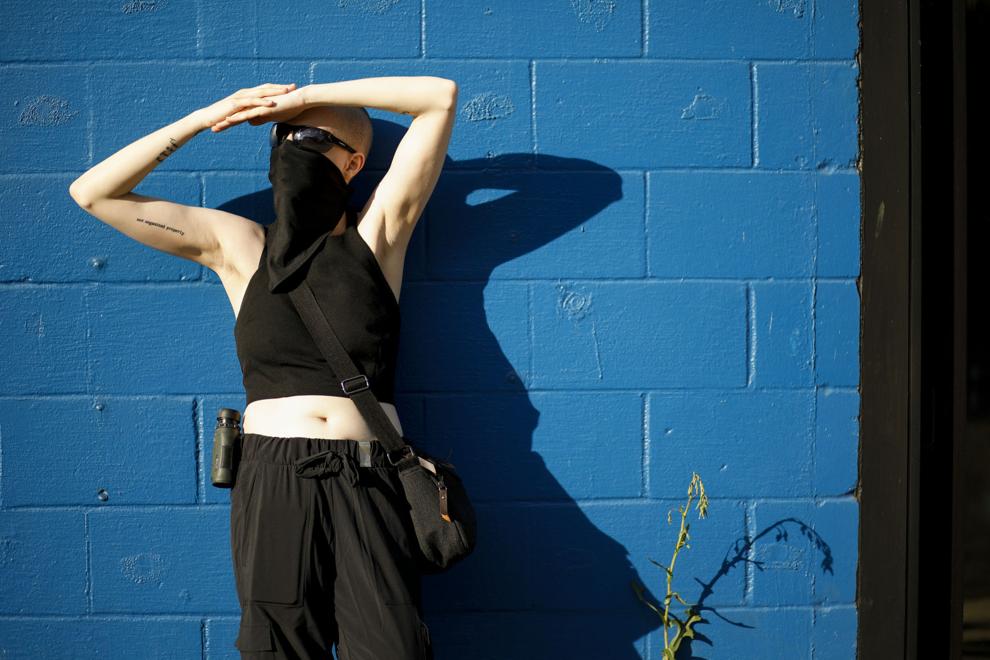 Can you describe your vibe right now, the way this movement is making you feel?
Personally, I'm ready. Especially over the last couple of weeks, I'm just feeling more and more ready, and also a little — actually that's a lie — a lot impatient. I'm ready for more to be done, whether that means more effective protesting or more tangible change. I feel right now that, at least in Madison, it's falling into the very Madison-specific trap of, "Well, we marched, and that's enough. We showed up, we did something, so we're done being activists today." 
I personally believe Madison to be the national capital of negative peace, because so much of the sentiment shared in Madison, especially by white people, is this idea that peace is better than what it takes to achieve justice, and I don't personally agree. I feel like a lot of people are more committed to doing the pleasant thing than doing the necessary thing. And sometimes the necessary thing is to be pleasant and to be "peaceful." But I feel like they're so lost in this idea of being peaceful that they don't understand that it in an oppressive power system that is predicated on violence against certain demographics,any opposition from those demographics will be seen as violence, no matter how objectively peaceful it may be. And when you're playing a losing game like that, sometimes the only way you can win is to literally flip the table and run.
So at this point I'm just feeling very impatient and also, at the same time, prepared. Like, I'm ready for whatever comes next — I just want it to be coming already.
How does one make a group of people recognize that the status quo isn't working, or is actually causing harm to a lot of people?
A lot of it comes down to one on one conversations. As much as it would be convenient and efficient for there to be some moment that opens society's eyes and makes everyone go, "Oh my God, this is terrible," that is not the case. Historically speaking, it's always been an entire generation changing one at a time and spreading that to their peers one at a time and saying, "Hey, this just doesn't make sense and I don't understand why we're okay with it." 
I feel like the sort of deadly combination in Madison is white liberalism and Midwest nice. Those two combine to create this idea of like, "Well, I'm doing the nice thing by saying Black Lives Matter, but I'm not going to do a confrontational thing by shutting down the intersection or by telling the mayor to her face that this is a problem." So, for lack of more delicate terminology, they're kneecapping themselves by their commitment to being nice. And I think that the only way to change that is to have their peers, who they see as equal to them and who they respect on a personal level, point out the flaw in that philosophy.  
The nature of racism is that the darker your skin tone is, the less credible you are to the audience, and even my white friends who are most committed to anti-racism will acknowledge that they still sometimes fall into that trap of discrediting a Black person's message due to racist ideology that they have to work on. And I think that if any random white left-leaning individual from Madison heard what Black leadership is saying that they would get defensive and simply not listen.
Some people think about Madison as being kind of an idyllic place, but if we look at the data or listen to people, we see it isn't that way for everyone. Do you have any comments on what you'd like to see in Madison?
Oh boy, do I. Anti-racist education in public and private schools in Madison, for starters. And that doesn't just mean teaching racial awareness, but decolonizing historical education in public schools, actively hiring anti-racist educators and actively training educators to be anti-racist. 
Getting cops out of schools. Ending the school-to-prison pipeline in Madison. Abolishing police entirely in Madison and reallocating those funds to organizations and programs that actually reduce crime rates. Ending gentrification in Madison and reallocating funds used for gentrification into providing housing for people who are houseless. More funding into domestic abuse and mental health support on a citywide scale. Allocating more funding to free health care for people who are uninsured. With almost $84 million, which is the budget for just the Madison police department, not including Capitol Police or Fitchburg or Monona police, we could create so much actual tangible change and generate such a positive quality of life that would reduce crime more than giving the cops more guns to shoot could ever.
How hopeful are you feeling right now?
Right now, I'm still very hopeful. As as the movement continues to grow and transform in Madison, more and more people come out of the woodwork in support, which grants us not only a diversity of population but a diversity of imagination and of creativity and of intelligence and of resources, that I think is, at the very least, going to give this movement the longevity it needs to achieve the goals that it wants to achieve. We've already gotten cops out of the Madison public schools. That's a huge win. And I feel like knowing that we're having wins, big and small, is going to keep people heartened and prepared to continue the fight.
Anything we haven't talked about that you wanted to talk about?
I implore anyone who has questions about what's happening in Madison to ask someone who's actually there, instead of trusting what your cousin said that he heard from his friend who got it from his coworker who said that this is what happened. There have been so many times where someone has said, "Oh, I heard this happened the other night," and I've had to be like, "I was literally there from 4 p.m. until 4 a.m. and that never happened." If you're not willing to listen to the people who were really there in favor of believing the story that someone else told you, be in inquiry about why that is. So much of what is shared with the news comes from the police and so much of what the police say is factually incorrect in favor of painting the protesters as no-gooders. 
I just wish that people would really think critically about what they're being told by people who have a vested interest in a particular outcome. And I acknowledge that, yes, I have a vested interest in a particular outcome. I have a vested interest in less people being killed by cops and in (Madison police officer) Matt Kenny being put under investigation for killing an unarmed Black person. Absolutely. It's just about whether or not your vested interests align with their vested interest, and whether or not their commitment to supporting their vested interests leads them to lie. 
Share your opinion on this topic by sending a letter to the editor to tctvoice@madison.com. Include your full name, hometown and phone number. Your name and town will be published. The phone number is for verification purposes only. Please keep your letter to 250 words or less.