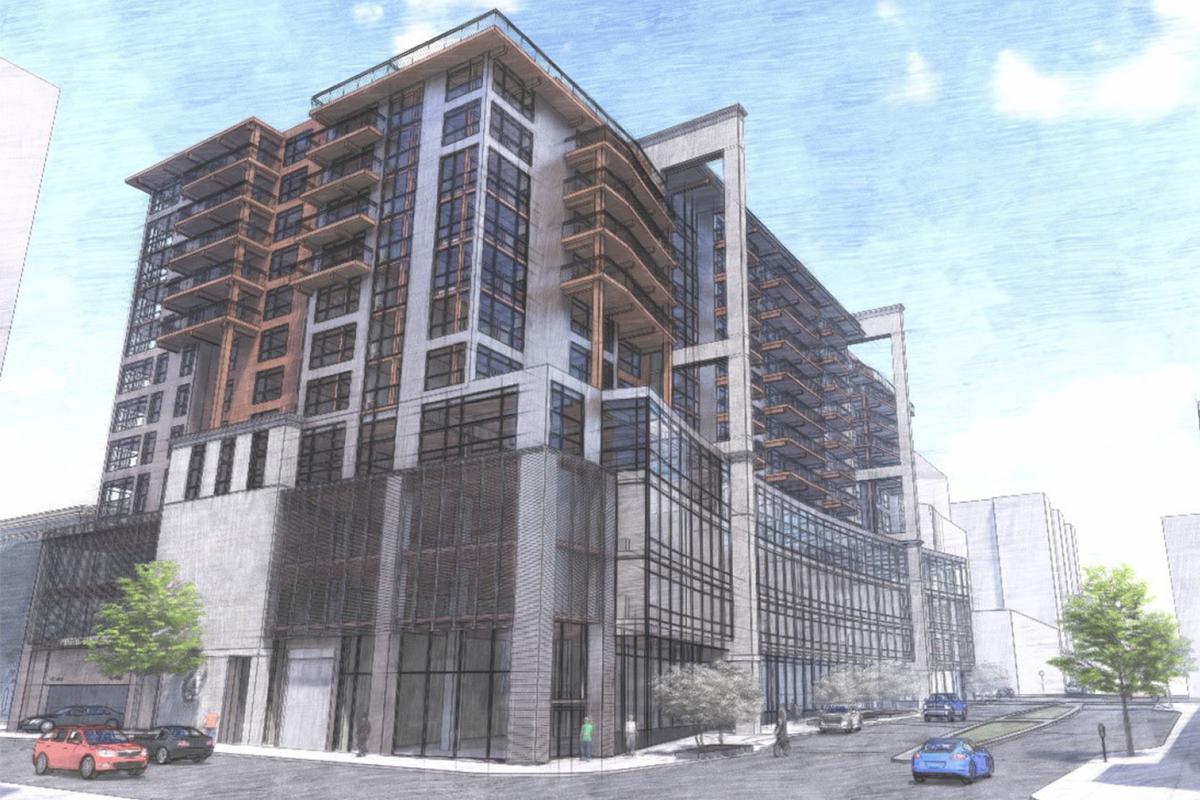 Gebhardt delivered an update before the city's Finance Committee on Monday night, and committee members were visibly frustrated that the proposal would place affordable units on separate floors than mixed-rate units, something alders had previously spoken specifically against.
"This is very troubling to me. Extremely troubling. I understand the financial benefits to the city if we do it this way," said Ald. Donna Moreland. "How will people be made to feel having to be on a separate floor where it's known that these floors are segregated?"
"I would rather there be no affordable housing in there rather than to make such a disparate situation for people," she said.
Gebhardt's $52 million proposal would create 196 total units and 26,000-square-feet of commercial space and amenities in a tower over the city's new parking garage.
Stone House Development's competing proposal called for a 159-unit apartment building and Mandel Group proposed 150 units of housing.
Gebhardt's plans offered the most affordable housing units by a long shot — 78 compared to 37 from Stone House and 30 from Mandel — and would provide income-restricted units to tenants with average household incomes at or below 60% of the area median income, while the others offered at 60% and 80% AMI. In 2019, 60% AMI would be an individual making up to $42,180 a year or a family of four making up to $60,240 a year.
Gebhardt's original proposal called for three floors of affordable housing within the development. On Monday, Ald. Shiva Bidar called the city's previous direction to avoid segregating affordable housing units "one of the clearest and most transparent messages from the council." Lee Christensen, development manager for Gebhardt, told the Finance Committee in June that "we could figure out a way to have the units dispersed throughout the project." 
More recent plans call for a common entry and amenities, but still isolate all units of affordable housing to three floors. Gebhardt has joined forces with nonprofit Wisconsin Housing Preservation Corp., which would own and operate the affordable units as a condominium within the larger development.
Ultimately, scattering affordable units throughout the development is likely not financially feasible, Gebhardt and WHPC representatives said.
The project would seek housing tax credits from the Wisconsin Housing and Economic Development Authority. After receiving the credits, WHPC looks to find the highest price an investor will pay for the credits, as this generates more equity and allows WHPC to target more units to lower incomes, said Mary Wright, president of WHPC.
David Ginger, vice president at WHPC, said investors are risk averse and "a complicated structure like this would likely lead some folks to simply say 'we're not interested.'"
Banks may balk at the setup because if they had to foreclose, Wright explained, owning units scattered throughout the building would be difficult for them.
You have free articles remaining.
"I'm not saying it can't be done. I'm just saying it's going to add cost and complexity," Wright said. "We're just in the early stages of analyzing this from a feasibility standpoint. It might throw the whole deal out. I don't know."
Wright emphasized the overall benefit of creating a large number of affordable units downtown.
"The first thing that I focused on was if we can get 78 units of affordable rental housing in downtown Madison, that should be the goal, you know?" Wright said.
The alders on the committee made it clear the current proposal is not acceptable, and that segregating income-restricted units is a potential deal breaker.
"To accept anything other than that says that we perhaps made the wrong choice in our selection process, and that's what I'm hearing," Ald. Barbara Harrington-McKinney said. "We're not moving on that."
Alders explained their dedication to that position.
"You guys are coming from this from a business perspective ... We're coming (at) this from an equity, an inclusive and a historic perspective," Moreland said. "What I heard you guys are planning to do to people is to continue to exclude them and to make them feel they are not enough."
Not only is isolating affordable units exclusive, it doesn't work on a practical level, they said.
Harrington-McKinney cited the Tree Lane affordable apartments, which serve 45 formerly homeless families at 7933 Tree Lane. The complex has garnered negative attention for police calls, violent behavior and subsequent city and police intervention.
"You can take a Tree Lane and put it inside of … this new building that we're constructing and you're going to have the same thing. Dispersing individuals throughout the building is the healthiest and it's the best way to do it," Harrington-McKinney said. "Concentrating individuals who are low income just does not work."
Mayor Satya Rhodes-Conway asked the development team to acknowledge alders' concerns and address the underlying issue: how residents of the complex will be treated.
"You're facing a pretty uphill battle here and I think you might think about trying to understand the concerns and speak to them," she said.
The development team brought up a few alternate strategies, like offering more housing at 80% AMI or creating a "vertical condo" of affordable units at the center of the building on each floor.
"I don't know if there is a way to get to what this body wants ... I sincerely hope you can figure it out," Rhodes-Conway said, noting that the city has "other options."
The city hopes to complete the negotiation process with Gebhardt by Aug. 6. Gebhardt aims to file land use requests for city approval in September.
Share your opinion on this topic by sending a letter to the editor to tctvoice@madison.com. Include your full name, hometown and phone number. Your name and town will be published. The phone number is for verification purposes only. Please keep your letter to 250 words or less.