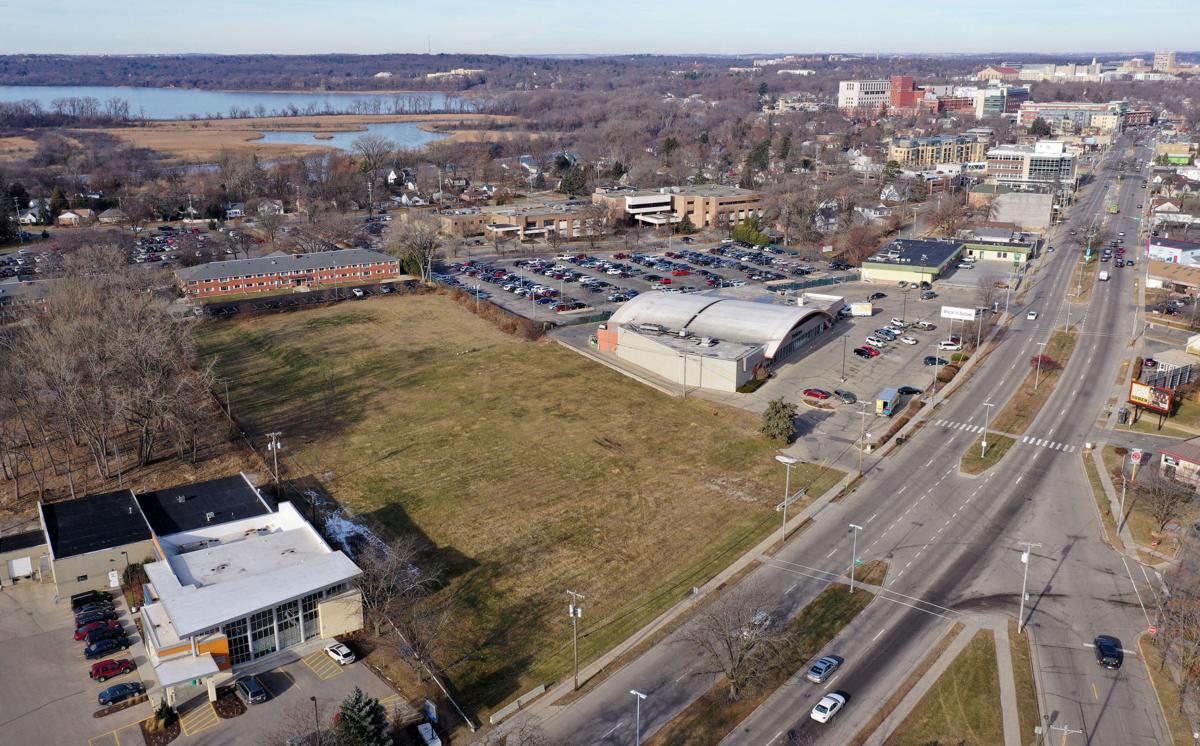 It's taken much longer than expected for Madison officials to find a developer for its Truman Olson property on South Park Street, heightening neighborhood concerns about food access, as the development is meant to provide a grocery store.
After working with Welton Enterprises on a proposal for months, the city's Truman Olson Selection Committee on Wednesday night voted to reissue a request for proposals, which would invite other developers to put forth their ideas for the site, potentially lengthening the time without a local grocery store. But the city will also continue to try to finalize a plan with Welton Enterprises before the new RFP is issued.
Kurtis Welton, president of Welton Enterprises, remained hopeful that his firm would ultimately secure the site.
"I have a feeling we'll do an RFP and we'll be the only ones throwing our hat in the ring, there may be one or two others," he said. "Because my return on investment on this is the lowest return I've ever, ever been willing to accept on any deal I've ever done."
For months, Welton Enterprises has been working on plans for a city-owned 3.5-acre property at 1402 S. Park St., formerly the Truman Olson United States Army Reserve Center. The city released a request for proposals in early 2018 to develop the property, calling for a grocery store on the site. An original timeline had the committee selecting a developer in June 2018.
"We've been working on this for over a year and change now to try to address the problem," said Dan Rolfs, community development project manager for the city. "Nobody acted in bad faith … it's just when you have a deal that's like this, it's complex."
The delay has made neighbors increasingly nervous about a grocery store gap, as SSM Health moves forward with plans to raze the Pick 'n Save grocery store next door at 1312 S. Park St. It's the only major full-service grocery store in the area, and build a clinic.
In March, Welton appeared before the Truman Olson committee with a proposal calling for a 30,000 square-foot grocery store and a four-story, 52-unit housing complex. There would be 90 surface parking stalls for the grocery store and 70 stalls for apartment residents.
A March city staff report outlined two major concerns with the Welton proposal:
The grocery store would be a one-story building, while design requirements calls for two-stories, minimum.
The proposal asked for a total of $3.1 million and $3.4 million in various city funds including TIF assistance, and according to the report, "staff does not believe this projects warrants this level of assistance."
At that time, the Truman Olson committee decided to give city staff and the Welton team another month to address concerns and try to come to an agreement on the plans.
But an email from Welton vice president Paul Molinaro to city staff on March 26 asked for a 30- to 60-day extension to refine the proposal.
"Unfortunately the changes are drastic enough that we do not believe we will be able to come to an agreement on terms with all parties involved by the deadline," Molinaro wrote.
On Wednesday, Molinaro explained the mounting costs of the project. Taking into account the lower possible TIF assistance, the addition of a usable second story, the cost of extending Cedar Street being assessed to the property, and additional stormwater and engineering costs, the total cost for the grocery store increased by $1.2 million to $1.5 million, he said. Welton made a proposal with a new rent structure to an interested grocer, but have not yet heard back from the grocer, Molinaro said.
Ald. Allen Arntsen said his priority for the project has been "getting a grocery store in as quickly as possible." He said he previously advocated for working with Welton because "they were the furthest along and that seemed like the way we would get the grocery store the quickest."
But it seems like plans "haven't really gotten anywhere," and he advocated for putting out a new RFP.
You have free articles remaining.
City staff said they could likely issue an RFP in about five weeks, meaning Welton has about that long to negotiate with the city. The RFP would allow 90 days for developers to respond, which would mean the committee would meet to discuss the responses in September. If "everything went well with no hitches," Rolfs said, construction could start in 14 to 18 months. 
Matthew Mikolajewski, director of the city's Economic Development Division, said in March that whether the city ultimately decides to select the Welton proposal or re-issue the RFP, there will likely be a period of time when the neighborhood is without a grocery store, though he said it was impossible to say how long the grocery gap would be.
A grassroots group, formerly known as Friends of Park Street and now named South Madison Unite!, has organized around concerns about a gap of time without accessible, healthy food on the street.
SSM Health has acknowledged these concerns, saying "the health and well-being of the community is always top of mind for SSM Health." City staff have also said they are taking the issue seriously, and have already discussed funding transportation for residents to access other grocery stores.
But earlier on Wednesday, Carrie Rothburd, member of South Madison Unite!, said the group does not want to see any food access gap, period. They want the city to work with SSM and Kroger to keep the Pick 'n Save open until there's another grocery store to take its place.
"We do not support the proposed stop-gap measures for dealing with the gap that the city has offered, such as free taxi service and pop-up food trailers with 'essentials,'" she wrote in an email. "These strategies have been tried elsewhere in Madison with only limited success."
South Park Street neighbors attended the Wednesday committee meeting and echoed those concerns.
Barbara Bailly, 69, said she survives "fairly well on Social Security," is without a car and can't afford to move.
"While you guys are doing what you're doing and SSM is going to try to do whatever they're going to do, how do I get food?" she asked.
Ald. Sheri Carter reassured the crowd that the city was looking at more than just taxi service to stores outside the neighborhood during a gap in grocery service.
"Nobody wants to see a gap in service," she said. "We are committed to making sure that gap is as small as possible and we are committed to offering as many modes of transportation as we can."
SSM and Urban Assets will host an informational meeting on the topic Thursday night at the Madison Labor Temple, 1602 S. Park St., from 5:30 p.m. to 7 p.m.
The plans for the Truman Olson site have already gone through several iterations. Originally, the city issued a request for proposals to develop the vacant property, listing goals like connecting Cedar Street to Appleton Road, increasing the tax base, developing workforce housing and keeping a grocery store in the area.
In April 2018, Welton Enterprises and a Hovde Properties/SSM Health team responded to the RFP. But in May, the two teams asked for a hold on proceedings after deciding to combine their proposals for the site. SSM Health then dropped out of the bid, planning instead to purchase the Pick 'n Save site from Welton and build a clinic.
Urban Design Commission recently reviewed SSM Health's designs for a 175,000 square-foot new clinic on the Pick 'n Save site at 1312 S. Park St. to replace its existing clinic at 1313 Fish Hatchery Road.
Share your opinion on this topic by sending a letter to the editor to tctvoice@madison.com. Include your full name, hometown and phone number. Your name and town will be published. The phone number is for verification purposes only. Please keep your letter to 250 words or less.