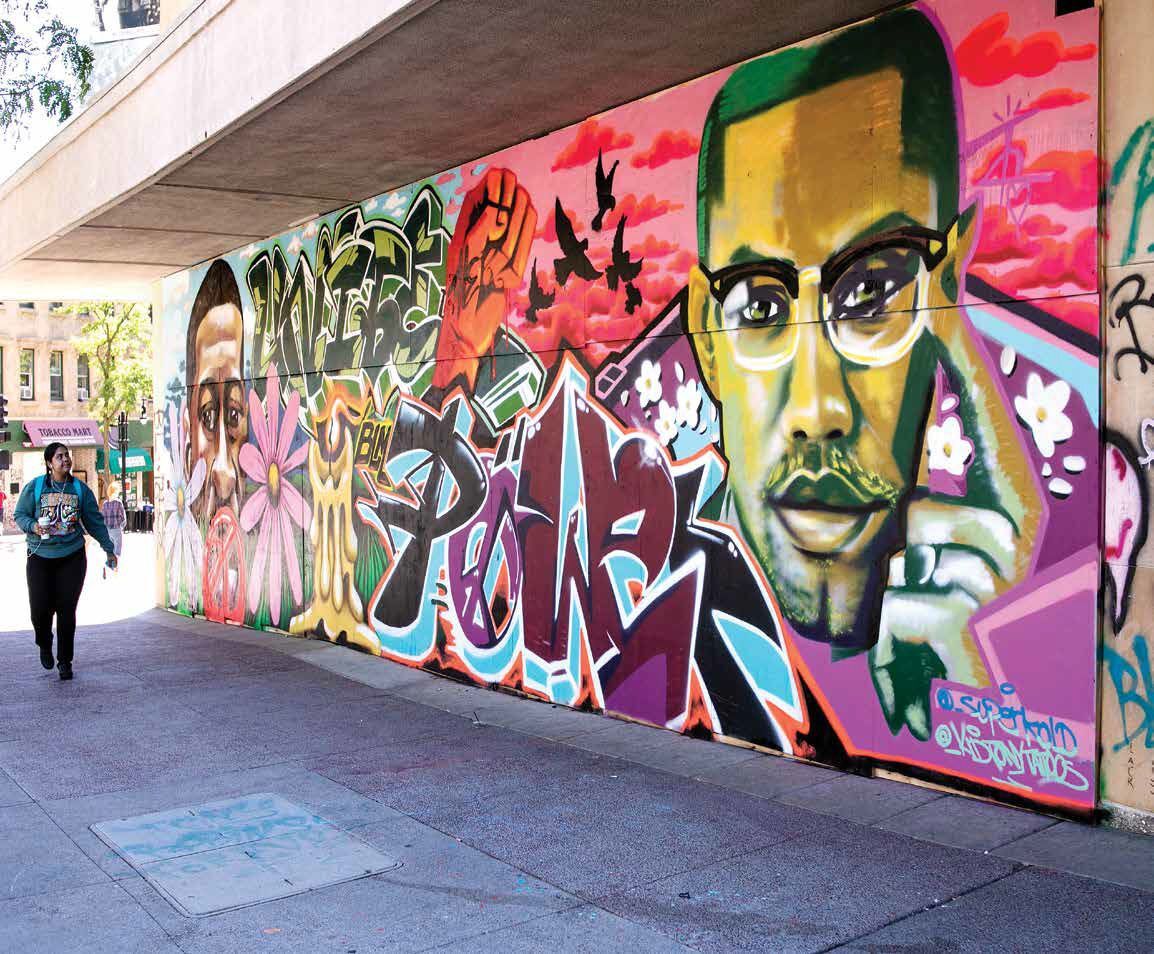 This Is A Revolution. Justice4Everyone. 
Those words were painted on boarded up windows at 227 State St. early last summer and were part of a blocks-long impromptu art gallery that sought to both beautify a stretch of plywood boards and give voice to those protesting against the police killing of Black people.
The messages captured a moment in time.
The protests that took over downtown Madison streets throughout the summer led to business owners boarding up their storefronts after windows were broken. Those boards, in turn, became canvases carrying messages of anguish and pride from people of color.
At a time when many of the street's retail stores and restaurants were closed due to the COVID-19 pandemic, damage suffered during the protests or both, the artwork brought people to the street.
But as the intensity of the protests subsided and the boards started to come down, many grew concerned that the messages of the murals would be lost. Preserving the works of art and their messages became a priority for Dane County Judge Everett Mitchell.
"I had just read a quote by James Baldwin about the role of artists is to take the intensity of the moment and redefine it," Mitchell said. "I thought they were going to create a space of fear and anger and confusion when they first boarded up the windows. 
"But artists can change the way that's reflected and redefine those landscapes."
Mitchell, the city of Madison, American Family Insurance and others teamed up to create a book, "Let's Talk About It: The art, the artists and the racial justice movement on Madison's State Street," which features vivid photos of the murals and statements from the artists who created them. Weighing in at 256 pages, the hardcover volume is impressive. It comes in its own box.
An effort is underway to get copies of the book in the hands of all the artists and American Family officials are brainstorming ways to make the book widely available to the public, free of charge. 
During a meeting American Family executives held with community leaders in June, Mitchell said one of the ways a big company could help was to preserve the artwork that added beauty to the downtown area. He was inspired by the art because he saw it as a mechanism by which to change the community at large in Madison. 
"If the artists can re-envision boards on windows," Mitchell said, "maybe we can re-envision a community where lives matter and challenge systemic racism that's built into the DNA of our country, and our city, and give it a different vision."
Nyra Jordan, the social impact investment director at American Family, said the company embraced Mitchell's idea because her colleagues thought the company's actions should reflect the values and experiences of the community it serves, a community that includes staff who were feeling overwhelmed by the images of George Floyd's murder in May by a Minneapolis police officer.
"With all of this happening, and as we think about the diversity of our workforce, we bring this into our work," Jordan said. "So, as everything happened with George Floyd I can say personally, as a Black woman, that wasn't disconnected from me showing up on the June call, and having to bring attention to that."
Jordan said the way American Family addressed the issues surrounding Floyd's murder and the protests that followed is indicative of the tone set by the company's leaders.
"We convened community leaders to see how we could do more. Judge Mitchell was one of those panelists," she said. "We asked what we can do as an organization and Judge Mitchell said 'Preserve the artwork that's on State Street.' And that's how we really got involved. We absolutely think that the arts and the creative community play a role in social justice movements."
For Mitchell, the preservation of the art in the book goes beyond celebrating the extraordinary murals. It is about having something to hold on to and refer back to in the future.
"This next generation needs to know we stood for something and gave them a different vision," Mitchell said. "Going back to normal is unacceptable. So that's why the art was so important so that when everyone wants to go back to normal, we will have something preserved."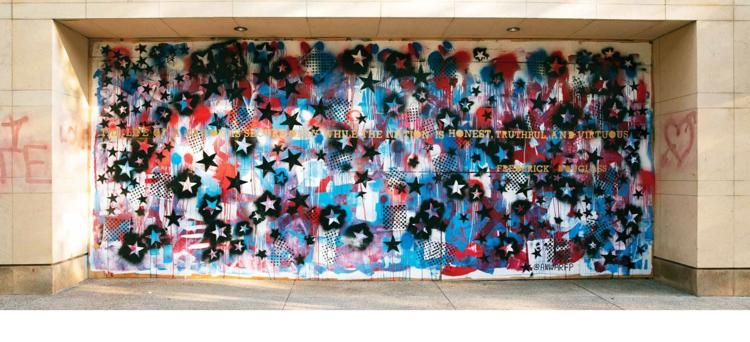 In June, as nearly every business owner on State Street boarded up windows to protect against vandalism, some thought the focus of the moment centered too much on protecting property as opposed to reforming ways to protect people of color from violence at the hands of police.
But what Judge Mitchell referred to as re-envisioning the boarded-up windows began to happen organically with spray-painted messages and art appearing on many of the boards. Eventually city officials, led by Karin Wolfe, the city's arts program coordinator, decided to seek out artists and commission them to paint murals along the street.
Wolfe led the effort on the ground, literally walking/running several miles each day up and down State Street organizing the artistic movement. 
"There was just this feeling on State Street. It was empowerment," Wolfe said. "I can't describe that feeling. It had been such an oppressive, weighty, hopeless feeling and suddenly that transformed into one of empowerment."
Along with calling on artists, Wolfe reached out to business owners along State Street to allow the murals to be painted on their boards. At first, only eight businesses were involved, which Wolfe said still meant a lot of work. But the project soon grew to 100 murals. 
"My biggest takeaway was how rare it is in our democracy to see people invited to express themselves without censorship or fear of reprisal," she said.
Wolfe was on her feet all day overseeing projects that could disappear in the blink of an eye. Graffiti, vandalism, theft, destruction of property or even a summer rainstorm could take an artist's hard work away.
Wolfe recalls working with one artist, Keysha Mabra, who was uncomfortable with the idea that no one could control what ultimately happened to the murals.
"She was having a hard time with the fact that these pieces were ephemeral, that we couldn't control what happened to them." Wolfe said. "The boards didn't belong to the city. We couldn't guarantee permanence or care. I encouraged artists who couldn't handle that to not participate. I told her to think of it like a mandela. The power is in the creation of the art.
"She wound up making three mammoth pieces. She created a lot of power in her work and did two weeks straight of no breaks, just out there all day."
One of Mabra's murals covered the front of Heritage Tavern, 133 E. Mifflin St., and depicted light at the end of the tunnel. 
Anwar Floyd-Pruitt, an interdisciplinary artist who earned a master of fine arts degree from UW-Madison last year, said in an interview this week he has vivid and also traumatic memories of painting murals this summer.
Floyd-Pruitt was working on one of his two murals near the corner of Gorham and State when he was assaulted by a man, claiming to be a veteran, who shouted racist insults before physically attacking him.
"It was one of those middle school fights that was like two fifth graders wrestling," Floyd-Pruitt said. "And that experience, when I think of my State Street mural experience, that was the first thing that came to mind."
Painting murals also affected Floyd-Pruitt's feelings about Madison. He has lived in other places — Boston, New York, Milwaukee — but said he always viewed Madison as having a liberal reputation. He was surprised that the faces of racism were well-dressed white men on expensive bicycles.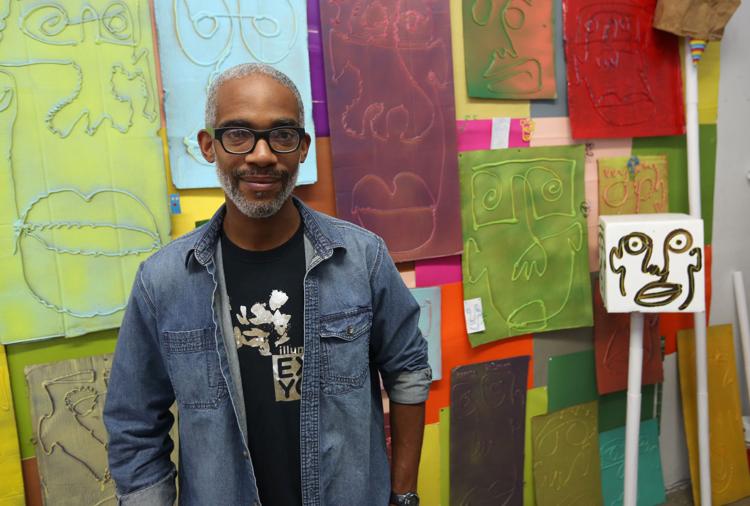 "It's really unfortunate because it has created this conflict in my head regarding my relationship to this city and I'm still kind of dealing with that," Floyd-Pruitt said. "I think that in my experience, rich or middle class people haven't been racist to me. But apparently in Madison that's different."
Floyd-Pruitt painted a mural on the Overture Center as well as on Warby Parker, an eyeglass store on State Street. 
For Wolfe, the experience was also life-altering. 
"A lot was learned and all of it was emotional. It was so intense. I can't even tell you. I kind of was traumatized," she said. "It took me probably two months to get back on my feet and it was only a two-week project, but it really felt like I was on a front line for two weeks."
Wolfe also pointed out that a lot of focus after the first protests in early June was on the destruction of property downtown. And then the attention shifted to the mural project. Lost in the shuffle were the homeless people who live on State Street. 
"I should have thought about them and I didn't think about them. And we took over State Street and that was overwhelming to them," Wolfe said. "If I had it to do over again, I would have also let them participate and I didn't think of that and it was rude and unthoughtful."
After the murals are gone
The Jan. 5 decision by Kenosha County District Attorney Michael Gravesly to not prosecute the police officer who shot and paralyzed Jacob Blake came as American Family was in the process of organizing the distribution of "Let's Talk About It" books to the artists. 
Judge Everett Mitchell received a copy of the book as he stewed over the Blake decision and couldn't help but travel back to all the moments that led up to the protests which formed the impetus for this book.
"This conversation comes on the heels of finding out about Jacob Blake and it just brings up the same emotions as last summer with George Floyd," Mitchell said. "A part of the sadness is that a lot of people in our community don't think that their bodies count or their feelings will be heard or their lives matter."
Mitchell was pleased that the book is being released on the heels of the Blake decision in order to display to everyone the importance of these moments. 
"I think if it had been released two weeks ago, it might not have had the same power as it does now that we're back in the same moment," he said.
When asked what he would say to people disheartened in this moment and discouraged from fighting on, Mitchell demurred.
"I can't give you an answer on that now," he said. "I've been doing this work and pushing since Tony Robinson was killed. I don't know. I can keep reciting the same solutions I've been reciting since 2015. It just gets a deaf ear."