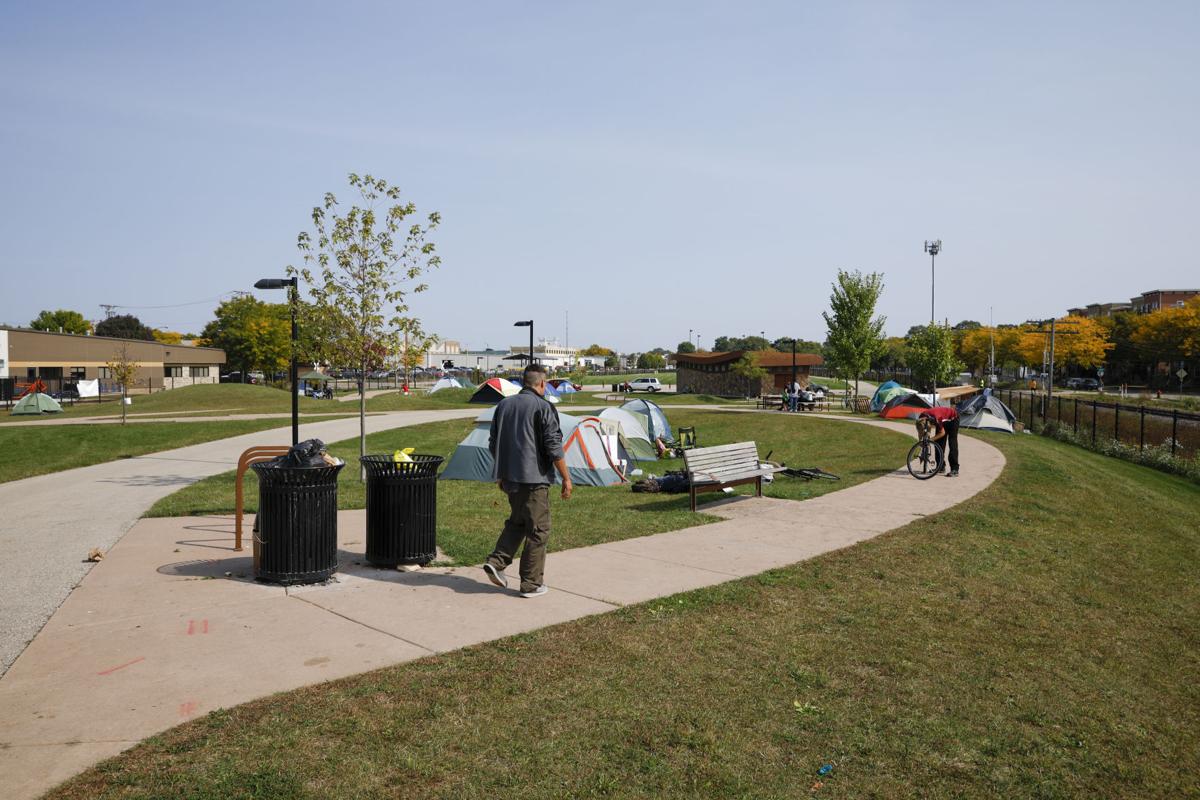 Dozens of Madison homeless people, uprooted from their normal routines due to the COVID-19 pandemic, have pitched their tents in McPike Park on the city's east side. Others have set up camp in other city parks and at the Highway 30 underpass, raising concerns from residents and shining a light on a safety net that was overwhelmed before the pandemic.
While most of the camps are not officially authorized, city officials have largely opted to allow them and have officially permitted some. In a May emergency order aimed at reducing spread of the coronavirus, Mayor Satya Rhodes-Conway allowed temporary encampments that meet certain criteria. The move aligned with guidance from the Centers for Disease Control and Prevention, which advised that disrupting such camps could increase virus risk by sending people to new parts of the community. 
A handful of "temporary permitted encampments" exist around the city, such as at Starkweather Creek Conservancy and in Reindahl Park. Due to being located closer than 500 feet to residences, the gathering of tents at McPike Park is not a lawful TPE. 
Jim O'Keefe, director of Madison's Community Development Division, said the city would still prefer for individuals experiencing homelessness to sleep in shelters. To offer more housing for single men, Porchlight moved its operation out of the basement of Grace Episcopal Church on the Capitol Square to the Warner Park Community Recreation Center, which can house around 130 men, on a temporary basis.
The new shelter also lifted the cap which allowed homeless individuals to stay in shelters for 90 days max in a single year. But O'Keefe said many people are still in the habit of spending the warm months outside to save their shelter days for the winter.
Families, as well as individuals at heightened risk for COVID-19 complications, were moved to local hotels, thanks to federal CARES Act funding provided to Dane County. O'Keefe said several hundred individuals are currently staying in hotels paid for by those dollars.
Despite the city's extra efforts, the pandemic seems to have increased the number of people living unsheltered in the city, O'Keefe said. The last 2019 count showed 650 people experiencing homelessness, and around one-third of the homeless population is generally unsheltered in the summer months, he said.  
The city would usually count its homeless population on two nights each year, but it skipped the July count due to the pandemic.
"But all indications are that that number has grown in Madison, as well as most places in the country," O'Keefe said.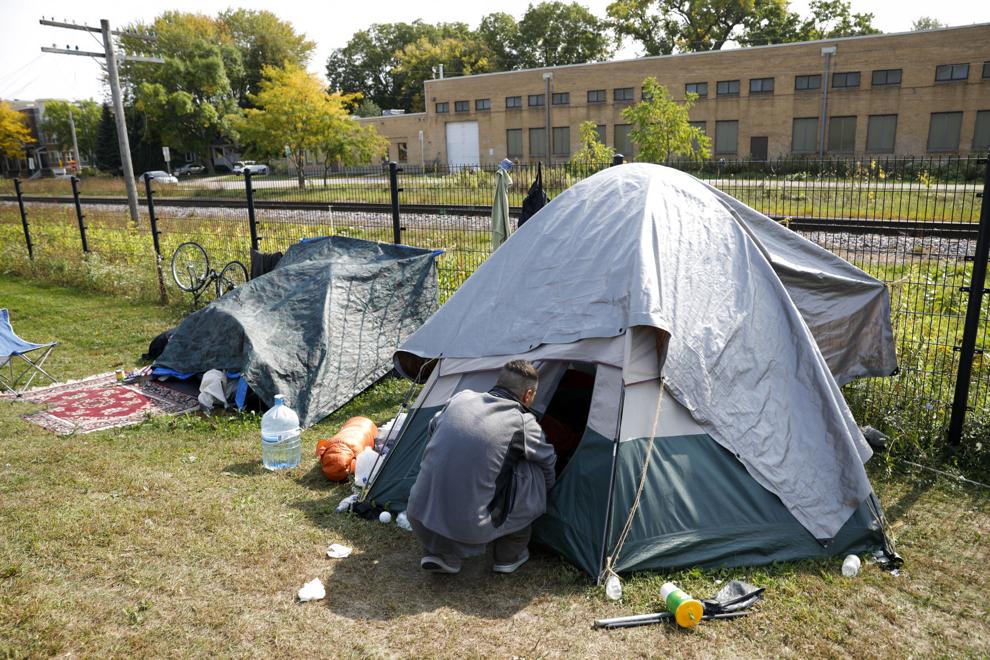 City aims to "dramatically reduce" camp
The city has so far taken a hands-off approach to the unlawful TPEs, like the one at McPike, opting to "be a bit more tolerant" as long as tent density stays low and neighbors don't complain, O'Keefe said.
While residents are often uncomfortable with encampments near their homes or in the parks they use, "we try to balance that with the need for people to have someplace to go or to be," O'Keefe said.
"But when the balance tips, and where there are legitimate public health and safety issues, that I think it's incumbent upon us to do something about it," he said, noting that calls for service to the police for drug use and conflicts between campers have raised concerns among city staff.
At a Monday meeting of the Marquette Neighborhood Association Board, neighborhood police officer Ken Brown reported 27 tents in McPike.
"There have been surprisingly minimal calls for service," Brown said, adding that most calls were generated by officers walking through the park, though he did arrest two individuals who had felony arrest warrants.
The city wants to "dramatically reduce" the number of people camping at McPike, O'Keefe said. Staff is working with city-funded outreach teams from Sankofa Behavioral Health, Porchlight and Catalyst for Change to assess needs and help individuals find alternatives.
Sara Allee-Jatta and Lamin Jatta, co-coordinators of homeless street outreach for Sankofa, visit the park regularly to bring food, sanitary supplies and the overdose-reversing drug NARCAN ﹘ and to offer case management to those who will take the help. 
Allee-Jatta called the city's concerns about the camp "absolutely founded," but said outreach workers like her play a different role than the city does.
"We can't force anybody to move anywhere. We can just educate people, provide encouragement and assistance with transporting people to appropriate locations, and educate people on the consequences of staying in unauthorized locations," she said. "But ultimately, we will support people where they're at."
For many, the options are slim. There are the Starkweather and Reindahl camps, and there's space for around 50 more single men at the Warner Park shelter. But with Madison's housing vacancy rate well below what's considered healthy, permanent housing is hard to come by even for the most desirable tenants. Those with low credit scores, eviction histories or criminal records face extra challenges. Allee-Jatta and Jatta said they know multiple individuals camping at McPike who work full-time jobs, and others who have been approved for rapid rehousing funds that would pay their rent if they could just find a landlord willing to accept the money. 
"If the rental policies could be a little bit flexible, you will have a few people out there," Jatta said.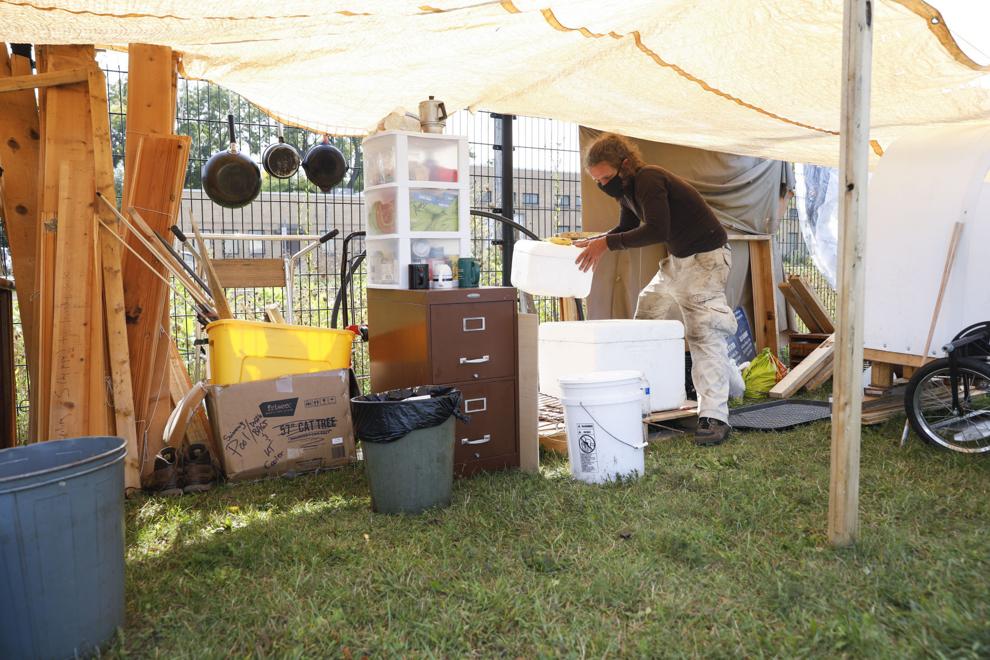 Campers consider alternatives
A camper named Andrew, who asked to use only his first name, said he was released from prison in January and had been staying with his father until they got in a serious fight. He's been at the camp since its early days. Two months ago, he was beaten up and robbed at the camp.
"I got stomped on and my backpack was stolen with my medication," he said, referring to the Suboxone he takes after getting off heroin 10 years ago. He said he feels pretty safe in the camp these days, but he noted that people form cliques and the police come regularly to deal with substance abuse, alcohol or fights. "It's definitely not a place for kids," he said. 
He knows there are other camps "off the beaten path," but they're farther from bus routes and from places like Luke House, which offers free meals a block from McPike, and The Beacon, which offers showers and other services five blocks away.
But he's got an exit strategy: He's been approved for financial aid to return to school at Madison Area Technical College, where he plans to take a few graphic design and information security classes to add to the information technology degree he already has. With that aid, he thinks he'll rent a room.
Another camper, James DeGray, is bracing for spending winter outside ﹘ sort of. After losing his job due to the pandemic, he opted to devote all his time to a yearslong effort to start his own business making self-sustaining tiny houses. Each house would be smaller than a car, he said, but would have a bathroom, shower and kitchenette and would generate its own power through solar panels and wind generators. The project could provide both housing and paid work for people without homes, he said.
He's already living in a tube-like structure he designed himself, complete with a futon mattress and wheels for portability. Now he's making plans to outfit it for the winter, and he plans to move it to a series of parking spaces if the city breaks up the McPike camp.
DeGray said he could probably find a job in one of the building trades, where he's found work before, but he'd have to be at work, showered and clean-shaven, before the time the showers open at the Beacon.
"I would much rather fail on my own than think I'm doing well working for somebody else, and my life goes to making their dreams happen and I still can't get my stuff off the ground," he said.
Looking ahead, Allee-Jatta said she'd like to see more options for permanent housing, noting that homelessness is itself "an exceptionally traumatic situation" that poses its own dangers. 
"In a perfect world, there would definitely be more funding for the housing programs, and more housing vacancies," Allee-Jatta said.
Worst could lie ahead
After a man living in a tent in Reindahl Park was found dead earlier this month due to apparent head injuries, Ald. Samba Baldeh told WKOW that he'd like to see the city expand the hotel strategy to house those staying in homeless encampments. 
But O'Keefe has doubts. "What's keeping those of us that work in this area up at night is the knowledge that the hotel strategy is itself time-limited," he said. Without further federal action, all CARES Act funding, which has paid for the hotel stays, must be used by the end of the year.
"December 31st is not an ideal time for people to lose that shelter, so we're bracing ourselves for the possibility that there could be even greater pressure on the shelter system," O'Keefe said, adding that the federal eviction moratorium is also set to expire at the end of the year. 
He said the city might need to open a larger shelter, and there are just a handful of large public spaces currently not in use, including Monona Terrace and the Alliant Energy Center. Those options were discussed early on in the pandemic but ruled out because they might be needed as field hospitals.
"The concern is very real that, come the end of the year, we might be facing a situation that we could not respond to with the facilities that we currently have at our disposal."
Share your opinion on this topic by sending a letter to the editor to tctvoice@madison.com. Include your full name, hometown and phone number. Your name and town will be published. The phone number is for verification purposes only. Please keep your letter to 250 words or less.