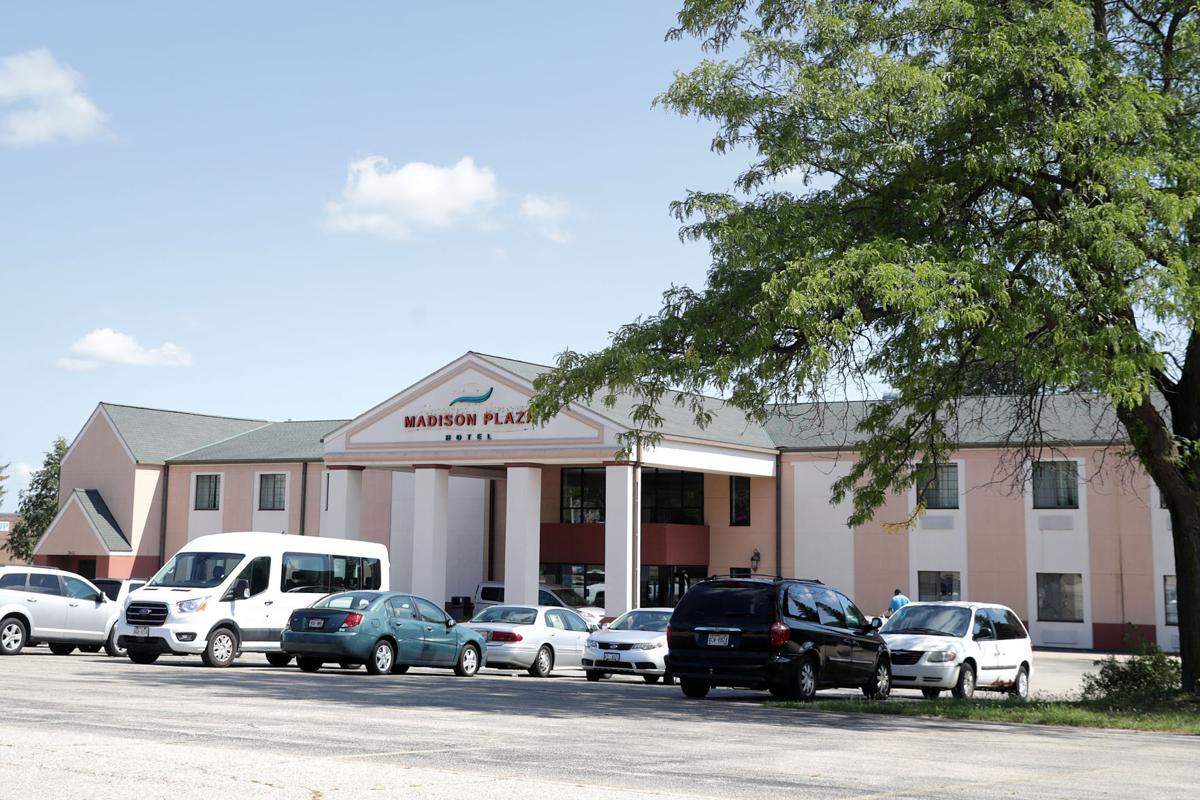 In a novel approach to grow its affordable housing options, the city of Madison is pursuing the purchase of a hotel to convert it to housing for people experiencing homelessness and those who are lower income or housing insecure.
The city is planning to use $2.5 million earmarked for a potential hotel conversion project with American Rescue Plan Act funds it received during the pandemic.
An additional $5 million is expected to be available from the federal Housing and Urban Development department. The city is awaiting guidelines regarding the use of the HUD funds and once issued, plans to pursue the purchase of a hotel with the goal of converting it to affordable housing.
"We've set aside $2.5 million of the money we have available right now that the mayor has proposed and the City Council has approved," said Jim O'Keefe, director of community development for Madison. "And now we're waiting on the potential of the $5 million addition."
If and when that money comes through, the city will pursue a request for proposals process. Interested developers would be responsible for any renovations and other tasks needed to convert the hotels into housing.
Meanwhile, local developer Gorman & Company this week announced a proposal to convert the Madison Plaza Hotel, 3841 E. Washington Ave., into affordable housing with up to 105 units.
The conversion would cost $23.4 million and Gorman would be assisted by Lutheran Social Services. The plan would involve transitioning the 197-room hotel to housing for people making 60% of the Dane County median income or less. Under the proposal there would also be 21 apartments set aside for people making less than 30% of the county's median income.
Gorman & Co. is asking for $2 million from the city of Madison in order to proceed with the conversion. According to O'Keefe, the financial aid from the city would help development teams secure federal tax credits that would enable them to do the project.
"Gorman & Co. saw this hotel as one that needed a new purpose," said Ted Matkom, president of Gorman's Wisconsin market. "We envisioned that purpose to be a conversion from hotel to permanent affordable housing."
If the proposal is successful it could be a model for a swift and effective way to provide affordable housing in Madison.
"One of the variables is what comes out of this on the back end. I do not think there's any interest in making this housing exclusively available for people coming out of homelessness," O'Keefe said. "But the goal is to end up with affordable housing available to lower-income residents."
The acquisition of federal low income housing tax credits through the Wisconsin Housing and Economic Development Authority are key.
"The viability of the projects that we're talking about really hinge on being able to secure tax credits," O'Keefe said. "Our funding helps developers secure the federal tax credits and if they get them we're kind of off to the races, but if they don't, the projects aren't viable."
Converting existing structures can be less complicated than attempting to construct an affordable housing building from the ground up or creating a space for a homeless shelter.
Construction costs, materials costs and an array of neighborhood meetings, Urban Design Commission and Plan Commission reviews are all things development teams must contend with before even breaking ground on a project. The lengthy process often bleeds smaller developers dry financially and larger developers balk at all the red tape.
"With new construction costs skyrocketing, Gorman & Co. thought converting a hotel to apartments was a cheaper and more efficient way to bring affordable housing to the community," Matkom said. "The time frame for this project would be contingent on us receiving tax credits from WHEDA in April 2022 and then hopefully having units available in fall of 2023."
Projects such as these could help address the city's needs in a more timely way.
"What makes this attractive is that you can convert a hotel to permanent housing much more quickly than you can go through the process of developing a new apartment building from start to finish," O'Keefe said.
Alder Gary Halverson, who represents the district in which the Gorman proposal is being floated, will have a neighborhood meeting on Sept. 9 to discuss the project.
"We are in an affordable housing crisis and this development is a good opportunity to provide much needed housing," Halverson said. "I am optimistic about this model for adding affordable housing units and I think this development is a step in the right direction."
The city of Madison's Community Development Block Grant Committee heard an informational presentation from the development team on the project on Thursday night. No decision was made on whether to support the plan, but that may be discussed at its Oct. 7 meeting.
Share your opinion on this topic by sending a letter to the editor to tctvoice@madison.com. Include your full name, hometown and phone number. Your name and town will be published. The phone number is for verification purposes only. Please keep your letter to 250 words or less.