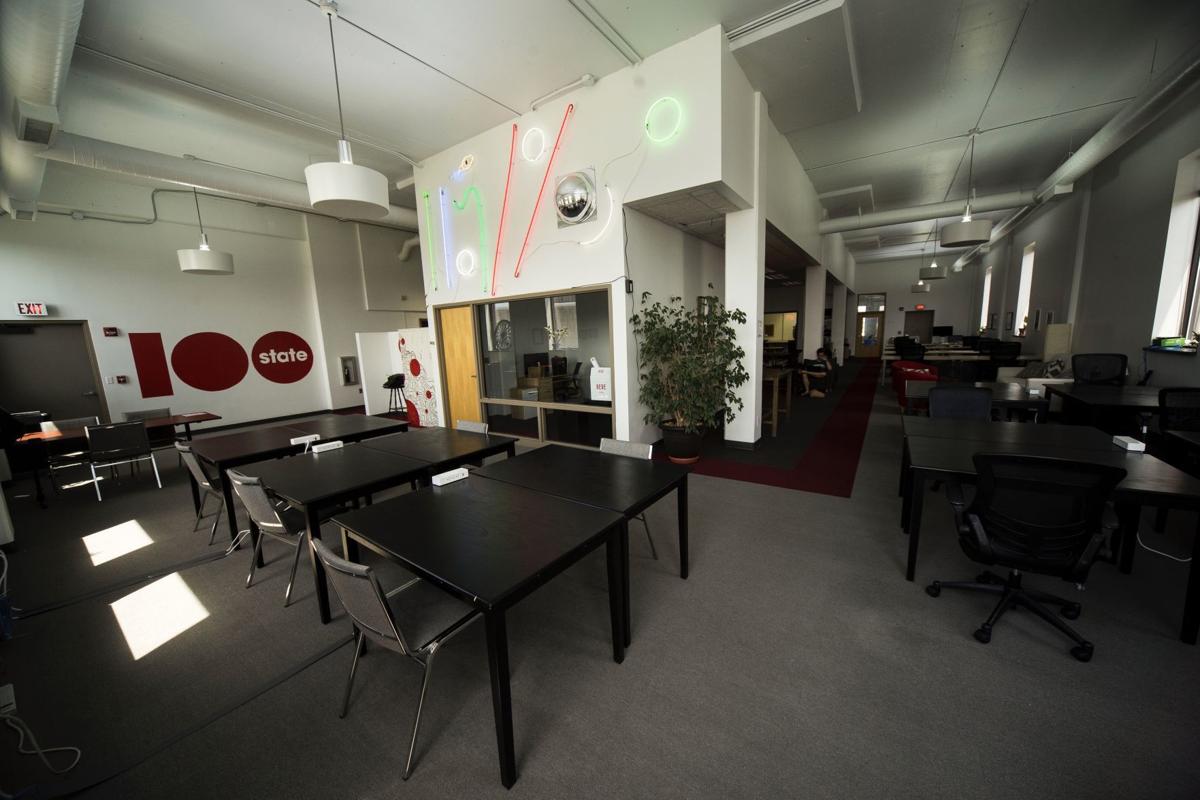 This is proving to be a year of change for 100state. Not only has the co-working community endured a global pandemic and the accompanying economic shutdown, but it's moved into a new location and said goodbye to its executive director. But, say leaders past and present, adapting to change is what the organization was designed to do. 
On May 1, 100state moved into its new home on the seventh floor of 17 S. Fairchild. The new location features large windows, an art room, a podcast studio and amenities familiar to 100state members, such as shared conference rooms and kitchen space.
Emily Volland, director of community and programming, said the space "flows more easily" than their prior location, which she hopes will encourage members to connect more with each other. 
The co-working space began with a group of entrepreneurs working in a train car on West Washington Avenue, established itself officially at 100 State Street and in 2017 moved to the former AT&T building on West Washington.
"100state has never been about the physical office space," Volland said. "It's really about the community."
Right now, the new space is unusually quiet. Governor Tony Evers' Safer at Home order, which directed nonessential businesses to close, was struck down by the Wisconsin Supreme Court, and 100state has been slowly welcoming members back to its offices in accordance with Public Health Madison & Dane County's reopening. Dane County is currently in Phase 2 of the plan, which allows offices to operate at 50% of their capacity. 
Leadership has set capacity at 50 for the time being, but Volland said they've yet to approach that limit. They've implemented a new registration system that allows members to go online to see how many people are currently using the space, letting them decide whether or not to come in. 
Though Volland said she's "chomping at the bit" for members to see the new space, she appreciates the members haven't flooded back. Many have opted to keep working from home to make space for those whose children or living arrangements make working from home difficult.
"There's kind of a natural understanding," she said.
On May 6, just days after moving to its new location, 100state bid farewell to its executive director, Claudia Seidenberg. In an interview with the Cap Times, Seidenberg did not give the reason for her departure but implied that the decision was not hers.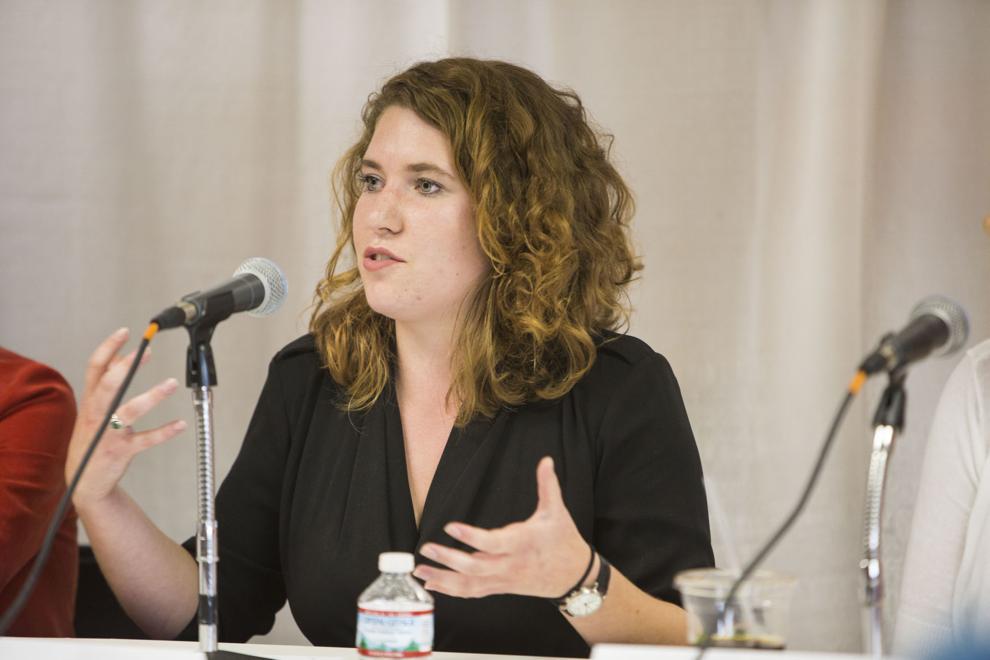 "There wasn't a lot of context around the change," Seidenberg said, though she told the Cap Times that she had "nothing but fondness" for the organization where she'd served as operations manager before taking over in 2018, at age 22, after executive director Gregory St. Fort stepped down. 
A written statement from the board of advisors, shared with the Cap Times by email, said in part, "It is with both gratitude and disappointment that we announce that Claudia has moved on from serving as 100State's Executive Director.
"We can't wait to see what she takes on next," the statement read.
Transition comes with the territory, Seidenberg said. "Co-working, by nature, we'll see folks coming and going, and it's sort of the same with the staff and with the board … The design of 100state is that it should remain innovative and always developing and evolving with the membership and with the times. 
"When staff changes that typically just means it's a really exciting opportunity for the organization to continue to grow."
She said she's proud to have helped the organization build a "strong operational core" that can stabilize it through changing times and even "work through and outlast a global pandemic," and she plans to stay on as a member of 100state. 
"I have an incredible amount of excitement about how the space is going to continue to evolve," she said.
Volland said 100state is in a "weird transition time" due to the coronavirus pandemic and that, rather than immediately fill the role, they would wait to evaluate the situation and "the evolving needs" of the organization. She and Art Director Sam Christensen will be at the helm for now, with guidance from their board of advisors, and they will determine whether to restructure leadership or hire a new executive director.
Volland is optimistic about 100state's ability to weather the pandemic and whatever new reality it may precipitate. Membership at the co-working space fluctuates between 200 and 250, and Volland said they'd lost fewer than 10 members since the pandemic. 
"I heard verbatim from people that, 'Of course it's a no-brainer that we're going to keep supporting 100state as long as we're employed, regardless of whether we can actually come into the physical office space.'"
"We're really lucky. The people that come here want a community, and that's exactly what it is."
For now, her focus is on making sure members are safe and have what they need. For some members, she said, it's social things like lunches and happy hours that make them choose co-working. Those things are cautiously coming back: They held their first socially distanced lunch, walking to Casetta's and picnicking in a park, earlier this month. 
She also hopes to resume offering workshops and gallery nights, and both for members and for the wider Madison community, noting that 100state's "core beliefs" of community, innovation and entrepreneurship are more necessary than ever.
Seidenberg agrees. "There's a camp of people that see the traditional office space dying and co-working space dying with it. I'm definitely not in that camp," Seidenberg said. Instead, she said, the pandemic has proven the value of community spaces, from gyms to book clubs to co-working spaces.
"Whether that's virtual or in-person … the community connections that we build and the kind of spaces that we build for ourselves and the homes that we find for ourselves outside of the home are just going to be ever more important."
Editor's note: This story has been updated to clarify the capacity of the new space. 
Share your opinion on this topic by sending a letter to the editor to tctvoice@madison.com. Include your full name, hometown and phone number. Your name and town will be published. The phone number is for verification purposes only. Please keep your letter to 250 words or less.