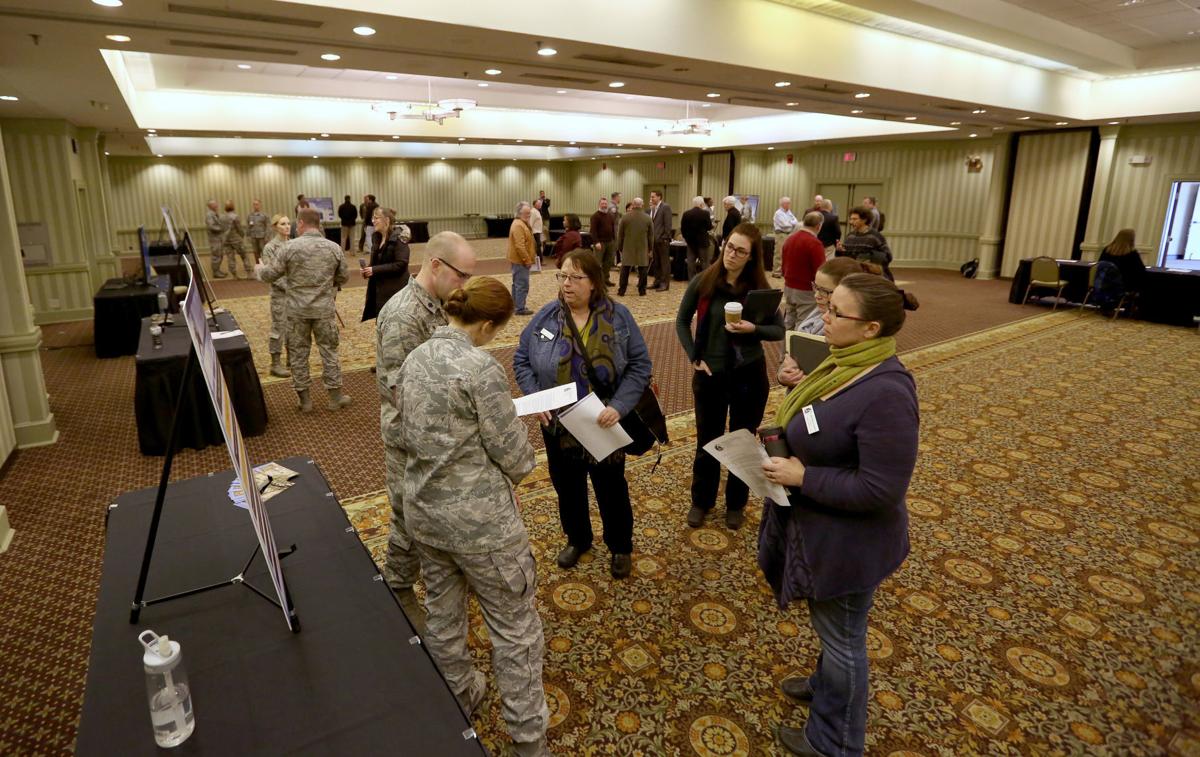 Supporters and critics of an Air National Guard proposal to base a squadron of F-35 fighter jets in Madison will converge at a Thursday night public meeting at the Alliant Energy Center — as will members of the public simply interested in learning more about the controversial proposal.
As is required under the federal National Environmental Protection Act, the National Guard Bureau is now collecting public input on the document through Sept. 27. The meeting on Thursday has been organized by the Wisconsin Air National Guard to share information on the F-35s and the draft's findings, and to collect public feedback.
Some local officials are also holding meetings of their own to solicit public opinion: Alders Marsha Rummel, Grant Foster and Syed Abbas — whose district encompasses the airfield and surrounding neighborhoods — will hold a listening session at Sherman Middle School at 5:30 p.m. on Wednesday evening, for residents who who would be affected by the noise increase.
"I never took an initial position against or for, because I want to do my research and investigation, and I want to hear from people," said Abbas.
Some Madison residents are already voicing feedback: A Madison coalition called Safe Skies Clean Water Wisconsin will host a press conference prior to the Thursday meeting to voice opposition to the basing of F-35 jets. According to the group's Tom Boswell, the conference will feature state Rep. Chris Taylor, doctors with the group Physicians for Social Responsibility, and other local residents.
Boswell said he thinks public opinion on the F-35 basing after seeing results from the draft report.
"I would say it's changed, significantly actually," said Boswell. "Lots of people are concerned about the noise factor."
Boswell noted that the coalition features residents opposed not just because of the noise, but also due to concerns over safety, chemical pollution, and anti-militarism.
While opponents to the F-35 basing will be present, the executive director of the Badger Air Community Council, a nonprofit that advocates for the 115th Fighter Wing, said that he expects "a strong contingent of supporters" at the event.
"I think there will be an overwhelming show of support," said Chris Arenz. "And there will be detractors. And quite honestly I think there will be more people who want more information."
According to a spokesperson with the 115th Fighter Wing of the Wisconsin Air National Guard, the meeting will feature two sections: An open house and a "formal presentation."
The open house, from 5 to 6:30 p.m., "will be a great opportunity for members of the public to ask questions about the F-35 and its potential effects in the Madison community," wrote Penny Ripperger, a lieutenant colonel with the 115th Fighter Wing, in an emailed statement. The guard will set up informational posters about the F-35 basing and the draft EIS, and will station subject matter experts from the Fighter Wing and Bureau around the space to answer questions.
The formal presentation, from 6:30 to 8 p.m., will feature presentations by 115th Fighter Wing Commander Erik Peterson, Civil Engineer Commander Mike Dunlap, and a Bureau representative.
You have free articles remaining.
Members of the public will be able to register their thoughts on the draft environmental impact statement via comment card, or in the form of oral testimony before Air National Guard representatives.
The Air National Guard initially named Madison as a potential home for a squadron of 18 F-35A joint strike fighter jets — sophisticated war planes that have come under scrutiny for a prolonged development cycle, high price tag, and alleged design flaws — in December of 2017. Since then, the National Guard Bureau has been collecting information and modeling the consequences of the basing across 13 metrics, including air quality, water quality, noise, economics, land use and safety.
The analysis concluded that the basing would mean an additional 1,019 households and 2,215 people would be in areas with a higher-than-typical "day-night average sound level," a metric for environmental noise across a 24-hour period. The report found the increased noise levels would affect low-income and minority neighborhoods.
In all metrics besides noise pollution and environmental justice — a category assessing impacts on minorities, low-income families, and children — the report found that the basing would have "no significant impact."
Boswell said that he said that he feels optimistic that based on the report's findings, the Air Force will reject the F-35 basing proposal. He said that in the meantime, activists are planning to keep up pressure on public officials — particularly U.S. Sen. Tammy Baldwin, who he believes could have the most influence on the matter.
"Quite frankly, the key to this whole campaign is (U.S. Senator) Tammy Baldwin," said Boswell. "We need Tammy Baldwin to change her opinion on this issue."
Arenz, for his part, said he's confident there remains a strong base of support for basing the planes in Madison, in large part due to the economic impact of keeping Truax operational. He also said he's skeptical of the report's conclusions on noise pollution, due to what he thinks could be overly generous assumptions of how often the F-35s will take off and land at the airfield. Regardless, he's confident that mitigation measures could make a difference in ultimate pollution levels.
Abbas, the alder for District 12, said that he has many concerns about the report's findings, although he hasn't made any official statement on the basing yet. He said he's still collecting input from his constituents before he takes a stance.
Abbas noted that many of those who would be affected aren't always people who typically reach out to their local officials. He said he's been working hard to reach out to constituents, and even spent time on Saturday walking door to door.
"A lot of people have so much confusion and fear," he said.
He said his hope would be that the Air National Guard makes a "good faith" effort with the community on their plan, and engage with officials and residents in the way a property owner might while pursuing a conditional use permit. He said that ideally, the Guard would conduct some actual experiments with F-35s at Truax, instead of just simulating operations with computer software.
He also acknowledged that ultimately, he isn't confident in his ability to influence the decision — particularly when high-profile politicians like Baldwin and Sen. Ron Johnson have cheered the F-35 basing.
"I don't want to be hopeless, but the situation is not promising at all," he said.
Abbas said he would not be attending Thursday's meeting, but would issue a statement on the F-35s on his blog following the Wednesday evening listening session.
The Air National Guard says that a final draft of the report is expected to be published in early 2020, with a final decision from the secretary of the Air Force shortly thereafter.