We asked, and you answered. State Journal readers shared their memories of the first lunar landing -- still strong after 50 years.
I was 10 years old and lived in Highland, Calif., because my father, Frank Thom, Jr. was in the United States Air Force (USAF) and stationed at Norton Air Force Base (AFB), home to the 63rd MAW (Military Airlift Wing), home of the C-141 Starlifter. My father was born and raised in Janesville; he still resides in Highland/San Bernardino, Calif.
My family was following the Apollo 11 mission because it was historic, but, to us, it was about our father, a Flight Engineer. He had been assigned to be part of the flight crew of the C-141 that was going to transport the containment/quarantine trailer from Honolulu (Hickam AFB) to Houston, Texas. We watched everything we could get on TV.
What I remember most is when my dad returned home and told us he had been able to talk to the astronauts and had given them pictures of the C-141 that his crew hope would be signed and returned after the quarantine was over. The Apollo crew sent back autographed pictures of the three of them and a picture of the C-141. They also sent two of the emblem patches and a piece of the gold flake insulation used on the reentry module. -- David W. Thom, Pardeeville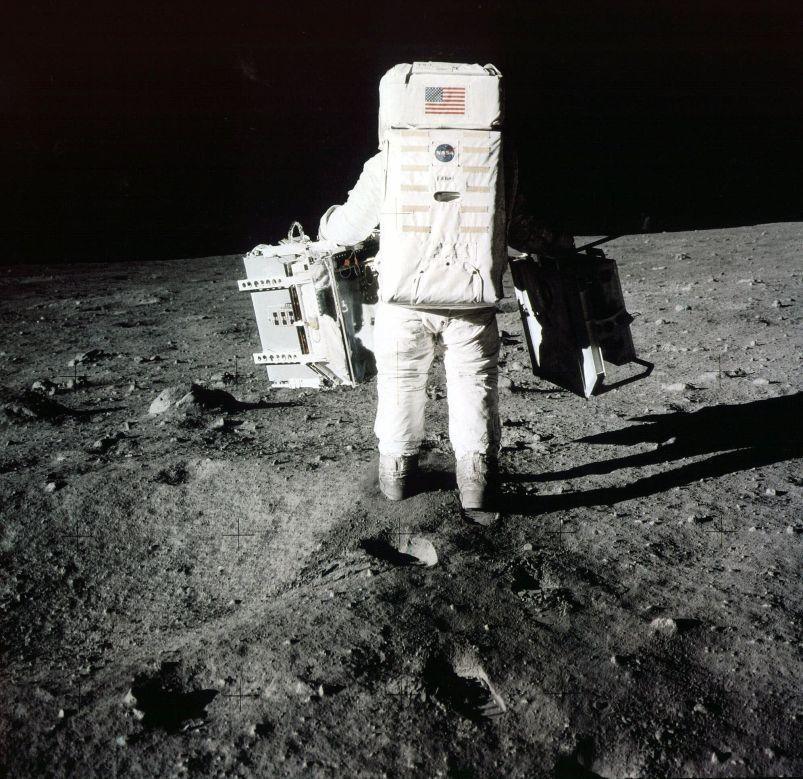 I was an infantry soldier with B Co 2/35 Infantry, 4th Division in the Republic of Vietnam. We were on patrol in the jungle of the Central Highlands of Vietnam. Word came from higher up that Apollo 11 had landed on the moon. One of our radio operators got the news and it was passed up the line. That was exciting news to hear, but didn't mean much at the time because we were on patrol looking for the enemy.  -- Bob Maves, Janesville
I was in the U.S. Army, and my wife had recently joined me, halfway around the world from our families, in Dinkendorf, located on the outskirts of Stuttgart, Germany, to live in a tiny attic apartment with zero luxuries, save the feather bed. We were determined that we would not miss the moon landing, so we rented a television set with rabbit ears (for about half of my monthly pay), invited our sweet, elderly German landlords to join us, and set the alarm for very early in the morning. Together we watched this very amazing and historic event. And, since the only broadcast we received was all in German, our landlords interpreted what we could not understand. It was so wonderful seeing them enjoy this event as much as we did. -- Jim and Geri Hodge, Verona
Along with 35,000 other Boy Scouts from all across the country, I was attending the 7th National Boy Scout Jamboree in Farragut State Park in Idaho when these brave men stepped on the moon. A long way from home and very proud to be a scout, I was even more proud to be an American!
Organizers had fashioned a gigantic bowl-like amphitheater where there were three large screens for us to view the landing. It was truly a moving experience for a young kid a long way from home and I will never forget it. -- Tim J. Groves, Madison
I was at the Boy Scout National Jamboree at Farragut State Park in Idaho with tens of thousands of Boy Scouts from around the country. I was 14 years old and living in Milwaukee and this was my first experience meeting such a diverse group of individuals from urban and rural areas throughout America.
I remember Neil Armstrong, an Eagle Scout, greeting the scouts at the Jamboree from space. I remember the pride and awe I felt, along with the nearly 35,000 scouts in an amphitheater, watching man's first steps on the moon. -- Michael J. Modl, Madison 
My boyfriend and I were at a party in Washington, D.C., watching the moon landing on TV. As Armstrong stepped on the moon's surface and uttered his famous words, "one small step for man, one giant leap for mankind," my boyfriend asked me to marry him! This July 20, we will celebrate the 50-year leap we made. -- March Schweitzer, Madison
We were camping with friends near Spearfish, S.D. When we heard the moon landing was going to take place that evening, we canceled our play tickets for the Black Hills Passion Play and stayed in the campground. In anticipation of the big event, our friends had brought along a small black-and-white portable television set. They placed it on the picnic table and we all gathered our chairs to watch. It was a beautiful, clear night, and we had a full view of the very bright and distinct full moon.
As the television showed the astronauts stepping down from the moon-lander, we looked up at the moon and felt as though we were viewing the event through a high-powered telescope where we could actually see the men the on moon. -- Jim and Joyce Holter, Middleton
I was 21, driving for Yellow Cab in Madison and I picked up a lady who explained why the weather was so rainy. She said it was because of all this landing on the moon stuff. They were changing the atmosphere. -- James E. Skelton, DeForest
I recall, quite vividly, watching the moon landing with my dad and my uncle, both of whom were very proud to be second cousins to Neil Armstrong. They recalled their days playing on the farms of Ohio with the young Armstrong. I was 16, we watched it from our home in New Glarus, along with two of my boyhood buddies. A real moment of pride for us, not just as blood relatives, but as American citizens. -- Dr. Bryan Wierwill, Verona
It was the day of my 10th birthday party and my memory of the day is very clear. Prior to the party, I was glued to the TV as every piece of information was shared. We all held our breaths as the astronauts drew closer. I remember the crude TV graphics and the model rocket, complete with LEM (Lunar Excursion Module), used to demonstrate the maneuvering.
My mother pried me away from the screen as my friends arrived bearing gifts -- the best was a model Apollo rocket, complete with LEM. After the requisite cake and Nehi soda, the party moved to the nearest park for a spirited baseball game.
Later that evening, my family huddled around the TV again, watching the grainy black and white images as the LEM descended and landed safely. I remember going outside to look at the moon and imagine the men there looking back at us. I've always felt this was one of the best days in my life. -- Steve Martinelli, Cottage Grove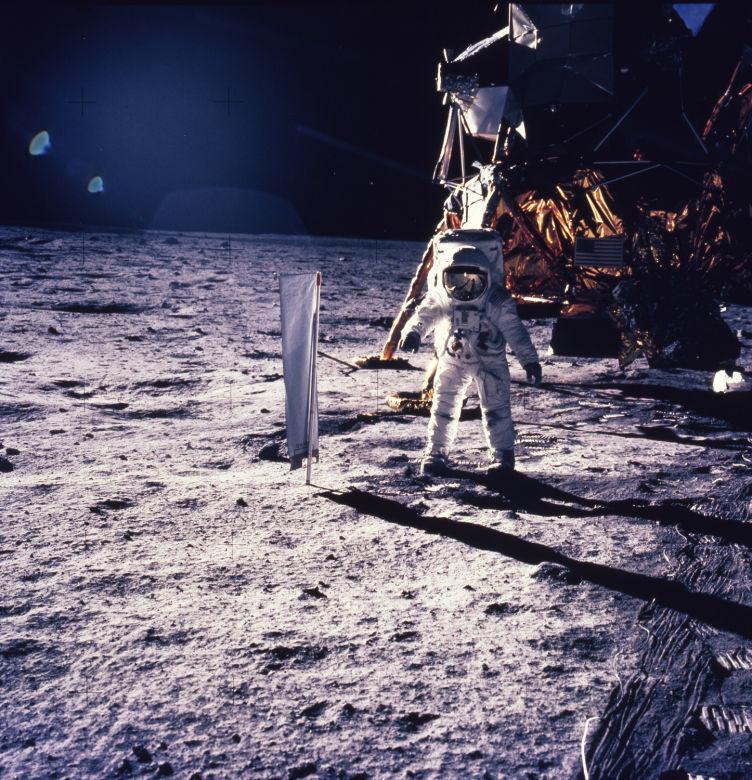 I was 12 years old and my family, including my grandmother, was on vacation. We were staying in a hotel in San Francisco, watching on the small hotel black-and-white TV. My grandmother was quiet as she often was, but was watching the TV with as much interest as the rest of us.
When my mom asked her what she was thinking, Grandma said, "I used to take a horse and buggy to church on Sundays."
She was 73 years old and her grandfather had built the 10th car licensed in the state of Iowa. It is amazing to think of all the things she must have seen in her lifetime. -- Linda Sanders, Madison
I remember how excited my brother and I were. We were 11 and almost 9. My brother's birthday was July 23, we celebrated on the 20th and my mother put a ceramic "Moon Man" on his cake.
When we watched the actual landing, my 90-year-old grandmother scoffed and said we were being fooled. She stated everyone knew the moon was made of cheese. Nothing we said could convince her it was real. -- Anne Rittman, Madison
Leading up to the moon shot, I often had coffee and conversation with my next-door neighbor. She insisted that man could never do that because it was not in the Bible. We bet $50 on whether man could be successful and return to earth. After it was over, she never did pay because she said I could not prove that it was not a Hollywood stunt put on by our government. We still remained friends. -- Ray Statz, Waunakee
I was 17 years old, acting and working with the stage crew on lighting and props on a musical called "Little Mary Sunshine" that was at the Robert E. Gard Theater in Spring Green. One of the props was a large, about 4-foot across, moon that we would swing down over the center of the stage during the song, "Once in a Blue Moon."
I had been paying attention to the Apollo 11 mission and suggested that on the night of the moon landing, during that song, we swing the prop moon down into position with an attached American flag. We did, and the crowd erupted in cheers and applause. It was an awesome moment for me and the entire cast and crew. -- Eric Larson, Richland Center
I was 13 years old and completely wrapped in the drama of space exploration. On the day that Neil Armstrong was to set foot on the lunar surface, I was poised in front of our family black-and-white TV in Los Angeles waiting excitedly for the video uplink from the moon.
I distinctly remember that the moment lunar broadcast began, it looked strangely wrong, and soon realized it was coming into us upside down. Neil Armstrong was about to descend the ladder of the LEM. I thought "I can't miss this!", and so I stood up and turned my head upside down so that I could see the image in its proper orientation. Shortly after I did this, Mission Control addressed this issue and the image transmitted correctly.
I recall thinking that this was probably the moment in human history when the largest sample of the global population was standing on its head. Were you? -- Brian Parks, Madison 
During the space race, my father-in-law worked for AC-Delco in Oak Creek in the clean rooms on the gyroscopes used in the space capsules. 
The family gathered in my in-laws' living room, filling all the chairs and the floor to watch. With a lot of anticipation, the astronauts landed safely on the moon. They had with them a picture, signatures, and well wishes of all of the people covered from head to toe in their white suits that worked in that clean room. To this day, that document sits on the moon, a testament to all the people that worked so very hard to get all the astronauts safely to the moon and back. -- Carole Radtke, Middleton
I was at a Hilton Hotel in Dallas, Texas, with my family attending a convention for Piggly Wiggly grocers, as my father was a store owner. The evening meals were always, in my mind, a rather grand affair. But that night, when dinner was ready, most of the attendees were up in their hotel rooms glued to their televisions watching Neil Armstrong and Buzz Aldrin do something no man in the history of the world had ever done before -- walk on the moon!
Unfortunately, for the event organizers, no one wanted to leave their televisions. They had to find a way to keep a meal hot for 2,500 people who were not leaving their rooms. I don't know how they did it, but I do know dinner was late that night and we all got to witness history in the making! -- Cindy Standorf, Prairie du Chien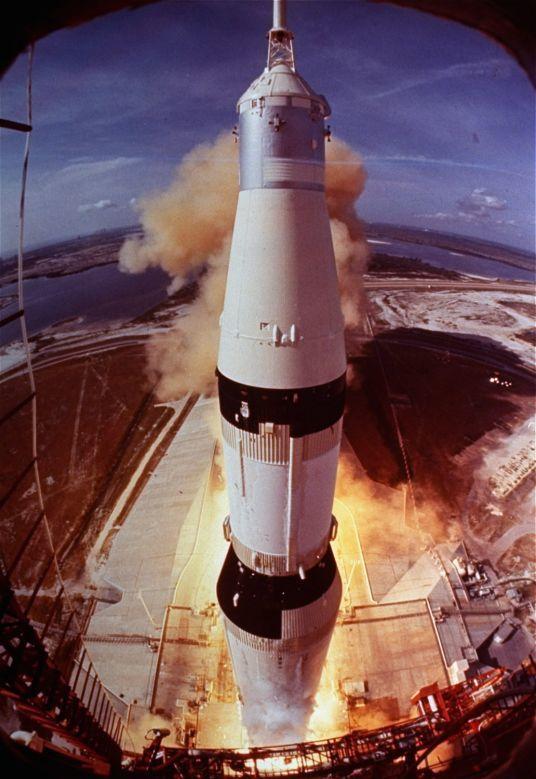 I was working in the corporate office of Occidental Petroleum, a multi-million-dollar international New York stock-exchange corporation, located at the corner of Wilshire and Westwood Boulevards in the western part of Los Angeles. More than 100 people -- high-powered executives, including the chairman, Dr. Armand Hammer, and clerical people alike, plus myself -- assembled in the largest office area we had to watch the landing on TV. Besides those famous words, "one step for man, one giant leap for mankind," what I really remember was these 100 people literally holding their breath as the module descended towards the moon. When it landed, there was a gush of air as everybody breathed a sigh of relief.
It was an experience like none other, the first time for live TV on another body in the universe. And, to see men on this faraway place, hoping, as we all were, that they would come home safely. -- William Ferguson, Oregon
I was a space-obsessed kid and dismayed that my family chose that week to be on vacation at a rental lakefront cottage near Waupaca. Fortunately, I was still able to watch the landing on the tiny TV there. The reception in the cottage was poor, but the thrills and excitement were all there.
Twenty years later, that same lake cottage came up for sale, so I bought the property and renamed it "Tranquility Base." -- Bill Engels, Middleton
My two children, ages 5 and 3, and I were out in the yard, collecting lightning bugs in jars. We went inside to watch Apollo land on the moon and all the coverage of this historic event. As we were watching, one of the kids sat on the floor and decided to play with the jar of lightning bugs. The jar lid came off and the lightning bugs were free to fly through the room and ceiling as we watched the moon landing. It gave a "special effect" to the night. -- Barry Pufahl, Pardeeville
My husband and I were married on July 19, 1969, in Friesland, Wisconsin. We went to honeymoon right after the wedding and stopped at several hotel/motels looking for a colored TV. After finally finding one that had a colored TV, we discovered it was broadcast in black and white. -- Jane Wendricks, Madison
My family was camping in a New York State Park when the moon landing occurred. We were staying in a wooded campsite with a Shasta travel trailer and 'wood-sided' station wagon. That was the only way to travel with eight kids and two adults. The site had water and more importantly power. A long extension cord had been packed before we left home for the TV (probably an eight inch Sony), which was on the rustic picnic table that came with the site. With camp chairs gathered around, we watched the moon landing under the trees.
My family had already rented a travel trailer for a summer vacation when the landing schedule was announced. My Dad was a big science and space buff, but also a bit of a jerk. He didn't want to miss the landing, but couldn't change the travel plans either. So his solution was to purchase a portable TV to take with us on the trip. And after we got back home, he bragged that he would return it to the dealer. I was 17 years old - I thought he was being a jerk then, and still cringe when I tell this story. -- Sue Hughes, Madison
Along with other members of the cast of an Attic Theatre musical production, I was on the stage at the Arts Center on the Lawrence College Campus. Director Don Jones had arranged for a TV to be set up so we could watch the history making event. We all cheered and a few were teary eyed as we watched. I will never forget this moment along with many others shared with Attic Theatre cast and crew over the years. I'm not sure which production we were rehearsing but the image of the lunar landing overshadows that recollection. -- Mary Beth Kuester, Clintonville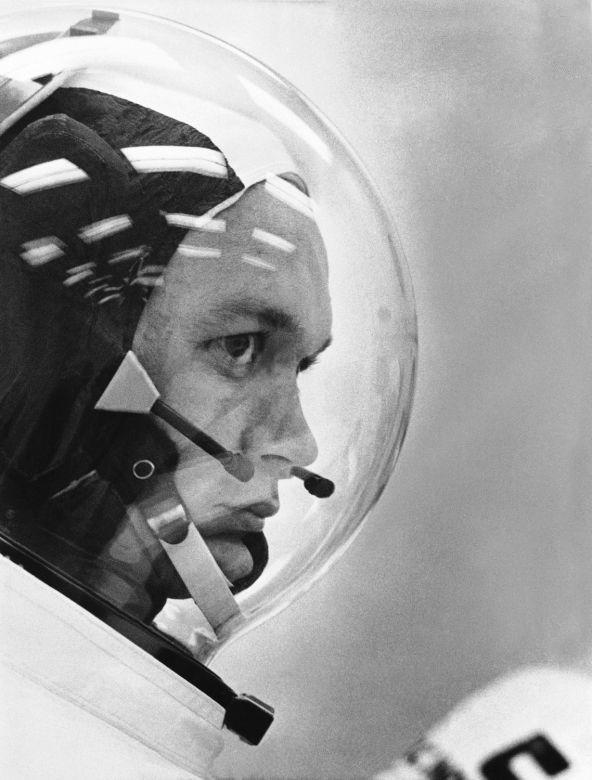 What a beautiful day it was, July 20, 1969. We were having the family at our home in Madison that day to celebrate our first daughter's first birthday. Her actual birthday is July 20. Amy did all the usual things a 1-year-old does, crawling, trying to take steps and, of course, stick her hand in her cake. She was enjoying her own little world not knowing at that time in her life, that history was being made around the world by three men landing on the moon. We collected as many items as we could relating to the moon landing. We saved it and when she was old enough to understand the greatness of that day, we presented a huge box of memorabilia to her that she still treasures to this day. A day we will never forget. -- Bernice Hanson, Madison
On July 20, 1969, I was in my fourth week of training at Marine Corps Recruit Depot San Diego. That day we were allowed to listen to the radio of the moon landing. That was the first and last time we listened to radio for eight more weeks. What was really strange you could see the moon that day! We all cheered then went back to training! -- Gary L Henke, Madison
I was in a small town hospital in central Iowa recovering from an appendectomy. I was just 9 years old, and at that time, an appendectomy was a major operation. As a result, I was in the hospital for around 5 days before being released. I vividly remember the room I was in and there was no TV provided - you had to rent a TV and I think it was about $2/day for a small, black and white tabletop model. As the seventh of nine children, my parents did not have the discretionary money to rent me a TV for my entire visit; however, on July 20, knowing the moon landing was going to take place, my father rented me a TV! My recollection of watching the first steps on the moon by Neil Armstrong was as I sat in my hospital bed in the evening surrounded by my dad and a few of my siblings on this small, black and white TV set on my hospital tray. I felt so special and so happy I was able to see it as it happened. And I think I then had a TV to watch for my last day in the hospital - bonus! -- Lisa Smallwood, DeForest
It was a beautiful summer Sunday afternoon July 20, 1969. My boyfriend (later husband), John, and I were enjoying the afternoon at the Fish Lake beach near Roxbury with friends. There were transistor radios at the beach and people were listening for the news. It was quite exciting to be 17 years old and hearing "The Eagle has landed," and later, "One small step for man, one giant leap for mankind." There we were on Earth, and there they were on the moon! The history of the moment was felt by everyone and later watched many times on our TVs. My husband became a U.S. history and economics teacher and taught the impact of this moment in his classes for 40 years. In 1969, we never would have dreamed about computers in classrooms or the opportunity to Google information like the moonwalk and relive the moment from a cell phone. Hearing men landed on the moon is still fondly remembered as a magical moment in my life. -- Nancy Laubmeier, Waunakee
The baby, born Friday the 13th at Madison General Hospital, was five weeks old. He, his older brother and their dad were sound asleep. But Mom couldn't take her eyes from the small black and white TV where, live, the first man was taking his first step on the moon. It was late. The phone rang. Of course it was Pop, Mom's father, born in 1901, who as a lad delivered groceries by horse drawn wagon with his father and marveled at all the changes, all the technological advances that had occurred during his lifetime, calling to share his excitement at this latest step by mankind. He may well have watched the launch a few days earlier from his home near Orlando, Florida. -- Nancy Dast, Madison
Having just graduated in May from Augusta High School in Augusta, WI, on the evening of July 20, 1969, I was working a combination day and night shift at Bush Brothers Canning Co. in Augusta in my summer job to earn money for college. I was excited about the moon landing, but I had to work. I'd come down the ladder, for some reason, to the main floor of the factory from the big, raised platform that I worked on receiving the seemingly millions of freshly harvested green peas. I looked over to the glass-enclosed office near the main entrance and saw all the supervisors and bosses gathered inside in front of a TV watching the moon landing. I wished, of course, that I could go in the office, too, to watch this momentous event. But I had to go right back up to the platform again, though I still thought about the astronauts on the moon, right along with the never-ending flood of peas (we had to work, at the time, every day and as many hours as it took to get the harvested peas all canned), as I guided the green stream into the huge vats from the conveyors and then let the peas down through the big hoppers to the women at the picking tables. I had to wait until I got home, exhausted, in the early morning after working 15 straight hours in order to see what the bosses watched happen live. I guess I didn't resent, much, that I couldn't watch it right as it happened, but I wished that I could. But I couldn't, because I had to handle all the little green peas, and I couldn't long spend time wondering what little green men our moon men might encounter when they went down their ladder. -- John N. Englesby, Madison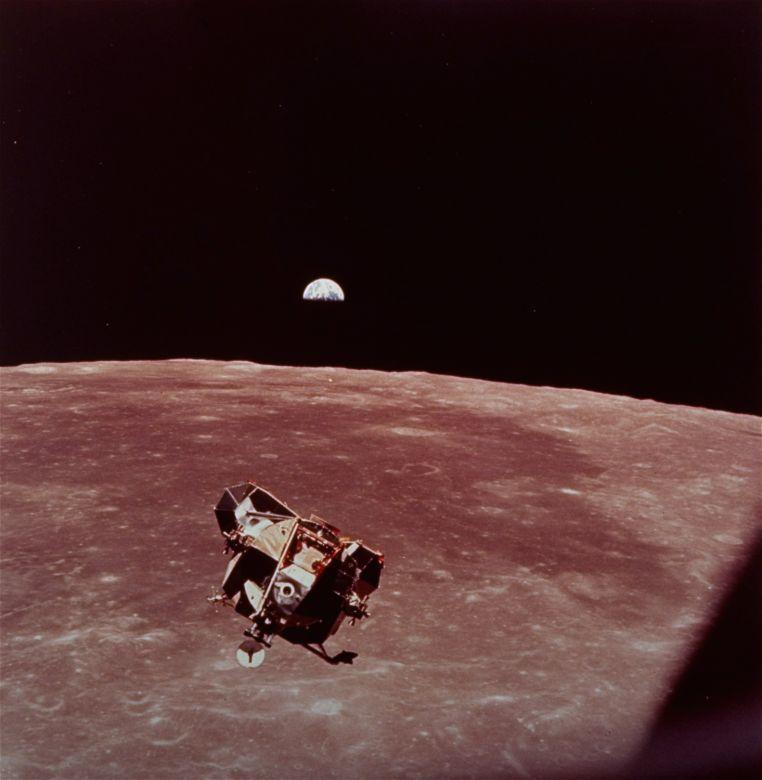 It seemed like all of America was caught up in moon fever during that summer of 1969. I was living in a rural community about 60 miles northeast of Cincinnati, and it was just before my junior year of college at UC. Lucky me, I'd been hired by the General Telephone Company of Ohio right out of high school and trained there to work as a telephone operator each summer, when the call volume always went up. As hard as it is to imagine in these days of cell phones and instant communication, no one then could place a long distance call by themselves. You had to reach an operator on your rotary dial phone and wait while the call was placed for you.
As low person on the seniority totem pole, I usually worked the 3 p.m. to midnight shift. At that time of day, an operator's switchboard normally blinked and flashed so quickly with incoming calls, it looked like the Christmas tree at Rockefeller Center.
But on July 20, the night of the moon landing, nothing was normal. Americans were gathered around the TV set in their living rooms, watching an historic moment in time. The last thing on their mind was talking on the phone. In our operators' room, the difference was like night and day. It was eerie to watch the switchboards go almost dark. Later that night when I headed home, I encountered another remarkable situation. During the entire 12-mile drive, there was only one other car on the road.
While I didn't actually get to see Neil Armstrong step onto the moon as it happened, I still felt a sense of awe and patriotism that America had accomplished the goal President Kennedy set out for us. -- Carolyn Collier Taubenheim, McFarland
Since my dad and I were science fiction buffs, the real moon landing was of great interest to us. We sat and watched the whole event on our 23-inch black and white TV. Later, in my car, I was listening to the old a.m. radio station, WISM 1480. The DJ said in honor of the U.S. and how the Russians would feel, he played the song by the Lettermen called "Hurt So Bad"! -- Steve Cheramy, Madison
When Apollo 11 landed on the moon, I was a Navy Corpsman stationed aboard the hospital ship U.S.S. Repose. Our ship cruised the coast of South Vietnam treating sick and wounded from an area called the I-Corps located from Danang to the demilitarized zone. I first learned about the moon landing when a July 23 copy of Stars and Stripes, the armed forces newspaper, was delivered to the laboratory where I worked. On the front of the paper was a blurry picture of Buzz Aldrin and Neil Armstrong standing on the moon in spacesuits standing next to the American flag. My shipmates and I were all pretty excited about the remarkable event, but I also remember discussions about our country doing something so monumental while we were fighting a bloody, insane war here on Earth. I still have that copy of the Stars and Stripes which tells you how important I thought the moon landing was. -- Rick Larson, Monona
I was in the midst of Army basic training at Ft. Leonard Wood, Mo. My birthday is July 16 and my wife's is July 18. My drill sergeant had promised weekend passes for July 19 and 20, so I made arrangements for my wife to fly down to Rolla, Mo., so we could celebrate our birthdays together. I was desperately looking forward to seeing her as we hadn't been together for months. She was living with her mother and tending to our infant son while I was serving. Then after making all the arrangements, which were difficult on our budget and the fact my wife had never flown before, the drill sergeant had the audacity to cancel our weekend passes. Naturally, I was extremely upset, but determined to somehow make it happen. Because it was the weekend, the full time drill sergeant was off and happened to appoint a temporary drill sergeant who was a buddy of mine.
My buddy agreed to count me present at platoon formations so no one knew I was missing.
Yes, that's right, I went AWOL just to be with my wife. We spent that weekend in a cheap motel just off the base, and that's how I got to watch the moon landing. What a great weekend! -- Tom King, Middleton
I was 14 years old on July 20, 1969, and hosting my one and only birthday party. I wanted to take all the girls to Dairy Queen, but my friend Donna said "My parents said the only way I could attend your party is if I watch the moon landing." So we all sat in front of the TV and watched what, of course, turned out to be a historic event. Then we went to Dairy Queen. -- Jean Lenz, Madison
My parents usually took a summer vacation around their wedding anniversary in July. The summer of 1969 was no different. We stayed at a campsite near Alpha, Ill. We were camped on a grassy hillside overlooking a pond with a clear view to the sky. The week was spent visiting with family and friends, fishing, swimming, and relaxing. My dad had brought his telescope and our 12-inch black and white TV. As we watched and listened to the broadcast of the lunar landing, the moon shone clearly in the sky on that hot summer night. Looking through the telescope, we tried to see the space capsule. That night in 1969 is one I will always remember. The moon for one night seemed closer, if only in our imagination. -- Denise Cheramy, Madison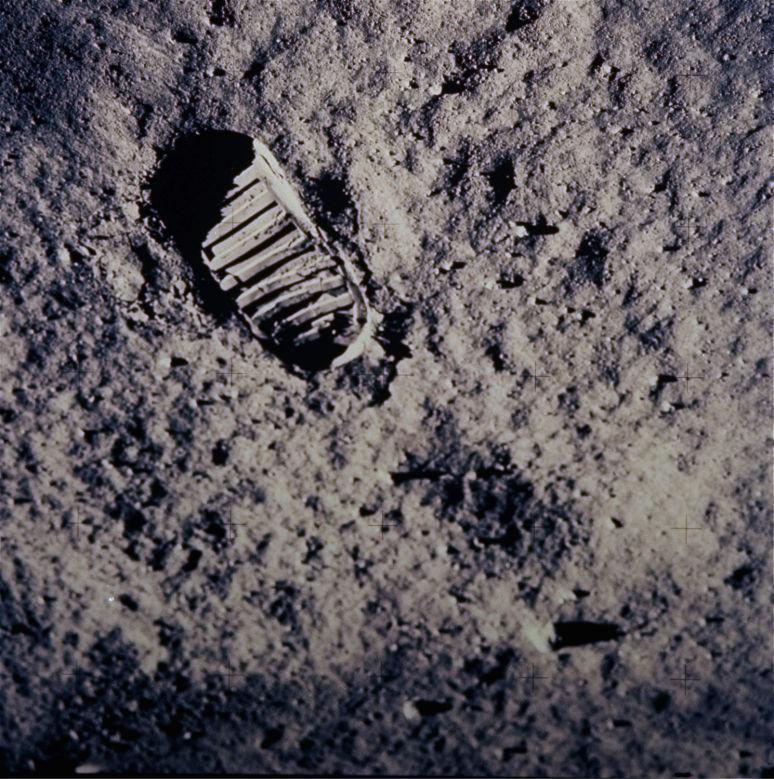 I was traveling with my family in Germany in my parents' newly purchased VW bus. We, my parents, two brothers, one sister-in-law, my husband and our 3-year-old, had a lively supper at the Hofbrauhaus in Munich at the long tables filled with tourists and locals. We retired to the Platzl Hotel across the street, knowing that the moon landing was to be later that night. There was a small black and white TV set in the lobby of the, then modest, hotel. Members of my family kept going from their rooms to the lobby to check on the progress and reporting it to the rest of us. Because of our sleeping daughter I stayed in the room. Consequently she and I missed the event but it was proudly seen by the rest of my family - and the night manager of the Platzl.
The next morning we were out on the streets, bursting with amazement and pride, surrounded by locals who didn't really seem to know or care. It was like having a big secret with no one to share it with - but my relatives. -- Jan Marshall Fox, Monona
I watched the entire moon landing from my sofa. I was expecting twins that were due any day and couldn't do much except rest. I watched the moon landing and wondered if one of my twins might be an astronaut. I was fascinated that people could go to the moon and walk on it. It was truly amazing.
I had my twins on July 31st, healthy identical boys, weighing almost 7 pounds each. Neither one became an astronaut, but both are now doctors. Life is good. -- Loretta Landerman, Prairie du Sac
I was a brand new mom with a 5-week-old son. I was excited to watch this on TV and luckily we were even awake to see this.
Our baby needed to be fed, so I warmed his bottle of formula and settled in my favorite rocking chair to feed him while all this was going on. I don't remember who took the picture but someone was wise enough to snap it.  Now that precious picture is with the grown up boy. Next to us is the TV showing the first man on the moon. -- Diana Klang, Madison
On the day of the moon landing our family of five, (Mom, Dad, daughter, 12, daughter, 8, and son,2) were camping in the Northern Peninsula of the state of Michigan. We had left Wisconsin to spend some vacation time with relatives in Hart, Mich. We had been following the space program for several years. We thought that we were out of luck to see it as we did not have a TV with us. Another camper had a small TV and invited several of the people in the campground to gather around the small TV, on the picnic table, to watch the landing. It was great and we will never forget it. Of course our son will not remember but it was a great thrill for the four of us and we have told him he watched along with all of us. A great day to remember! -- The Dale Culp Family (Dale, Mary, Karlene, Karen and Steven), Oregon
July 20, 1969 was a day of mixed emotion. Excitement and tension held me close as I watched live coverage of the space drama unfold on the moon. A miscalculation or the slightest error could mean tragedy or death. I was enthralled and in awe.
Earlier in the day I received my "Greetings" letter from President Richard M. Nixon. That was the standard salutation on an induction notice. It informed me I had been drafted and was to report for basic training with the U.S. Army in three weeks. The emotion here was a feeling of relief as I now knew my fate. All young men of my generation had to consider their options in terms of military service.
The moon landing was a proud and uplifting event that displayed our national talent, technological moxie and resolve. It was everything positive about America. It was a shining light on the good things and a distraction from some of our country's problems. -- John McIntyre, Fort Atkinson
I was age 15 and at Camp Miniwanca, Shelby, Michigan, on the sand dunes of Lake Michigan. For the first time in camp's history they allowed us to watch TV and to stay up past lights out time. Hundreds of girls were riveted in silence to a single black and white TV set up in a building atop a sand dune overlooking the lake. We could hardly believe our eyes, as Walter Cronkite described the descent of the spacecraft, awe so obvious in his reporting, and Armstrong stepped onto the moon -- but most impressive was with a turn of the head toward the beach, there was the moon itself, up over the lake. It was mind bending to realize they were there -- right THERE! -- Anne Ferrar Hughes, Madison
Our family watched the first moon landing (and the entire Apollo 11 trip) on TV. Our father set up a 35mm camera on a tripod, and took pictures of the ghostly images of the astronauts' walk on the moon. It was both exciting and inspiring for all of us. I have never forgotten the moment - it was an amazing accomplishment that still cultivates my imagination. -- Kevin Huska, Oregon
The day man first set foot on the moon, July 20, 1969, I had spent the day in Madison with my girlfriend at the time, Sue Miller of New Berlin, and I was taking her back home. As we were cruising down the highway eastbound, we were listening to the preparations for the landing on the car radio. I sped up, hoping we would reach her house in New Berlin in time to see the actual landing on her parents' TV. Yes, we did get there in time ... and when we came into the living room, the whole family was clustered around the TV ... and we all watched as Neil Armstrong and Buzz Aldrin set the first human footsteps on the moon. It is certainly an occasion I will never forget! -- Bill Ingells
I was in Army Basic Training at Fort Bliss, El Paso Texas, when the lunar landing occurred. All day everyone on the fort were talking about it. We all felt bad that we would not get to watch the live broadcast of this historic event. But at final formation that day the company commander informed us that the mess hall would be open that night with TVs for anyone who wanted to watch the first humans to walk on the moon. We all cheered only to be reminded that we were at attention and talking was not permitted. That night the entire company showed up at the mess hall for the event. They even had refreshments. When Neil Armstrong took the first human step on the moon the mess hall erupted in shouts of being witnesses to history and pride in our country. Even the officers and NCOs joined in the celebration. I remember walking back to the barracks after the event and looking at the moon in the clear desert sky and stopping in wonderment that there were humans on its surface. -- Don Marx, Madison
Watching on a small TV in the Rebholz cottage on Swan Lake (Portage), three generations of Rebs experienced together what was truly the event of a lifetime! -- Dorothy Rebholz, Portage
I know exactly where I was on July 20, 1969. I was 16 and at "Mecan River Youth Camp" located near Wild Rose, Wisconsin. This camp was one of several youth conservation camps run by the State of Wisconsin in those days. It provided conservation education, outdoor work with lots of fresh air and fun evening activities. I went to bed tired, but happy every night. Best summer of my life!
This Saturday was no exception. After taps played, it was "lights out" and bedtime. Soon several camp counselors came to our cabin to offer us the chance to come watch history being made on a TV set up in the large dining room. We all knew we were going to watch something never seen before! I watched but sadly I was too tired for the full magnitude of this event to fully register until the next morning! -- Dan Bubolz, Verona
As a 10-year-old boy, I remember staying up late to watch Neil Armstrong take that first step. I also wondered why it was in black and white, especially since our color TV was just 3 years old. -- Wally Meyer, Madison
I was between sophomore and junior year at Nicolet High School in Glendale in July 1969. I was also suffering from a bout with viral pneumonia so I had little else to do but view the continuous coverage on ABC by their science anchor, Jules Bergman. I recall that July 16 was a very sultry day as we all watched the majestic Saturn V lift off from Cape Kennedy and a much milder day on Sunday July 20 as Eagle began its descent to the lunar surface. I was never particularly interested in science, technology, engineering or mathematics in high school even though my oldest brother had his EE degree from UW and tried to explain all of the complexities of space flight. But my attention picked up when I heard the infamous "1202 program alarm" that came through on the broadcast and I learned that the guidance computer on Eagle was designed at the AC Delco plant in Oak Creek. Right then I knew that I wanted to be a computer programmer and maybe one day work on something like Apollo 11.
Twenty years later I had my graduate degree in computer engineering and was working at Bell Laboratories in Naperville, Ill., for Dr. Bill Niedfeldt. Bill had recruited me to work at Bell and I loved him dearly as a mentor and role model. Ten years later I was saddened to learn of his death but then shocked to learn that Bill had been assigned by Bell to work with the Draper Instrument Laboratories at MIT on the software that landed Eagle on the moon. ... Apollo 11 inspired me to enter a career in STEM that brought me in contact with at least one of the unsung heroes of that glorious day. I sincerely hope and pray that young people today find similar inspiration, especially women and young people of color, to enter into careers in STEM and take us to the next level - Mars and beyond. -- R. Stephen Hauck, Sun Prairie
I worked during the summer of 1969 in a restaurant located on the North Sea in Germany (the Steiner restaurant in NordSeeBad Busum). I was only 18 years old, just a year out of high school and, to the best of my knowledge, I was the only American in town. When my employer learned that a friend of mine named John M. Wolfram was a U.S. Navy frogman scheduled to support the recovery of the Apollo 11 Command Module after splashdown (John was the first frogman in the water to assist the astronauts after splashdown), he arranged a seating for me before the only television set in town during the moon landing. There must have been 50 German citizens in that room, and I was seated directly in front of the TV. I was very proud and happy. My proficiency in German was so poor I barely understood the commentators remarks, but the images on screen were enough. Later in life, I wrote a book published by the Naval Institute Press to document the final phase of the flight of Apollo 11 - the return to Earth, the splashdown, the recovery by U.S. Navy forces at sea, and the ceremony hosted by President Nixon on board USS Hornet (CVA-12) to welcome the astronauts back home. -- Scott W. Carmichael, Fort Atkinson
My oldest son was born near the end of June,1969 and we were living in a small hot apartment in Wausau. A fussy 3-week-old baby led to a car ride to my parent's home to watch the moon landing.
As I watched the landing with my parents, holding my newborn son, I shook in awe at the marvelous event, whispering to my baby at his limitless future.
My son Bob came home last month to celebrate his 50th birthday (and my parents' 70th wedding anniversary) and I still remember all the wonder of 1969. -- Tina Mandeville, Madison
On this date I was living in Paris, attending the Cordon Bleu. Those around me (French, Spanish, English, German) were mildly interested in the moon landing, but not as much as I was. Television coverage in that country started in the middle of the night, and I got permission from my landlady (a Spanish woman) to use her TV to watch the landing. So I set my alarm and joined millions around the world in seeing that historic event. For me, it definitely put an exclamation mark on that transformative summer, and I will never forget it. -- Ann Flynn, Daufuskie Island, SC
July 19th 1969, was the day Karen and I were married. My brother-in-law, Jerry was an engineer for AC Delco Electronics of Oak Creek that supplied the guidance systems for the Apollo fights. He had trained the Apollo 11 astronauts in Houston and Cape Canaveral. We kept losing Jerry at the wedding reception to the bar at the American Legion Hall as he watched the 19-inch black and white TV as Apollo 11 approached the moon.
On July 20th my wife and I drove a 1965 Mustang, with an aluminum boat on the roof, to a Canadian fishing camp for our honeymoon. After a 13-hour drive and a not real happy bride we arrived at Cedar Lake camp. As we exited the car, the young daughter of the camp owners came running out shouting "They are walking on the moon. They are walking on the moon."
Oh yes, we are still married and will celebrate our 50th wedding anniversary. -- Vince and Karen Wagner, McFarland
We crowded into Dad's office straining to make out the voices on the shortwave radio. If I concentrated I could make out 3/4 of the words through the hiss and squeal. The alien delay was a blessing, giving me time to puzzle out what was just said. We were holding our breath too, trying to be as quiet as we could until Armstrong told us "The Eagle has landed."
After the smiles came a little disappointment -- the wait between the landing and stepping out. Our parents sat in the kitchen awhile, and then went to bed, but I sat by the shortwave staring at nothing as I listened and waited. Finally their checklist was done and Neil climbed down the ladder. His "One small step" didn't make sense, but I knew what he meant. Our dream had come to life. I listened through the hiss for a few more minutes, and then went outside and stared at the moon between the clouds in the cool tropical night until I was too sleepy to stand. -- James Bellinger
I was on a fishing trip in the Canadian Province of Quebec with four fellow scientists from the New York State Science Service, a unit of state government located in Albany, the state capital.
We were staying at a fishing camp near a trout stream that we had driven hundreds of miles to fish and see if it lived up to its reputation. On the day of the Apollo landing we went fishing, caught beautiful trout, and returned to the camp for our evening meal. The camp did not have television so we drove about half an hour to a local tavern to watch the moon landing.
I had four years of French in college so I had a rudimentary understanding of French and could follow the television narration reasonably well. However, we were very pleased that the television had English subtitles. Most of the people in the tavern were French speaking.
The four of us were sitting at a table when Apollo touched down on the moon surface. We stood and cheered – and so did our new Canadian friends!
My family was at our home, a short distance south of Albany, New York, and watched the Apollo landing at the same time. Our daughter, Ginny was 9, and our son Victor was 5. My wife Sally insisted they stay up – quite past their bedtime – to watch this historic event. And each of them - as do I - remember the black and white pictures of Neil Armstrong stepping onto the moon's surface on the night of July 20, 1969. -- Dr. James F. Davis, Madison
I'd become fascinated with space when Sputnik was launched in October of 1957. We had recently moved to a farm, miles from the nearest village, and the only light pollution we suffered from was the neighbor's yard light about a half mile away. I was able to pick out the moving Sputnik among the background of stars. I owned every kid book on space, astronauts, planets and anything related to space. At Christmas I begged my folks for a telescope, and got a pair of binoculars, supposedly much more useful to a kid. 
In early 1969 I found myself in Vietnam assigned to the 173rd Airborne Infantry in II Corps.
One of the strange contradictions of service in the Army Infantry during Vietnam, is your isolation from the news. 
We were about to set up for the night when a call came in. My company was ordered to move about three miles in the dark to set up a position before first light. It wouldn't have been so bad, but we were moving through thick jungle and in a completely overcast. We had to follow a compass heading and by having each trooper hang on to the pack of the man in front.
It became one of the most frightening nights I experienced in Vietnam. With the near complete darkness, we stumbled constantly, made much more noise than was acceptable and feared losing men when they broke contact with the person in front of them. Eventually we arrived near our final location waited for first light. The only information we had been given was that they expected a large enemy force to move toward our location in the early hours of the day.
Shortly after sunrise we saw a sight that remains hard to forget. There was a B-52 strike on hills approximately five miles in front of us. I have never seen such sustained and complete destruction. As we watched, lush green jungle covered hills sent geysers of dirt into the air as bombs dropped from unseen aircraft. When the dust cleared, it looked as if the hills had been lowered by several feet and there was little green left on the previously lush hills. Fortunately, either there was no enemy in the bomb zone, or the survivors escaped in a different direction. We saw no one, and we were told to remain in place for resupply.
When the resupply choppers came in, they carried copies of the Stars and Stripes with huge pictures of Neil Armstrong walking on the moon. I was surprised by the depth of my anger at missing the crowning event of the space race I'd followed since I was a kid. The clouds cleared out during the day and that night we lay under a beautiful sky with a quarter moon shining on us. I watched the moon with tears in my eyes for having missed the event that I dreamed since I was a kid. To this day, I have never seen the entire tape of the moon landing and find tears in my eyes when I read about the anniversary. I survived the war, but not without losses that are hard to overcome. -- Steve Piotrowski, Madison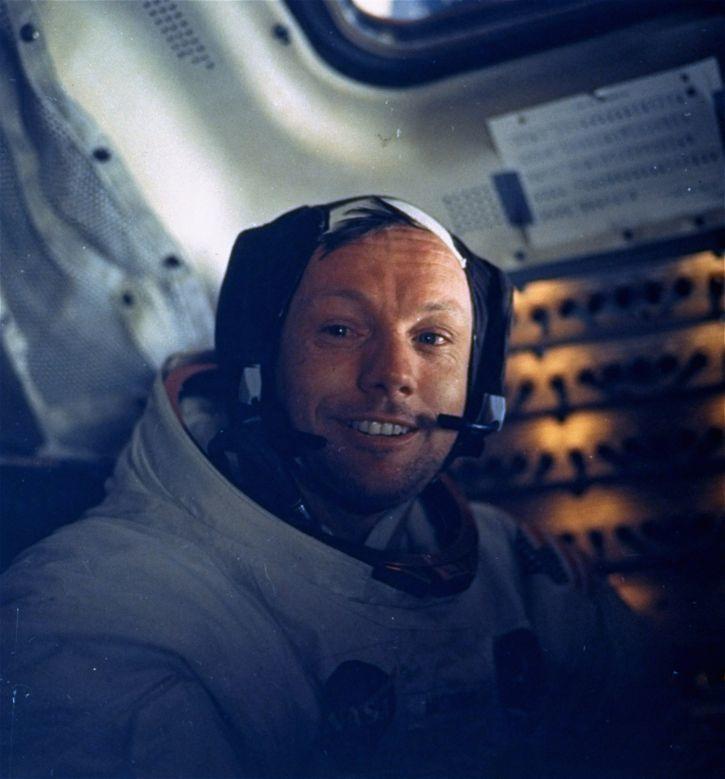 My husband, John Gill, and I were newlyweds. We had just been married in the state of Maryland on Flag Day, June 14, 1969.
Because John was a school teacher and had the summer off, we were splurging on a two month-long honeymoon in Europe in our new Volvo. We had just taken a car ferry from Brindisi, Italy to Patris, Greece a few days before.
Because we didn't speak Italian or Greek, it was difficult to follow the daily news from the United States.
In the late afternoon of July 20th we were staying in a "bed and breakfast" accommodation in a small town in Greece.
We didn't speak Greek but the host family motioned us to come to their TV to watch something special: An American astronaut (Neil Armstrong) was descending a ladder and about to step on to the surface of the moon!
We couldn't understand the TV commentary because it was in Greek but we understood that we were seeing a special moment in history!
It wasn't until later that we found out the now famous words that Neil Armstrong had uttered in that historic moment: "That's one small step for man, one giant leap for mankind!" -- Elizabeth Gill, Madison
I came to UW-Madison for summer school following my first year teaching in Detroit. I lived in Adams-Tripp dorm on the lakeshore with other teachers. Dinner was not served on Sunday evenings. Fortunately, we saw a flyer advertising a Mexican dinner at the "People's Park" on Mifflin Street to support the Cesar Chavez grape boycott. Putting flowers in our hair, we decided to check it out. While waiting in line, our house fellow, in the front of the line, beckoned us to come join him. A young man (Robert) in line in front of me turned to me and said "Doesn't that bother your conscience?" I informed him that I was quite happy to stay in line where I was. After all, he was wearing madras shorts! We started to talk and I asked him to join our group on the lawn. He later invited me to watch the moon landing at his brother's house. Arriving at his house, we were greeted by Robert's entire family, who were visiting to watch the moon landing. We talked for awhile, then all became quiet as we watched the moon landing. The experience was inspiring. We were all awed with Armstrong's daring landing and his first step onto the moon's surface.
Robert and I were together every day after that and were married two years later. We have been married for 48 years! This day will always live in our hearts! -- Linda and Robert Nelson
After a long day of humping across rivers, through jungle and up and down hills, my outfit, Hotel Company, Second Battalion, Third Marine Regiment, Third Marine Division, (H 2/3), dug in for the night atop a hill somewhere not far from the Demilitarized Zone (DMZ) in South Vietnam. We were tired as heck, but sleep was not in the cards. The three-man Listening Post (LP) situated outside our lines had failed to check-in via its radio during the middle of the night and consequently we were put on alert which lasted until sunup. Sometime during that long night the word was passed along from hole to hole that we had landed on the moon. The general attitude was "big deal," understandable I would argue, due to our circumstances. The LP? They had fallen asleep. -- Greg Matthews, Verona
I was in Paris, France, with a study group. I remember gathering around a small TV in a little bar with fellow students and being totally amazed. As children we thought this was something that would only happen in science fiction. With the optimism of a 20 year old, after viewing the moon landing, I truly believed anything was possible! -- Patricia Cook, Cambridge
On July 20, 1969, on our wedding anniversary, my husband and I decided to celebrate by going out to dinner. As we drove down our sloping driveway, there was the moon shining low in the eastern sky. My husband said, "It's hard to believe there are people up there." I remember it like it was yesterday. -- Eileen Dickman, Stoughton
I was a 21-year-old college student going to summer school at the University of Dijon in France. The French were very excited about the moon landing. The French newspaper, "France Soir," devoted the entire front page of the paper to a giant photo of Neil Armstrong. -- Susan Kjelstrup, Madison
I was in Vietnam at the time that the moon landing occurred. Our unit was in charge of bunker line communications and security at Tay Ninh (near Cambodia). That night, as usual, it was hot and humid, with flares lighting our front. I told our Vietnamese interpreter that we put a man on the moon. He gazed up at the moon, and said, "Why?" The irony was not lost on us. -- Cory Lathbury, Verona
On July 20, 1969, I arrived at Lackland AFB, Texas. I was a 22-year-old Air Force Security Police Officer with orders for Vietnam. The stop at Lackland was for a weapons and tactics refresher course prior to deployment. The course was scheduled to start on July 21. As a result of the moon landing, July 21 was declared a holiday and the start of training was postponed for one day. I spent July 21, wandering around the base with absolutely nothing to do but contemplate the future. I must admit that although the moon landing was a historical achievement, my mind was on my forthcoming all expenses paid, vacation to the beautiful Republic of South Vietnam. Oh well, just like the astronauts who returned from the moon, I returned from Vietnam with all of the same body parts that I had left with. That's my memory of the moon landing. -- Jim Parker, Waunakee
I was attending an outside concert with my mother at Governor Dodge State Park in Dodgeville. As the sun went down and the moon appeared we were all amazed to know there were astronauts up there looking down on us. Thinking that something like this could happen at that time was astounding. It was a "never to be forgotten" experience. -- Dorothy Blotz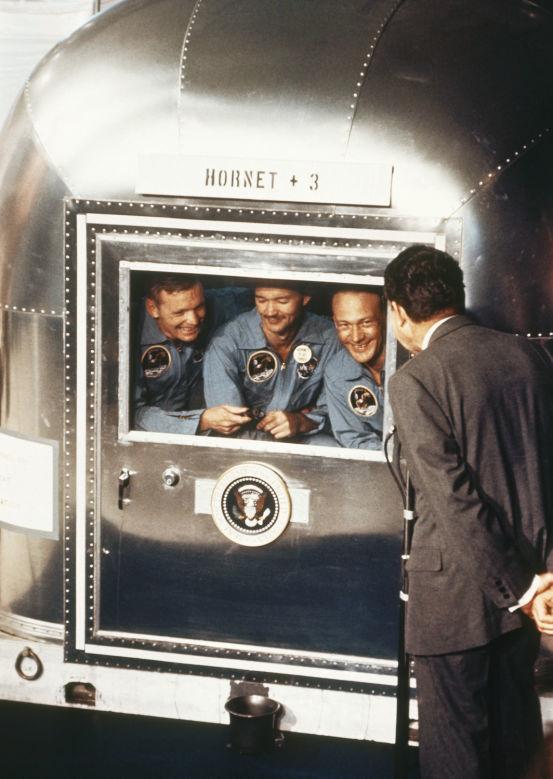 After earning bachelor's and master's degrees in music at UW-Madison in 1965, I joined the trombone section of the Saint Louis Symphony. In June, 1966 I auditioned for and was accepted into the Marine Band "The President's Own" in Washington D.C. I entered and served from August of '66 as a staff sergeant until August of 1970.
On the evening of the Apollo 11 moon landing I set up my reel-to-reel tape recorder, with a microphone close to the TV speaker. I stayed up late, watched TV and audio-recorded the landing.
A few months later as a member of the Marine Band, we were flown to L.A. in a C-141 cargo plane along with the Air Force Strolling Strings and the Army Chorus to participate at the Century City Hotel banquet for the "Moon men" in a huge ballroom. To be a part of celebrating the men who made world history that night was then, and remains a cherished memory. -- Bill Richardson, Middleton
My sisters and I were 14, 12, and 8, respectively. Our parents always talked with us about what was going on in the world and we collectively watched Walter Cronkite each evening.
Our country was going to the moon; this was a very big deal which I would not miss. Though we grew up in a very comfortably-sized home, our parents REFUSED to buy any television set larger than our 15-inch black-and-white (perched on a very wobbly stand) around which we were all soon to be huddled.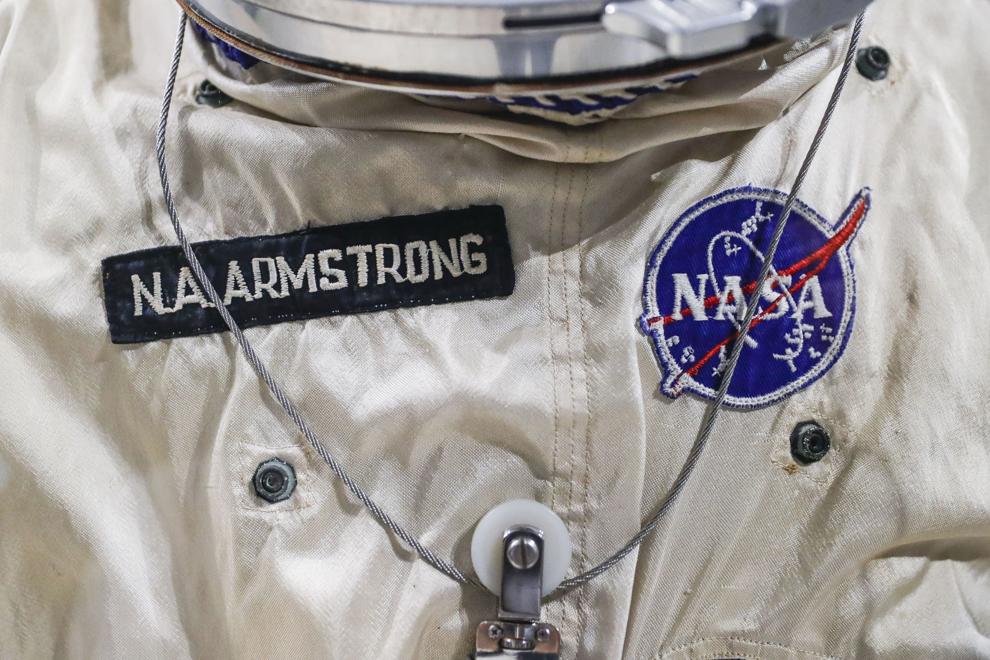 Mom made up the sofa bed in the den and we all climbed in to watch an extremely historic moment in our nation's history. My two younger siblings slept off and on; I recall forcing myself to stay awake because I did not want to miss a single thing.
I clearly remember feeling afraid for the astronauts, even disbelief, and, of course, awe when Neil Armstrong took that first step at 2:56 a.m. on July 21, 1969. The pictures that followed were amazing! I recall chuckling as I watched them "bounce" along the lunar surface and then looking at our nation's flag as it stood unfurled, silent and unmoving; there was certainly much science to be learned from this amazing event.
We all tend to remember tragedy . . . the many assassinations in our history, the horrific day of 9/11, but what an exciting and proud moment for our nation to successfully land and walk on the moon. -- Jane M. Allen-Jauch, Madison
My wife and I watched at Fort Benning, Georgia, in the wee hours of the morning. A great accomplishment, truly a great leap, and, after two tours flying helicopters in 'Nam, I felt the USA was finally doing something noble. And I ran out of smokes at 3 a.m. – quitting cold turkey – two missions accomplished. BOOYAH!!!! -- Pat Goldschmidt, Verona
We lived in Jacksonville, Florida, which is about 145 miles north of Cape Canaveral in 1969. I was 16 years old when we sat as a family watching the launch on our black and white TV. It was a beautiful, sunny morning, already in the 90s. It seemed to take forever for the rocket to finally be launched, but when it was, I raced upstairs to my bedroom window which faced south and was not yet blocked by any trees. I was able to see the white stream of smoke from the rocket and witnessed the first and then second stages of separation. There were many takeoffs that I saw from my window, the night launches were especially beautiful, but knowing that I saw those three brave astronauts take off to the moon is something I'll never forget. -- Susan Vessely, Sun Prairie
The day of the moon landing in 1969, my girlfriend, now wife, and I along with my 85-year-old grandmother were at the family farm in Janesville watching the landing on the black and white 19-inch TV on the screened porch at my parents home. While my girlfriend and I, both college students at UW-Madison, watched in wonder at the landing, my grandmother was sure it was all staged and that men were really not on the moon. This is understandable when one looks at the change in technology over her lifetime from the 1890s until 1969. We continue to reflect on and remember the landing and my grandmother on this anniversary. -- Rick Daluge, Madison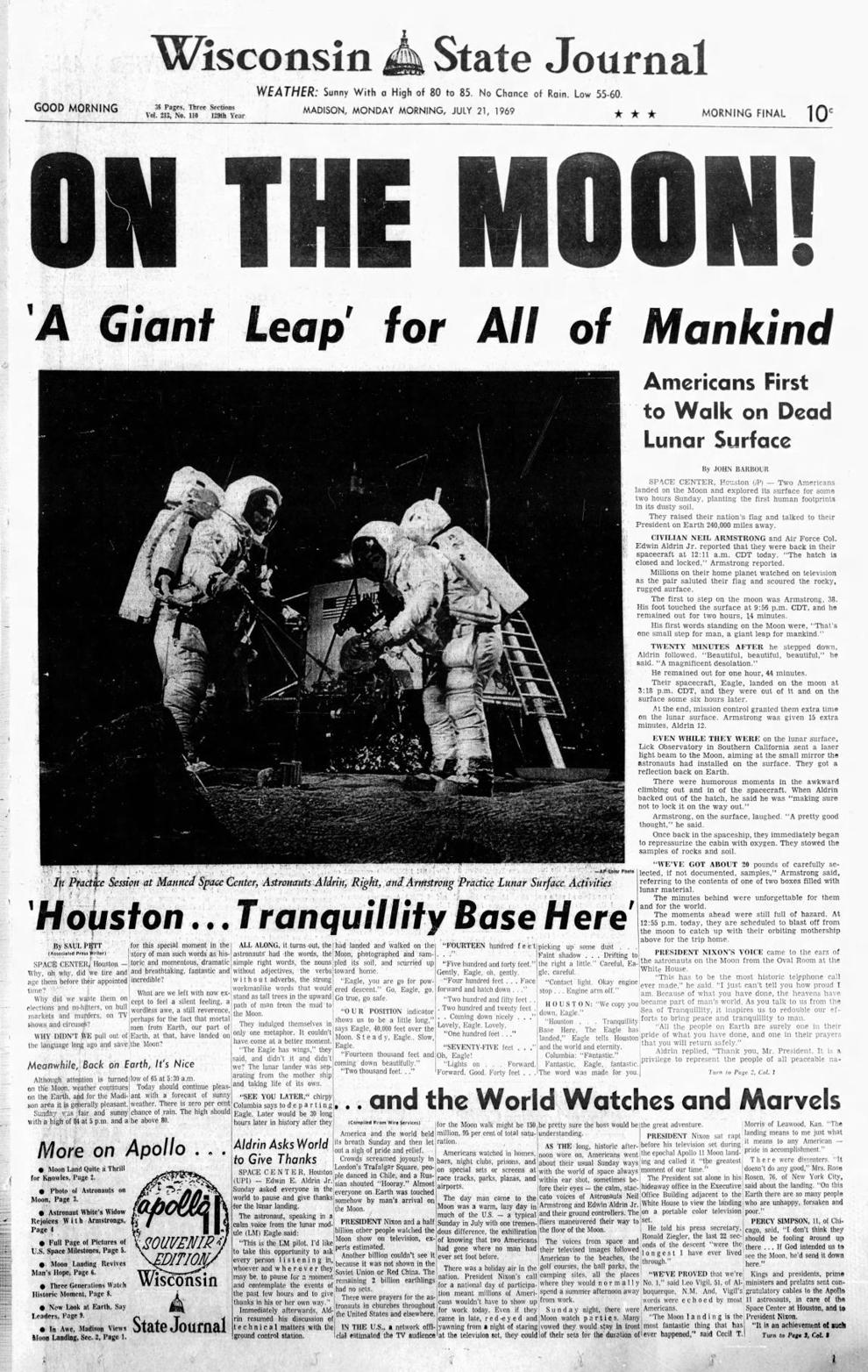 I was probably one of the people who was the farthest from the moon landing. On that date I was underwater on patrol in a nuclear submarine. We were able to listen to what was going on in the world above us but always maintained radio silence. I recall that it seemed somewhat ironic to us that we were underwater at the same time as Neil Armstrong was setting foot on the moon. -- Tom Hoffner
The moon landing occurred on my 40th birthday, July 20th, 1969. I went outside and saw absolutely nothing but the moon. Of course, I didn't expect anything more. Just the idea of a human up there walking around was enough to boggle my mind.
Later in my career as a federal employee assigned to the Quality Assurance Division for the Department of Defense located in the Sundstrand Plant, Rockford, Ill., I was privy to more interesting experiences than I ever expected. Sundstrands, where our office was located, manufactured the APU for space vehicles (the Auxiliary Power Unit.) My job, although not technical, was to be the secretary to the Division Chief, which was a career assignment interesting in the most profound way.
The APU (auxiliary power unit) would take flight and then be returned to us to be examined for signs of stress.
A few -- some -- astronauts visited our office to tour the plant where this part was manufactured. I looked at these young men in total awe. They were pioneers -- young, highly trained, professional astronauts and friendly. What a thrill in itself.
We closed our office when a flight took place and viewed it on closed screen TV. When the disaster of the explosion took place in flight, we were absolutely terror stricken, helpless in every way hoping it was not an error from our office. Every part is inspected before shipping and stamped with the inspector's number. What if it was an error of inspection by one of our inspectors? OMG. The inspectors have a tremendous responsibility.
So, with my calendar tie to the first moon landing, and having later worked on the program, I have a strong emotional tie to the Space Agency -- now a department of the military. Thank you President Trump. -- Valerine Jenkins Beck, Briggsville
I was with two friends on a tent camping trip to Yellowstone and Glacier National Parks. On the night of the moon landing we pulled into a campground in Helena, Montana, pitched our tent, and joined other campers in the camp office to watch it all on TV. The camp owners made the office into a small theater for that purpose and it brought strangers together for a very memorial evening. -- Elaine Kloepfel, Madison
I was 16 and in Europe on a six-week study tour. We were staying at a university outside of Paris. They woke us in the early, early hours of the morning and we all gathered in the common area to watch the walk on the moon. Later that day we were in Paris and a small group of us went to a cafe. We must have looked obviously American as many people came to our table and patted us on the back, gave us a thumbs up and pointed to the sky. They were all very excited about what the Americans had accomplished as were we! -- Jim Fouts, Stoughton
Growing up I was always interested in the space race and the moon. I remember as a child the curiosity and nervousness with the launching of Sputnik. I had toy rocket ships to play with, along with helicopters to recover downed space capsules, etc. It was a good time to grow up and with how technology was changing. I remember watching and reading about all the rocket tests, mercury launches and Apollo launches.
On July 20, 1969, I was having my 14th birthday party with friends and neighbors. We were all celebrating but I then put everything on hold so we could all sit down in front of the TV to watch the moon landing. It was so exciting, especially for a 14-year-old boy. It was marvelous. Everyone (adults and children) was so excited, pointing at the screen, discussing what was going on and wondering what the moon's surface was going to be like. It was a magical moment that I will always remember and I continue to remember each year on my birthday. It's been a great 50 years. -- David V. Schulte, Middleton
Fifty years ago when we landed a man on the moon I was in Panama for the summer trying to learn Spanish.
Everyone was pretty excited about the possibility of putting a man on the moon. Even the native (South) Americans who lived in the mountains, still in very primitive conditions, came down to watch the event on TV. They couldn't believe it was really going to happen. When they planted the American flag on the moon, I can't tell you how proud I was to be an American. -- Kathleen Schmitt, Sun Prairie
The moon landing, a few weeks short of my 40th birthday, was a very exciting day, being the culmination of years of research and planning for the landing on the moon. To listen and to watch that day was so unforgettable. I never see the moon without thinking of that day.
It was also very special because it was my father's 63rd birthday. Upon wishing him a Happy Birthday, by phone after the landing, it was clear that he was overwhelmed and proud of so many things that had happened in those 63 years since he was born. As we talked about the remarkable event of a human walking on the moon, he reminded me that we must acknowledge the considerable work of many people over many years that resulted in that amazing event. -- B.C. Easterday, Fitchburg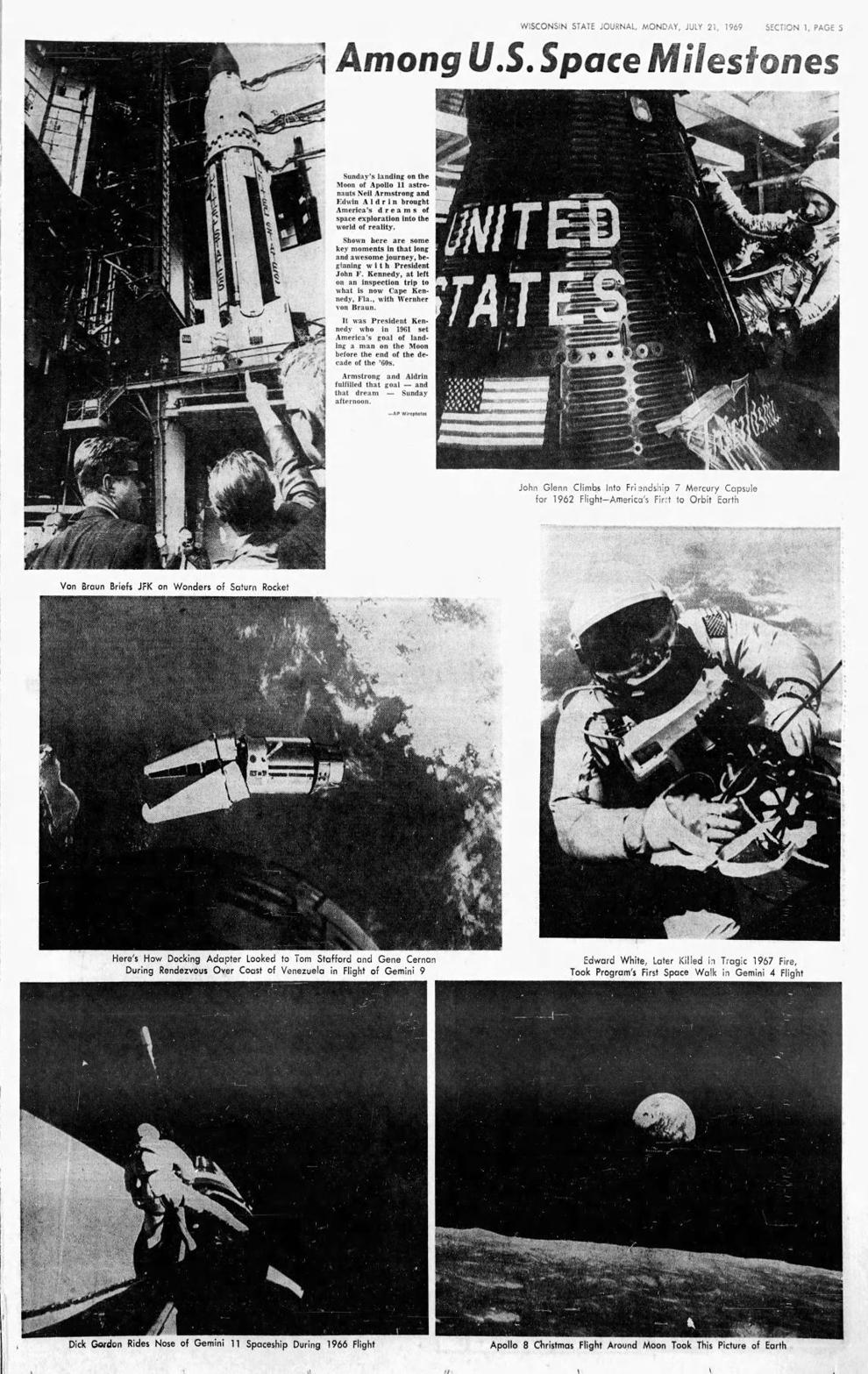 July 19-20, 1969, we moved from Maywood Avenue to Anderson Avenue that day. We were watching the TV landing on the moon on the sofa in the garage before we got our furniture in the house. We remember it well. -- Bernie Maulbetsch and family, Middleton
Our good friends, Bob and Judy Sandberg, were building their dream house in the woods outside Verona. During the summer of 1969, my husband, David, and I often helped them. On July 20, we had worked most of the day on the building site. Like most Americans, we followed the progress of the Apollo 11 astronauts on their journey to the moon.
As night fell, Bob rigged a portable TV powered by the battery of their 1962 Buick station wagon and placed it on top of the car so we could see the landing. Sitting on lawn chairs, we gathered around the car in their driveway to watch this incredible event. As I recall, the moon was full and was centered in the sky above the trees right over the TV. I was pregnant with our son Patrick and I can remember being so glad that he would be born into a time of great expectations and hope for our nation. Yes, like most times, there were challenges, but overall, we knew that this great country could overcome any adversity. -- Kathleen S. Irwin, Madison
I was in Paris in a bar called "The Cave" when I saw the moon landing.
Absolutely zero of the French believed it. They were convinced it was a Hollywood hoax. They descended on me as I was the only American present. I agreed that there were thousands of Americans involved and there would be a leak if it was faked. After several hours, and cognacs, there was only one Parisian that was convinced it was the real thing. Final vote: two, it's real; 38, it's faked. -- Frank Unterholzner, Blanchardille
The day Neil Armstrong and Buzz Aldrin landed on the moon, placing a United States flag, I was home watching and holding my baby boy Gregory. He was 7 weeks old. I wanted for him also to see history being made. We can now share the memory as he is 50 now. -- Barbara Crockett, Cottage Grove
I remember well where I was as Armstrong and Aldrin stepped on the moon. I was up feeding my 2-week-old baby boy and I had the TV on for watching this. I have always told this son he "saw" it – the first moon walk. -- Mary Lou Baryenbruch, Spring Green
I was sitting on the back patio steps "baby sitting" a small first cousin's baby boy. I was singing and talking to him, while watching the moon. I said "Someday you can be walking on the moon, too." I looked at him and smiled and he smiled back. We were happy. I am 94 years old now, it seems like yesterday. It was true then and still true today. -- D.M. Richards, Cuba City
A group of Monona firefighters and their families were camped at Willow Mill just outside of Rio. It was a beautiful clear night with a bright full moon. Outside by the campfire, we crowded around a small TV to watch Neil Armstrong and Buzz Aldrin walk on the moon. It was awesome and exciting to witness that great moment in history. -- Jo Hanson, Monona
My father came to America in 1899 at age 20. He lived to be 102 years old and to see a man on the moon. All he really said was "If the God Lord wanted us to be up there He would have – well He, WE did it." -- Anne Hockstad, Madison
Fifty years ago! Wow! We still remember watching that historic event like yesterday. Watching on TV in the living room of our home in Nakoma were my husband and I and our children, ages 11, 9, and 7, and a visiting friend from Bali, Indonesia.
Now when I see a full moon with dark spots, I think of Neil Armstrong and Buzz Aldrin up there. Who knows, maybe in the future there will be our great-grandkids on their honeymoon? -- Sally Forsberg, Madison
I was a college student home for the summer in Wauwatosa, and Dad, Mom, my four siblings and I watched the moon landing with great anticipation. You see, Dad had worked on the Apollo 11 mission, specifically to guarantee Neil Armstrong and Buzz Aldrin's take-off from the moon. If their attempt to depart failed, an emergency lift-off system existed, on which my dad was an engineer. With great relief, I witnessed Armstrong and Aldrin successfully rejoin Mike Collins, and in my heart gave my modest dad credit for a task unrecognized. On occasion in conversation, I have had the opportunity to mention that my dad worked on the Apollo 11 mission. The usual reply is an awestruck, "Your dad helped get the men on the moon?" With pride and a grin, I clarify, "No, he helped get them off!" -- Mary Ihlenfeldt, Fitchburg
In the early '60s, I was a farm boy from Juda working as a meat cutter in the Sentry store in Monroe. After taking an electronics correspondence course, I obtained an electronics technician degree. I subsequently obtained an electronics job with AC Electronics in Oak Creek, which is a subsidiary of GM.
Our first job was building launch controls for the Titan ballistic missile. This was a liquid-fueled missile that could go halfway around the world and land on a dime. I was the only person on the production line who had never worked in electronics before. All of the women on the line, who did the actual work, had come off the old bomb-sight line which had produced bomb-sights for our bombers in World War II. We made 113 Titan systems. They were all installed in silos in West and Midwest United States.
Our next job, to our surprise, was the Apollo moon project. This was top secret, and we were all sworn to not talk about the project. I worked 12-hour days, and sometimes all weekend. It was rush-rush, and push-push to get the project done. We completed 13 systems, and were finished in about 1965.
Because there was no further work, I went back to school in Madison in 1966. One day I happened to be walking along Fish Hatchery Road. There, in the old bay window of an old storage building, was one of our launch controls from Apollo. Apparently, the top secret project was no longer top secret. GM must have had an extra console and gave it to the University of Wisconsin, which put it in storage. This was before the actual trip to the moon.
We all were very proud to have the opportunity to work on the Apollo program. Most people do not realize what an important role people in the Midwest performed on this project.
We were quite upset when three astronauts died in a fire in Florida in a test capsule. We knew that it was probably the result of the rush-rush construction and cheap materials. They used wire which could burn, and which did burn, causing the fire. That was a painful lesson.
Overall, Apollo shows what creative minds and sufficient resources can do if put to the test. -- Earl Hazeltine, Mount Horeb
Wow! How about that? The 50th anniversary of the landing on the moon. Well, July 20, 2019, will be my 62nd birthday. July 20, 1969 was my 12th birthday.
We had a great Elroy Fair that weekend. It actually snowed a few flakes on July 20, 1969.
My grandfather delivered the Sunday paper for Wisconsin State Journal and Cap Times. In 1962, I started school and went with my grandfather on Sundays. How cool is that, to turn 12 on the biggest and greatest day of all time, the biggest milestone in the whole wide world, and deliver the Wisconsin State Journal beside?
I think a lot of people thought it was a hoax, didn't believe it happened. A lot of our own government didn't want it to happen.
Well, like our teachers said, we have the whole wide world in the palm of our hand. They were right, we do! -- Bobby Williams, Elroy
I was 10 years old up at camp in northern Wisconsin. We stayed in cabins filled with bunk beds and had to trek to the bathroom. Days were spent swimming in the lake, making arts and crafts and dining communally. Evenings and nights involved programming, campfires and stargazing. This was long before the days of electronics so it was very odd to be called to the dining hall one day and walk in to see a television set. It was small and black and white, but it brought the room of 150 campers to silence. I don't know if seeing people on the moon was more exciting than seeing a TV at camp! -- Lyn Malofsky, Middleton
It was the day my daughter learned to roll over. As new parents, we devoted far more attention to her new skill than to the men walking on the moon! -- Ginny Nelson
"Kids, come here and watch this, you'll be watching history" was what my mother told my brother, sister and me as she called us inside from our play on a hot Arizona summer afternoon. We sat down to watch the lunar landing on a 16-inch black and white TV. In 1969, we did not own a color TV, not that it mattered. The footage from the moon was in black and white too. To an 8-year-old child, those fuzzy photos weren't as important as they are to me now as a 58-year-old woman, but I do remember being impressed by Neil Armstrong's words.
I've always been grateful to my mother for her insight and for that opportunity to watch history. It started a lifelong interest in space. We watched other lunar landings, followed by the Apollo splashdowns in the Atlantic. Years later, we searched the summer night sky for Skylab from my grandma's Iowa farm. I have visited the Johnson Space Center in Houston where the moon rocks reside and seen the shuttle and lunar lander at the Air and Space museums. Two years ago, I watched the space station cross the predawn Michigan sky as I searched for planets and constellations. I, like most Americans, can tell you where we were when we watched history again as the Challenger exploded on the screens of our televisions. And it all began with those fuzzy images, and famous words in 1969. -- Tammy Ratcliffe-Tuten, Madison
I was at home with my 12-day-old baby boy, and watching the landing along with my British neighbor. I felt such national pride in addition to loving the miracle of childbirth with my firstborn.
When the astronauts returned, and again my British neighbor and I watched on TV, President Nixon was all bubbly with the men, talking to them casually as if they just flew in from Houston to DC. My neighbor said, "This is so exciting to see your president so proud and enthusiastic. If it were the Queen greeting them she might say, "Welcome home, gentlemen. How was your voyage?" -- Joan Taylor Schliewenz
The day seemed off to a normal start when we walked into the café on the main square of Ouezzane, Morocco at 4 a.m. Our assignment for the day was to do some simple field surveys using a plane table and scope. It was important to start the day early because in July the heat waves from the Moroccan sun made the scope unreadable after about 9:30 or 10 a.m. at which time we could head home for a nap and then complete the drawings in the cool of late afternoon.
We sat down at our usual table in the center of the nearly empty café with a good view both toward the sun about to come up over the Rif mountains and the TV. The waiter Mohammed was a friendly teenager with a delightfully chatty way about him and a knack for humoring us in our struggles with Moroccan Jabli dialect. We were a bit annoyed this morning however by his insistently babbling something about "Americani" and "gumra" as he pointed at the snowy image on the television screen.
"Hey, Mohammed, bring us two "qahwa b'halib" (cafés au lait) and some croissants. Hey, Mohammed, can't you fix that television? Maybe you need to go up on the roof again to adjust the antenna." Mohammed just kept insistently pointing at the screen. "Enzuma ma zfehmush". (You don't understand.) Fi American fi gumra. There is an American on the moon. Just look."
We looked more closely. Sure enough. Through the snow of the screen there indeed was Neil Armstrong going down the ladder to walk on the moon. 
It was neat but was not quite sinking in. More focused on getting on with the day's work, we drank our coffee, ate our croissants and headed out to the parcel we were to survey that day. It was in the olive tree covered hills about 10 miles north west of town on a little used gravel road connecting some scattered villages. We shot our points with no problems, put our equipment back in the old former U.S. Army, then United Nations, and now Peace Corps WWII surplus jeep open on top and painted UN blue.
We were not overly concerned when the engine turned over well but wouldn't start. Dirty fuel was a chronic problem usually fixed by simply taking the needle valve out of the carburetor, bleeding a little fuel, replacing the valve, and then starting the engine. The trick was to be careful not to lose the needle valve spring during the process.
Unfortunately, when we took out the needle the spring sprang into the air to land in a thicket of brush and grass. We searched in vain for nearly an hour unable to find the spring. Then we heard a truck coming down the road headed toward Ouezzane.
The driver, per local custom, graciously stopped to ask if we needed help. He recognized the jeep, vaguely knew who we were, and rightfully assumed that as foreigners we were most likely somewhat incompetent and in need of help. He apologized that he did not have time to help us search but he did have a rope and could pull us back to the edge of town. From there, he had to head west out of town, and we had to head east right through the center of town to our parking spot on the main square. As it was market day the main street intersection had lots of traffic and certainly someone to help would come by.
Almost immediately after untying the rope, along came Elayashi Stitou, a farmer we knew from a previous assignment. Elayashi was leading a pair of Moroccan donkeys and by chance they had their harnesses on and Elayashi had some rope. Thus, almost immediately, there we were augustly seated in the front seats of our open jeep, feet on the dashboard, being pulled slowly but steadily down the narrow main street of Ouezzane, Morocco, by a pair of donkeys. The street and sidewalks were quite busy with the market day crowd and we quickly became the subject of much attention. Two donkeys, one blue jeep, two American Peace Corps volunteers, and local drover, constituted a parade of sorts.
We were well enough known that the spectators identified us variously as "the foreigners, the surveyors, the Americans, and even Monsieurs Philip and Leroy." Many waved and we waved back in a brave attempt to cover extreme embarrassment with casual grace. We and the crowd were brought to near hysterics, however, when one wag observed quite loudly and appropriately: "Would you look at that? The Americans put a man on the moon with a rocket this morning, but this afternoon it takes a pair Moroccan donkeys to get these two back to their parking place on the main square." That is how I remember the day Neil Armstrong and Buzz Aldrin walked on the moon. -- Phil Morrow, Madison
I was a 23-year-old graduate student in astronomy working at a summer job at Kitt Peak National Observatory in Arizona. I was at the observatory for about three days right around July 20. I remember that a fellow from a private contractor had telescope time a day or two before the landing to observe when the astronauts made a garbage dump.
The dumped garbage reflected sunlight really well and made it easy to observe the exact position of the spacecraft at that point in its journey.
On July 20 I had telescope time myself to work on my observing project for my supervisor. But, it was cloudy and everyone on the mountain that night was in the lounge area to watch the landing on the TV that was there. The night before had been partly cloudy and a few of us, while waiting for clear weather, had watched a science fiction movie from the 1950's about interplanetary travel that was really bad science, so we were commenting on the contrast with the Apollo 11 landing. It was an amazing achievement! -- Jane Breun
I had just spent a year studying in France, and my mother and 13-year-old brother joined me so we could travel through Germany. We were deep in the Black Forest at a small roadside inn on July 20, 1969, and we asked the landlady to awaken us when the landing was imminent. We were almost too excited to sleep, but we finally did until we were jolted awake by a knock on the door and stumbled groggily to a TV room, where an old black-and-white set showed ghostly pictures of the landing and the first steps on the moon. The middle-of-the-night eeriness, the grainy videos, and the commentary in German made for a truly otherworldly experience. Interspersed with the live feed was film of the earlier liftoff, and it was thrilling to see "UNITED STATES" emblazoned on the rocket and to swell with pride for our country. I did not know then that the man who was to become my husband was also in Germany watching the landing at the U.S. Army base where he was stationed, giving us a shared memory before we even met. -- Mari McCarty
I was on a train crossing the Great Plains. I remember thinking about crossing the country on a technology that was only in place here for 100 years old and now we were traveling into outer space!
The train broadcast an audio of the moon landing and walk. It must have been in only one car of the train because it was crowded and I remember everyone cheering after Armstrong made his comments. It was one of those shared events that caused strangers to interact and celebrate. I was 18 at the time. We were returning to Wisconsin after visiting family. -- Kathryn Lederhause
My recollection of the 1969 moon landing is a bit different. I was on a guided missile destroyer off the coast of Vietnam and we had just finished several weeks providing gun fire support for our ground troops. We anchored outside of Danang and I was one of several taking the motor whaleboat to shore to pick up several weeks of mail for our 350 man crew. The date was July 21 which happened to be my 21st birthday so I remembered it well. I don't recall where we stopped but we caught 5-10 minutes of coverage on a black and white TV. The broadcast was in French with Vietnamese subtitles. The only things we could understand were when the astronauts or mission control spoke. It was years later that I realized that the moon landing had taken place on July 20 here but it was July 21 on the other side of the International Date Line where we were. -- Bob Eveland
I can remember that our family, the Janet and Karl A. Eisele, Jr. family from Madison, was vacationing at our cottage on Lake Ripley near Cambridge. We were all on the porch watching Walter Cronkite on a black and white television with rapt attention. Nobody spoke when the landing was in process and we all breathed a sigh of relief when they were safely on the moon.
I was so interested in the moon mission that I used my 35mm camera to take a photo of the launch the week before on Channel 3 here in Madison. -- Tim Eisele, Madison
July is the rainy season in Laos and on July 20, 1969 it was rainy but not the very heavy monsoon rains that happened. The rain and clouds cool the temperatures in Vientiane at this time of the year. Vientiane, Laos did not have an English language radio station but Joann and I would often listen to the Voice of America (VOA) broadcasts for news. In fact, I still have the short wave radio we used. Both of us had been following the launch of the moon bound rocket from Cape Canaveral, Florida and wanted to hear the landing of the U.S. moon lander but there was a 12 hour time difference between Vientiane and the East Coast of the U.S. The moon landing was scheduled to land mid-day on July 20th but that meant the landing would be in the middle of the night on July 21, 1969 in Laos.
We set our alarm and got up about 1 a.m. on the 21st of July, turned on the VOA. An American neighbor George (Buzz) Nathan, who lived next door came over and we all listened together. There was a bit static on the radio but we could hear and understand the broadcasts from CAPCOM and the lunar lander if we listened carefully. We, like those listening in the U.S. and around the world, held our breath waiting for word that the lander had settled down on the moon and the three of us let out a sigh of relief when Neil Armstrong said "Houston, Tranquility base here, the Eagle has landed." I still have a recording of this VOA broadcast on a 10" reel to reel recording tape.
It is impossible to express our relief that the ship had landed safely but also our elation that we, the Americans had done it first. We were proud of our country but also pleased that we had beaten the Russians to the moon. We did not know at that time how close the lunar lander had come to running out of fuel trying to find a safe, relatively rock free place to land.
I don't recall if it was the next night but Joann and I had been invited to Larry Woodson's home to watch the man first set foot on the moon. Again, it was late at night but in addition there were no TV stations in Laos so Larry's new TV picked up a grainy TV signal from Thailand. There were about 10 of us crowded around the 19" black and white screen watching with rapt attention as Neil Armstrong exited the lander and stepped on the moon surface. It was fun watching him jump around as he traversed the moon surface. It looked like fun to be able to jump so easily.
The TV broadcast ended about midnight and Joann and I drove the six kilometers from Larry's home in Vientiane's downtown to the km 6 area where we lived. As we drove home we drove past the U.S. Information Service (USIS) office building where the TV broadcast had been shown to any Lao who wanted to watch. There were hundreds or maybe even a thousand Lao just leaving the area after having watched the landing on TV just as we had done. This is in a country where electricity was expensive for the Lao people because their income was so low but they stayed up well into the night to watch the first man walk on the moon.
The following week Joann received a letter from her sister Gloria who complained that the broadcast of the launch, landing and walk of the moon were running in the evening and she was not able to watch her TV programs. An interesting contrast to those Lao people who thought it important enough to stay up very late to watch the first steps on the moon and sister Gloria who missed her TV shows. -- John Esser
In 1969 I got to spend part of the summer with my 87-year-old grandmother at her cottage on a small lake in Michigan. I was 16 years old and relished having the time alone with Grandma, without my parents or three other siblings around.
On July 20, she turned on the television, which I seldom saw her use. Evenings at the lake were spent reading, playing games, telling stories and doing jigsaw puzzles. Besides, reception wasn't very good in that rural area.
We were entranced by the scene unfolding on the moon and brought right to her living room by the wonders of technology. Watching that historic event on the fuzzy screen, my grandmother exclaimed, "I was already an adult when the Wright Brothers first escaped the bonds of Earth to fly an airplane. Who could imagine that I'd live to see humans fly a rocket ship to the moon?"
I've followed in her footsteps, always preferring a book, a story or game to a television show. At least 25 years after Grandma and I watched Neil Armstrong and Buzz Aldrin climb down from the lander, I happened to watch footage of the Apollo 11 moon landing and was dumbfounded to see how crisp and clear the image was. I'd assumed that the blurry image I saw in 1969 was a result of transmission all the way from the moon, but it was just poor reception on an old television far from any station. I prefer the hazy way I first saw the lunar landing ... it harmonized with the wonder and mystery of going 238,900 miles away from Earth. -- Terrie Anderson
I was in Vienna, Austria. I had been in Europe for two weeks and had lost track of Apollo 11. That evening I turned on the local radio station and heard an excited announcer say over and over again: "Der Igel ist gelandet! Der Igel ist gelandet!" I found this kind of strange since that sentence literally means "The hedgehog has landed." Really? NASA named its moon lander the "hedgehog"?! No way! It was only later that I realized that the announcer was using the English word "eagle" for the lander in an otherwise German sentence. The German word "Igel" sounds just like the English word "eagle." OK, the lander did look a little bit like a hedgehog, but calling it that would have been bizarre at best and ridiculous at worst. I am happy that NASA called the Apollo 11 moon lander the "eagle!" -- Charles J. James, Madison
I was 13 years old playing a game of strike-out at Longfellow Junior High in La Crosse. I launched a ball across the street that landed on the roof of a house. A woman came out and I knew I was getting yelled at. "We just landed on the moon." Still in defense mode, I thought I didn't hit it that far. Then the light bulb went on and I said "Cool, thanks for letting us know" and we packed up to go home and watch the TV coverage. -- Ken Eeg, Madison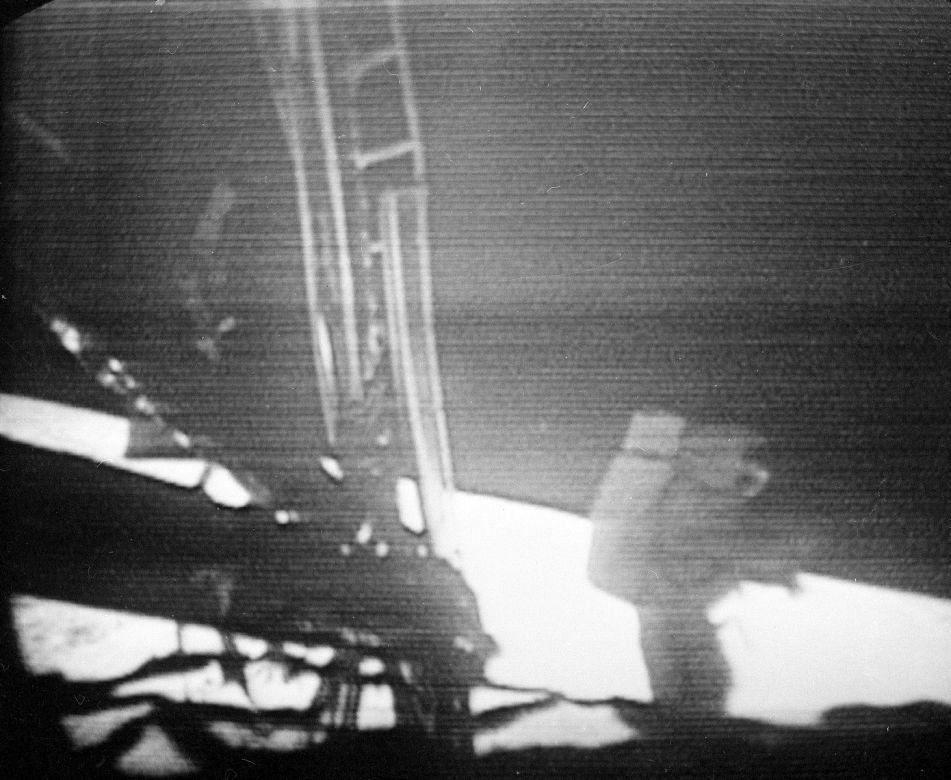 Our family was in Cuernavaca, Mexico, for a theological conference. A small hacienda housed many of the participants, mostly American. The Mexican family that owned the hacienda were so welcoming, so gracious and so generous. They had so little, but gave us so much. They invited us to their small home to watch the landing. So many of us in such a small room watching the landing on a very small black and white TV on a very high shelf. Language and communication were a challenge during our stay , but not a barrier that day! The joy and excitement of the event permeated the room. So excited were they. They danced. They hugged. They jumped for joy. We were excited as well, but our excitement was quite constrained compared to theirs. So proud they were ... one would have thought that it was Mexico that sent man to the moon. Americans … Mexicans. It didn't matter. We were all one. It was truly a day to remember! -- Jean Boehnen, Madison
The summer of 1969 was filled with anticipation. I had just completed my junior year at the University of Wisconsin in Madison where I was majoring in chemistry. The previous summer I received an NSF Undergraduate Research Program Grant and used it to pursue my interest in analytical chemistry by working in the Chemistry Department with Dr. Larry Haskin.
When the grant ended Dr. Haskin hired me to work with one of his graduate students, Ralph Allen, who was developing a procedure for using neutron activation analysis to determine the composition of small or precious geologic samples. Dr. Haskin was one of the Principle Investigators for NASA and the goal was to use this method to analyze lunar samples collected during the Apollo 11 mission.
The launch took place on the morning of Wednesday, July 16. Since my family would be vacationing on Washington Island the following week, my girlfriend and I drove up that weekend to join them. There were no televisions in the cottages that we rented so it seemed unlikely that we would be able to view any of the events that would be taking place 239,000 miles away on the surface of the moon.
On the evening of Sunday, July 20, we drove out to a bar. Bars didn't have TVs hanging on the walls in those days so that wasn't the reason we went there. My brother-in-law knew the owner of the bar and asked him where we might be able to find a television. He told us we could watch the TV at his house.
The "Eagle" had already landed when we began to watch the broadcast. I remember a small group of people sitting for several hours waiting anxiously and somewhat impatiently for the astronauts to emerge. Despite the poor reception on the small black-and-white screen, the image of Neil Armstrong slowly stepping onto the surface of the moon remains clear in my mind.
Samples from Apollo 11 eventually arrived at the University. Some went to Dr. Haskin for trace element analysis and some went to another Principal Investigator for NASA, Dr. Eugene Cameron in the Geology Department, to be analyzed for mineralogy and bulk composition. Before any work was performed on the samples, the Departments of Chemistry and Geology arranged a public viewing of some of the samples. It was a very popular event.
Dr. Haskin later received samples from Apollo 12 and I was fortunate to work with Ralph Allen on samples from both the Apollo 11 and 12 missions. -- Michael R. Anderson, Madison
I watched the landing with two friends and one of their aunts. The aunt was in her mid seventies and quietly said "I remember when airplanes were a new fad." Before the lander touched down on the moon, I excused myself and went out on the patio alone to take one last look at the moon before the mystery and the magic would be forever different. -- Donna Biddle, Madison
I remember the Apollo 11 mission through grainy black and white images on a television set in Belem, Para' in northern Brazil. Several Brazilians huddled in silence outside an electronics store to watch the replay of the Apollo 11 mission, programmed to repeat continuously throughout the day. I stood on tiptoe to peer over their heads, to witness the launch, the landing, and the splashdown one day after the historic feat was accomplished.
As Neil Armstrong had deftly maneuvered the Eagle onto the Sea of Tranquility, I had traversed the confluence of the Rio Negro and Rio Amazonas on an excursion into the Amazon rainforest. We passed through the cold, inky black water of Rio Negro to the warm, muddy chocolate brown water of the Amazon. I was as awe-inspired by the rivers that do not mix as I was the mystery of the space trip I had yet to see. While Armstrong and Buzz Aldrin planted an American flag on the face of the moon, we glided deep into a tributary in hushed silence. The rainforest canopy was like a cathedral ceiling that held sacred the holiness of the place.
I was a 21-year old Peace Corps volunteer serving in an agricultural program in Mato Grosso, Brazil, south of the Amazon. My Peace Corps colleague, Franci, and I left on July 10, 1969 for a 30-day road trip around Brazil by bus, river, and air. We hadn't seen a newspaper. The lobbies of pensaos where we stayed had no television sets. If there was buzz about the Apollo 11 mission, we missed it. On that sultry tropical day in Belem, however, the images of the moon landing were indelibly imprinted on my mind. The trip Franci and I took does not rival the technological achievement of sending a man to the moon; our trip was a different kind of adventure. Astronauts and Peace Corps volunteers alike responded excitedly in the 1960s to the boldness of John F. Kennedy's vision, a call to look outward.
As I watch footage of the famed Apollo 11 mission 50 years later, I appreciate even more JFK's dream that became reality in the farthest reaches of space. The blue orb of Earth, transmitted back to millions of viewers, garnered a new appreciation for the preciousness of our planet. I am embarrassed to say how oblivious I was to what was going on. I was on a quest of my own. What I believe, however, is that deep within each of us is the quest for the eternal, the unknown. Some people go to the moon; some go to the Peace Corps, some go into their backyards for adventure; some dive deeply into their souls. Regardless of the destination, the longing to discover and learn persists. The moon landing changed the lives of millions of people on July 20, 1969. The Peace Corps changed mine. -- Nancy Anderson
As a 7-year-old boy in 1967 that watched "Star Trek," "Lost in Space" and even old "Buck Rogers" reruns, I was already a space nerd. But the reality of manned space travel afflicted me when three astronauts were killed in a cockpit fire on what was later named Apollo 1 in their honor.
The event had a similar effect on several of my friends and we became almost obsessed with the Apollo program. We had daily conversations about what Walter Cronkite told us every evening about the program, and shared what we read in the newspaper. My dad talked with us and helped put all of it into context (a lot was going on in Madison at the time ... Vietnam protests, etc.).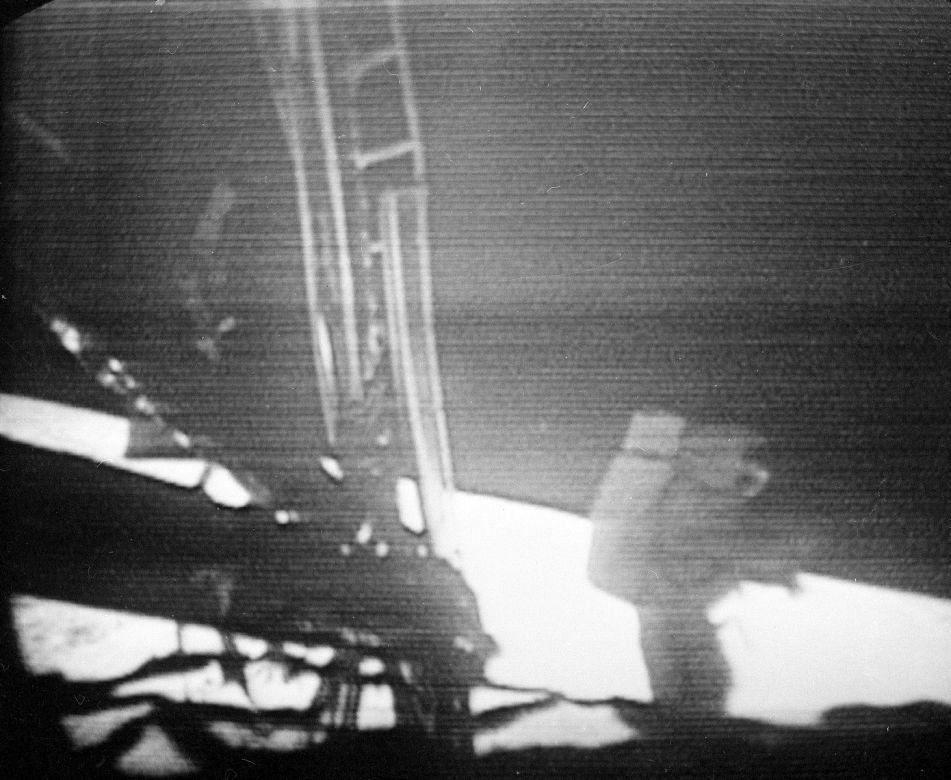 I remember our anticipation of the first manned mission of Apollo 7 in 1968. In just nine months, Apollo 8, 9 and 10 flew successful missions. We all sat around the little black and white TV set on July 16, 1969 to watch another lift-off. It was about a four-day trip one way ... eternity!
A perfect Sunday. As usual, when everyone got back from church, we started playing baseball in the lot adjacent to our backyard. At around 2 o'clock, my dad called to us to come into the backyard where he had set up the new bigger TV on the picnic table (with a coat hanger extension on the antenna). Along with two large pitchers of lemonade and graham crackers, we crowded around and watched and waited for the landing module to set down. The only thing heard other than the TV was slurping and crunching ... until it landed. Some cheered, some sat silent in awe.
We were a little dejected to learn that they wouldn't get out and walk on the surface until later that night. So, it was back to baseball until we could watch Mr. Cronkite (who was the expert in our eyes) after supper. I was an impatient 9-year-old and asked my dad a dozen times why they were taking so long. He had a different answer each time. I did not leave my spot on the floor in front of our TV. It was worth the wait. Watching and listening while Neil Armstrong climbed down the ladder and finally stepped where no one has ever been left me thunderstruck.
It wasn't necessarily United States pride I felt, but human pride. Just the thing to give me hope during the tumultuous times...as it undoubtedly did for many. Old enough to remember, young enough to be emotionally astonished. -- David Bayer, Madison
As a teenager, I lived the summer of 1969 in southwestern France with a family. I had a wonderful experience in a small town living with a large family. One of the most remarkable of my adventures that summer was the chance to see the US moon landing live. My French family, the Gabrielli's, did NOT have a television, but cared enough for me that they arranged for me to attend a party at friends -- in a chateau, no less -- to watch the broadcast. I think it was the middle of the night because I also remember being driven home at daybreak. An experience that I'll never forget. -- Roberta Sladky
On July 19th 1969, I flew to our battalion headquarters in Vung Tau, the first step on my journey home to the world after a year with the army in the Mekong Delta. There was little to do there but some paperwork before I went to Long Binh. A number of us gathered about radios when the moon landing was imminent and we cheered when it happened. It was broadcast live on AFVN (Armed Forces Viet Nam) radio. There was no live TV in country because there was no wideband satellite downlink. The nearest suitable downlink was in the Philippines. It was recorded there and a fighter jet flew the recording to Tan Son Nhut and rushed it to AFVN TV where it was played about 2 hours after the actual moon landing. It was a big moment for all of us. -- Jim Fitzpatrick
I was in Northern France in a Youth Hostel where the French got up in the wee hours and turned on the dining room TV for all the youth who wanted to watch the moon landing. I was one of only two Americans watching with about 20 other college kids from many countries. Truly an international moment and lots of wonderful feeling of solidarity with people of many cultures. On my first travel abroad, it was an inspiring event to share in a summer that was already changing my perspectives on the nature of our world. -- Kathy Massoth
It was around 11 at night. I was 16 years old, living in Battle Creek, Michigan, when the moon landing occurred. Ever since I was 5 years old, I had been fascinated by the way the world worked. It was my dream to work for NASA in their space program. On the evening of the moon landing, my family all gathered around our black and white TV. My father propped his 35mm camera on a table in front of the screen, in hopes of catching images of the momentous event. Even though I did not work at NASA, I have been at the UW-Madison since the late 1970s occasionally working on NASA-funded projects primarily in the area of Earth science and also with data returned from missions to Mars, Jupiter, and Saturn. -- Dave Santek