Families across Wisconsin found themselves with an abundance of unoccupied children when Gov. Tony Evers' ordered schools to close statewide in March due to the COVID-19 pandemic, but a Middleton family chose to bide the time by creating a newspaper staffed with youngsters.
She got her children involved as a way to process all that was going on in the world and to be able to think about what's unique about the current situation. Lundgren gives some prompts, and the youngsters write stories and draw pictures.
Lundgren shared the project with her oldest daughter Claire's fourth-grade teacher, who then shared it with the entire class. From there, more and more youngsters began submitting their work.
While children are creating the content for the newspaper, Lundgren said people of all ages are enjoying it.
"I get a lot of emails from older people excited to see what the little ones are doing," she said. "It's fun to see it connecting multiple generations during this time of isolation."
The first edition of the newspaper came out on April 1, and there have been two other editions since. Prompts have ranged from writing thank you notes and interviewing parents to inventing holidays and writing from pets' perspectives.
Claire, 10, said what she likes most about writing is thinking for a while and coming up with new ideas. Her favorite piece she has written so far was a thank you note to the Disney+ video streaming service.
"Working on this makes quarantine more exciting," Claire said. "We have something to look forward to."
The Quarantine Times has over 100 subscribers, and Lundgren also prints out copies to deliver to neighbors. She also shares the project to online platforms such as Nextdoor and Facebook.
Nine-year-old Henry Veedahl, a third-grader at Elm Lawn Elementary enjoying the freedom of virtual learning, wrote a piece from the perspective of his 3-year-old golden doodle Piper. He wrote about how Piper does not like social distancing but misses "getting time to herself."
Samuel Erickson, 9, and his 7-year-old sister, Madeline, both students at Northside Elementary, have submitted several writings and drawings. One of Samuel's articles was about his favorite characters from "The Lord of the Rings" and what kind of adventures they would take him on. Madeline has submitted drawings of penguins, one of her favorite animals, and a picture of her chalk art thanking people like mail carriers and delivery drivers.
"We enjoy writing and doing all of this because it's really fun to be creative, and it helps us learn," Samuel said.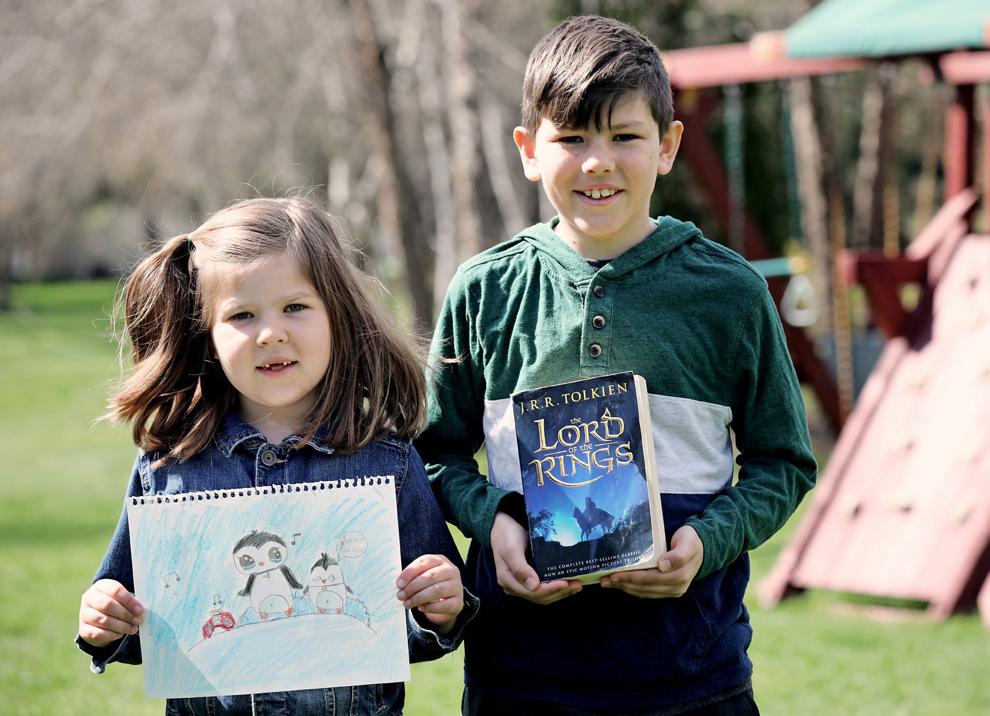 Eleven-year-old Mira Russo, a student at Madison Country Day School, said she would much rather be going to school but likes having something different to work on. She prefers writing, and her work includes an article about her dad, who is a doctor, and one about her collection of business cards.
She also created "social distancing day," which is a holiday meant to be celebrated throughout the quarantine by making signs and hanging them outside, writing down positive messages and mailing them to friends and family, and writing chalk messages.
Her goal, she said, was to find "a way for people to connect without physically seeing each other."
The Quarantine Times will hopefully have two more editions coming out in May, Lundgren said. She said she'll continue to put out a paper as long as she can keep thinking of prompts and youngsters keep submitting work.
"Kids are creative, and they're funny," Lundgren said. "I want to help kids remember this moment in a fun way that feels real with prompts that have a purpose."
"I get a lot of emails from older people excited to see what the little ones are doing." Laura Lundgren, editor-in-chief of The Quarantine Times
"I get a lot of emails from older people excited to see what the little ones are doing."

Laura Lundgren, editor-in-chief of The Quarantine Times