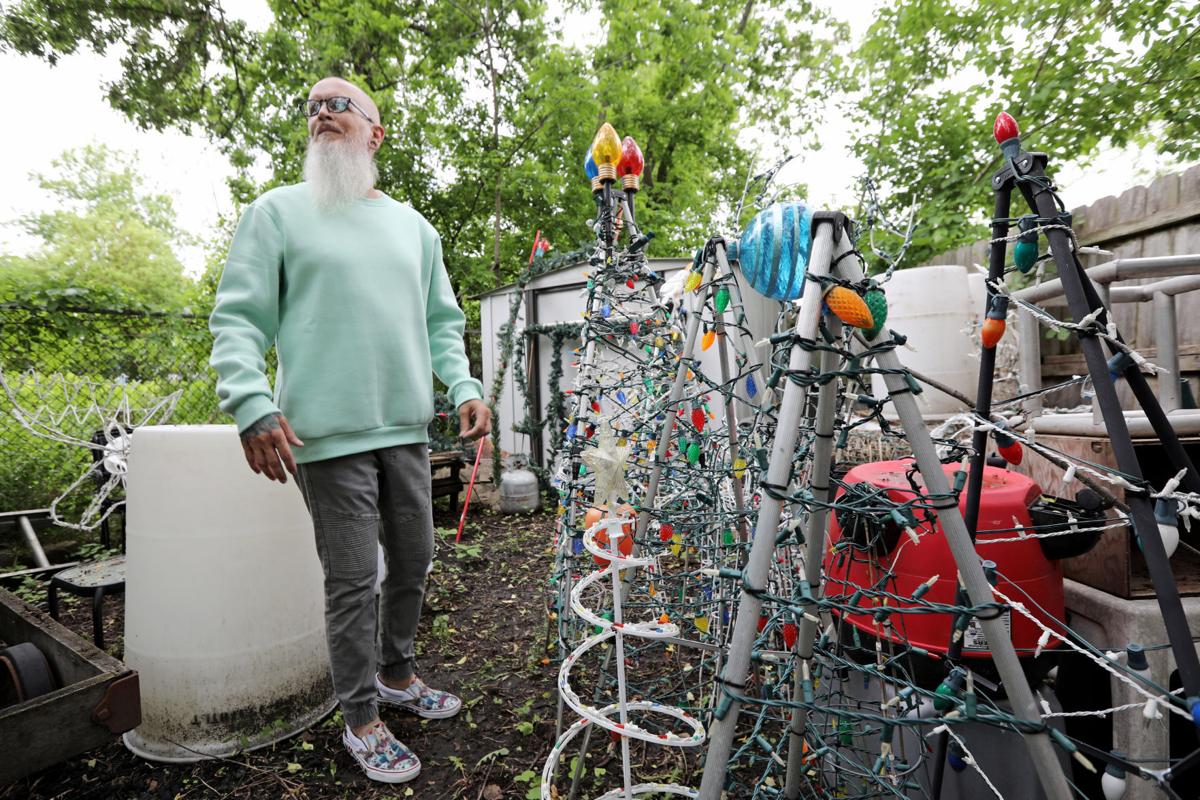 Maybe you can't see Wade Otis' Christmas display from space, but he's had people tell him it's clearly seen as they fly into the Dane County Regional Airport.
Otis, 54, has been going big and then bigger on Christmas since about 2008, first when he lived on Madison's North Side and for the last six years at his East Side home on Sachs Street, where it ends in a cul-de-sac at the Starkweather Creek path.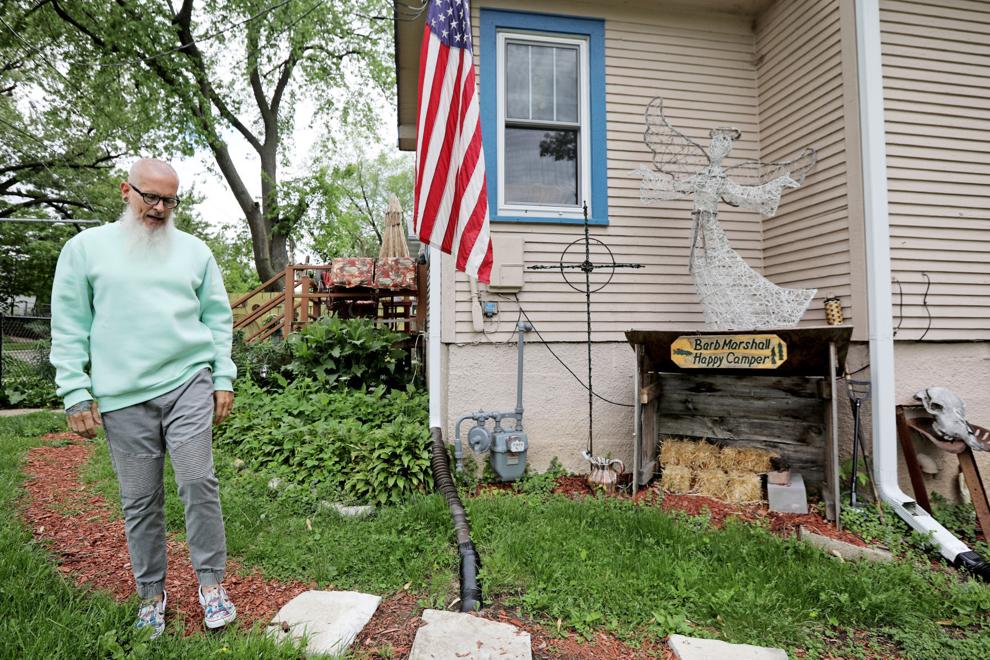 "I had one blowup (figure) and then two blowups and then I put lights around three windows, the doorway and the garage door, and that's how it started," he said.
Today his Christmas decorations take up most of his attic, a backyard storage shed, and parts of his backyard, basement and off-site storage locker. He estimates he has between 300 and 400 extension cords, 35 blowup figures, 32 blow-molds — basically large, hollow plastic figurines — and at least nine or 10 bins filled with strings of lights to go on the house and fence.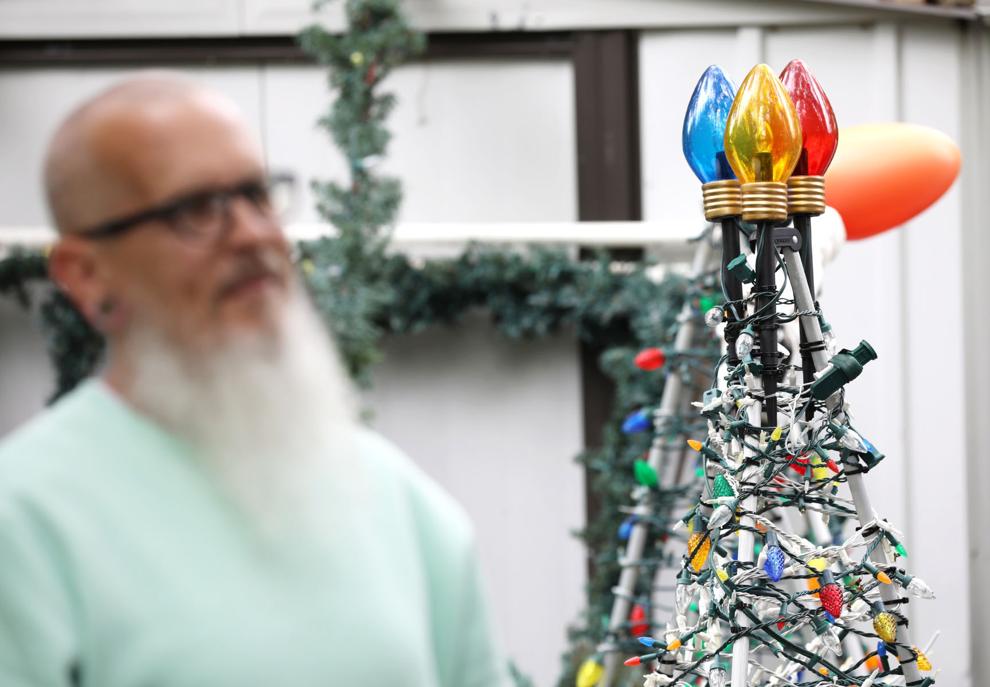 Come November, it takes him maybe three weeks to get everything set up, and the display generally lasts from Thanksgiving until the weather breaks enough to start bringing things in after New Year's.
Otis is a Madison native who works in maintenance at UW-Madison and lives with his husband, Donovan Marshall, and three chihuahuas, Milo, Pyka and Fezi.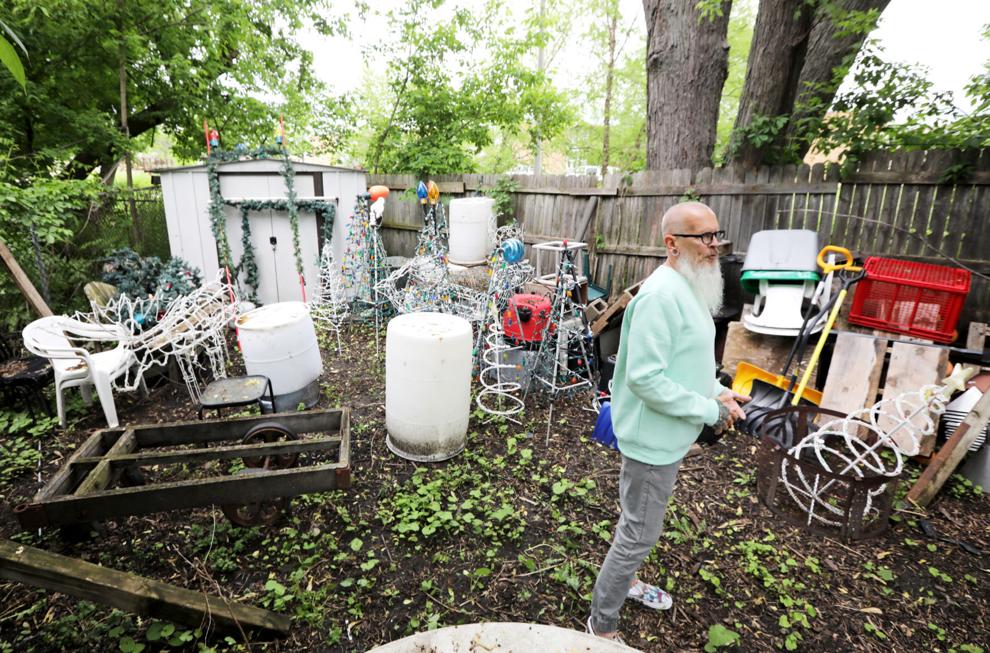 I've always liked decorating since I was a kid. We used to decorate a little bit (at my parent's home). I just always loved Christmas — changes people's hearts and minds regardless of what your situation is in life. I don't care if you've got a light up around your fence post or a thousand. If you're doing it and you're having fun I don't really judge. I'm not in it for a competition. I just like adding to it and the more and more we've added the more recognition we've gotten. I just love that all the kids and the people that swing by, even for a cul-de-sac, go up and down the street and will just like literally line up to see the house. It's a lot of fun. It's a lot of work but so many people get so much joy out of it. That's what makes it worth it.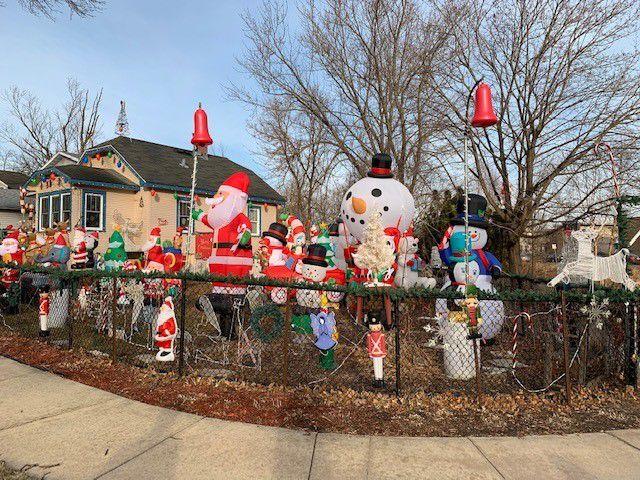 Do you do the same thing every year or does it change?
Sometimes I'll have ideas. I already have a plan for this coming season. I'm going to do more of an archway in the driveway. And I always think, well, I could do that, but then why can't I attach something to that or make it all candy canes to make it more elaborate? I want to have something that people haven't seen before.
How much does it all cost?
This year, I'd say we spent between $500 and $600 total for extra energy for about a month and a half. I spend at least $200 a year on replacement lights or replacement (displays). If a blowup goes down I don't just say, oh well, we'll have to get a new one next year. I replace it with something as good or better. This year was a little different because we had so many people coming by during the day so we were leaving it on so much. I'm like, let's just leave it up. That's what we're doing this for.
Is living on a dead-end street a drawback?
Once the leaves are off on the trees in the backyard, you can see there's something going on back here even from East Washington Avenue, so I thought it might just kind of draw people here a little bit. Word just got out as we went on.
Do you have any formal training in design or construction?
All self-taught. I guess I'm sort of Renaissance-ish. I know how to knit, sew. I build steampunk lamps. I'm a half-a-carpenter. Some of the little stuff you see around I rebuild or fix it up. I've always got something going on.
Never. Not one. Our neighbors are like, "Yay, it's Christmas!" Literally, this past season people brought blow-molds, they've dropped stuff by our fence by our back gate, leave notes — "We just love your Christmas display; we wanted to add to it." We still don't know who's left us things.
With the pandemic, the faltering economy and a divisive presidential election this year, do you think your display will be even more of a bright spot this Christmas?
I think so. It's like when the sun is shining and it's a beautiful day, I think it lifts people's spirits up. I'll be doing the same thing I always do and I think it will lift people's spirits up whether you're political or religious or not. If you like Christmas, you like Christmas. You don't have to get on your knees and pray to Jesus to enjoy a Christmas display.