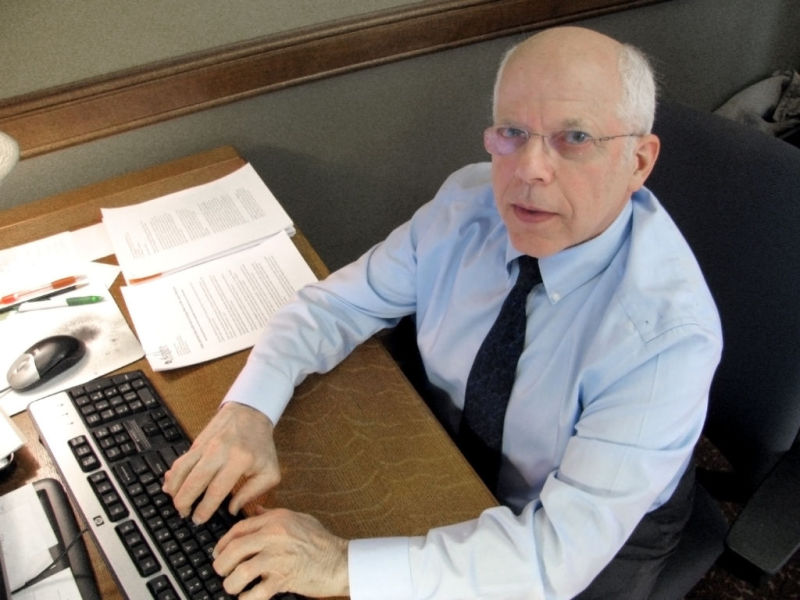 Legislative research assistant Tom Jackson, much like his boss Sen. Dale Schultz, R-Richland Center, considers himself a rare breed in the Capitol these days.
After 25 years working for Schultz, who is stepping down after this session, Jackson, 61, is planning to retire. He doesn't have any specific plans for retirement other than traveling more often to warmer climates, but he feels somewhat disheartened by the way things have changed.
"As a staff person, I think the state would be better off if this building wasn't as full of political science graduates who see themselves as lieutenants in a war of ideology, rather than servants to people and community," Jackson said. "I came in already having had a variety of different experiences."
He and Schultz grew up a mile apart and both graduated from West High School in 1971. But it wasn't until 18 years later, when Jackson was writing for the Sauk Prairie Star, that Schultz asked him to join his staff.
Jackson, the youngest of three (and brother of former State Journal photographer Joe Jackson), is married with two sons in their 20s. His wife, Jane Bertschinger, is a retired elementary guidance counselor for the Baraboo School District.Q: What do you remember about growing up in Madison?
A: I can remember standing on top of a table in the Labor Temple on South Park Street screaming excitedly when the news was announced that Paul Soglin was elected mayor (for the first time, in 1973). I grew up near Edgewood, and a typical day after high school seemed to be going over to the college campus to see what protests were going on. That was a very different era.
Q: How did you end up working for a Republican?
A: Dale originally referred to himself as a progressive Republican. But by the '80s that word was captured by people who didn't want to use the label Democrat. I definitely identified with that concept of progressive Republican: People that are conservative when it comes to dollars, fiscal management and the environment, through conservancy. And also stay out of the bedroom.
Q: How did you get into politics?
A: I worked my way through college by operating 25-cent games in the carnival. I did sales. I managed a chamber of commerce in the community where I lived, Sauk Prairie. I was writing for the Sauk Prairie Star, and Dale decided that it was probably better for me to be writing for him than about him and offered me a job.Q: What's your role in Schultz's office?
A: We're trying to be on the team for communities and businesses to help local government and residents of the district achieve their goal. Dale always had a very strong focus on trying to work to improve the economic prosperity in the district he represented. I've been that guy almost full-time and that's really rare.
A. Trends have been increasingly to hire political science grads and the approach is more ideological warfare and not public servant.
A. You have increasingly partisan districts and the tremendous influx of money to influence elections pushes the candidates even further toward the right and left and away from the middle.Q: What lessons have you learned?
A: Two takeaways that have shaped my thinking that I got from Dale is focus your resources where you have the best prospects to make a difference. Secondly, politics is about hope, and we need to deliver on the promise of hope. What I got from (my) dad was the importance of having respect for people that are different. Whether it's young or old, or rich or poor, or left or right. And that seems to be disappearing.
Get local news delivered to your inbox!
Subscribe to our Daily Headlines newsletter.