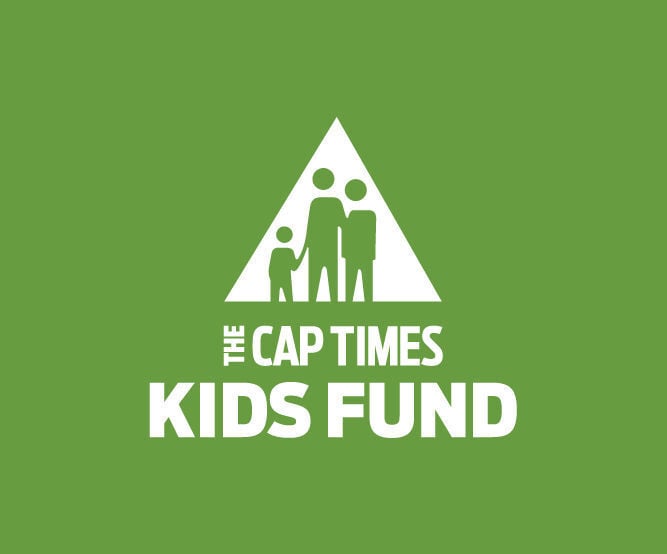 The Capital Times' Kids Fund closes out its 2020 fund drive today, another successful campaign made possible by generous readers.
The donations made during the 2020 campaign mean that The Kids Fund will be able to help dozens of area nonprofits that address the challenges of young people during the year ahead.
Directors of The Kids Fund have voted to provide grants totaling $180,000 during 2021. The deadline for grant requests that will be awarded later in the spring is March 1. Complete details on how to request a grant are online at thekidsfund.org.
Our thanks to the hundreds of readers who contributed anywhere from $1 to $25,000 during the campaign.
The Kids Fund dates back to 1927 when William T. Evjue, the founder of The Capital Times, created the Kiddie Camp to provide a place where children exposed to tuberculosis could stay and study while recovering.
When tuberculosis was finally conquered, the Kiddie Camp became a home to provide day care and education for children with disabilities. When the public schools eventually took over that function, the Kiddie Camp evolved into the Kids Fund to continue efforts to serve the needs of children in our community.
Even though the official drive has now ended, contributions are always welcome at The Kids Fund, c/o The Capital Times, PO Box 8060, Madison WI 53708. Donations can also be made online at thekidsfund.org via PayPal or a credit card.
Again, thanks to all for your generous contributions.
Following is a list of recent contributions:
Terry and Donna Ludkey, Madison: $50
Janes and Vincent Kavaloski, Madison: $100
J Patrick Downing in loving memory of Deb Nettum: $20
Leslie Franzen, Madison: $10
Donna Schleicher, Fitchburg: $50
Susan and Stephen Carpenter, Madison: $200
Kristy Thalacker in memory of Meta Flynn, Stoughton: $25
Roger and Sandra Phelps, Fitchburg: $25
Paul and Colleen Stuchlik, Madison: $25
Mary Ellen Kearney, Waunakee: $50
Mary Ellyn and Joe Sensenbrenner, Madison: $1,000
Pamela Meicher, Monona: $25
Charles Shoemaker and Joan Deshima, Madison: $25
Stephen Skinner, Madison: $30
Gabrielle Blood, Madison: $300
Donald and Carrie Zoromski, Greenville: $25
Barbara Niemisto, Belleville: $20
Mark Stephens, Brooklyn: $20
Jane A. Bartlett, Madison: $25
Duane Draper, Mount Horeb: $125
Gurdip and Dorothy Brar, Middleton: $25
Robert and Nancy Brien, Madison: $200
In honor of grandchildren Logan, Ian, Abby, Emma, Carson, Aisley, Brianna, Owen, Cross Plains: $50
David and Beth Timm, Mount Horeb: $25
Perry and Lisa Tilley, Brooklyn: $50
Catherine Dunn, Waunakee: $15
Robert and Carol Nielsen, Madison: $60
Gretchen Ann Speerstra, Madison: $100
Allan and Sandra Levin, Middleton: $40
Jenny Marquess and Steven Books, Madison: $50
Craig Chamberlain, Cottage Grove: $50
Michael Florek, Madison: $50
Michael Lawrence, Verona: $50
Carolyn Zahn Waxler, Madison: $25
Shirley Robinson, Monona: $50
Louis Cornelius and Priscilla Boroniec, Madison: $50
Robert and Judith Broman, Madison: $20
Nancy and Michael Shinners, Madison: $75
Susan and Bradley Paulson, McFarland: $100
Daniel and Kathy Levin, Middleton: $100
Barbara Albrecht, Madison: $25
Janis and Dennis Cooper, Middleton: $50
James and Hy Miller, Waunakee: $20
Debbie and Mark Eggerichs, Stoughton: $25
Daniel and Sally Rossmiller, Madison: $30
Barbara Pratt, Fitchburg: $100
Jennie Cruz, Fitchburg: $38
John and Julie Bailey, Madison: $30
Jerome Bollig, Oregon: $100
Richard Miller, Middleton: $50
Gary Miller, Madison: $50
Carol Brinkmeier, Madison: $75
Patrick Kennedy in honor of Emmy, McFarland: $100
Wayne Brabender, Middleton: $50
James Bjornstad and Karen Aasen, Verona: $200
Doreen Adamany, Madison: $50
Rosario and Penny Depaola, Madison: $50
Scott Haumersen, Sun Prairie: $500
Max and Betty Rosenbaum, Madison: $25
Anonymous, Madison: $1,000
Michael Wolff and Berni Mattsson, Madison: $1,000
Earl Hazeltine, Mount Horeb: $20
Bernard Micke, Madison: $50
Valerie Murphy, Madison: $35
Sreenivasa and Karishma Reddy, East Walpole, Massachusetts: $25
Warren and Nancy Onken, Madison: $100
Kelly Family Foundation, Madison: $1,000
Bill and Joyce Messer, Cottage Grove: $60
Susan and Richard Intlekofer, Madison: $25
Kent Carnell and Barbara McFarland, Middleton: $100
Joan Schaefer, Madison: $450
Jeffrey and Marcia Kushner, Verona: $250
Judith Baker, Cambridge: $200