KENOSHA — Members of the Danish Brotherhood spent Tuesday digging through the brick rubble and debris of what used to be their lodge in search of historical artifacts, journals and photo albums.
A few blocks away, in front of a Mexican bodega, a worker used a power scrubber to clean the sidewalk. In other places, artists continued to paint the plywood that covers the windows and doors of scores of businesses throughout the city. The owner of Oliver's Bakery, an institution here since 1941, is wondering when she should remove the plywood from her windows.
Kenosha was thrown into chaos Aug. 23 after local police officer Rusten Sheskey shot Jacob Blake, a Black man, in the back seven times, severely injuring him. Blake was paralyzed from the waist down and lost his colon and part of his other intestines, his attorney said. He remains hospitalized.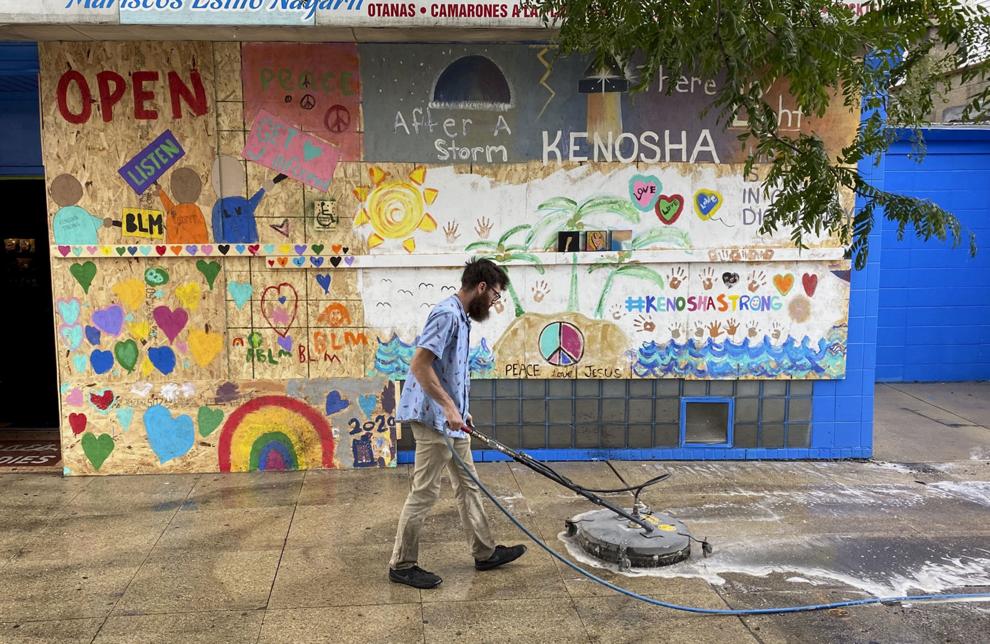 On Tuesday morning, President Donald Trump had not yet arrived in Kenosha when Blake's family, friends and activists including the Rev. Jesse Jackson gathered at the site where he was shot to rally for peaceful change.
"We understand your anger and (that) you're upset, and we can see why you would want to burn something down, but we're asking you not to," Justin Blake told a crowd of about 200 people.
"That fist that you put up in anger, we're asking you to raise it up high in unity and come on board with the Blakes. We're going to make some big changes that affect all the little Jakes around this nation," he said.
Tension, but hope
Tensions in this city of about 100,000 people are high. There are calls for social justice. Businesses have been destroyed, and it will likely take years for many to rebuild, if at all. While many in the city ignored President Trump's visit, others praised and welcomed his appearance.
A curfew remains in effect that requires the streets east of Interstate 94 to be cleared of traffic and pedestrians between 7 p.m. and 7 a.m. That means no businesses are open for the evening, including bars, restaurants and gas stations.
The city estimates that damage to public infrastructure such as trucks, traffic lights and signs is nearly $2 million, while Mayor John Antaramian said this week he plans to ask the state for $30 million to aid in the recovery and rebuilding effort.
Despite the problems, hope is pervasive.
"Kenosha will be fine," said Duane Kreier, a member of the Danish Brotherhood Lodge. "We just got to keep the riffraff from coming into town and doing things like this. Because this wasn't done by local people."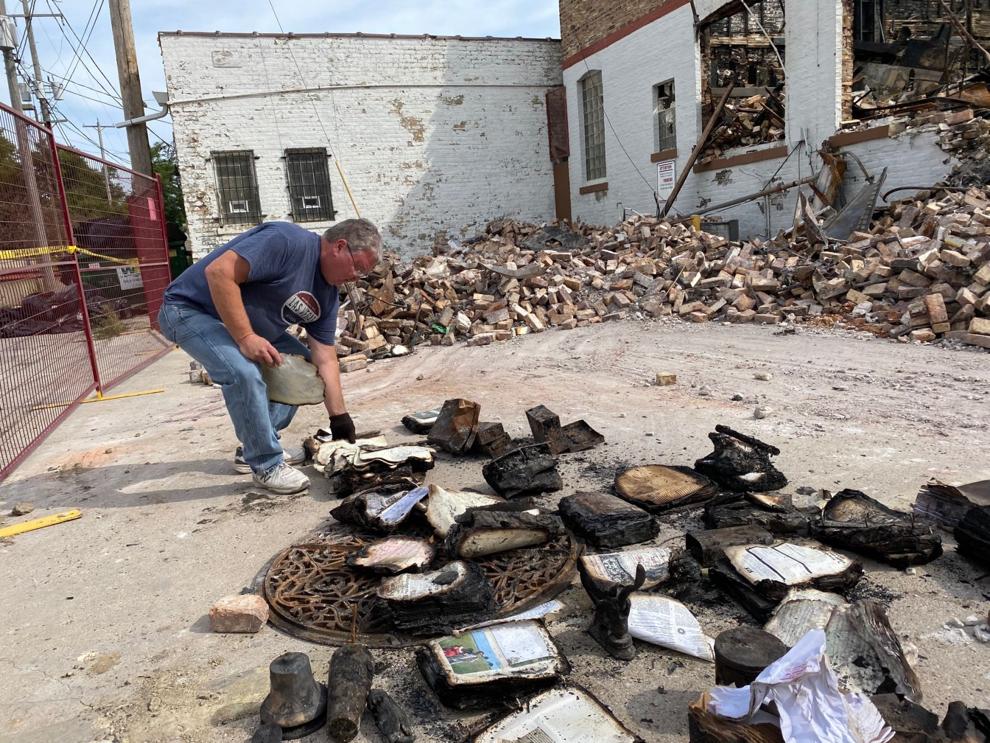 The lodge had been at the corner of 63rd and 22nd avenues since 1910 and is where members gathered for meals, fundraisers and games of cribbage and dart ball.
Kreier and his crew found some artifacts to salvage — including a skeleton key, miniature anchor and more than a dozen journals and photo albums. But they had yet to locate the more than 110-year-old register that lists every member of the organization. They also searched for a construction plumb, a symbol of the lodge's founding by many who were in the trades.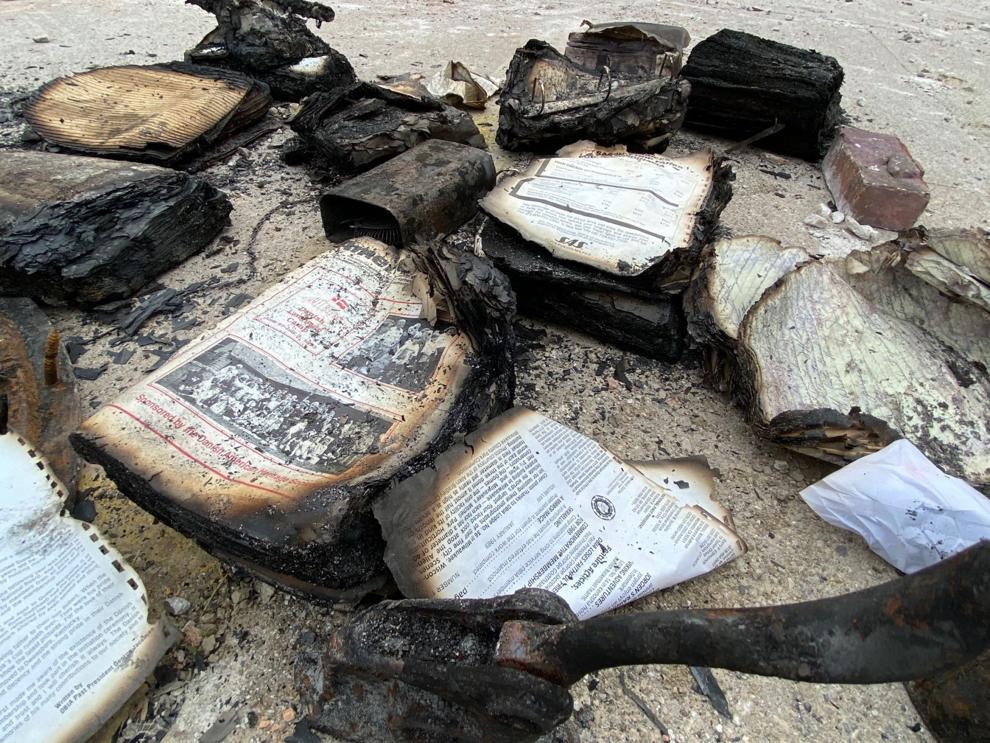 "They built it at their lunch hours," Kreier said. "We've never had a mortgage because the guys came and did it after work every day."
Despite the loss of its building, lodge members hosted a picnic Sunday in the street for the community, and they vow to rebuild, although at a different location with more room for parking, Kreier said.
"It's not stopping us," Kreier said of the destruction.
'We work together'
Kenosha was founded in 1835 and for generations was a hub for manufacturing, thanks to its access to a port and rail lines.
According to the Wisconsin Historical Society, Italian, Danish, German, Polish and Irish immigrants established themselves here to build furniture, leather products, wagons and, from 1902 to 2010, engines and automobiles, most noticeably those for American Motors Corp. Today, Jockey International has its headquarters here just a few blocks from where rioting erupted. Near the interstate, Amazon has a massive fulfillment center.
The city has seven electric street cars that since 2000 have operated on a two-mile loop of the downtown and near the lake. Kenosha is also home to historic lighthouses and museums. In 2012, the city celebrated Kenosha native Laura Kaeppeler, who was named Miss America and had worked at The Spot Drive-In, which has been making its own root beer and orange soda since 1945.
There's also Lou Perrine's, a convenience store founded in 1954 that has a cult following for its homemade Ho Ho Cakes, while Frank's Diner has been serving up breakfast and burgers since 1926 just a few blocks from the harbor.
At Oliver's Bakery, Anne Benson has worked at the business for 41 years and bought the bakery in 2014. She has struggled through the pandemic and now the protests, but her business has survived thanks to local support. She has no doubts about the city's future.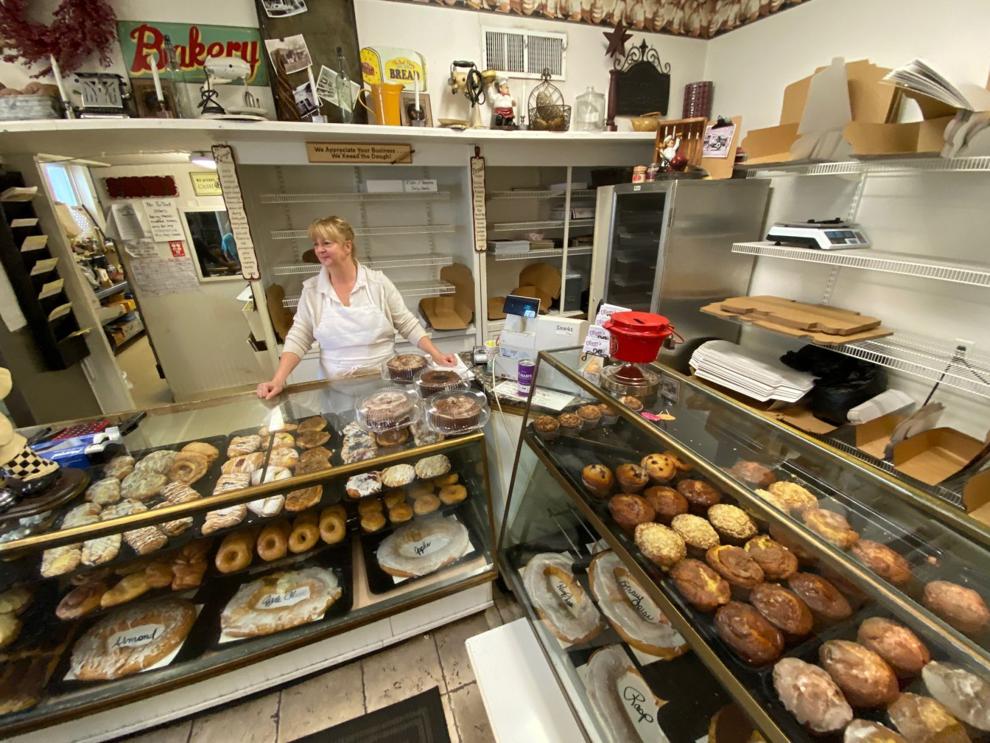 "If you really get to the guts of Kenosha, we're a very united, together place. I mean, we work together," Benson said. "Yes, I'm angry because our history is destroyed, but we're survivors. We're just going to have some troubled times to go through. I can't see us not being OK."
Politically, Kenosha County was evenly split in the 2016 election with Donald Trump edging Hillary Clinton by 0.33%. However, in the city of Kenosha, Clinton beat Trump by 17 points.
Daunting mission
The Uptown neighborhood is located less than two miles from Lake Michigan and was targeted for redevelopment before the riots. The city's Redevelopment Authority is razing several properties considered to be a nuisance, with a $5.1 million project planned in 2021 to create more parking, landscape medians, improved LED lighting, entry columns and improved pedestrian walkways. The revitalization, according to the Kenosha News, is intended to fuel what Antaramian describes as the beginning of a "renaissance" of Kenosha's older neighborhoods.
Only now, the job is more daunting.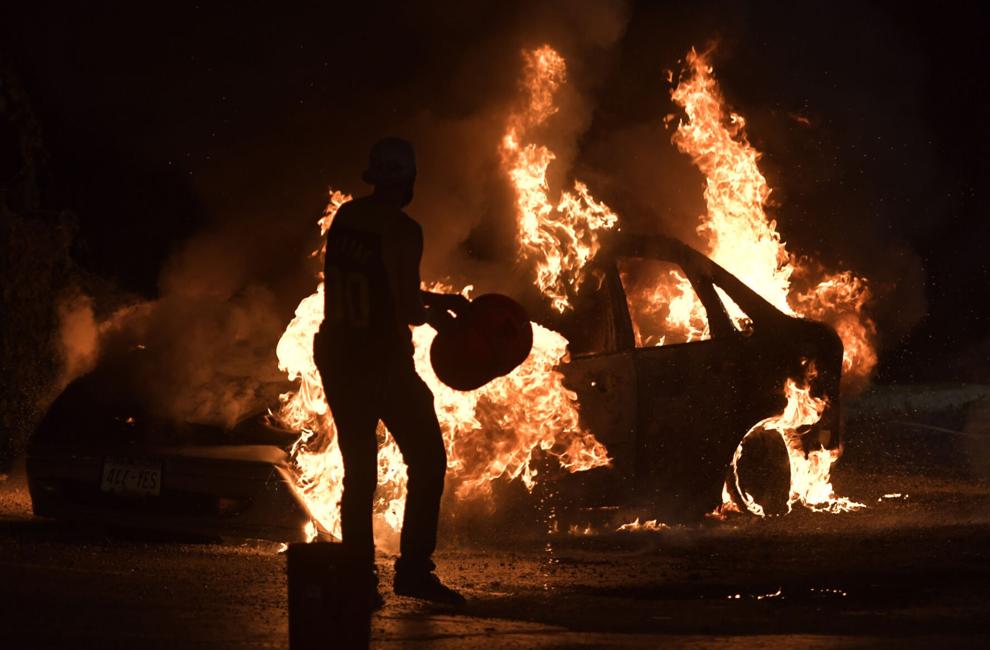 Besides the Danish Brotherhood Lodge, also gone are La Estrella Supermarket, Uptown Beauty & Variety and Rode's Camera Shop, which was founded in 1911 and had billed itself as the state's oldest camera store. The Furniture Warehouse of Kenosha did not catch fire, but was heavily damaged, with much of the inventory stolen, including mattresses, box springs and other home furnishings.
"It's a miracle that our store is still standing," the company posted on its Facebook page. "Most of the damage that we suffered came from looters and rioters who either stole inventory or damaged what they could not take. We had some significant smoke damage as well. Our storefront and showcase was destroyed and our back door was broken so bigger items can be stolen more easily. There is structural damage to the entire strip mall."
In all, more than 30 businesses in the neighborhood were destroyed or damaged. That doesn't include an unrelated major fire Aug. 12 that gutted a more than 100-year-old building that included 2u4u Beauty Supply and Bellissima's Boutique.
There were many apartments located above these buildings, but no one died in the fires. It's not uncommon now to see "someone lives here" painted on the front of a building with an arrow pointed to the second floor.
"There was no regard for them at all," said David Raymer, who has lived for the past five years in a building that is home to more than 100 people and 40 apartments above retail spaces in the 2300 block of 63rd Street. "It was a bad situation."
'Great community'
Raymer, 39, a construction worker, said that on the night of the fires, he and some of the other tenants in the building stood outside to dissuade rioters from starting their building on fire. However, because power was lost for more than two days, many residents lost perishable food. Raymer, who is white, said he has always felt safe in the neighborhood and cherished his ability to walk to many of those businesses now gone.
"It's really diverse, but everybody really got along," Raymer said. "It's an absolutely great community."
Carlos Villegas almost gave up on opening his own business here.
He had looked at another spot in a nearby plaza but at the last minute agreed to a small space at the corner of 63rd Street and 23rd Avenue. It's next door to the Faded Barbershop for Men, established in 2017, and just down the street from the Danish Brotherhood Lodge.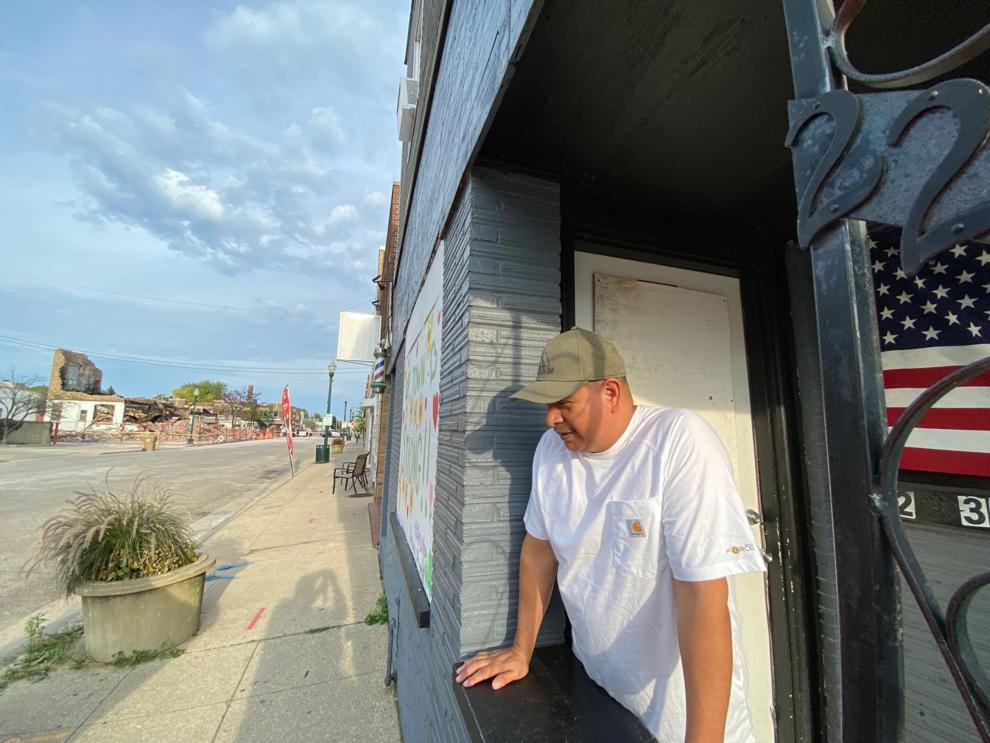 Somehow, his Uptown Fitness studio was spared from the destruction.
Zumba classes have resumed and music pierces the two boarded-up windows, one cloaked in an American flag. Villegas, whose classes end at 6:30 each night to allow customers time to get home before the curfew, sees hope for his community and for his 1-month-old business — even though several other buildings in his neighborhood lay in charred rubble.
"I like this neighborhood," Villegas said, as he stood outside his studio. "I'm pretty sure it will come back. I like the fact that it was a quiet neighborhood."
---
Photos: Kenosha begins to recover amid racial tensions
Photos: Kenosha begins to recover amid racial tensions
Rally in Kenosha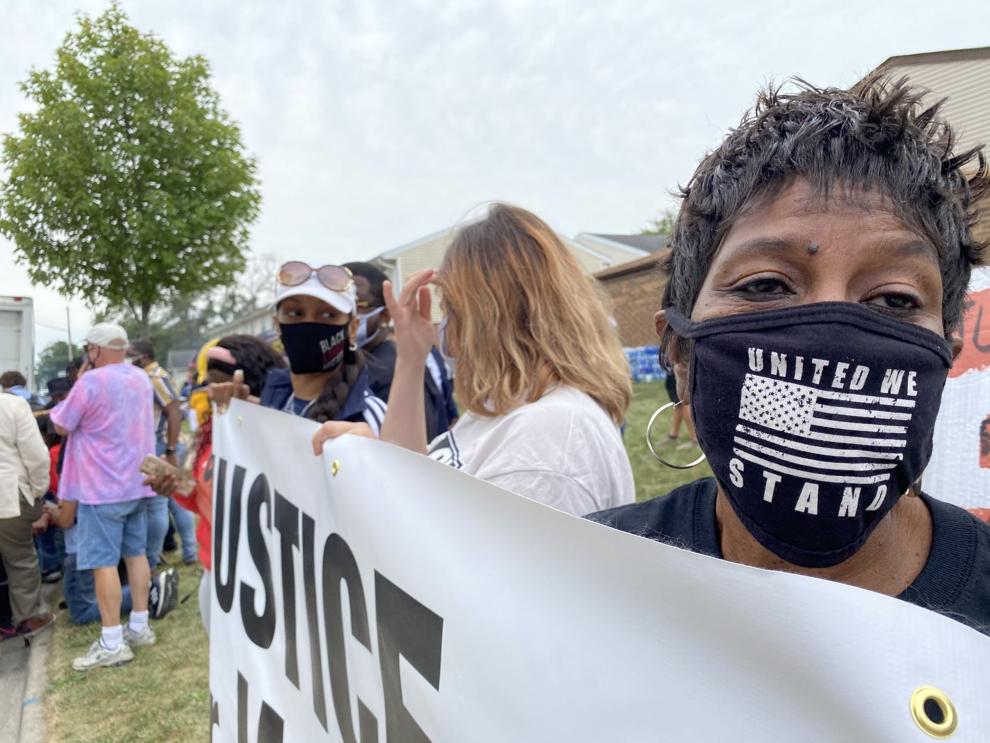 Rally in Kenosha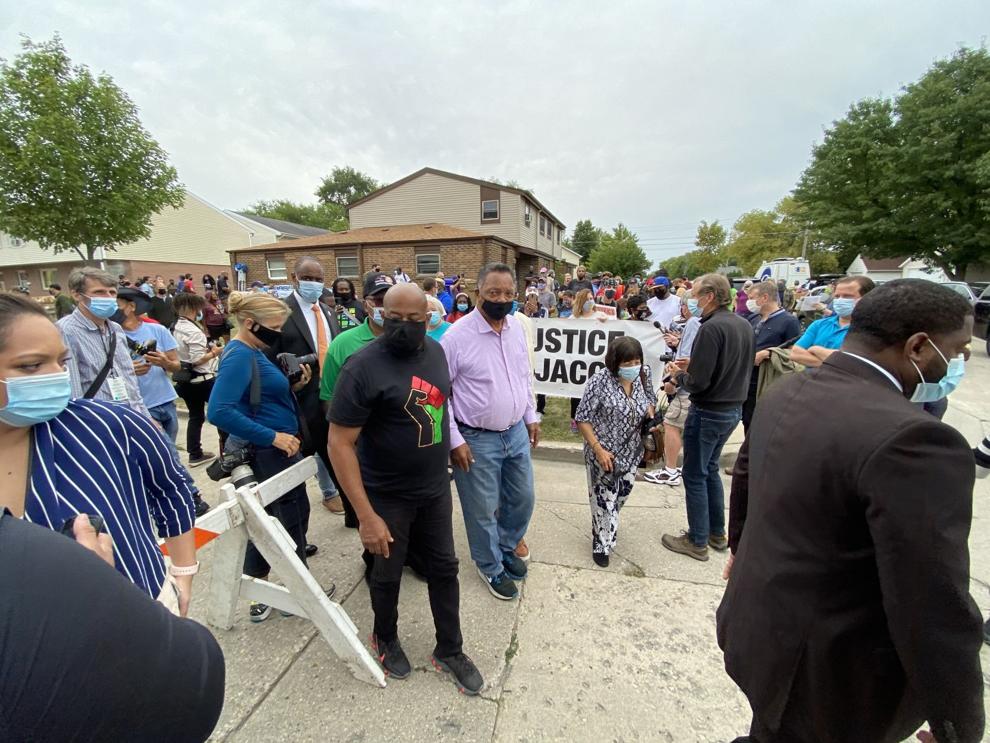 Rally in Kenosha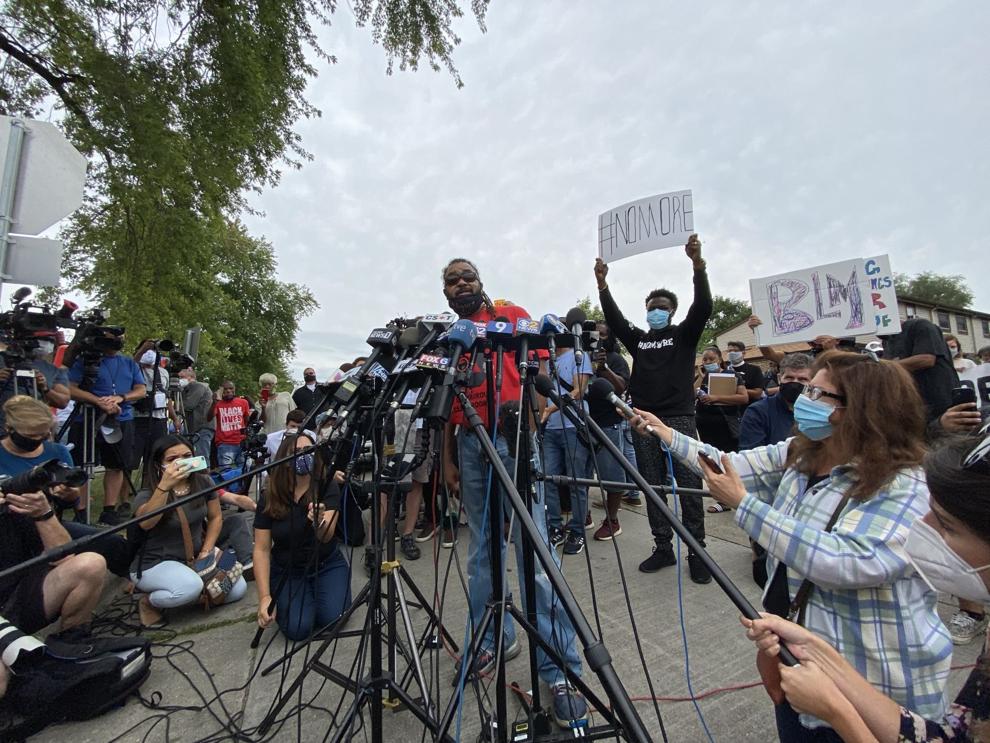 Burned building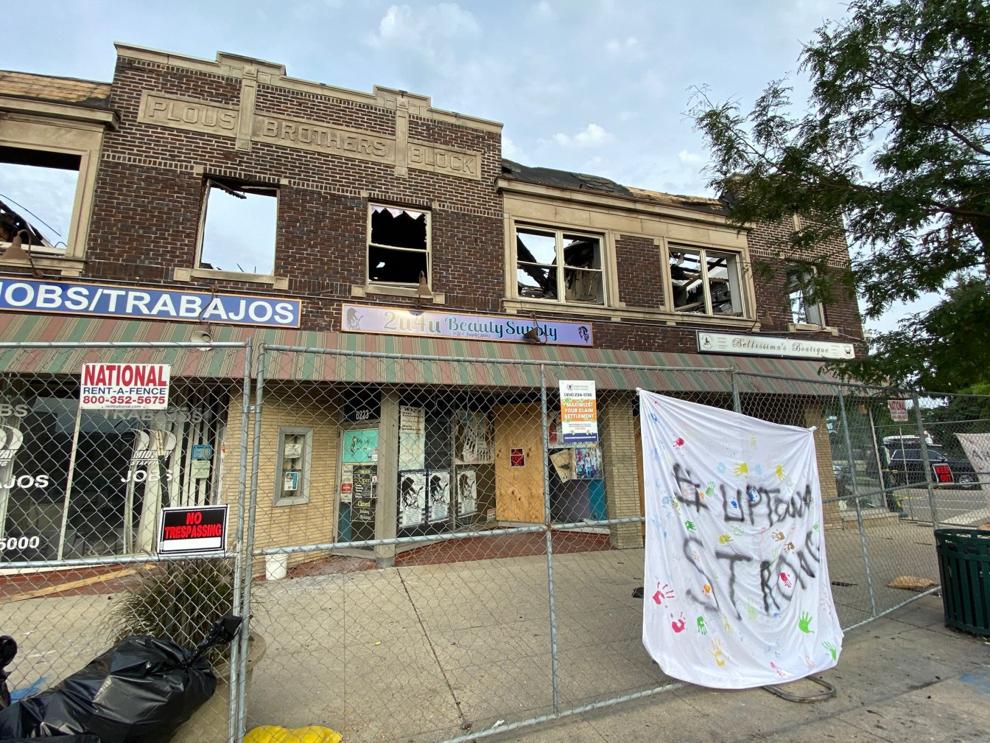 Damage to several businesses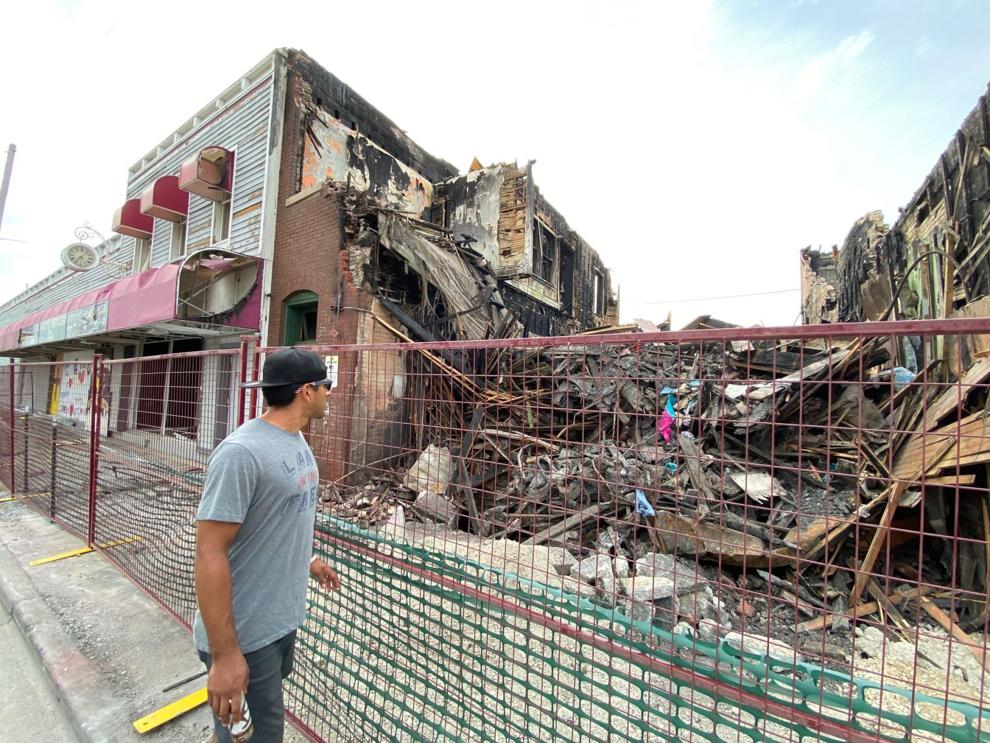 Uptown Fitness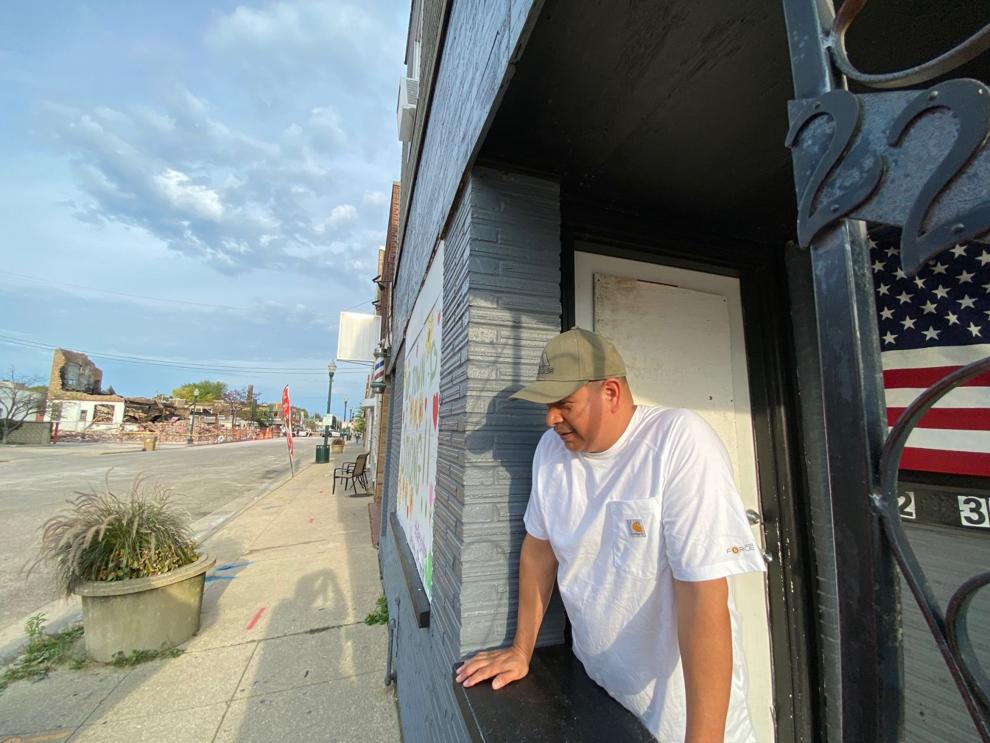 Oliver's Bakery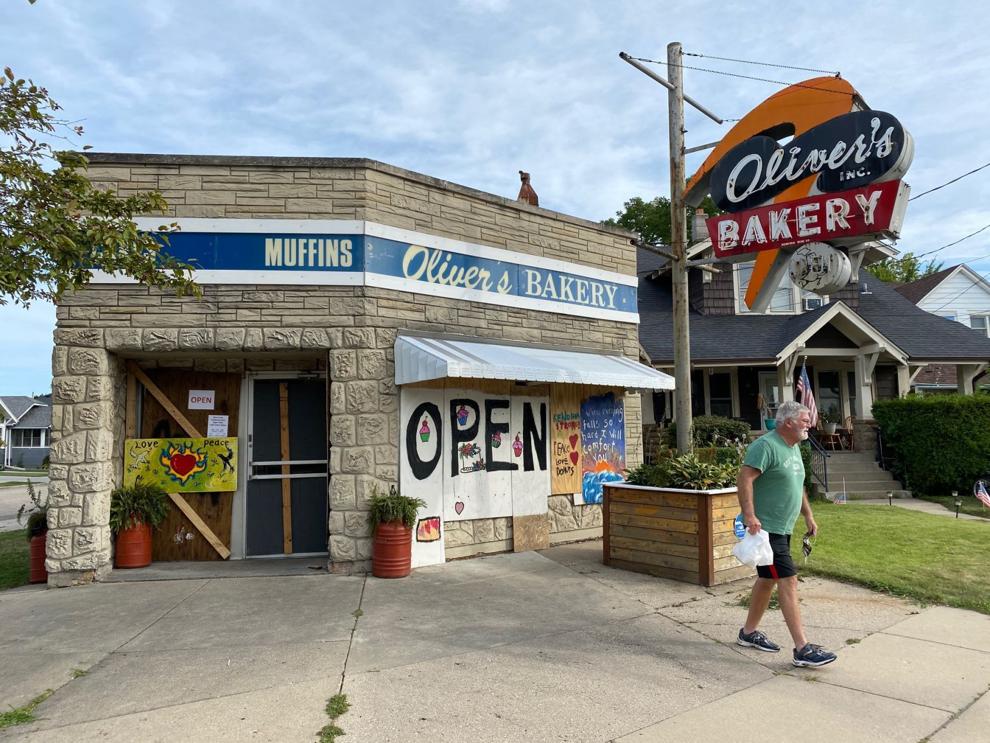 Thanks loyal customers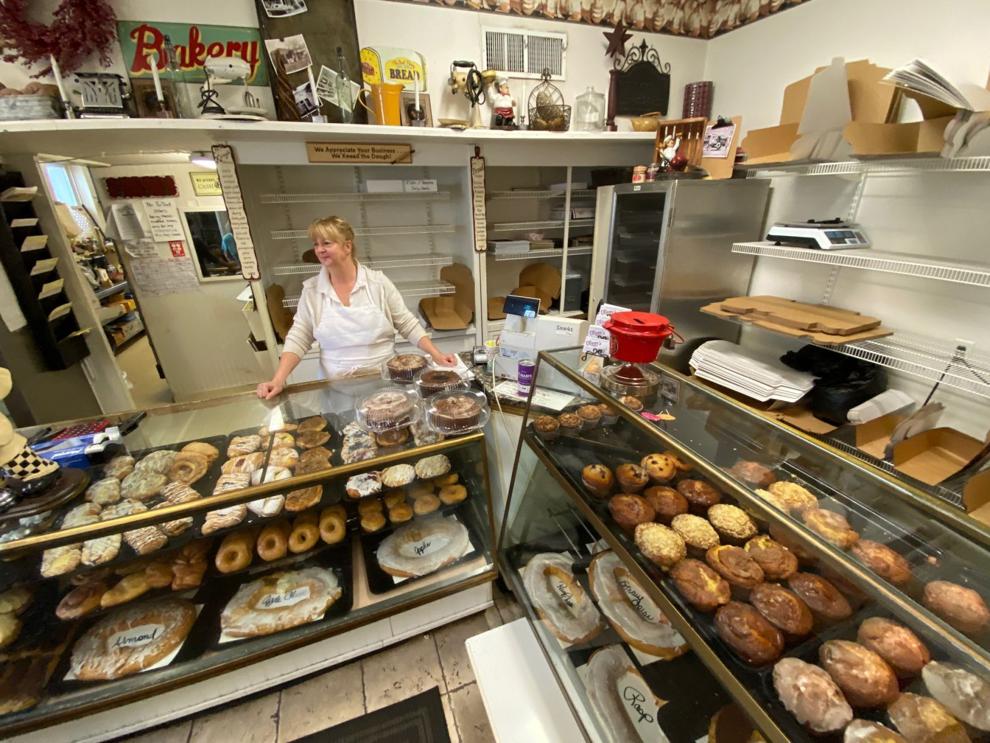 Variety of kringles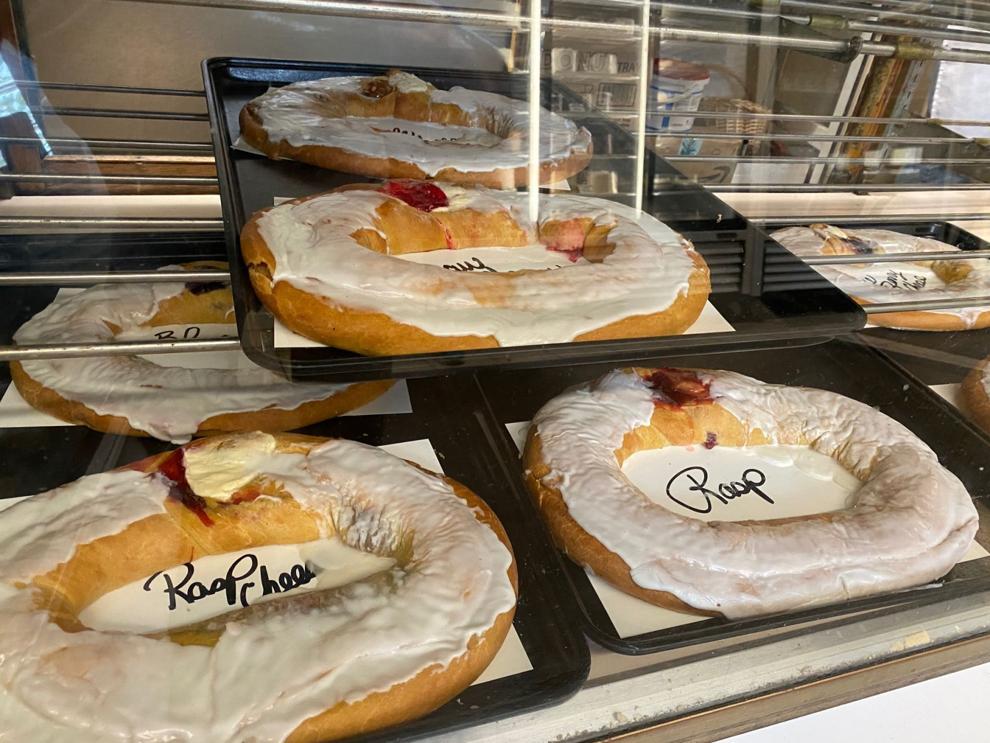 Sifting through the rubble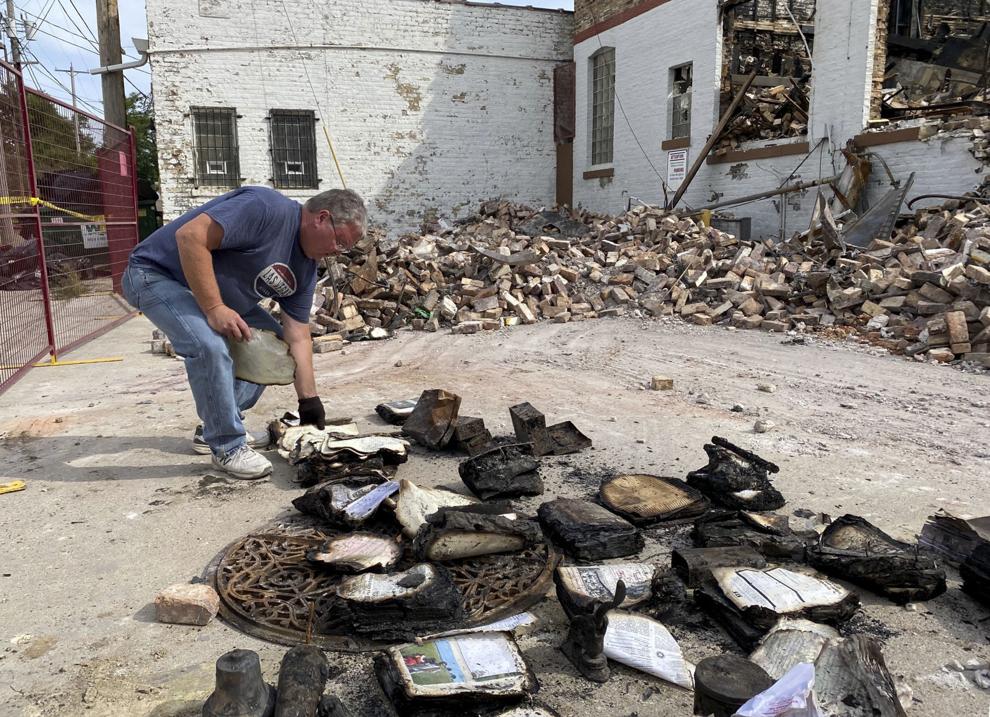 Looking for artifacts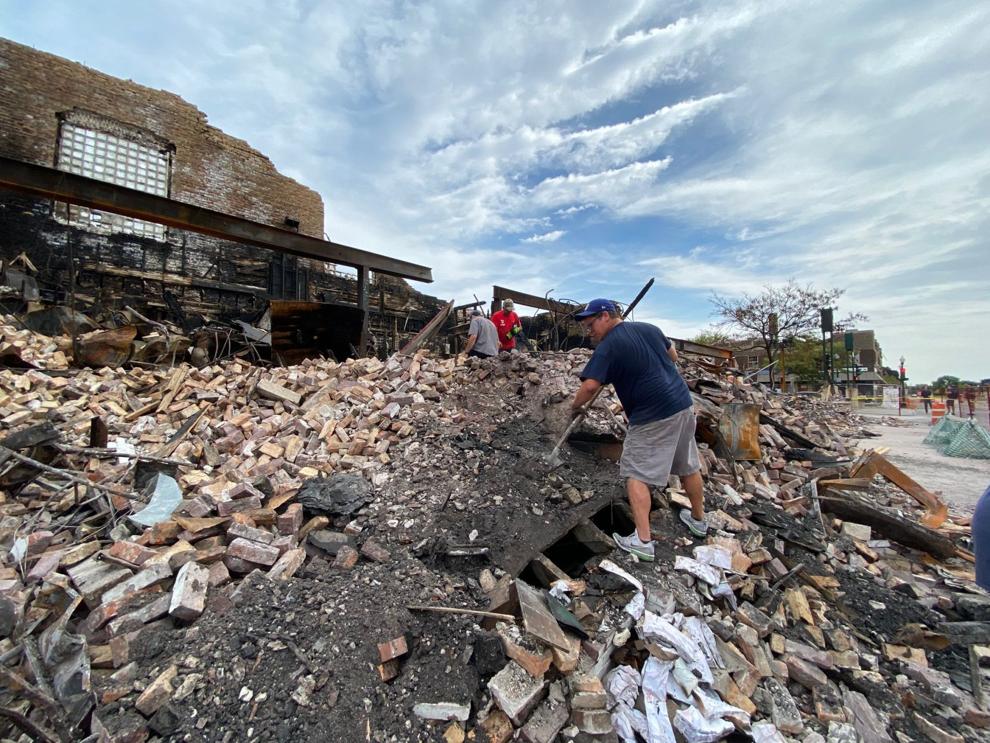 Serious damage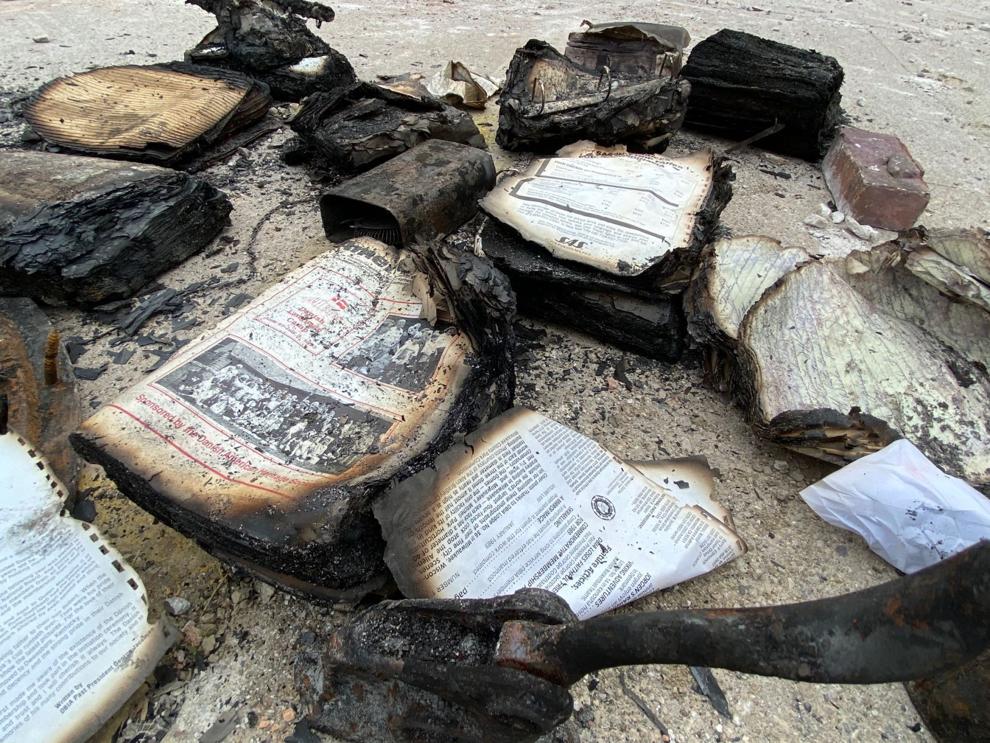 Removing paint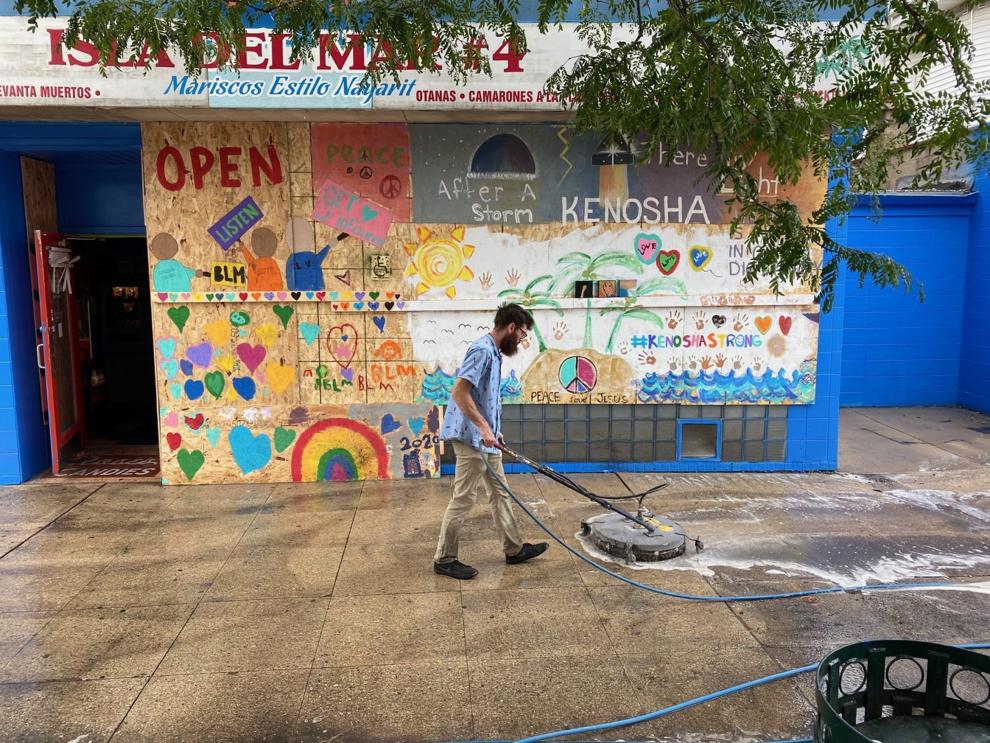 Kenosha was founded in 1835 and for generations was a hub for manufacturing, thanks to its access to a port and rail lines.