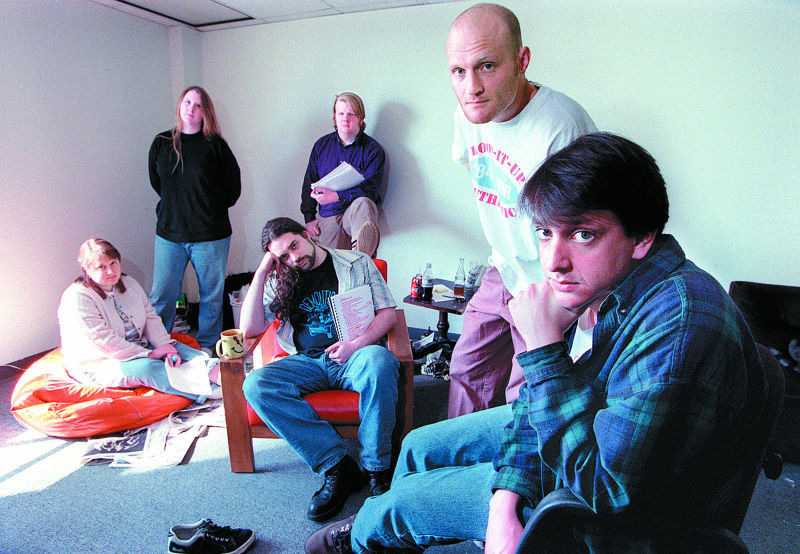 Janet Jackson nearly took down the newspaper that made Madison famous.
During a University of Wisconsin-Madison campus lecture Monday night, former Onion Editor in Chief Robert Siegel said the singer nearly took the satirical newspaper to court after a crude 1990s story about a boy who was supposedly being granted a wish by the Make-a-Wish Foundation.
The headline was "Dying Boy Gets Wish: To Pork Janet Jackson."
"We were very nearly sued out of existence by Janet Jackson," said Siegel, adding that in the past he was forbidden to talk about the legal matter and the celebrity involved.
The paper has an attorney who reads the newspaper each week and signs off, but the staff usually ignores him, Siegel said.
Siegel, who moved to Madison in 1994, marveled at the fact that he was chosen as a Distinguished Lecture Series lecturer at all. He noted that the same series this season also featured "Fast Food Nation" author Eric Schlosser, Sister Helen Prejean and the Rev. Al Sharpton. Meanwhile, Siegel rose to prominence for such raunchy Onion headlines as "Area Bassist Fellated."
"That's one of mine, thank you," Siegel said, drawing the first of an evening of constant laughs from a crowd of about 200, the smallest that has attended a Distinguished Lecture Series event this season.
Siegel served as the paper's editor for nearly a decade before leaving in 2003 to write The Onion movie, which is still unnamed and scheduled to be released later this year.
In the past year and a half he has written four movies. All are in production, he said.
Siegel compared the origin of The Onion to a one-night stand. "It just happened," he said.
The paper debuted 17 years ago as material to surround pizza ads, Siegel said.
"It didn't start out as America's finest news source, which we are, thank you," he said, in reference to the newspaper's motto.
Last year, the holding company Onion Inc. reported that The Onion newspaper, Web site, book publishing, The Onion Radio Network and merchandise generated about $7 million in revenue. According to a report in The Chicago Tribune, the company's revenues are predicted to grow at a rate of 25 percent and are expected to hit $21 million a year by 2009.
The crowd broke into laughter when Siegel displayed the newspaper's fledgling first issue with its simplistic graphics and the banner headline, "Mendota Monster Mauls Madison."
At the time, the Onion was considered the campus rag, Siegel said. The stories revolved around local people and issues. Frequent targets were former UW-Madison Chancellor Donna Shalala and former Gov. Tommy Thompson.
The audience cracked up when Siegel displayed the Thompson headline, "Thompson Changes Title From Governor' to Sexecutioner.' " Thompson hated the Onion, Siegel added.
He showed another headline from the early days that read "UW Students are BUTT DUMB."
"We hadn't quite honed the razor sharp social critique we are now known for," said Siegel, admitting the early front pages are painful for him to look at.
The paper -- which moved its editorial operation from Madison to New York in early 2001 -- went through a "boy story" period, said Siegel, displaying the first of such headlines: "Experts Baffled by Amazing Worm Boy." In subsequent years stories surfaced about Grass Boy and Wiffle Boy.
The Onion broke into national "news" with such headlines as "Dan Quayle Poops on Floor," a headline that had the audience hooting.
"Are you guys laughing at this?" Siegel said in mock amazement.
Siegel showed a story that featured his own high school yearbook photo: "Area 15-year-old Only Homosexual in the Whole World." And another with a subject that became an Onion standard, "Fun Toy Banned Because of Three Stupid Dead Kids."
The headline is an example of the paper's time-worn formula of taking something terribly tragic and being as callous as possible, Siegel said.
As it evolved, the irreverent paper became more relevant. President Bill Clinton made great Onion fodder, whereas President Bush is harder to mock, Siegel said.
Early in his presidency a lot of satirists, the Onion included, used the "Bush is dumb" approach, Siegel said. But then Bush became a "far-right, born-again Christian war-monger."
After Sept. 11, 2001, Bush got a free pass for a while. But recently all Bush has really done is waged war, Siegel said.
"I don't know how to keep finding new ways to make fun of the war in Iraq."