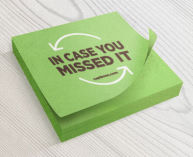 "The book also describes how he and wife, Tonette, host an annual party on Reagan's birthday in which they serve Reagan's favorite foods — 'macaroni and cheese casserole, and red, white and blue Jelly Belly jelly beans — and have musicians perform patriotic songs and Irish music.' Tonette, noting that Reagan's birthday is the same date as their wedding anniversary, says she knows her husband will not forget the anniversary."
---
We knew lots about Walker before "Unintimidated" came out — Walker the anti-union conservative, Walker the presidential hopeful, Walker the not-that-choosy-when-it-comes-to-taking-phone-calls. But who knew about Walker the fanboy, scheduling Ronald Reagan parties on the night of his wedding anniversary? Fanlund's column brings out a lot of things in the book you might not have heard before.
You have free articles remaining.
And you have heard a lot, judging by all the national media attention that the book and Walker have gotten in the last week. Which is probably the point of the book — a 288-page cover letter introducing Walker to a national conservative audience with an eye on 2016.
The book's accuracy has gotten some scrutiny — some liberal bloggers in Wisconsin claim that Walker's explanation of why he left Marquette University before graduating doesn't square with reality.
Also getting some national attention is the story of three Madison friends, including Boys and Girls Club of Dane County CEO Michael Johnson, who went undercover as homeless people for three days to see what life on the street was like. Not all the attention is positive.
Finally, we honor the legacy of President John F. Kennedy, who was assassinated 50 years ago this week. Look at this photo gallery to see how The Capital Times covered that tragic day and its aftermath.