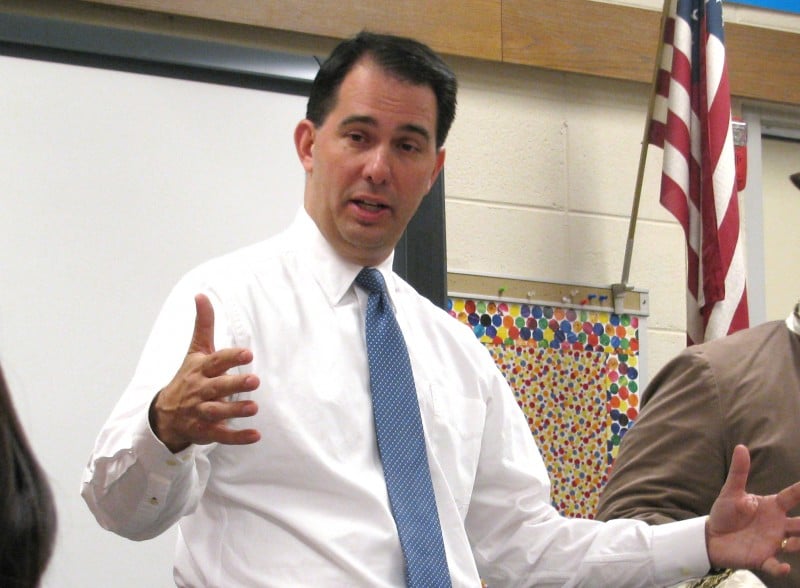 Conservatives and tea party groups applauded Gov. Scott Walker's decision Friday not to set up a state-run health insurance exchange under the federal health reform law.
Business and health care groups joined Democrats in saying a federal exchange isn't best for Wisconsin.
Exchanges, virtual marketplaces for individuals and small businesses to buy private coverage beginning in 2014, can be run by states, the federal government or through state-federal partnerships.
Walker said the three options would be similar for consumers but a state-run exchange would put state taxpayers most at risk.
"If we take on the risk of running the exchange, it commits us to long-term spending obligations," he said. "Eventually, as the federal funding dries up, costs for Wisconsin taxpayers could skyrocket."
Operating the exchange would cost $45 million to $60 million a year, and federal funding is guaranteed only through 2014, Walker spokesman Cullen Werwie said.
Both of the state's health insurance associations, along with other health care groups, said a state-run exchange would best protect Wisconsin's competitive insurance market.
"We are hopeful that this is not the final chapter, that obstacles preventing Wisconsin from choosing to run its own exchange can still be addressed down the road," Eric Borgerding, executive vice president of the Wisconsin Hospital Association, said in a statement.
Walker opposed 'Obamacare'
Walker opposed the 2010 health law, known as "Obamacare," returning a $38 million federal grant to implement an exchange and joining 25 other states in a lawsuit against the requirement that nearly everyone have insurance.
But Walker said Friday he's no longer fighting the law, which was affirmed by a U.S. Supreme Court ruling in June and President Barack Obama's re-election last week.
Wisconsin will carry out the law through a federal exchange, he said.
"The law is the law," Walker said. "We will comply with the law."
Friday was the deadline under the law for states to say they would run their own exchanges. On Thursday, the Obama administration extended the deadline to Dec. 14, but Walker said he had made up his mind.
The exchange is expected to cover about 250,000 people in Wisconsin, many through government subsidies. Another 170,000 people could gain coverage through the law's Medicaid expansion, made optional by the Supreme Court.
Walker hasn't decided whether to expand Medicaid, but he said doing so might also put state taxpayers at risk.
Tea party groups and some Republicans, including state Assembly Speaker-elect Robin Vos, R-Rochester, praised Walker's decision against a state-run exchange.
You have free articles remaining.
The conservative group Americans for Prosperity "is proud of Governor Walker for taking a principled stand to reject these exchanges," said state director Luke Hilgemann.
The powerful Wisconsin Manufacturers and Commerce supported a state-run exchange. But Walker "makes a good case for not doing so," president Kurt Bauer said in a statement.
The state chapter of the National Federal of Independent Business also preferred a state-run exchange but called Walker's decision "a reasonable one that we respect."
The Wisconsin Association of Health Plans "will seek to build on what works in our state — such as regional participation of Wisconsin-based health plans," senior executive officer Phil Dougherty said in a statement.
One concern is that federal officials might allow only statewide health plans to participate in an exchange, said Al Wearing, marketing director for Madison-based Group Health Cooperative of South Central Wisconsin.
"Do they have the same knowledge that (Walker's) staff has of our marketplace?" Wearing asked.
Terry Bolz, CEO of Unity Health Insurance, part of UW Health, said he hopes the federal government pays more for complex patients like the state does through Medicaid.
"When we're working with folks in Washington, it's a little bit more difficult to have our voice heard," Bolz said.
A state-run exchange would better coordinate with the state's Medicaid program to figure out who qualifies for which type of coverage, said Bobby Peterson, executive director of ABC for Health, a Madison nonprofit that helps people get health care.
Peterson called Walker's decision "a real missed opportunity for Wisconsin."
Robert Kraig of Citizen Action of Wisconsin accused Walker of giving in to "ideological extremists" from tea party groups.
U.S. Sen.-elect Tammy Baldwin, a Democrat, said Walker "chose to pass the buck and reject the opportunity to take ownership of this issue."
Walker said he usually prefers that states, not the federal government, run most programs. But even if states set up the exchanges, Washington will make most decisions about eligibility and benefits, he said.
"It's like saying you're going to get a house, but the federal government is going to design the interior, all the amenities, the furniture, everything else and the only thing left is they ask you whether you want blinds or curtains," he said. "But yet you're co-signing the mortgage."
State residents remain divided about the health law, and Republicans are also divided about whether states or the federal government should run exchanges, said Charles Franklin, Marquette Law School poll director.
Walker's decision "says which constituencies in the party are carrying the decision, it's those most opposed to Obamacare," Franklin said.
"There's also a sense we may have just missed the boat months ago by not participating in the planning and set up of the exchanges."