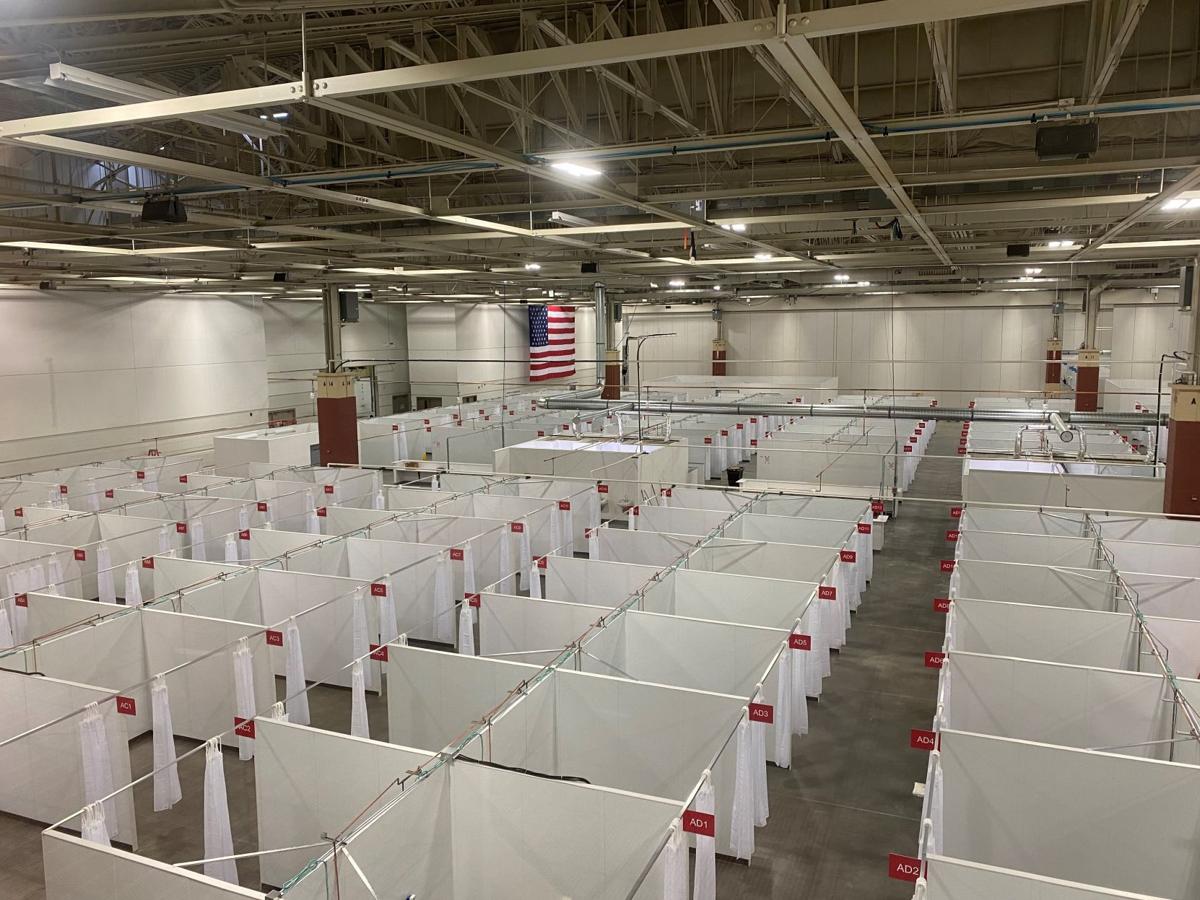 With more than 1,000 COVID-19 patients in hospitals and continued high levels of COVID-19 cases and deaths, Wisconsin on Wednesday opened an overflow facility for treating patients with the coronavirus — but officials didn't expect to bring patients to it until Thursday at the earliest.
"We are in crisis here in Wisconsin, and so we are ready to accept patients as the need arises," said Julie Willems Van Dijk, deputy secretary of the state Department of Health Services. "The trajectory does not look good. We need to be prepared for that."
Deb Standridge, CEO of the alternate care facility at Wisconsin State Fair Park in West Allis, said staff were talking to hospitals around the state about their needs and evaluating COVID-19 patients for potential transfer Thursday.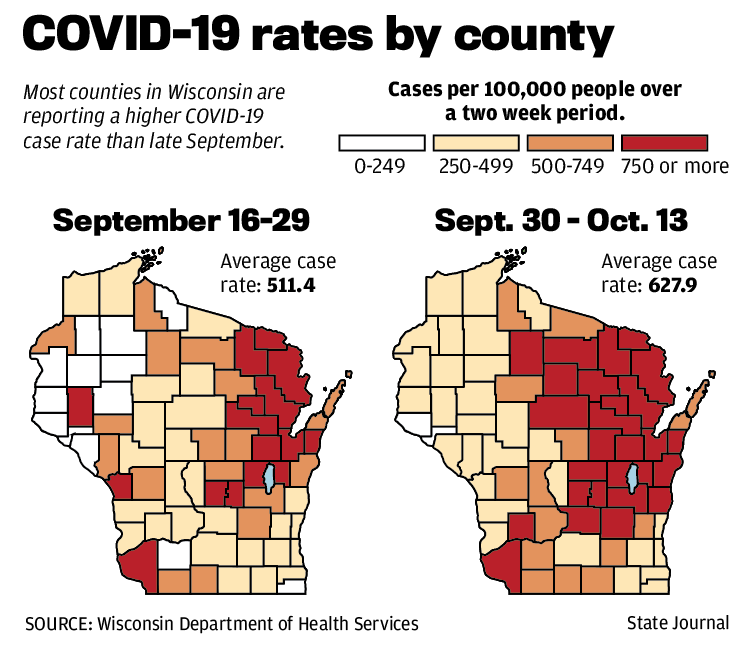 The Wisconsin Hospital Association said a record 1,017 patients were hospitalized with COVID-19 as of Wednesday, including a record 246 in intensive care. Dane County reported a record 78 hospitalizations for the coronavirus as of Tuesday.
In Madison, SSM Health St. Mary's Hospital, UnityPoint Health-Meriter and UW Hospital were not planning to immediately send any patients to the overflow facility, spokeswomen said Wednesday. The hospitals have rescheduled a few procedures to help maintain adequate capacity, they said.
"Use of an alternate care facility is a part of our surge planning, should it be needed at a later date," SSM Health spokeswoman Lisa Adams said.
The state on Wednesday reported 3,107 new cases of COVID-19 and 28 additional deaths, down a bit from record levels Tuesday. But those figures still boosted the daily averages to 2,840 cases and 17 deaths, the state's highest levels of the pandemic. Wisconsin had the second-highest COVID-19 case rate in the country, after North Dakota, according to the COVID Tracking Project.
"We can anticipate, as we look at the numbers of cases here, that this is not going to go away anytime soon," Willems Van Dijk said. "Some people will get much more ill, require hospitalization and unfortunately ... will succumb to this disease."
The 530-bed overflow facility is ready for now to care for up to 50 patients, but could increase capacity quickly if needed, Standridge said.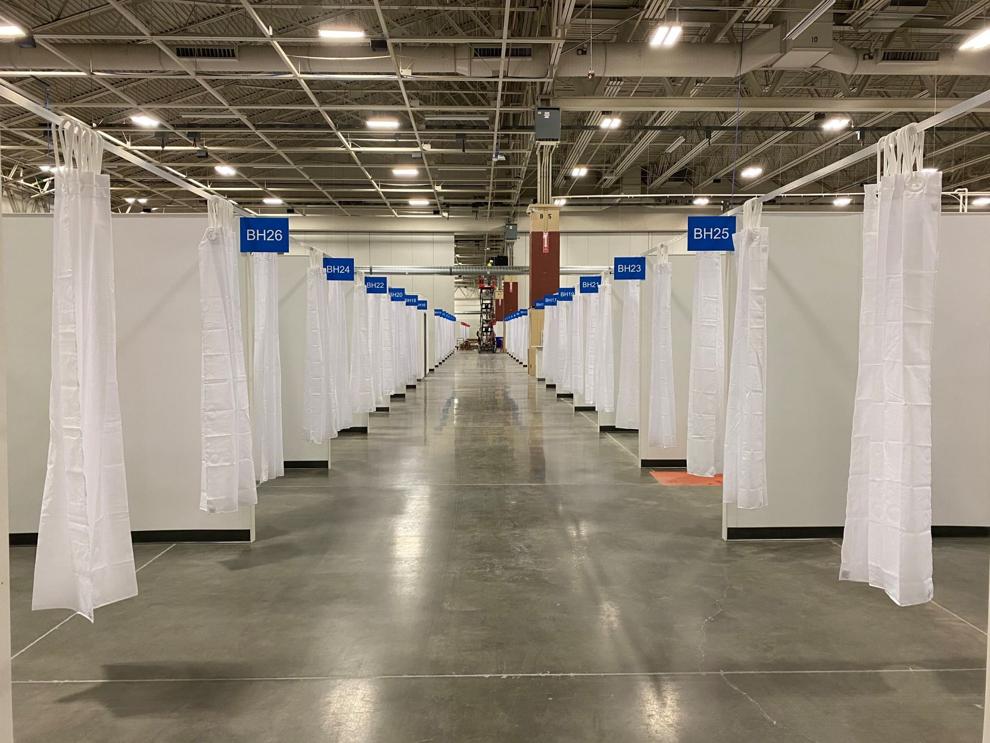 The facility will accept COVID-19 patients ages 18-70 who have been hospitalized at least two days and recovered enough that they have relatively normal vital signs, such as a temperature of 100 or less, Standridge said. Patients will typically stay three to six days, possibly receiving oxygen and intravenous medications, before going home, she said.
There will be no charge for the care, which will be covered by federal pandemic relief funds allocated to Wisconsin.
It's not clear how long the facility, known as an ACF, will remain open. "We're not taking the ACF down until there is evidence that the pandemic has passed," Standridge said.
The Big Ten is testing football players for COVID-19 every day. Here's how it works.
There's a pre-dawn start
The testing staff arrives to the Badgers' training facility around 4:45 a.m. to start setting up. Starting at 6 a.m., there are scheduled times for players, coaches and staff to provide a sample for the testing process.
They can return to team rooms while awaiting results.
"That portion of the day adds just a tiny bit of time to their schedule," Moll said.
Testing is capped at 170 people
Under Big Ten regulations, the football team each week identifies 170 people who will be tested and can be in close contact as part of practices and games. Those who have tested positive for COVID-19 in the previous 90 days and have recovered aren't subject to testing, Moll said.
The group of 170 is considered to be Tier 1. A Tier 2 group includes other essential game personnel that aren't present on practice days but are required for games. The latter includes officials, team physicians and video staff, and they're tested both on game day and the previous day.
After a short wait, it's a quick test
Once the sample is collected, a reagent is added and the sample is placed on a card. After sitting for 15 minutes, it's inserted into a diagnostic machine that provides a result in about a minute.
The Big Ten said it is using Quidel's Sofia 2 SARS Antigen FIA test system. This video from Quidel shows how it works:
Moll monitors the test results and reports them to the football staff to confirm who can be on the field for that day's practice or game.
There's more testing if the result is positive
A positive rapid test triggers Moll to put the subject into isolation as a polymerase chain reaction test, which is considered more accurate but takes longer, is conducted to confirm the result.
If the PCR test also is positive, the person is put into 10 days of isolation and monitoring before cardiac testing and follow-ups with physicians.
A minimum 21-day absence is required if a positive is confirmed
A confirmed positive test requires a minimum 21-day absence from competition under Big Ten protocols. That could take a football player out from one-third of the nine-game schedule if he tests positive during the season.
"The message that we've tried to encourage our student-athletes to understand is to take every precaution to try to avoid this right now," Moll said.
It's not to be confused with a vaccine
Even with the enhanced testing, Badgers officials are stressing to athletes that they need to avoid situations where they could be infected with the coronavirus or risk a long absence from competition.
"It's important to note, and I know our student-athletes have taken this to heart: In no way, shape or form is there a belief that testing is a vaccine," deputy athletic director Chris McIntosh told the Athletic Board.
"Testing gives us the ability to practice and to compete in an environment that greatly reduces or eliminates the transmission of the disease. But it does not prevent the disease. For that, we need our student-athletes and our staff and our coaches to make responsible decisions."
A 'drastically different' look is ahead for 2020 game days
McIntosh extended the precautionary message to the team's fan base.
"Games in and around Camp Randall this fall are going to look drastically different than what we've all become accustomed to," he said. "There won't be tailgates taking place around our stadium. There won't be Badgerville. The union won't look like Union South normally looks on a game day.
"We would encourage everybody to stay at home and watch the game on television and cheer us on. We'll come back in the fall of '21 in a big way and get back to normal. But we all need to participate in the role that we can to make sure that we have a chance to play. We feel good about our chance right now but there's not a guarantee."