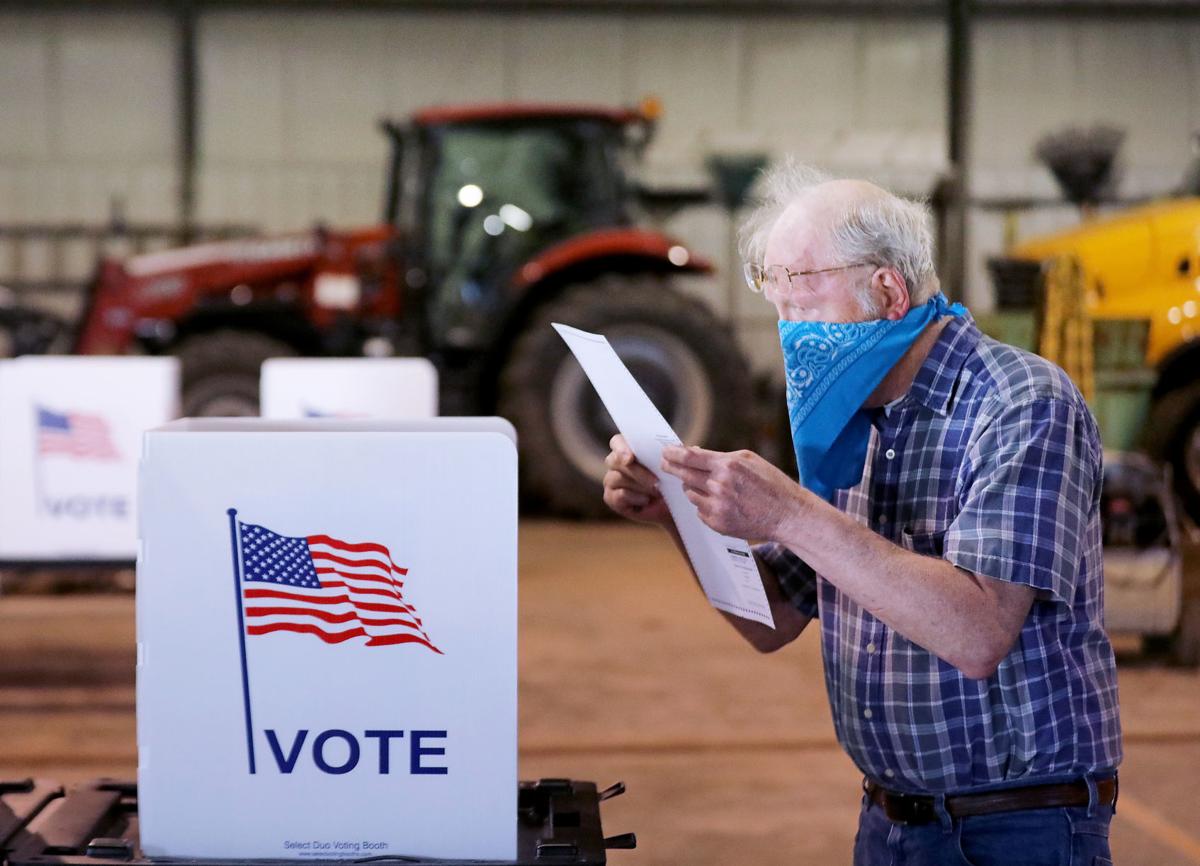 Rates of new confirmed COVID-19 cases didn't increase in Wisconsin compared with the rest of the country after the April 7 election, though some individual cases could be tied to voting, a new study says.
The study, released Friday by doctors in Milwaukee and Florida and a mathematician in Alabama, has been submitted for publication in a scientific journal but not published yet, meaning it hasn't undergone peer review. Such "preprint" studies have become more widespread during COVID-19, causing some controversy because the findings haven't been vetted as much as usual.
"This is highly unusual to practice science this way," said Dr. Patrick Remington, director of the preventive medicine residency program at the UW School of Medicine and Public Health and former associate dean.
Remington said the study has limitations, including a lack of statistical testing and the use of the U.S. as a control group to Wisconsin, as trends likely vary among states. "We know that different states are at different places in the epidemic," he said.
About 450,000 state residents voted in person April 7, with another 1.1 million casting absentee ballots. Prior to the election, Democratic Gov. Tony Evers and Republican legislative leaders initially agreed in-person voting should go on as scheduled. But Evers issued an executive order the day before the election pushing in-person voting back to June, which the conservative-leaning state Supreme Court struck down within hours.
The U.S. Supreme Court reversed a lower court ruling allowing ballots to be mailed in after Election Day, which likely caused more people to vote in person. Many have wondered whether in-person voting increased the spread of the coronavirus, a question particularly raised for Milwaukee, which had only five polling stations that drew long lines of people.
At least 23 people who voted in person or served as poll workers have tested positive for COVID-19, but many of them reported other potential exposures to the coronavirus, state Department of Health Services spokeswoman Jennifer Miller said Friday.
In the new study, researchers looked at rates of COVID-19 in Wisconsin — and in Dane, Milwaukee and Waukesha counties — for a 10-day period before the election and in the 10 days afterward in which cases would likely arise, comparing the rates to the rest of the country.
The post-election period was April 12-21, or five to 14 days after the election, the time period when health officials say COVID-19 cases typically arise.
The ratio of Wisconsin's rate of new confirmed COVID-19 cases compared to the U.S. rate before the election was 0.34:1, meaning the state's rate was about a third as high as the country's. That dropped after the election to 0.28:1, with the state's rate a little more than a quarter as high as the country's, the researchers found.
Milwaukee County's ratio went from 1.02:1 before the election to 0.63:1 afterward, or from a rate a little higher than the national average to roughly a third lower.
The ratio in Dane County went from 0.21:1 to 0.13:1 and in Waukesha County from 0.27:1 to 0.19:1.
"Our study did not find any significant increase in the rate of new COVID-19 cases following the April 7, 2020, election post-incubation period, for the state of Wisconsin or its three major voting counties, as compared to the US," the researchers wrote in their paper.
Thomas Oliver, a population health sciences professor at UW-Madison, said the study doesn't seem to account for the state's stay-at-home order, which started March 25. Its impact likely didn't affect COVID-19 rates until the time of the election, and if rates didn't go up afterward it's probably because of the widespread shutdown of social and business activities, he said.
The study was conducted by Dr. Bruce Berry, an internal medicine doctor at Froedtert Hospital near Milwaukee; his son, Dr. Andrew Berry, a gastroenterologist in South Miami, Florida; and Madhuri Mulekar, a professor of mathematics and statistics at the University of South Alabama.
"A reduction in daily new case rates in Wisconsin was observed compared to what would have been expected if the rates in Wisconsin had followed the preelection ratios," the researchers wrote. "Our initial hypothesis of an increase in COVID-19 activity following the live election was not supported."
With heightened publicity about COVID-19 and the perceived risks associated with in-person voting, "high-risk individuals may have self-selected themselves out of the live voting process," the researchers said. "Protective measures at the polls may also have mitigated some of the risk associated with the increased social exposure."
Individual cases of COVID-19 infections likely occurred from in-person voting, but it's hard to rule out other exposures, they said.
Concerned about COVID-19?
Sign up now to get the most recent coronavirus headlines and other important local and national news sent to your email inbox daily.